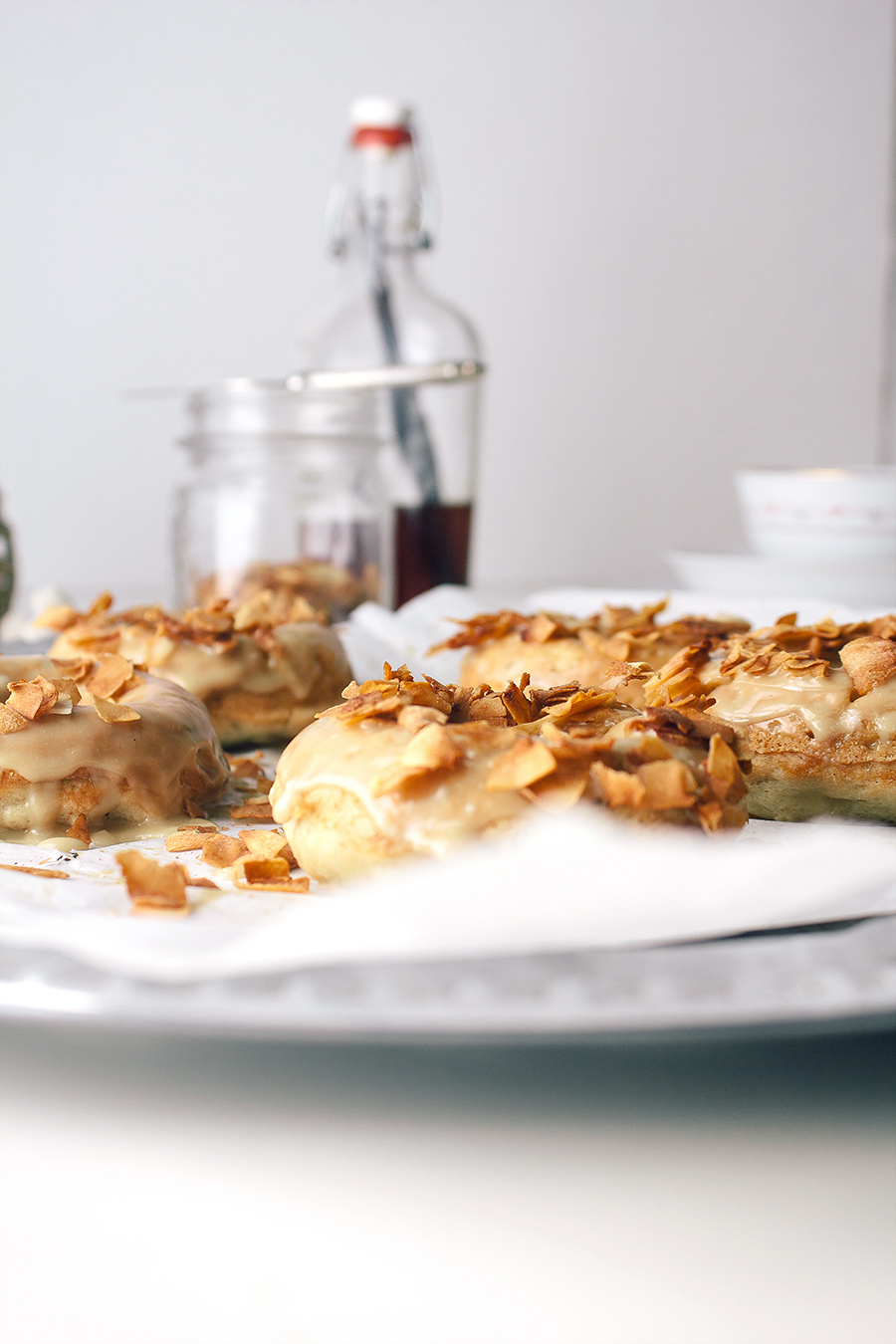 In a hurry? Click here to JUMP TO RECIPE!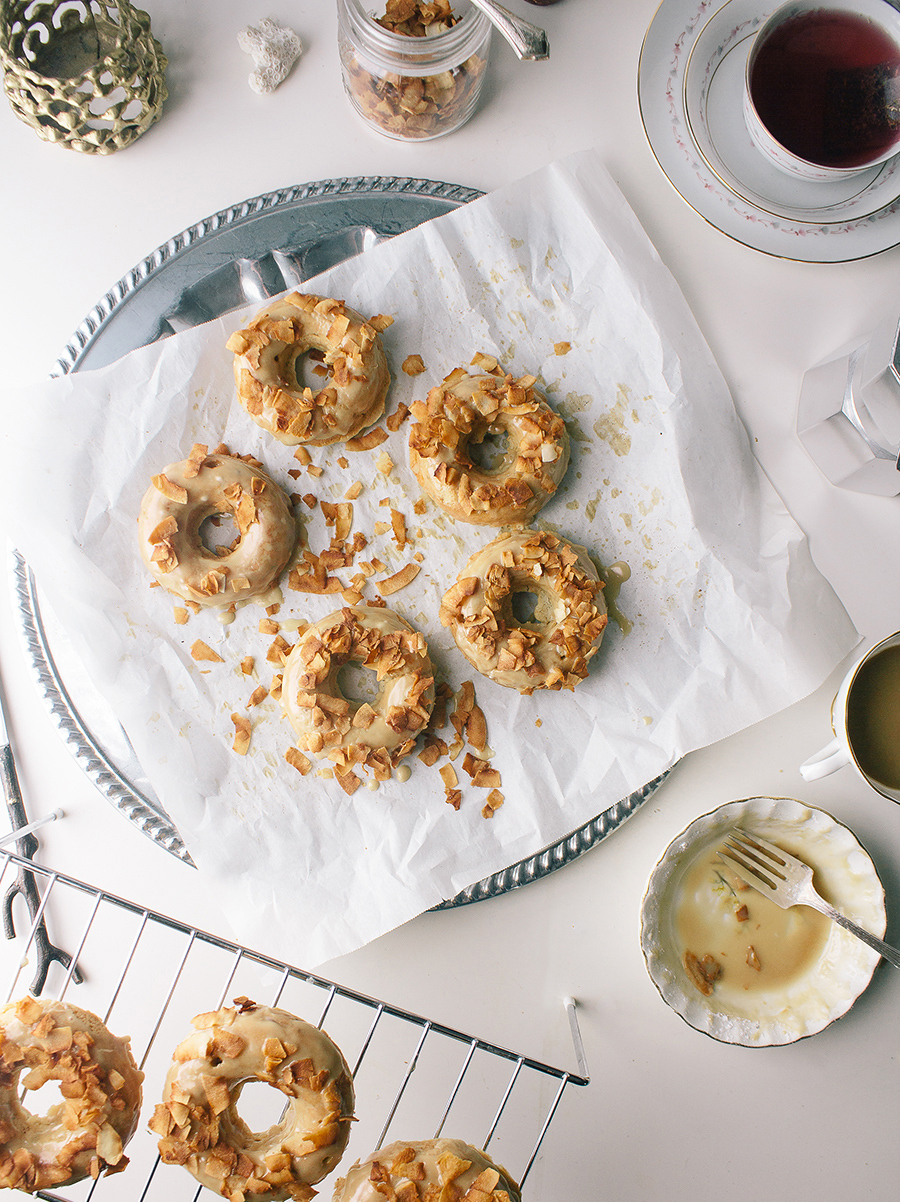 I'd like to think I live in a pretty progressive town for it being smack-dab in the middle of cornfields (also known as the 'meat-and-potato region'). Bloomington, Indiana is home to around only 40,000 people (80,000 if you count the students from the university) yet we have 4 co-op grocery stores, an entire street dedicated to ethnic restaruants, a vegan diner, numerous international grocery spots, a bike trail that runs the length of the city, and bakery dedicated to only serving vegan goodies.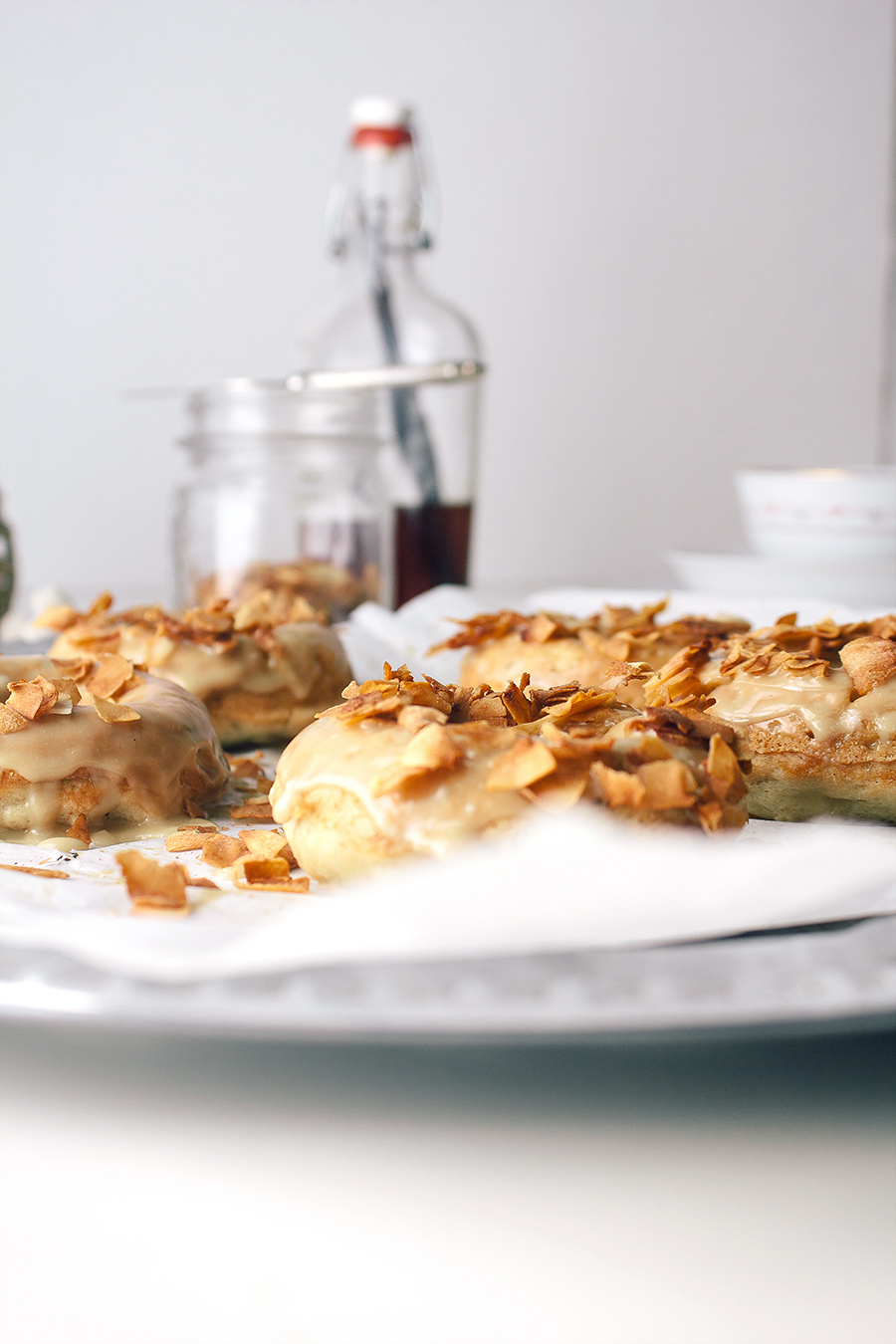 I bring this up because our local vegan bakery specialized in baked (or cake? I'd like to think they are the same thing but my boyfriend said this is 100% false) donuts. Theres always an array ranging from traditional toffee to more unique lavender-lemon. My usual go-to (after the huge cinnamon rolls and buckeyes) is always their maple bacon donut. They are wonderfully sweet with a hint of smoke from the coconut bacon.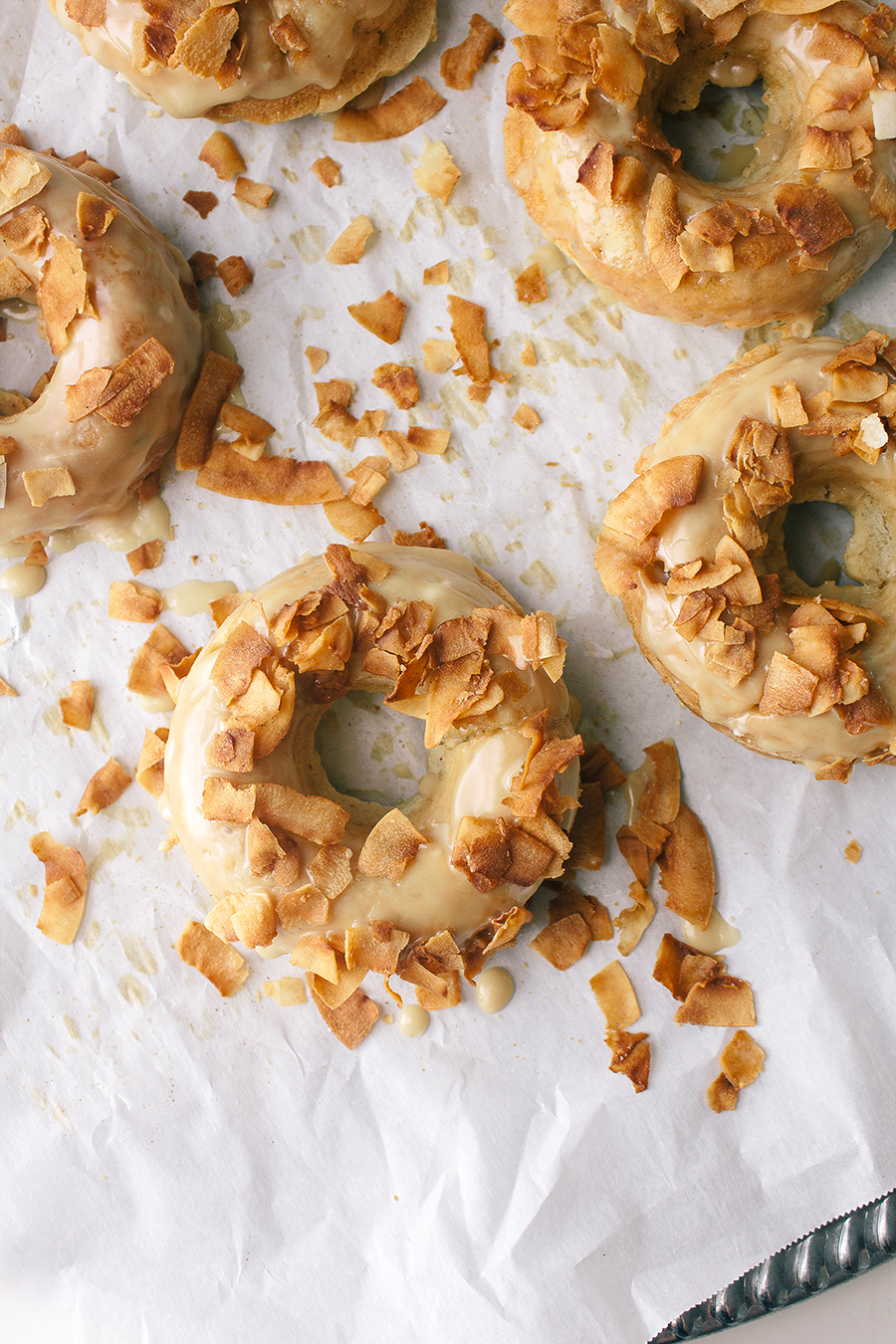 Although it's easier to just take a short 10 minute stroll (yes, I live that close to the bakery. Very very bad for my self control), I really wanted to try tackling these myself. I guess this was because life presented itself with the most gorgeous, giant chunks of unsweetened coconut flakes that were just begging to be turned into coconut bacon. Once I had a big batch of coconut bacon, it only felt natural to top them on some moist and maple-y baked goods since that is how I'm used to enjoying them.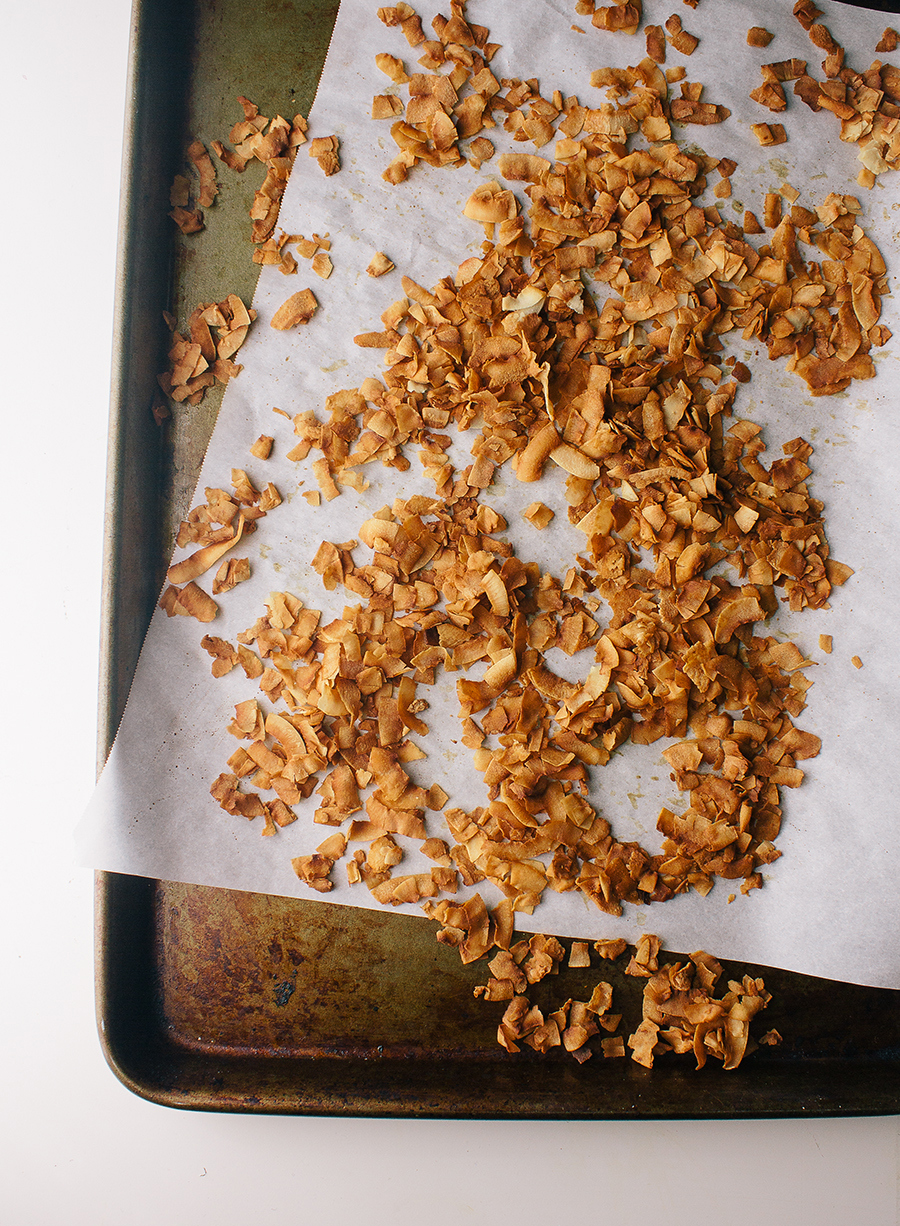 The coconut bacon is incredibly easy to make. Its as simple as mix, pour, and bake. Although the process is full-proof, don't get over-confident because these little chunks of amaziness burn in seconds if not watched closely. You'll need to be nearby to toss the chips every 5 minutes so make them while you are already moseying around the kitchen doing the dishes or cleaning off the counters. These chips can also be made up to 5 days ahead of time and stored in an airtight container until ready to use.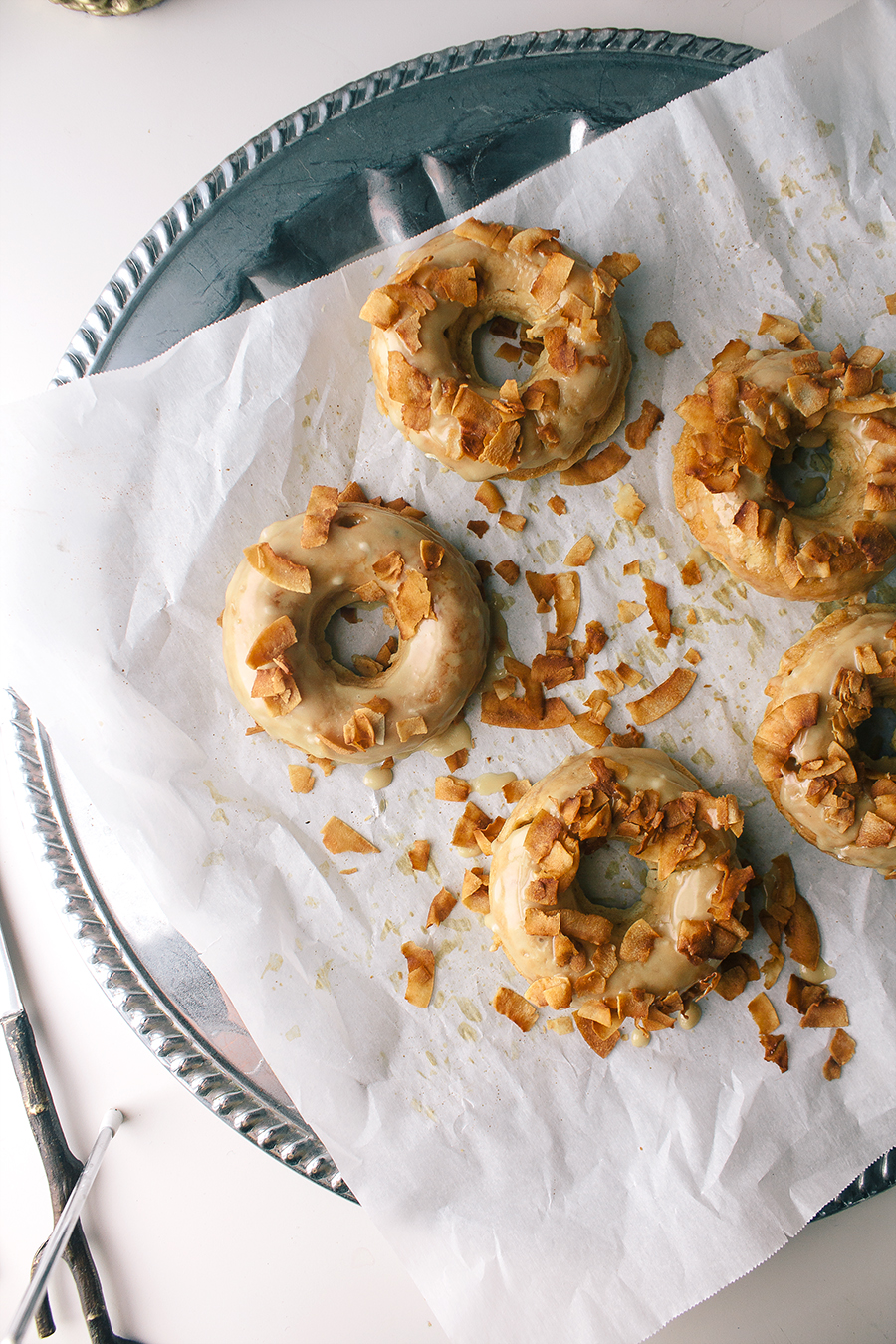 I used my go-to donut recipe here but pretty much any standard baked donut recipe will do (as long as you make sure to top them with the maple glaze and coconut bacon). I really like this recipe because it replaces half of the fat with applesauce which makes even moister donuts than if you'd have used all butter or oil. Plus, the lack of refined sugar in them makes the guilt of eating 3 (okay, maybe 4) donuts for breakfast seem a little more manageable.
Baked Vegan Maple Bacon Donuts recipe below: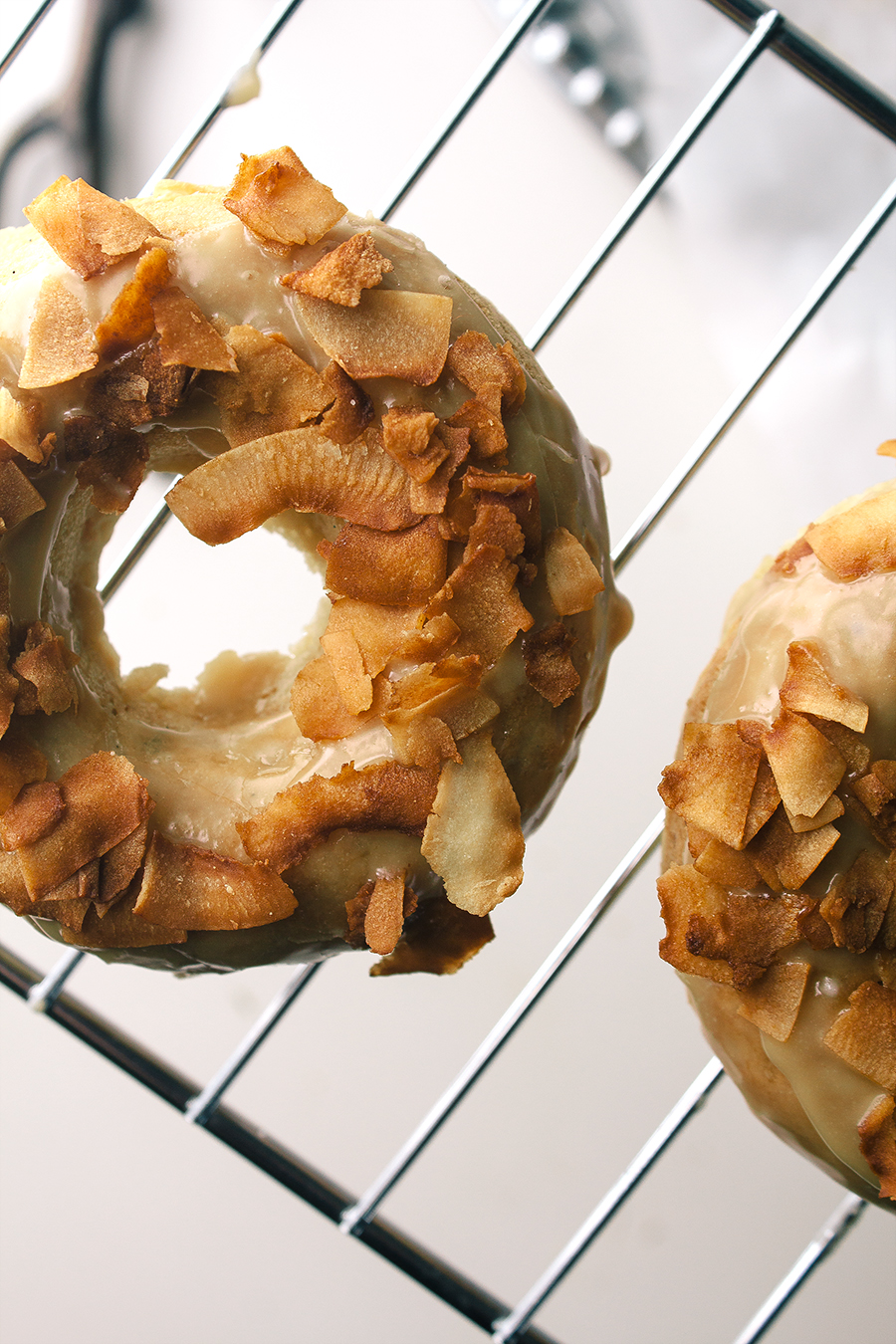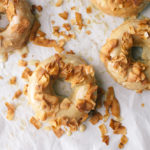 Baked Vegan Maple Bacon Donuts
Ingredients
For the Coconut Bacon:
1

cup

unsweetened large coconut flakes

1

Tablespoon

liquid smoke

1/2

Tablespoon

soy sauce

1

Tablespoon

maple syrup
For the glaze:
1/2

cup

powdered sugar

1

Tablespoon

maple syrup

For the donuts:

1 1/2

cups

all-purpose flour

1/2

cup

maple syrup

(I've always used 1/4 cup maple syrup + 1/4 cup honey)

2

teaspoons

baking powder

1/2

teaspoon

salt

1/2

teaspoon

nutmeg

3/4

cup

nut milk

(I used this almond milk)

1

teaspoon

apple cider vinegar

1

vanilla bean

, seeds only (or 1 teaspoon vanilla extract)

1/4

cup

applesauce

1/4

cup

coconut oil

(heating up just enough to be in liquid form)
Instructions
To make the bacon: Preheat oven to 325 degrees. Combine the liquid smoke, maple syrup, and soy sauce in a bowl. Fold in the coconut flakes until evenly coated and transfer to a parchment paper lined baking sheet. Bake for 20-25 minutes, flipping and shaking the flakes around every 5 minutes to keep from burning.

For the donuts: Turn oven temperature up to 350 and grease two donut pans. Combine the milk and vinegar and set aside for at least five minutes. Combine the flour, baking powder, salt, vanilla bean seeds, and cinnamon. Make a well in the center of dry ingredients and add in the applesauce, coconut oil, milk, and maple syrup. Fold the dry ingredients into the wet until everything is combined. Distribute the dough between the pans and bake for 12 minutes or until browned.

Whisk together the powdered sugar with the maple syrup a teaspoon at a time until your desired consistency is reached. I like to use the whole tablespoon to create a thin glaze but I won't judge if you enjoy yours thicker.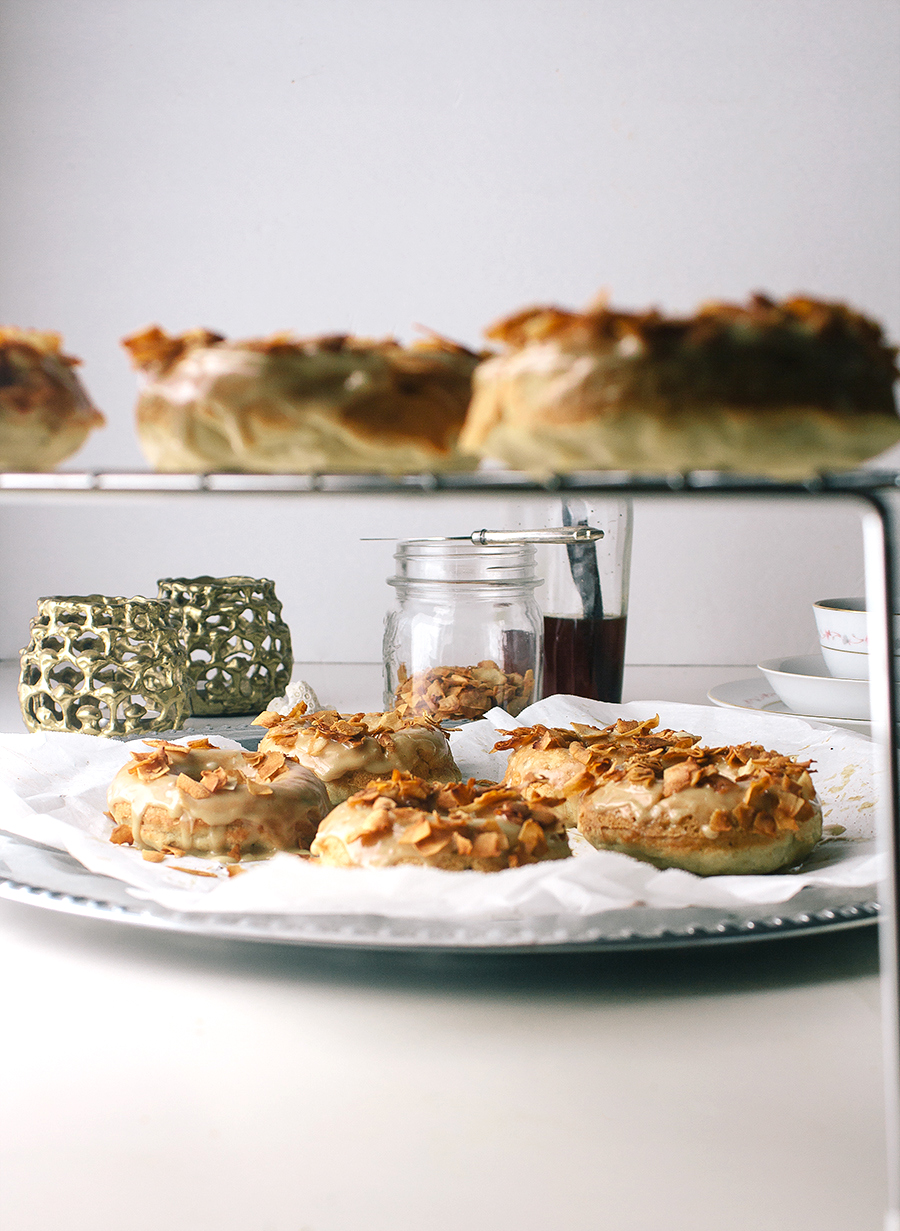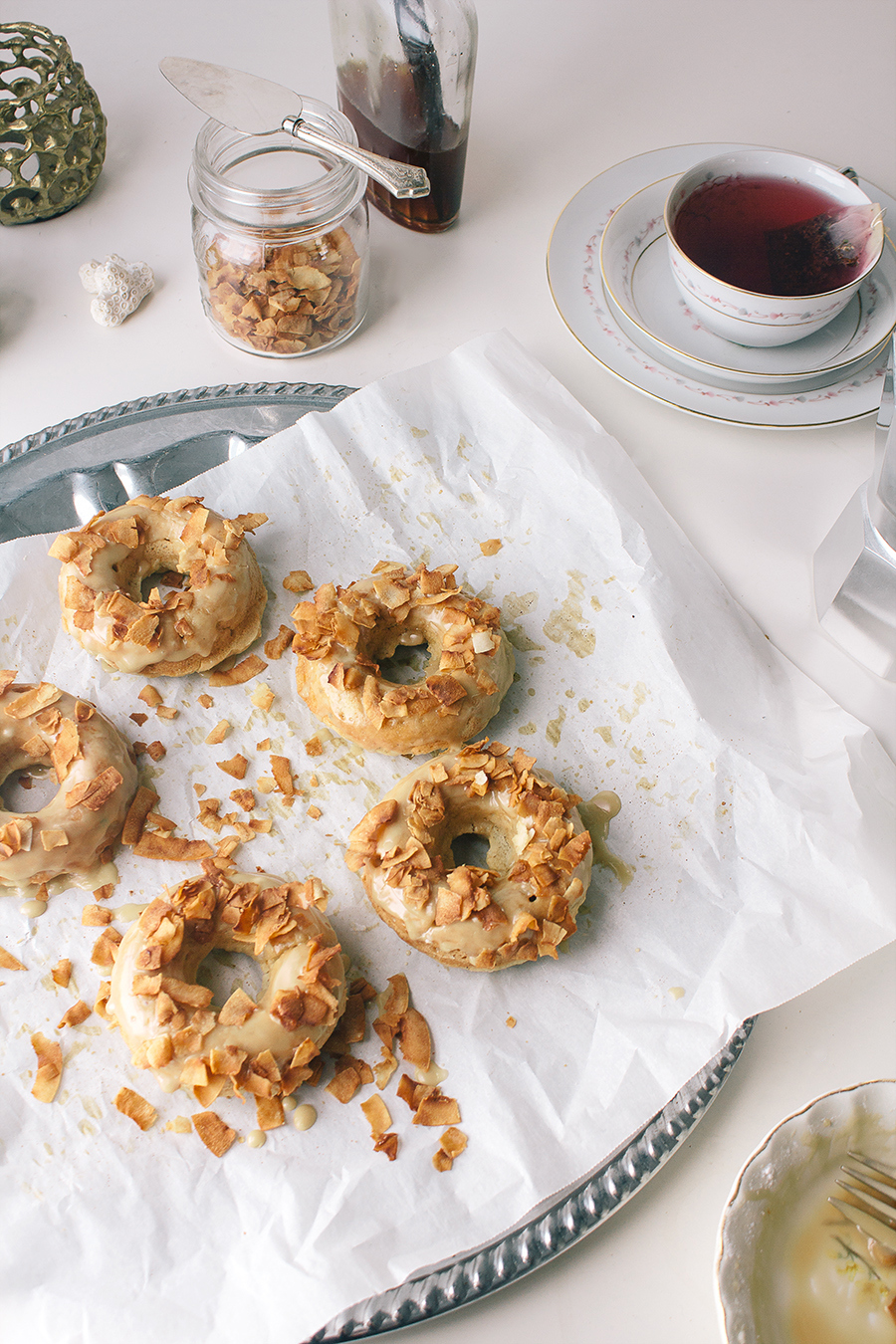 If you are ever in Bloomington, Indiana then don't forget to stop off at the Rainbow Bakery and try the real version of these! Heck, you might as well pick up half a dozen while you are there and stroll on over to my house. I'll provide the peppermint tea if you bring the baked goods.