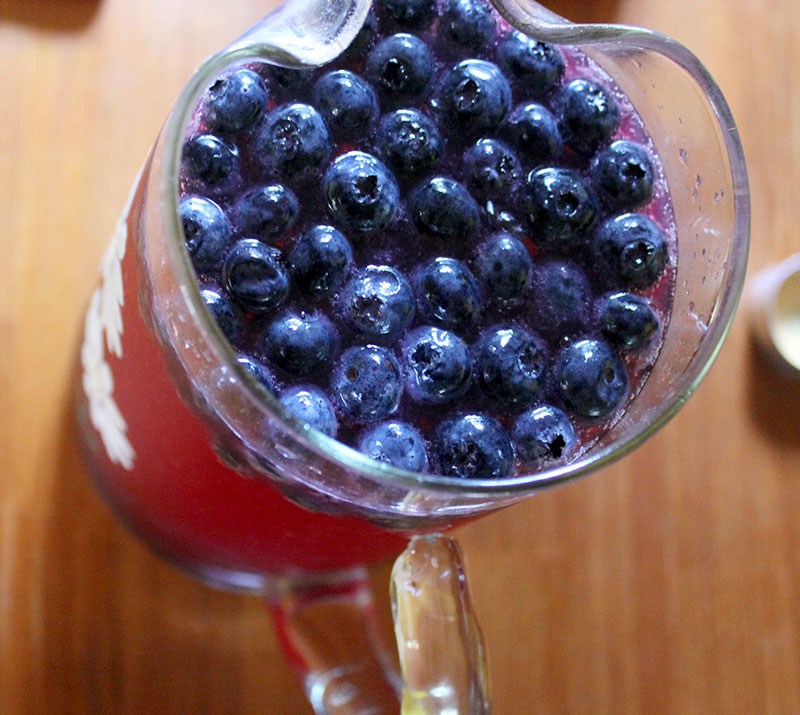 Blueberry Limeade Cocktail
And it's time for another cocktail recipe! I have really been spitting them out lately, huh? After posting recipes for both Vanilla Peach Champagne Punch and Strawberry Mint Wine Coolers last week, I am back with a new one!
We had a little "house-warming" type potluck last Friday which gave me an opportunity to make a few appetizers and drinks. I tend to lean towards sangria when it comes to making drinks for potlucks- it's what my Ma always made for summer parties and it's the main alcoholic drink that I am craving come August. However, we only had an hour to prep for the party (between work and party time) so I decided to pick out something a bit less labor intensive (cutting up fresh fruit adds up!). This cocktail was perfect because I was able to make the blueberry simple syrup the night before so I just had to combine everything in a pitcher right before the party. That made this drink totally stress free and gave me a much better mind set to just sit back and enjoy it!
Well, as usual, I took out my camera with intentions of taking pictures during the party but completely forgot about it as soon as people started showing up. Here is a snap shot of me holding the yummy cocktail (half the batch- this stuff made a lot!) before everyone arrived.
It's kind of weird posting a picture of myself on my blog! I am usually always the one behind the camera!
Anyhow, if you aren't planning to entertain anytime soon, you can definitely whip this blueberry syrup up and then store it in the fridge. It'll be perfect to bring out when you need to whip up a cocktail for yourself after a looooong day of work.
PS Use cane sugar to make vegan!
Blueberry Limeade Cocktail
For the Blueberry syrup:
1/2 pint blueberries
1 cup sugar
1 1/2 cups water
For the cocktail:
2 liter of seltzer water
a bottle of gin (about 700mm/24 fluid ounces)
1/2 pint blueberries (for garnish)
Ice
To make the blueberry syrup: Place the 1/2 pint of blueberries in a small sauce pan and use the back of a wooden spoon to mash them as much as possible. Add the sugar and water and bring to a boil. Once boiling, lower to a simmer and stir for ten minutes (or until a super deep blue/purple forms). Remove from heat and let cool to room temperature. Stick in an air tight container and in the fridge until chilled or ready to use.
To make the cocktail: In a large pitcher, combine the seltzer water, gin, and blueberry simple syrup. Serve over ice in fancy glasses!
Look at that color!