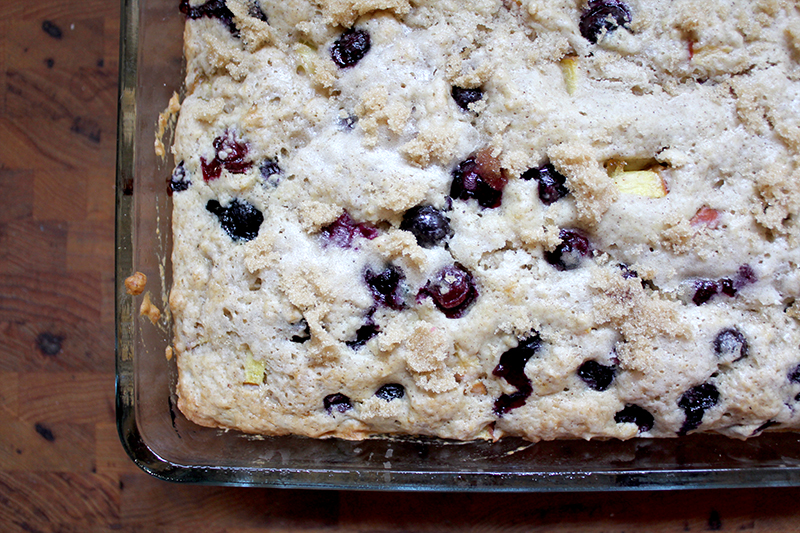 I am feeling a bit off because I am writing you from my favorite coffee shop, Soma, instead of my usual spot; this is because we are officially moved into our new home and are currently without internet. But really, it is okay because Soma littered with inspiration: from its Iced Chaikovsky (Chai + Coffee), maps paper mached all over the walls, and TV fish tanks- it is nothing short of a creative mecca.
Speaking of our new home being without thing…this is officially day 6 of my new life without a microwave. It has been going very well so far. Wyatt and I have decided to try to "untrain" ourselves from nuking thing in the microwave (see why here) and instead turn to the oven/on the stove top to warm things up. Wyatt was not happy about his coffee going cold the other morning (ohhh, the drawbacks of using a french press) but if that ends up being our biggest problem then I think we shall survive.
Oh, Yes! And back to the recipe! I decided to try this cobbler cake instead of a regular cobbler because we were having people over for a grill out and my thought was that it would be way easier for guests to just grab a square instead of messing with scooping a cobbler into bowls and getting spoons and what not. It was a huge success! The stuff was REALLY REALLY delicious. If possible, I think it may have been even better the next day because the humidity is so high in the Midwest right now that it made the cake moist enough to melt in your mouth. Ah, heaven!
And totally feel free to mix in whatever fruit you'd like or have on hand. I adapted this from ButterMeUpBrooklyn and she didn't even specify a fruit to use.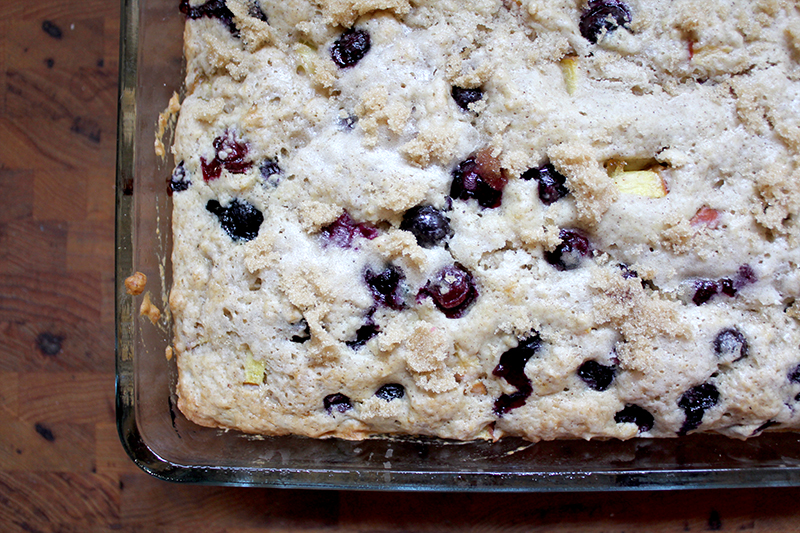 Blueberry and Peach Cobbler Cake
1 cup almond milk
juice of 1 lemon
2 cups All Purpose Flour
1/3 cup cane sugar
1 1/2 teaspoon baking powder
1/2 teaspoon salt
1/2 teaspoon nutmeg
1/2 teaspoon cinnamon
1/4 teaspoon baking soda
6 Tablespoons earth balance, cut into chunks
dash of vanilla
1 cup blueberries (I used fresh but I am sure you can use frozen as well)
1 peach, pitted and cut into small chunks
1/4 cup brown sugar
Preheat oven to 375 degrees and grease a baking pan.
In a small bowl, combine the almond milk and lemon juice. Set aside and let it curdle (you are making vegan buttermilk right now!) for about 5 minutes.
In a large mixing bowl, whisk the flour, sugar, baking powder, baking soda, salt, cinmamon, and nutmeg together. Toss in the Earth Balance and use your fingers to work into the dry ingredients. Next, fold in the fruit. And finally, fold in the buttermilk just until everything is combined (you don't want to over mix!).
Pour into your prepared pan and bake for about 3o minutes or until you can stick a tooth pick in the center and it comes out clean. Sprinkle the top with the brown sugar.
Let cool and then slice into squares.
Serve to all your friends and watch at how excited they are about your new twist on cobbler!