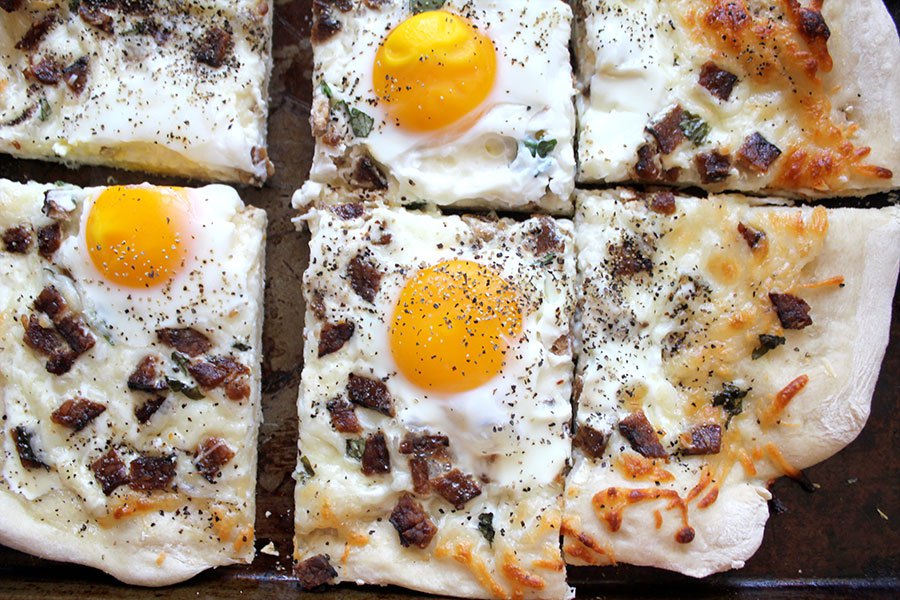 Breakfast Pizza Part 1: Savory Breakfast Pizza
I made a breakfast pizza "buffet" last night for dinner. I use this term "buffet" lightly because really…it was only 2 pizzas (a savory and a sweet) but that is a lot of pizza for two of us! I had spotted the original concept for this recipe on Smitten Kitchen months ago and knew I had to try it…eggs on a pizza, who would have thought? But the idea of mixing two of the best things (breakfast AND pizza) was just too tempting not to play with.
I had to trick Wyatt with this dish. We are a pizza-loving house and he wants to go out for pizza at least once a week. Once a week! I've tried to rationalize it by loading the pizzas with mounds of veggies but he finally complained that I put too much on them and now just insists on cheese. Never will you meet a couple that fights so much over pizza toppings! So, of course, you can only imagine the look on his face on Sunday night when he asked what I was making and I replied with pizza dough. Let's just say it started out as a big grin then quickly turned into a suspicious glare and ended in the question "What are you putting on top of this pizza?". I told him "breakfast. Mostly eggs". He must have assumed this was a joke because it was dropped and the look on his mortified face when I cracked three eggs over the pizza dough the next day was absolutely priceless.
Luckily, he was hungry enough to eat whatever I put in front of him and not only did he eat one piece with egg on it, but he ate three! It was just that good! Imagine a delicious pizza crust as the toast and then lathered between the toast and egg is a layer of gooey cheese and spices. How can that be bad?
I also made a delicious blueberry lime pizza but you will have to wait until tomorrow for that recipe!

Savory Breakfast Pizza
Simple pizza dough:
4 cups flour
4 teaspoons salt
1/2 teaspoon active yeast
3 cups + 1 Tablespoon warm water
And for the toppings:
4 eggs
1/2 cup mozzarella
1 Tablespoon fresh basil
4 cherry tomatoes, sliced
3 slices of Fakin' Bacon (or sausage crumbles)
Olive oil
Salt/Pepper
The night before: Whisk together the flour, salt, and yeast. Slowly add in the warm water and mix until just combined. On a lightly floured surface, roll out the mixture and knead until everything is incorporated (this shouldn't take more than a minute or two). Place the dough in a greased bowl and cover with a rag. Let sit overnight so that the yeast can do its thing and double in size.
Once ready to make the pizza, preheat oven to 425 degrees. Divide the dough in half and either roll out two pizzas or save one of the halves for another night (you can wrap it up and stick it in the fridge for another day). Roll out the pizza dough on a floured surface until it's the desired thickness you'd like (it will rise a bit in the oven but not much). Set aside to let the dough rise slightly while you prepare the toppings. Also, note that a lot of people claim you should not use a rolling pin to stretch pizza dough because of the air pockets but I have never had problems with the dough not coming out delicious so do whatever you are comfortable with.
In a skillet, heat a tablespoon of olive oil over medium heat. Add in the fakin' bacon and cook on each side for about 3 minutes or until it becomes crispy. Remove from heat and slice into little chunks.
Spread a tablespoon of olive oil over the top of the pizza dough and then layer on the mozzarella, tomatoes, bacon, and basil. Finally, crack the eggs and place in four different spots on the pizza. Season with salt and pepper.
Cook for 12 to 15 minutes, checking periodically. Depending on how you like your eggs is how long you will want to cook it- it you like the yolk running then take it out much soon than if you like them hard (just make sure the white parts are for sure cooked before removing!).
Serve with a strong bloody Mary or tequila sunrise.