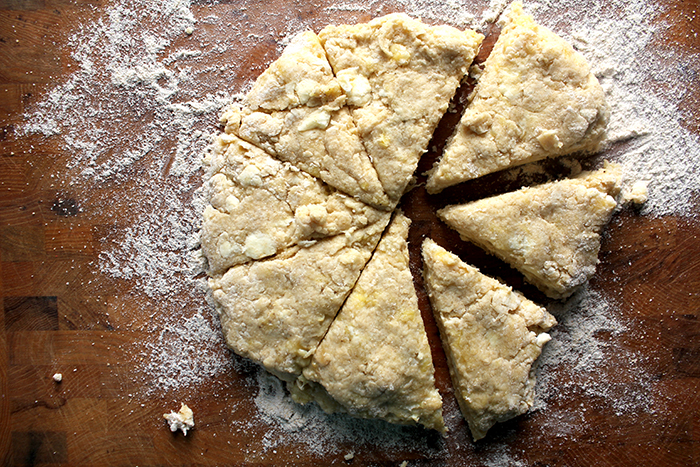 Caramelized Banana Scones with Whiskey Chocolate Drizzle
If you follow VV on facebook then you heard me lusting over scones yesterday. I LOVE LOVE LOVE scones and am always finding new inspiration for flavor combinations. Last time I made those [drool] Dark Chocolate Raspberry Espresso Scones and this time I continued with the chocolate /// fruit theme. We've got chunks of sugary and melt-in-your-mouth caramelized banana s topped with boozy dark chocolate drizzle. Think of these as a fantastic mix between your favorite morning banana pancakes (you know that texture – where the bananas start to caramelize on the bottom of the pancake) and that chocolate covered banana that you always crave after watching Arrested Development. Oh.. and then throw a warm and flaky scone into the mix [and maybe some coffee on the side]. BOOM. So amazing.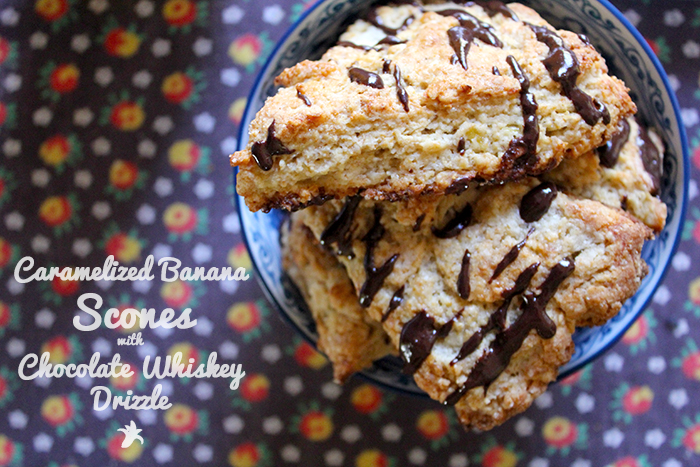 Caramelized Banana Scones with Whiskey Chocolate Drizzle
basic scone recipe adapted from Smitten Kitchen
2 bananas, peeled and cut into chunks + 1 Tablespoon sugar + 1 Tablespoon butter
1 1/2 cups all purpose flour
1/4 cup sugar + more to sprinkle on top
1 1/2 teaspoons baking soda
1/2 teaspoon salt
6 Tablespoons cold butter, cut into chunks
1/4 cup milk
1 egg
For the drizzle:
2.5 ounces dark chocolate
1/4 cup milk (+ a few more tablespoons to thin it to desired consistency)
1 Tablespoon sugar
2 teaspoons whiskey
Start by caramelizing the bananas: Melt 1 tablespoon butter over medium low in a small skillet. Roll the bananas in the tablespoon of sugar and transfer to skillet. Let the bananas caramelize until they start to brown and break down but remove from heat before they become mushy.
Preheat oven to 375 degrees. In a large mixing bowl, combine the flour, salt, sugar, and baking soda. Use your hands or a pastry knife to incorporate the butter until a coarse dough as formed. Mix in the egg and milk until just incorporated (don't overmix!). Fold in the bananas and transfer dough to a floured surface. Flatten dough and make an inch thick dough. Cut the dough into 6 pieces (like a pie!) and transfer to a greased baking sheet. Sprinkle with coarse sugar and cook for 30 minutes or until firm.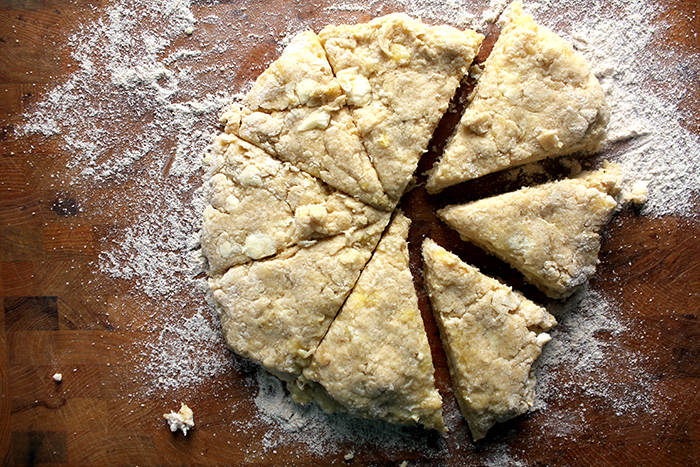 To make the drizzle: In a double broiler, melt the chocolate, milk, and sugar. Whisk constantly until everything is combined and remove from heat. Let cool to room temperature and whisk in the whiskey. If too thick to drizzle, add a little milk (a teaspoon at a time) until your desired consistency is reached. Drizzle over warm scones.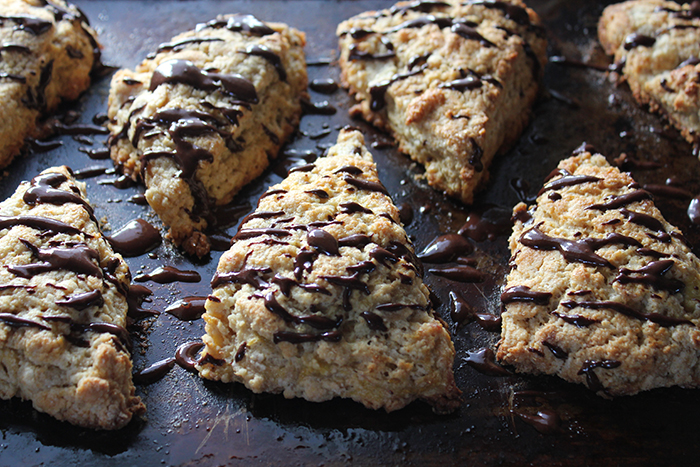 Track of the day: