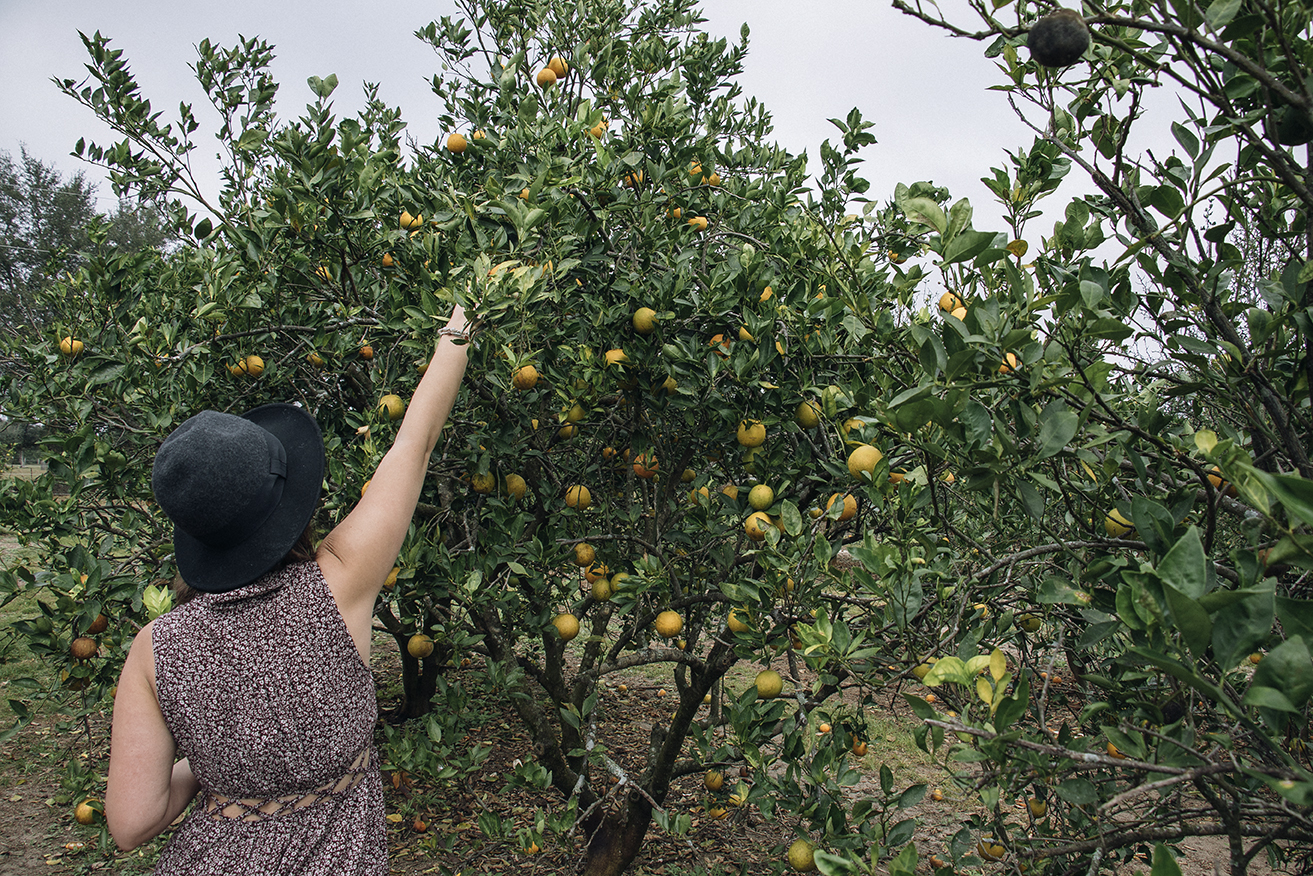 Caramelized White Chocolate & Dark Chocolate Covered Oranges
In a hurry? Click here to JUMP TO RECIPE!
As I posted about on instagram a few weeks back, we visited a citrus grove when we were in Florida over the holidays. My grandma lives on a small island down near the Everglades and we've gone down to visit her at least once a year since I was a little kid. Most of our trips have always consisted of laying on the beach, seeing movies at the local diner-style movie theatre, and taking boardwalk adventures through the Everglades. All those activities were up there on my list this time around but I also wanted to try something new; this time I wanted to pick some legendary Florida citrus. The idea came after reading Forager: A Subjective Guide To Miami's Edible Plants this fall. The book is filled with adventure photos of foraging in the tropics which was so different than the mushroom and apple picking I am used to here in the Midwest. I wanted to be able to forage in a sundress instead of a sweater and to walk away with my hands smelling of sweet orange.
I was able to pull my reluctant mother and boyfriend away from the beach one morning and convinced my grandma that there are things worth getting off the island for. We drove off the island and a good hour into the inland of Florida. I should let you know that driving in the 'country' of Florida is not like any other countryside I've been to in America.  It doesn't take long for the coastal mansions and condos to fade and before you know it, you're on a small dirt road that is wedged between vibrant swamps. We drove through the swamps for an hour before we started to see citrus groves dotting the landscape a few acres at a time. Finally, right when I was starting to get to the point of being nervous that I dragged my family out into the very wild south, we came upon the citrus ranch I had mapped out. The farmer's were similar to Midwest ones (in fact, they were originally from Michigan but had moved down to Florida to retreat from the winters) but the landscape could not have been more the opposite. This was the kind of place where they told stories of rattle snakes getting too close to your dogs and pesticides ruining your bodies; this was the kind of place you won't find without really looking for it. This is the kind of place where you find real adventures and discover where your food comes from.
For today's recipes, I have two twists on making chocolate covered oranges. I know most of us are suffering from a sugar crash after December's sweets overload, which is why I tried to keep it simple. I can't help but notice myself still craving cookies and pie, so slowly weaning myself off of sugar with a little fruit dark chocolate has been my remedy this month.
This was the first time I've ever caramelized white chocolate and I was pleasantly surprised at how easy it was. The trick is to make sure you stir it often so it doesn't burn and let it slowly bake until the color resembles light caramel or peanut butter. I also should note that my white caramelized white chocolate didn't harden as fast as the dark chocolate, so it thinned out a bit once the oranges were dipped (see picture below) but they were still delicious and I think I'll just wait for the chocolate to cool for a bit longer next time before dipping the fruit.
Caramelized White Chocolate & Dark Chocolate Covered Oranges recipes below: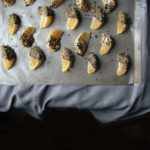 Caramelized White Chocolate & Black Sesame Seed Covered Oranges
Juicy orange wedges dipped in caramelized white chocolate and crunch sesame seeds.
Ingredients
3

Large oranges

, peeled & wedged

10

ounces

of white chocolate

1

Tablespoon

peanut oil

1/4

cup

black sesame seeds
Instructions
Preheat oven to 250 degrees and line a baking sheet with wax paper. Place sesame seeds in a shallow bowl and set aside.

Transfer your white chocolate chips int0 a small glass baking dish (I used a 9 inch glass pie pan but any baking pan would do), drizzle the peanut oil, and use a spatula to coat the white chocolate in the oil. Place in the oven and let bake for 10 minutes. After ten minutes, remove from oven, stir, and place back in the oven. Continue to bake, stirring every ten minutes, until the mixture is smooth and has turned a light caramel color (think the color of light peanut butter). There will be times when you take your chocolate out and it will be chalky but continue to stir it and it should melt back up.

Once your white color is caramelized and smooth, remove from heat and let cool just slightly. Dip your orange slices in the white chocolate, roll in the sesame seeds, and then transfer to your wax paper. Repeat with the rest of the orange wedges and then stick in the fridge to harden. Enjoy!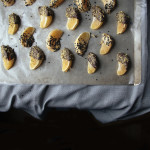 Dark Chocolate & Pistachio Covered Orange Slices
Recipe for juicy orange wedged dipped in dark chocolate and salty pistachios.
Ingredients
3

large oranges

peeled and wedged

10

ounces

of dark chocolate

1

teaspoon

thick sea salt

1/4

cup

finely chopped pistachios
Instructions
Line a baking sheet with wax paper and pour the pistachios into a shallow bowl. Heat the chocolate over a double boiler, stirring often, until melted. Remove from heat and stir in the sea salt. Dip half a orange wedge in chocolate, roll in the pistachios, and then transfer to wax paper. Repeat with the rest of the orange wedges and then stick in the fridge to harden. Enjoy!