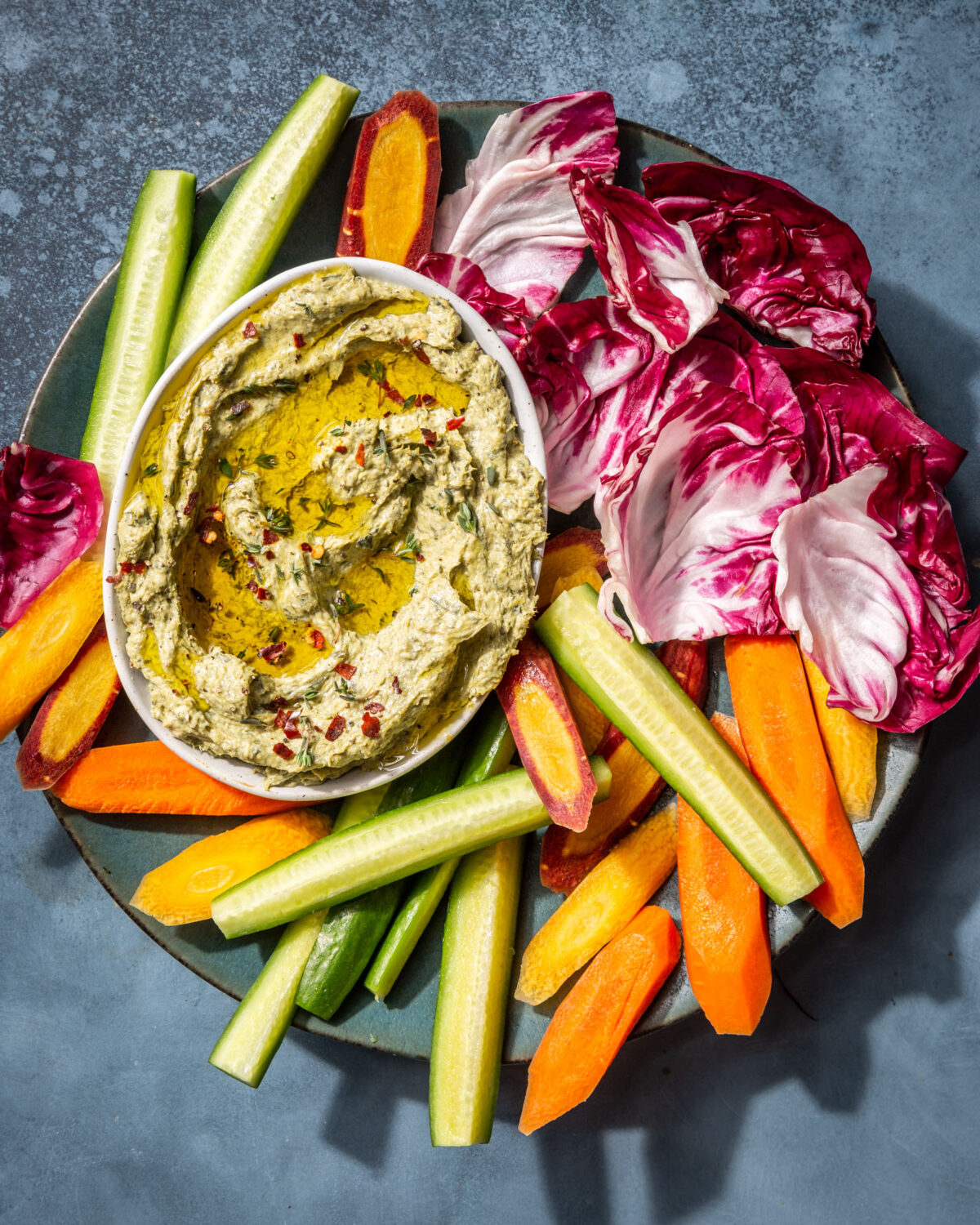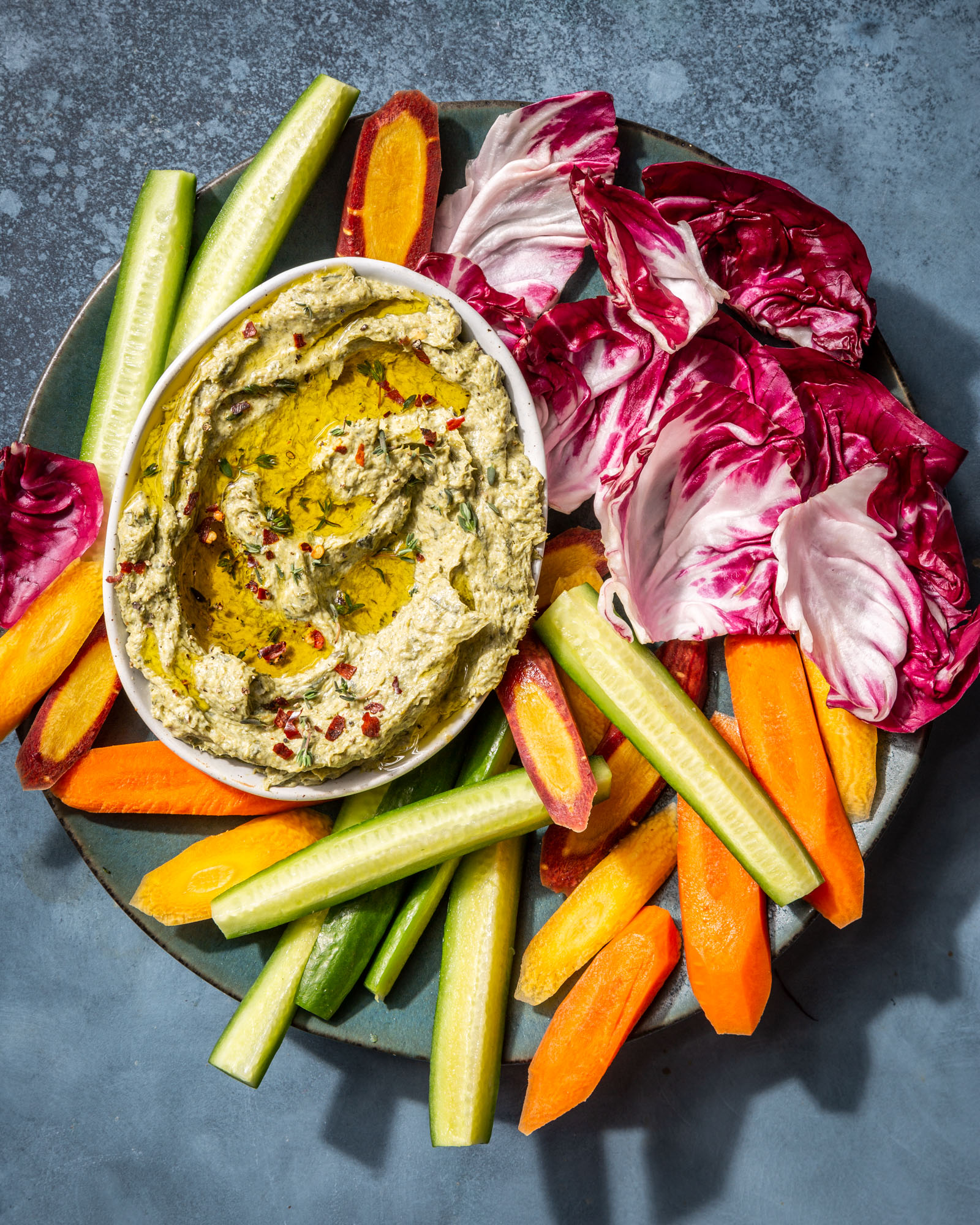 Caramelized Leek Veggie Dip
Make this Caramelized Leek Yogurt Veggie Dip on Sunday afternoon to enjoy all week long with veggies for a satisfying and flavorful snack!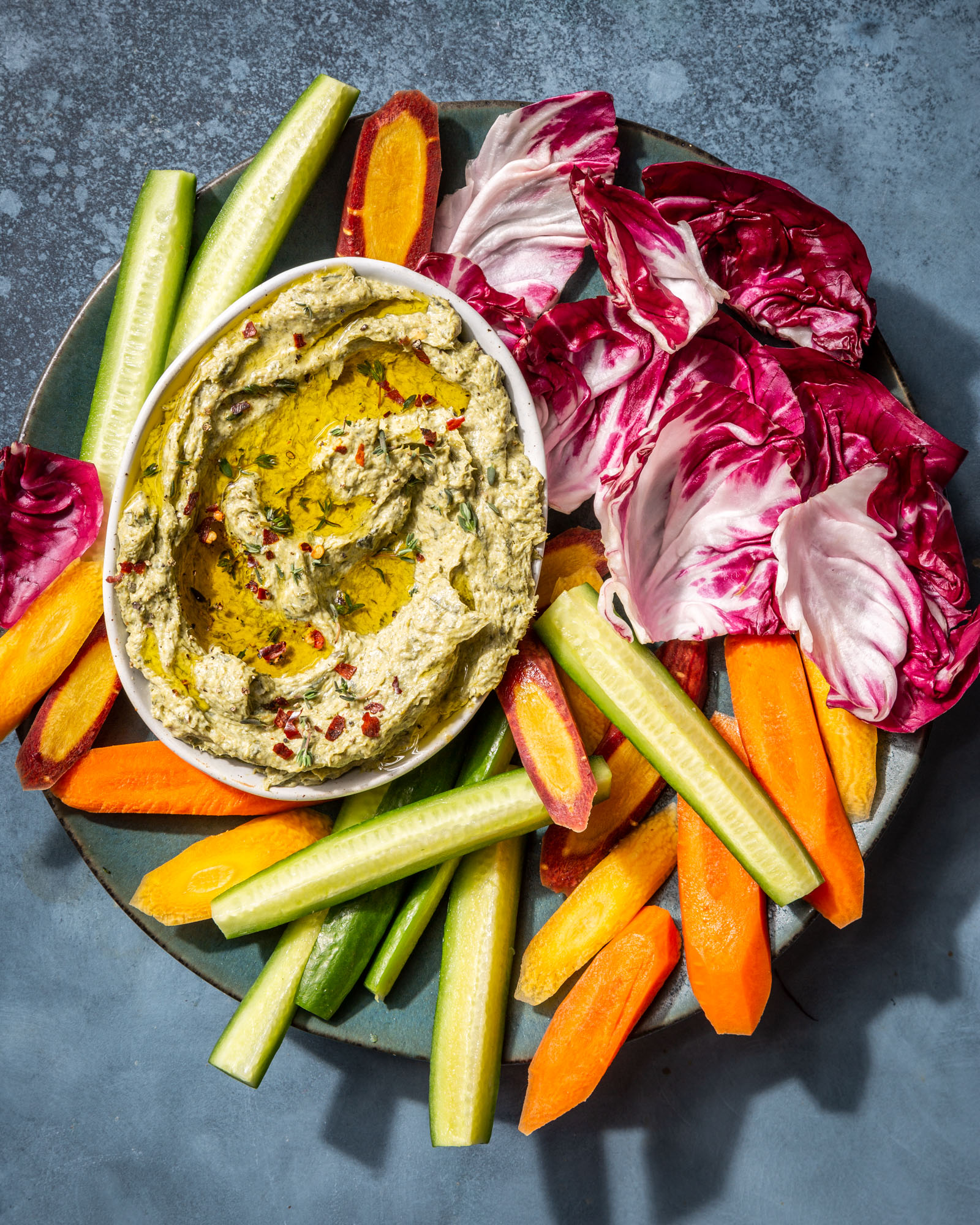 Hiii – happy New Year! Are you at all surprised that my first recipe of the year is a dip recipe? I tend to find most people ask about dip recipes when they are looking for a party pleaser but I'm hear to tell you that dips are for all occasions. A great dip not only can feed a crowd but it can also be enjoyed for everyday eating to bulk out a meal (anyone else eat dips and veggies for dinner sometimes?) or as an afternoon snack with leftover veggies from the fridge.
I created this dip with my solo dip eaters in mind – it's packed with flavor from the leeks, protein from the greek yogurt, and honestly is my favorite way to get me to grab for some veggies during an afternoon hunger spell versus a bag of cheez-its. It's inspired by French onion dip but I've lightened it just enough for everyday eating while still not compromising flavor. And the best part is that you can make a batch on Sunday to enjoy during the week – I actually find it even taste better after it's had a night to sit in the fridge and develop flavor.
My favorite way to enjoy this Caramelized Leek Yogurt dip is with carrots but it would also be delicious with cucumber slices, sturdy leafy greens, crackers, or even potato chips. But don't stop there – this dip is super versatile! If you are looking to get even more creative, you could use this as a spread on a veggie sandwich for lunch or toss it onto some pasta for a dinner option.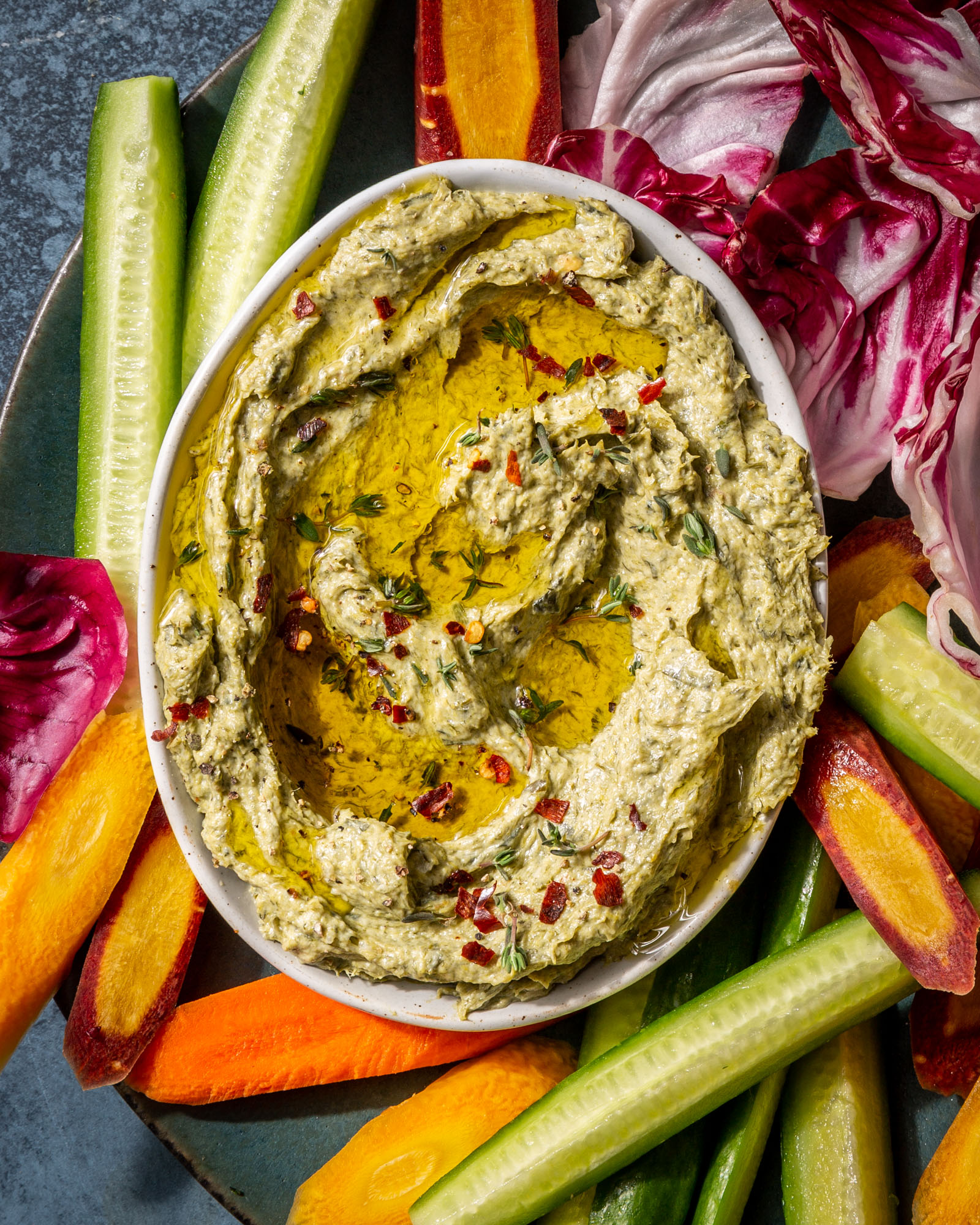 When you start chopping the leeks for this recipe, it's going to look like a lot of leeks but don't worry as they cook down. Since it's easy for dirt to accumulate inside leeks, my go-to method to clean them is to trim the ends, cut the leeks down the middle, and then thinly slice into half moons. Once I've done this, I will transfer the leeks to a large bowl filled with cold water, use my clean hands to move the leeks around in the water to break the dirt free, and then let it sit for 5 minutes so that dirt can settle to the bottom of the bowl. From there I just scoop the leeks back out, shake off the water, and use as the recipe calls for.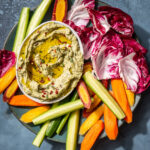 Caramelized Leek Yogurt Veggie Dip
Make this Caramelized Leek Yogurt Veggie Dip on Sunday afternoon to enjoy all week long with veggies for a satisfying and flavorful snack!
Ingredients
1/4

cup

olive oil

+ more for serving

4

medium

leeks,

trimmed, cleaned, cut in half and thinly sliced into half moons

1

tsp

salt

1

tsp

sugar

2

garlic cloves,

minced

1/3

cup

whole milk plain yogurt

2

Tbsp

mayonnaise

1

tsp

thyme leaves

+ more for serving

1/4

tsp

red pepper flakes

+ more for serving

black pepper,

to taste
Instructions
In a large dutch oven, heat oil over medium heat. Add chopped leeks, salt, and sugar and toss to coat. Cover and let cook for 25 minutes, stirring every few minutes, until the leeks have shrunken signficantaly. Remove cover and let cook for an additional 5 minutes to cook off an excess moisture. Add in minced garlic and cook for an additional minute.

Remove from heat and let sit for at least 10 minutes to cool. Transfer to a food processor with a blade attachment and add in yogurt, mayonnaise, thyme leaves, red pepper flakes, and a few grinds of freshly ground black pepper. Turn the food processor on and let blend for about 3 minutes or until the dip is pale green and completely mixed.

Transfer to a small serving bowl and top with a little more olive oil, red pepper flakes, and thyme. Serve with your favorite veggies. If making ahead, transfer to an airtight container and store in the fridge for up to 4 days.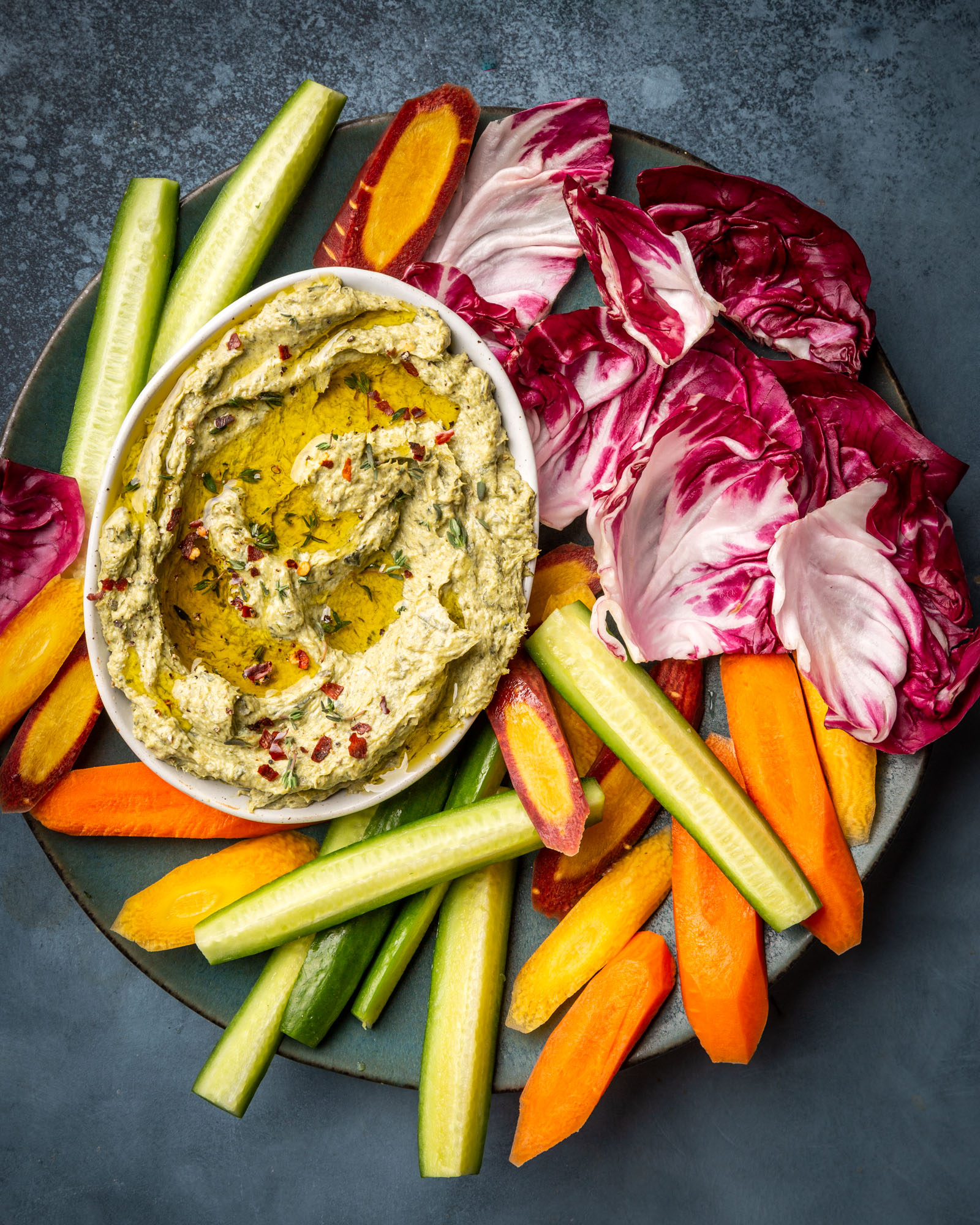 Make sure to tag Vegetarian 'Ventures on Instagram and use #vegetarianventures when trying this dish out!