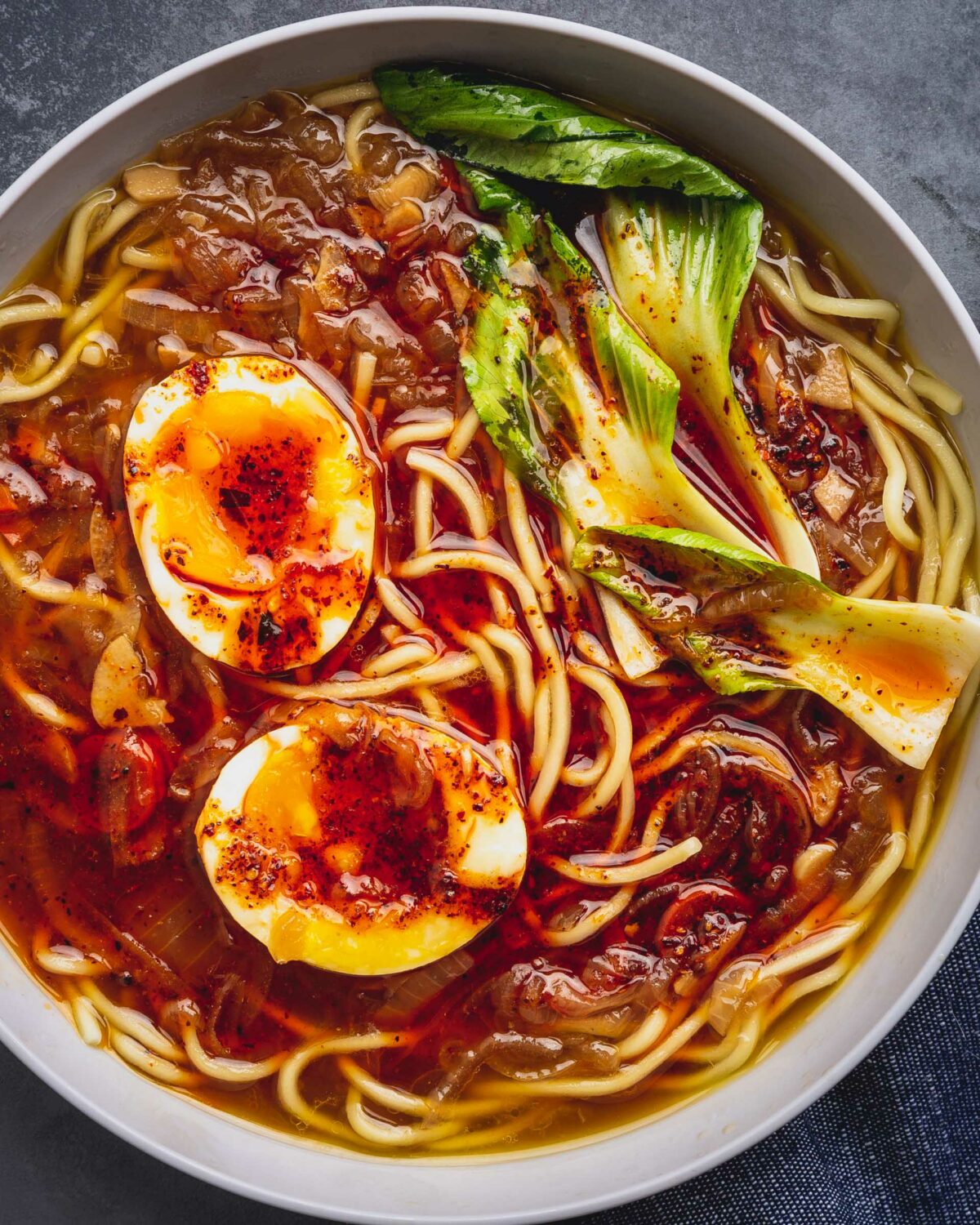 Caramelized Onion and Chile Ramen
This Japanese and French inspired Caramelized Onion and Chile Ramen dish comes from Meera Sodha's new vegetarian and vegan cookbook, East.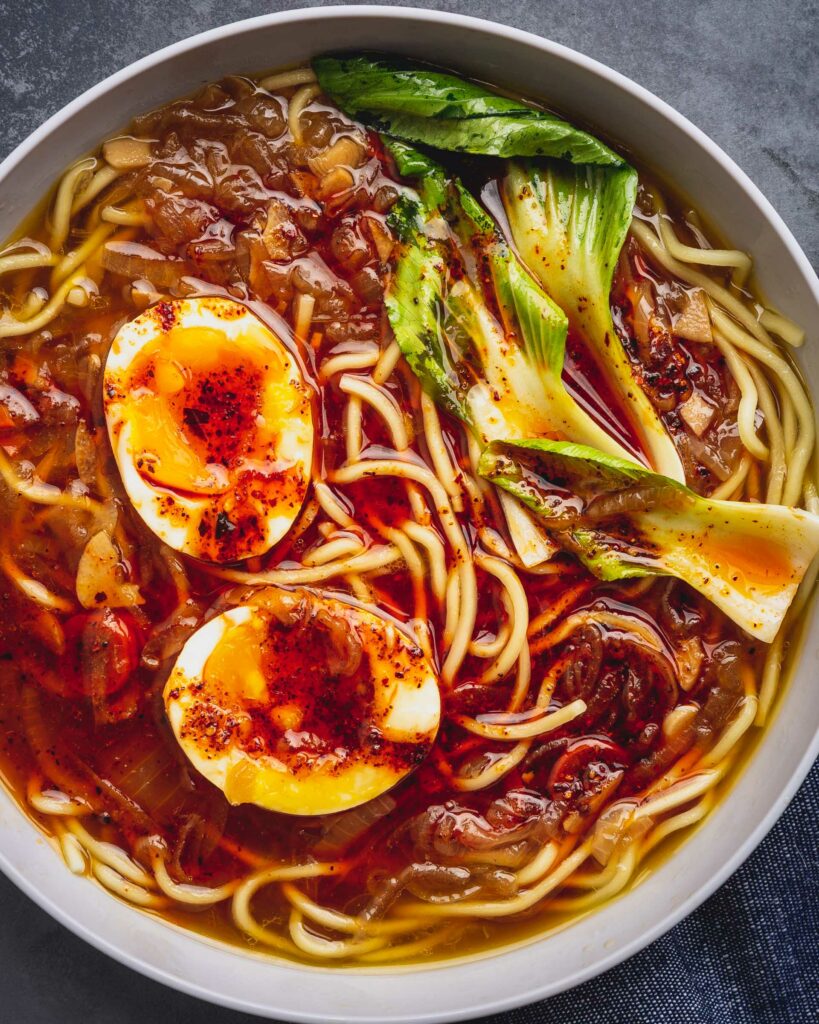 Today I'm sharing this insanely delicious Caramelized Onion and Chile Ramen recipe from the new vegetarian cookbook, East. It's a beautiful book filled with recipes inspired from countries in the East. Meera is best known for her vegetarian column in the Guardian and has become a well known name amongst those who seek out vegetarian recipes. Meera starts the cookbook by saying she is in no way an expert on Eastern cooking and that these recipes are not authentic but a result of seeing the recipes through her vegetarian viewpoint. Because of this, I wouldn't recommend this book for anyone who is looking for authentic recipes but would definitely recommend this for any vegetarian / vegan friend who wants easy weeknight meals that stray outside of the typical veggie burger or pizza. I've already tried this ramen and made some sweet potato dumplings but can't wait to dive into the array of salads and desserts she also has in this book.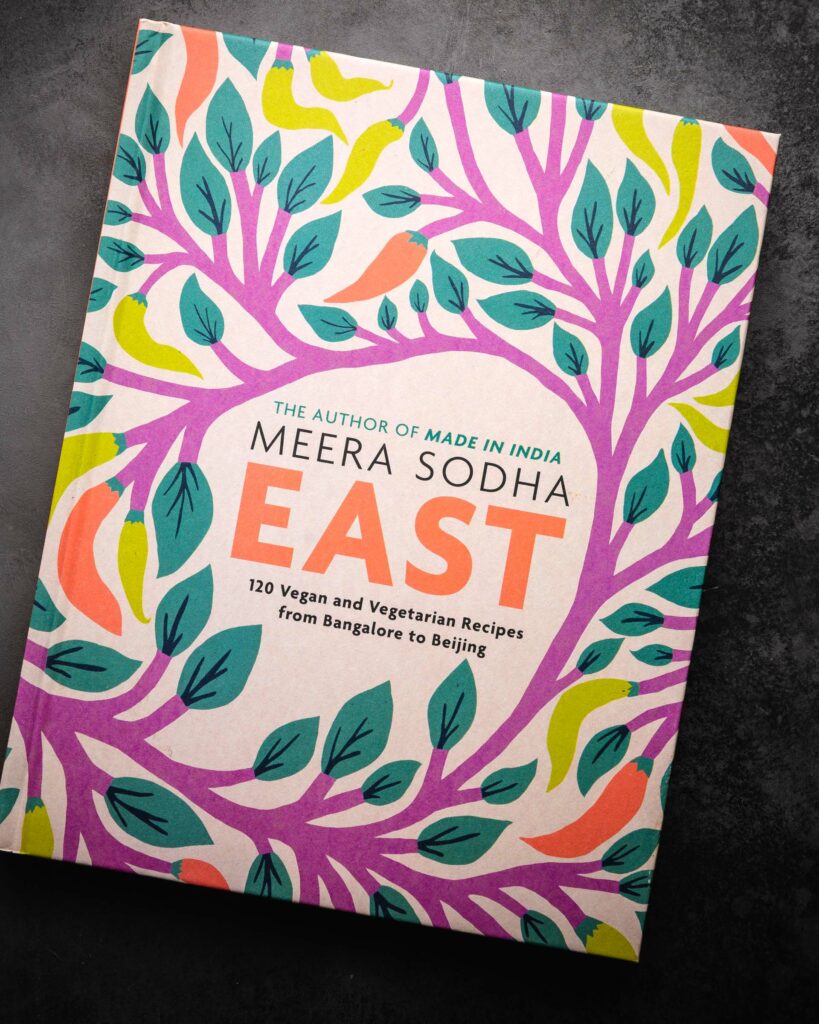 This recipe is a fun hybrid of umami-rich French onion soup and spicy Japanese ramen. The onions take about 30 minutes to caramelize but other than that step, this ramen comes together very quickly. I couldn't find the choy sum the recipe called for so I switched it out with mini bok choy which was delicious. In an attempt to support small businesses (versus just buying from our big box grocery store for everything), I've been trying to buy some specialty ingredients from small businesses directly (even if it means getting items mailed to me) which has made my meals even more special. For this ramen in particular, I used Sun Noodles (which I had shipped to me last spring to have at the ready in my freezer) and Xi'an Famous Food's chili oil (I also had a few packs of this shipped to me a few months ago and it's brought all of our noodle dishes to new levels!). You are, of course, welcome to pick up all the ingredients at your local grocery stores but I just wanted to mention as it's been fun to feel like I'm trying something new without going out to eat.
We ended up devouring this ramen on it's own but you could enjoy it with a slaw or cabbage salad if you wanted to serve it with something else.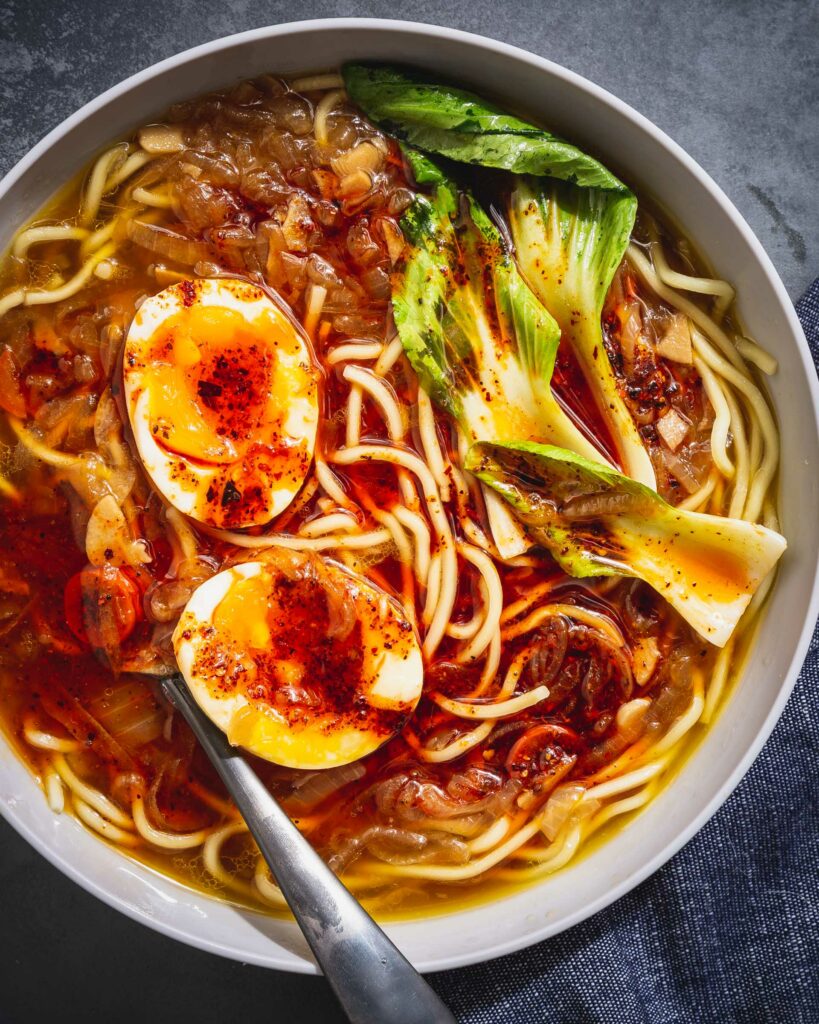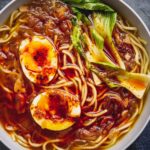 Caramelized Onion and Chile Ramen
This Japanese inspired Ramen dish comes from Meera Sodha's East cookbook.
Ingredients
5

Tbsp

canola oil (I used olive oil)

1

large onion,

finely sliced

3

garlic cloves,

peeled and finely sliced

1/2

tsp

salt

1

bird's-eye chile,

finely sliced

6 1/2

cups

low-sodium vegetable stock

2

Tbsp

cooking sake

1 1/2

Tbsp

soy sauce or tamari

1

Tbsp

miso paste

7 oz

ramen noodles

1/2

lb

choy sum or bok choy,

cut into 2 1/2 inch pieces

4

soft boiled eggs

peeled and halved

chile oil,

to server
Instructions
In a large heavy-bottomed saucepan, warm 5 Tbsp oil over medium heat. Add onions, garlic, and salt, stir to coat in the oil, and cook for 8 to 10 minutes, until the onions become translucent. Reduce heat to the lowest setting and continue to cook for 30 minutes, stirring every 5 minutes, until the onions are caramelized.

Add the chili slices and stock and bring to a boil over high heat. Reduce heat so the mixture is simmering and add in the sake, soy sauce, and miso, stirring well to combine. Add bok choy or choy suy and simmer for two more minutes. Cover and keep warm on the lowest setting while you prepare the noodles.

Cook the noodles according to the package instructions. Divide the noodles between 4 bowls and ladle the broth and vegetables over the noodles. Top with egg halves and chili saw, if using. Taste and season with more salt, as necessary.
Make sure to tag Vegetarian 'Ventures on Instagram and use #vegetarianventures when trying this dish out!