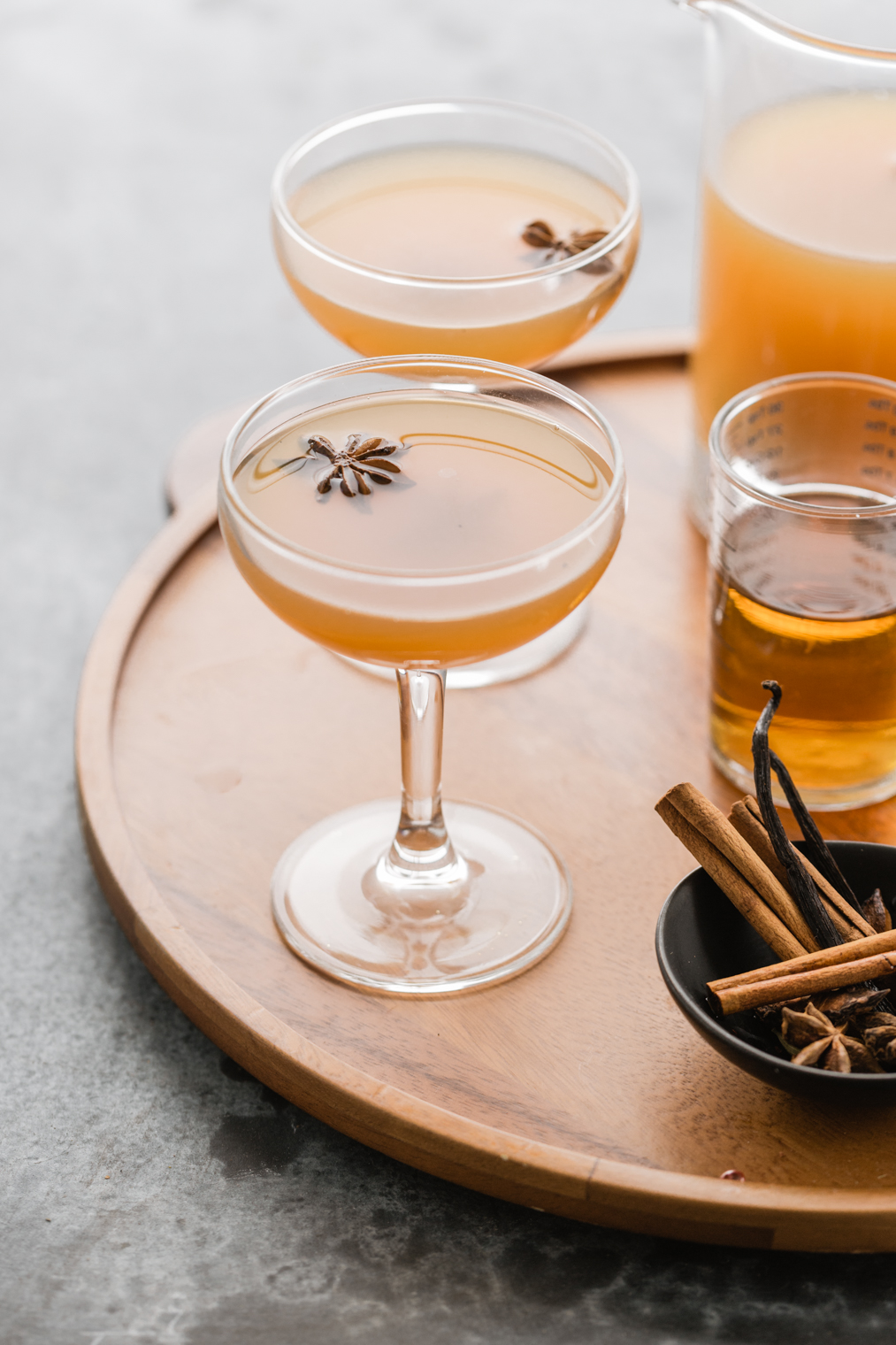 Chai Spiced Apple Cider Cocktail
In a hurry? Click here to JUMP TO RECIPE!
This festive Chai Spiced Apple Cider Cocktail recipe is a delicious fall drink that can be easily made with booze or as a mocktail.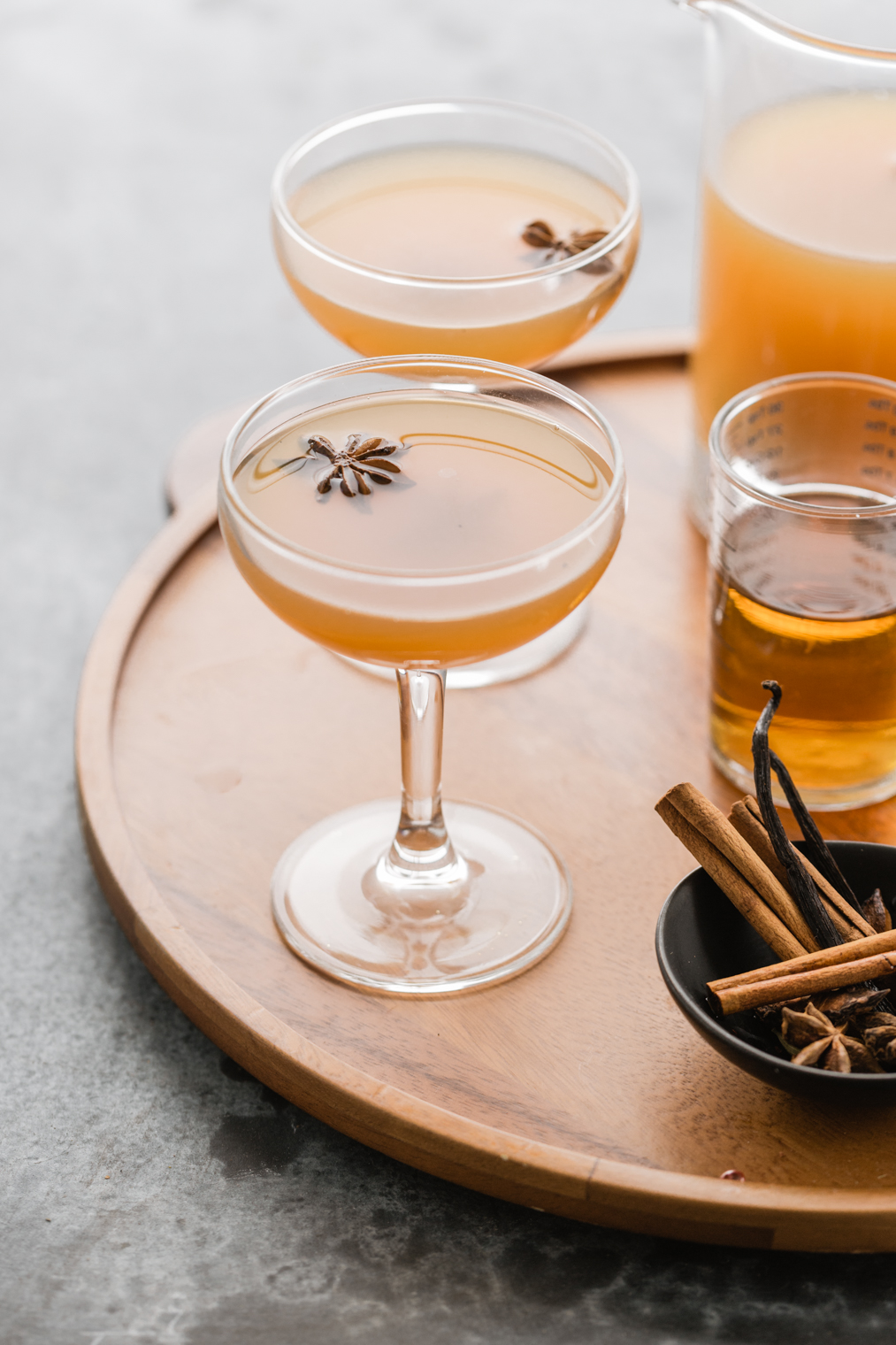 I seem to be on a roll with chai-spiced apple recipes this season which I am not at all sorry about (because both of these makes your house smell A M A Z I N G and oh so fall). Ever since my mom moved into her beach home near Lake Michigan in May, I've been up to visit her at least once a month. We've already worked ourselves into a little Saturday routine which consists of browsing her nearest farmers market and then stopping at both a small Swedish bakery for pastries and a cute little grocery store / coffee shop for sandwiches to pack for a lazy afternoon at the beach. One the last trip up there a few weeks ago, I picked up a really delicious iced Chai Cider which should honestly be the official drink of September because it was the perfect mix of fall spices while still being a refreshing warm weather thirst quencher. As I was sipping on it, I couldn't help but think about how simple it was – I'm sure it was just half local apple cider and half of their homemade chai mix they use in lattes. Genius! I knew I had to create my own.
As I mentioned above, this recipe is super simple: 1 part apple cider (try to find a local one that is super fresh if you can!) and 1 part homemade chai syrup. It can be turned into a cocktail (which is what the recipe I supplied below consists of) but it can also be enjoyed without the alcohol for an afternoon treat. I served this cocktail chilled but it would also be delicious warmed up if the weather is cooler. Who doesn't love options?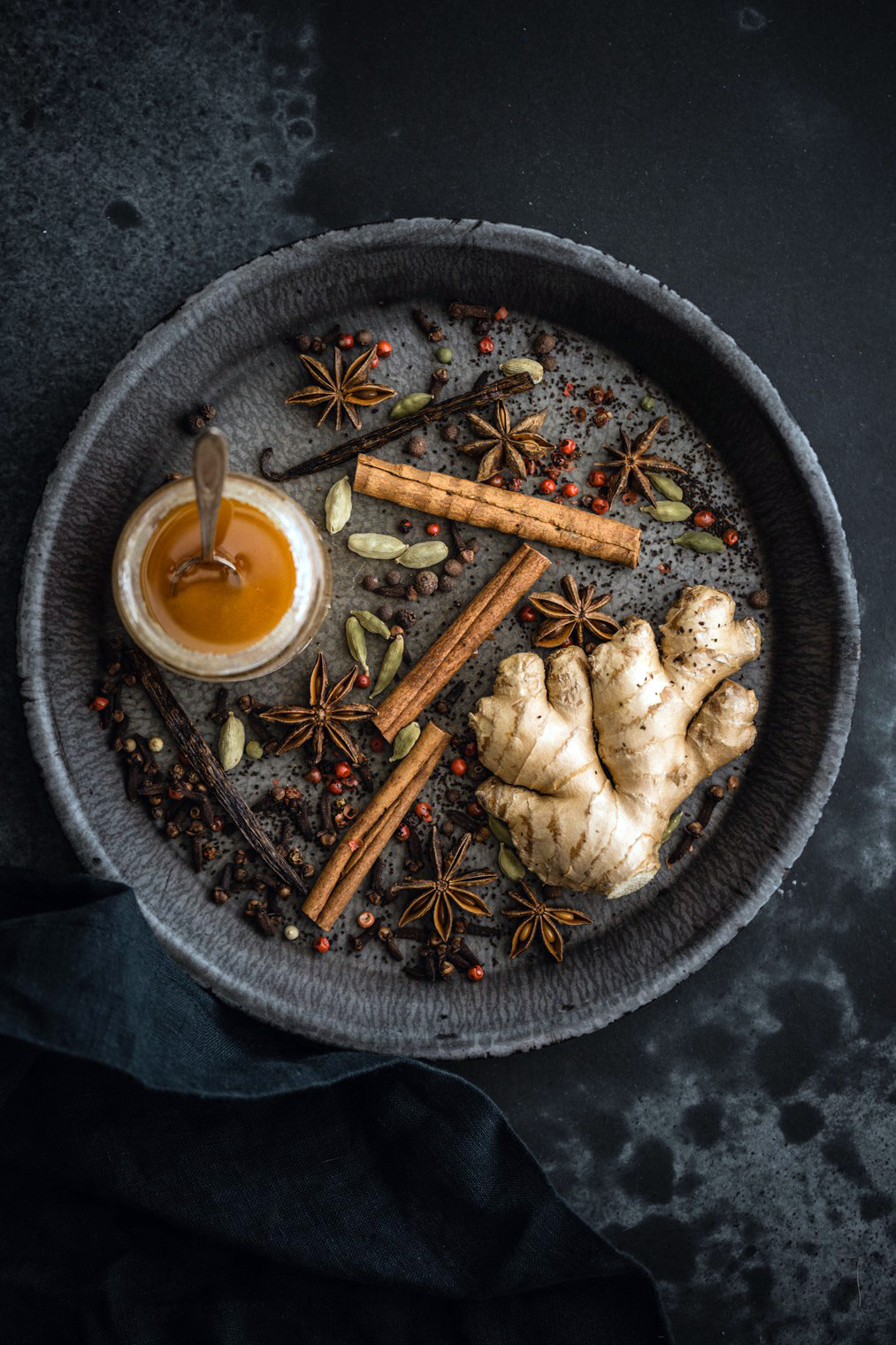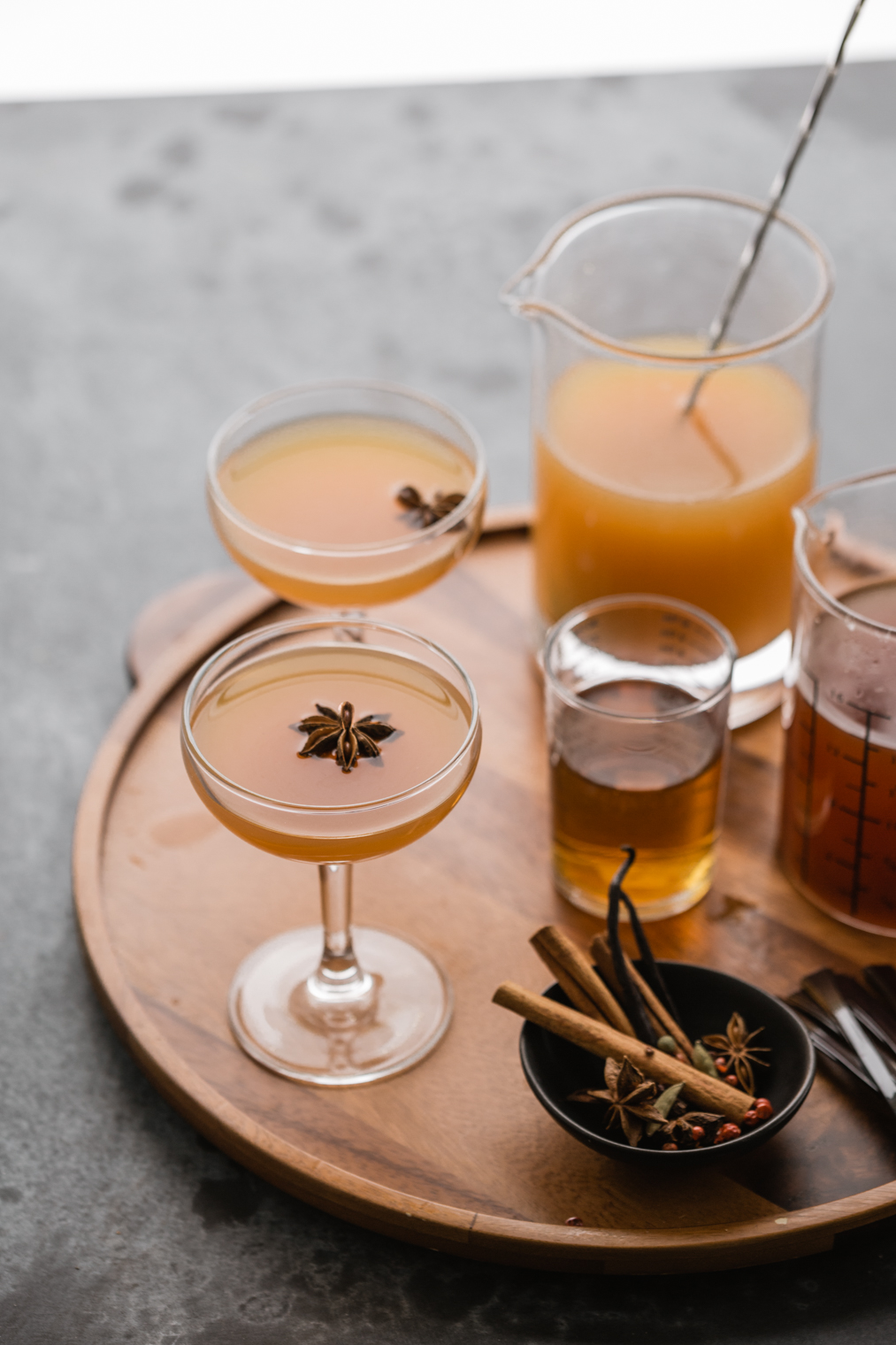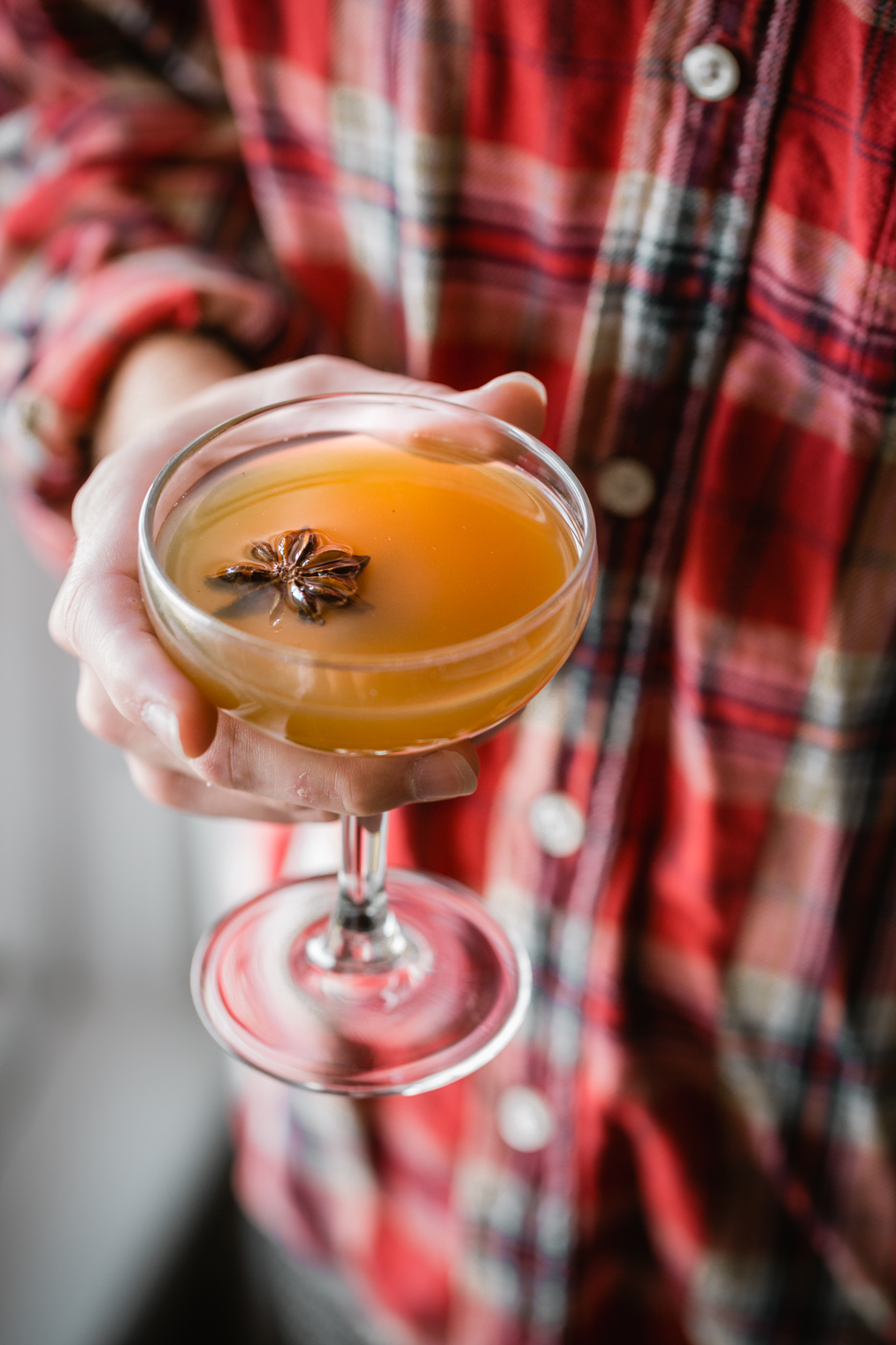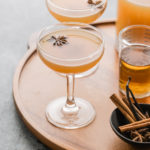 Chai Spiced Apple Cider Cocktail
This festive Chai Spiced Apple Cider Cocktail recipe is a delicious fall drink that can be easily made with booze or as a mocktail.
Ingredients
For the chai concentrate:
6

cardamom pods

6

whole peppercorns

4

whole cloves

2

star anise (+ more for garnish)

1-inch

piece of ginger

peeled and cut into small pieces

3

cinnamon sticks

2

tsp

vanilla extract or seeds from 1 vanilla bean

1

Tbsp

honey

2

cups

water

2

Black tea bags
Everything else:
6

oz

spiced rum

2

cups

apple cider
Instructions
Combine all of the chai concentrate ingredients, except the black tea, into a small saucepan and bring to a boil over high heat. Once boiling, reduce heat to medium-low, cover, and simmer for 20 minutes.


Remove from heat, add tea bags, and let steep for 5 minutes.


Pour the liquid mixture through a strainer and discard the spices (or save some for garnish). Let cool to room temperature.


Pour 1.5 ounces of spiced rum into 4 cocktail glasses. Add 1/4 cup of both the chai concentrate and apple cider into each glass and garnish with a star anise. Serve right away.


Alternatively, you can warm the cider and chai in a small saucepan and serve the cocktails warm.