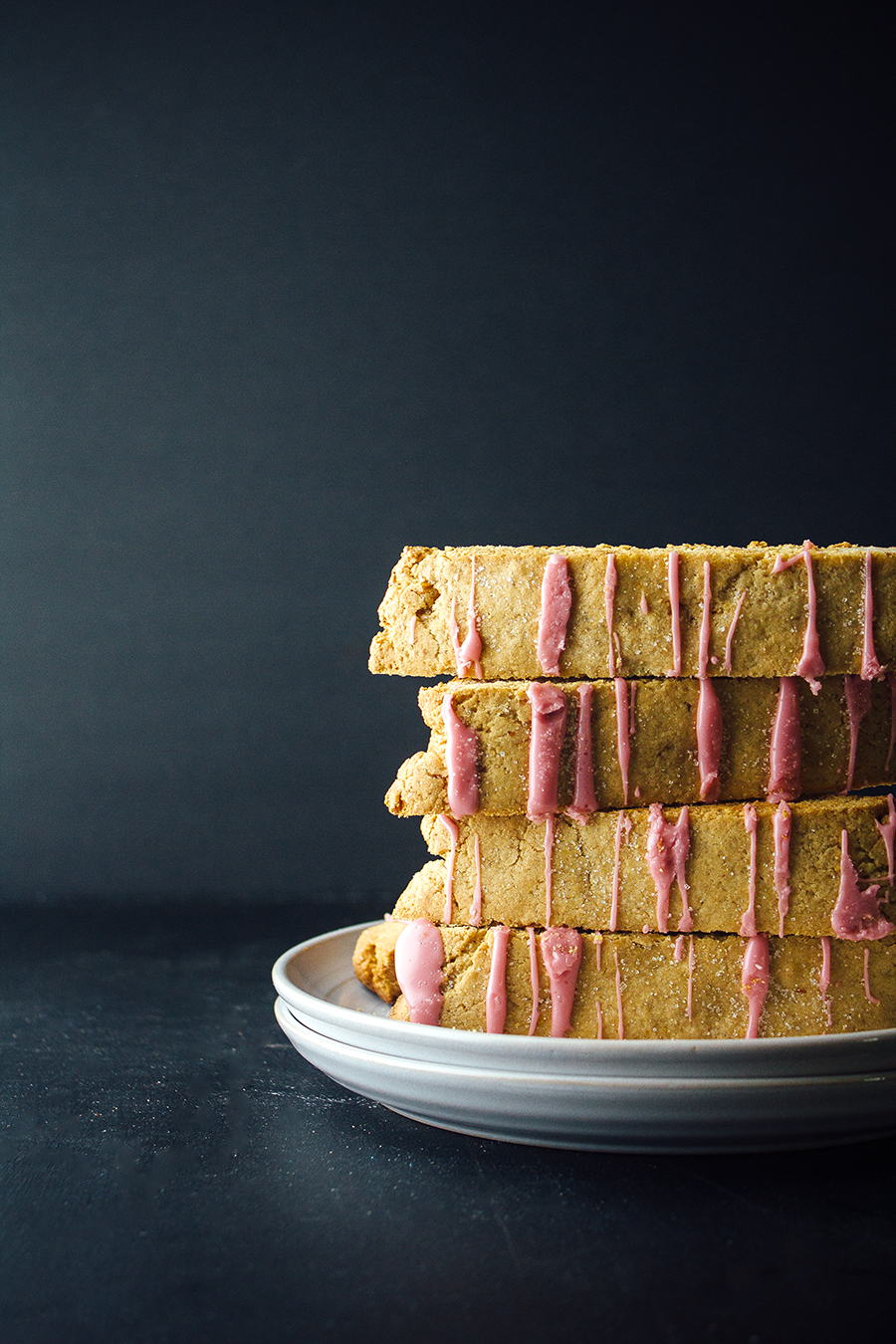 Citrus Biscotti with Hibiscus Glaze
In a hurry? Click here to JUMP TO RECIPE!
This Citrus Biscotti with Hibiscus Glaze packs a flavorful citrus punch that pairs perfectly with a cup of peppermint tea or coffee.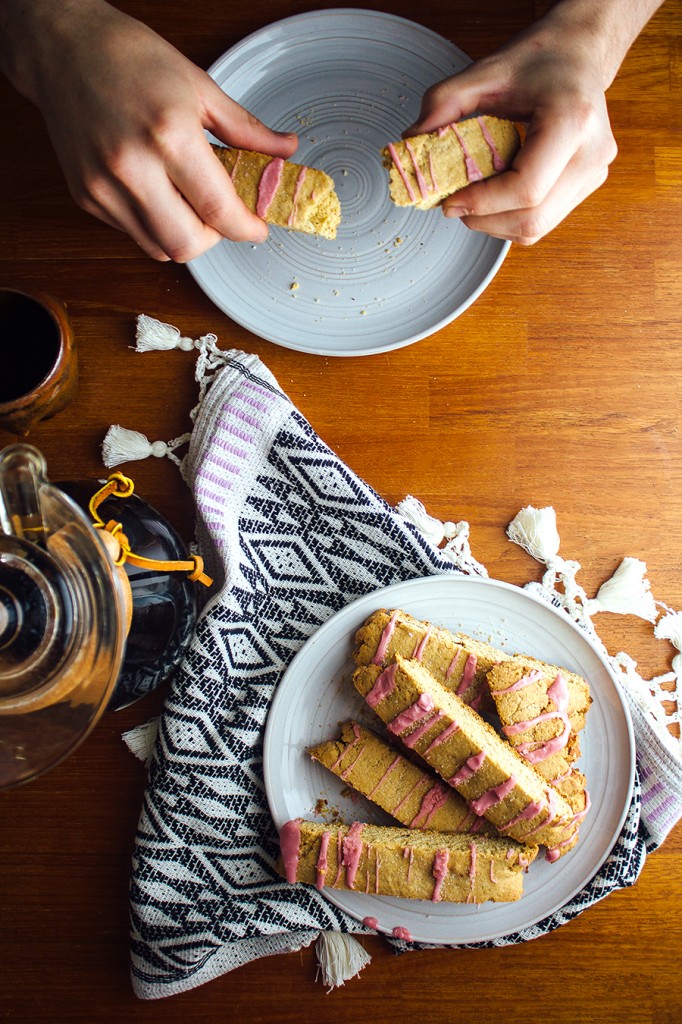 Let's start the weekend with a cup of strong black coffee and a sugary biscuit, shall we? The small pauses of silence around here have been a sign that I've been completely over-extending myself lately dipping into large projects outside of VV… whether that be creating a magazine or guest posting or working on secret assignments that I can't reveal to you (just yet) – there has been a lot going on behind the scenes over here! Thus, can we please just take this Saturday morning off, sit around the kitchen table marveling in leisure conversation, strong drip coffee, and warm baked goods? Please? We can?! Thank you – this is exactly what I needed.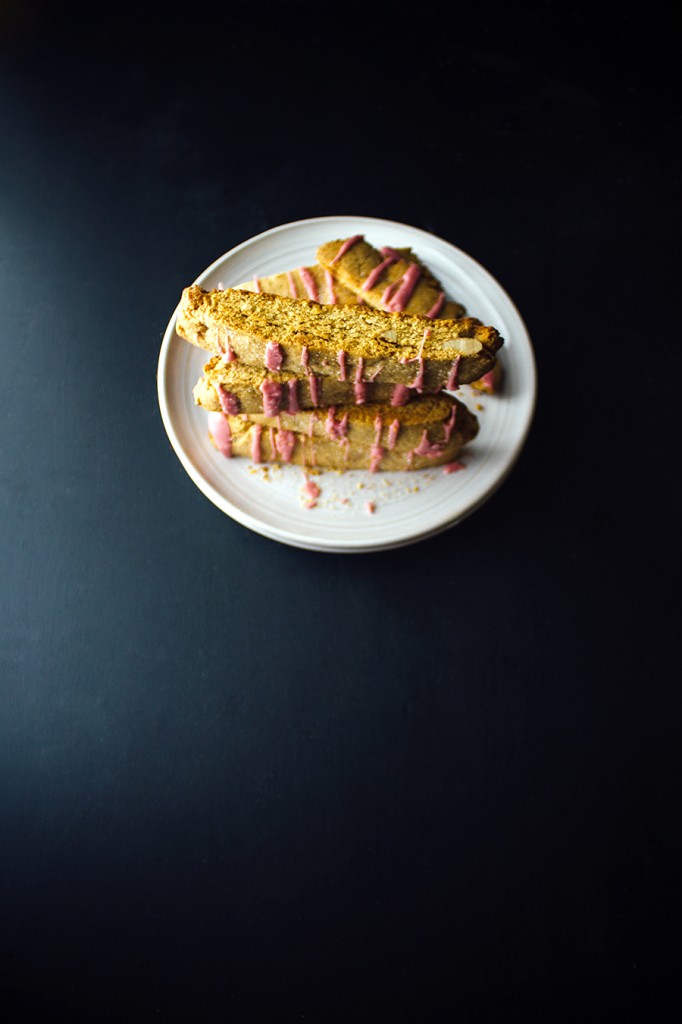 After we enjoy this lazy morning around the table, I'm going to take a weekend vacation from my computer and go hiking, do some quiet baking, and probably watch some overly angsty 90's movies.
Enough about me – what are you doing this weekend? If you are looking for some weekend entertainment, why not consider pre-ordering a copy of Driftless Magazine? Driftless is the new magazine that I've been promoting the sh*t out of while I try to get you all obsessed with how amazing it really is! The digital version is being released TOMORROW, June 1st so it'll be in your inbox in time to wind-down with it before having to get back into the work week. (sorry – last time I'll bug you about it for awhile – I'm just too excited about the magazine not to have it on the mind all the time!)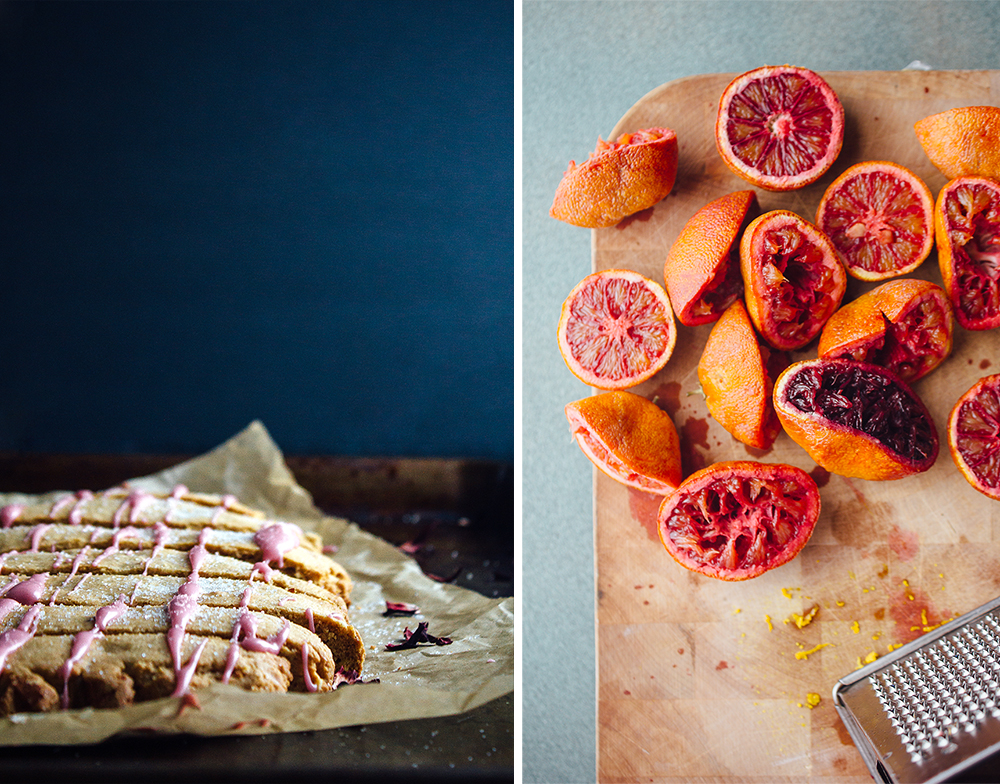 Oh – what was that? We are supposed to be talking about food because this is a food blog? Oh right! You are right – sorry about that! This biscotti is super summery with its floral glaze and bright, citrus flavor. The biscotti is perfect for dipping in your morning coffee, enjoying with an herbal tea in the afternoon, and eating as your after dinner treat. You can swap out the hibiscus with lavender if you are looking for something different and omit the glaze altogether if a less sugary biscuit is your thing. Enjoy!
Citrus Biscotti with Hibiscus Glaze recipe below: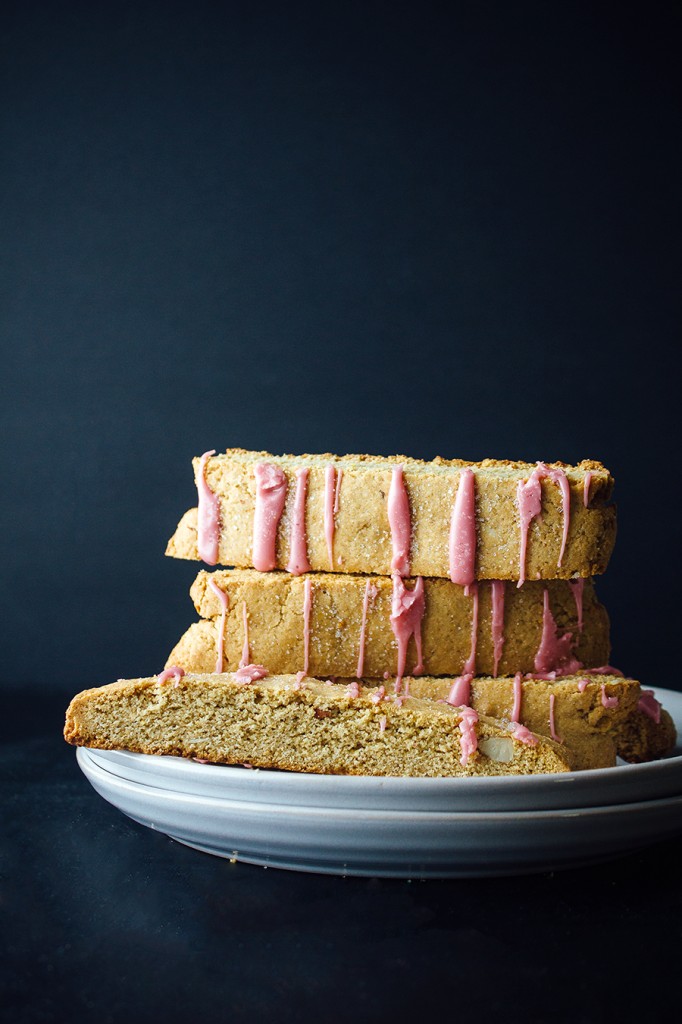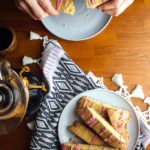 Citrus Biscotti with Hibiscus Glaze
This Citrus Biscotti with Hibiscus Glaze packs a flavorful citrus punch that pairs perfectly with a cup of peppermint tea or coffee.
Ingredients
2

cups

all purpose flour

1 1/2

teaspoons

baking powder

1/2

teaspoon

salt

1/2

cup

(1 stick) butter, room temperature

1/2

cup

sugar

2

eggs

2

Tablespoons

of any kind of citrus juice

(I used juice from 2 oranges)

1

Tablespoon

grated citrus zest

1/2

cup

chopped walnuts

1/3

cup

powdered sugar

1

Tablespoon

dried hibiscus

2

Tablespoons

warm water
Instructions
Combine the flour, baking powder, and salt in a bowl and set aside. Beat the butter and sugar together with an electric mixer. Next, beat in the eggs, one at a time, followed by the zest and citrus juice. Add the flour mixture and beat until combined. Fold in the walnuts and divide the dough in half. Wrap the two dough pieces in foil and stick in the fridge until firm (about 30 minutes).

Preheat oven to 350 degrees and line a large baking sheets with parchment paper. Remove the dough from the fridge and shape both pieces into logs (measuring about 12 inches long and 3 inches wide) and place a few inches from each other on a prepared baking sheet. Bake for 30 minutes or until golden brown. Remove from oven and transfer to a cooling rack for 15 minutes.

Place 1 Tablespoon hibiscus leaves in 2 Tablespoons of warm water and set aside.

Reduce oven temperature to 300 degrees. Once cooled, use a serrated knife to cut 1/2-inch thick diagonal slices into the logs. Transfer slices back to baking sheet making sure that you turn the pieces so the cut part is facing up. Bake again until dry and pale golden, about 30 more minutes. Remove from oven and cool completely.

Strain the hibiscus leaves from the water (which should be bright red at this point) and discard leaves. Place the powdered sugar in a small mixing bowl and slowly whisk in the hibiscus water until a thick glaze forms (this may not take all 2 Tablespoons of water so start by pouring just a little bit of water each time). Drizzle over biscotti and serve with tea or coffee.