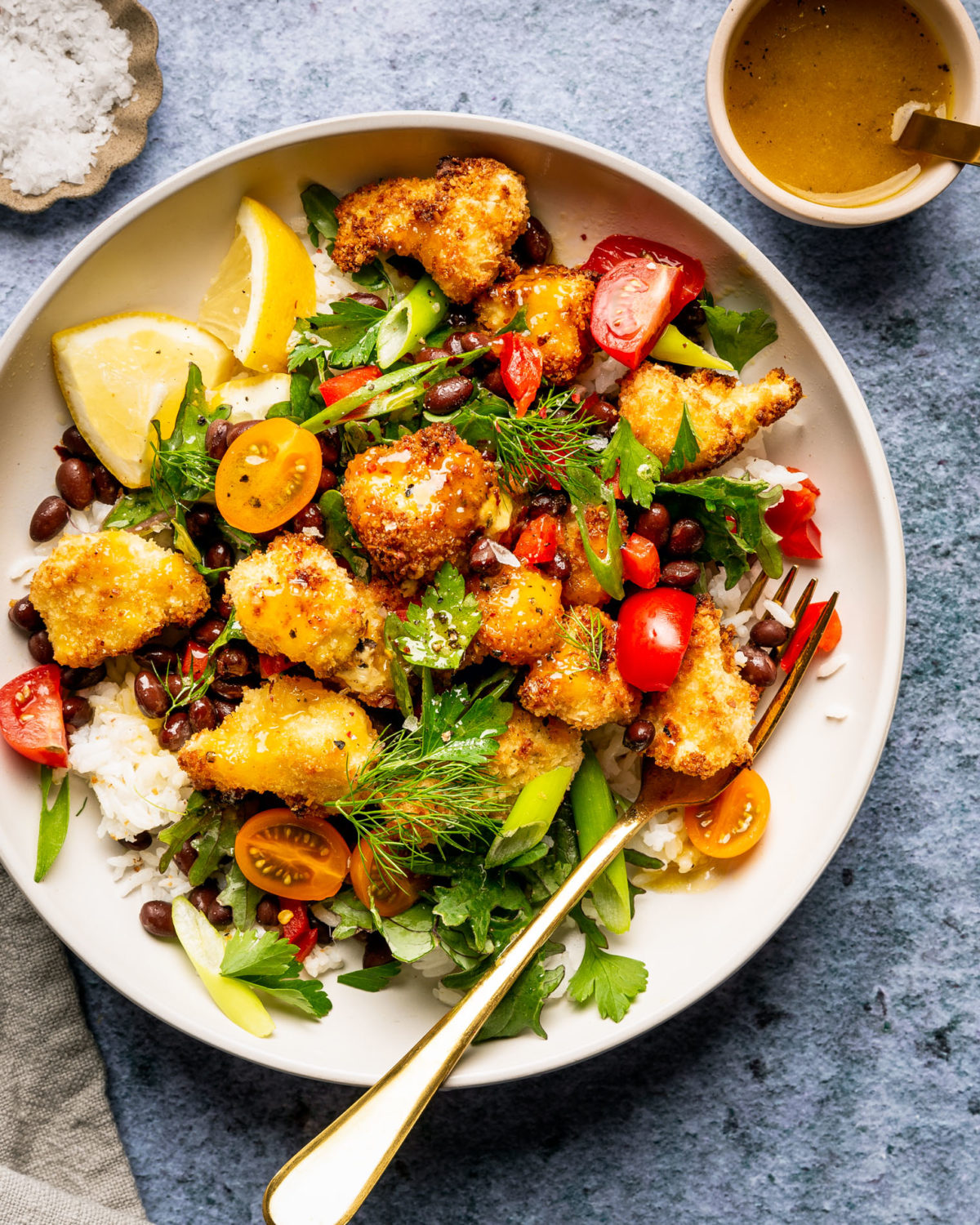 This delicious Coconut Cauliflower Bowl With Spicy Mango Vinaigrette is a filling and veggie-packed option perfect for lunch or dinner.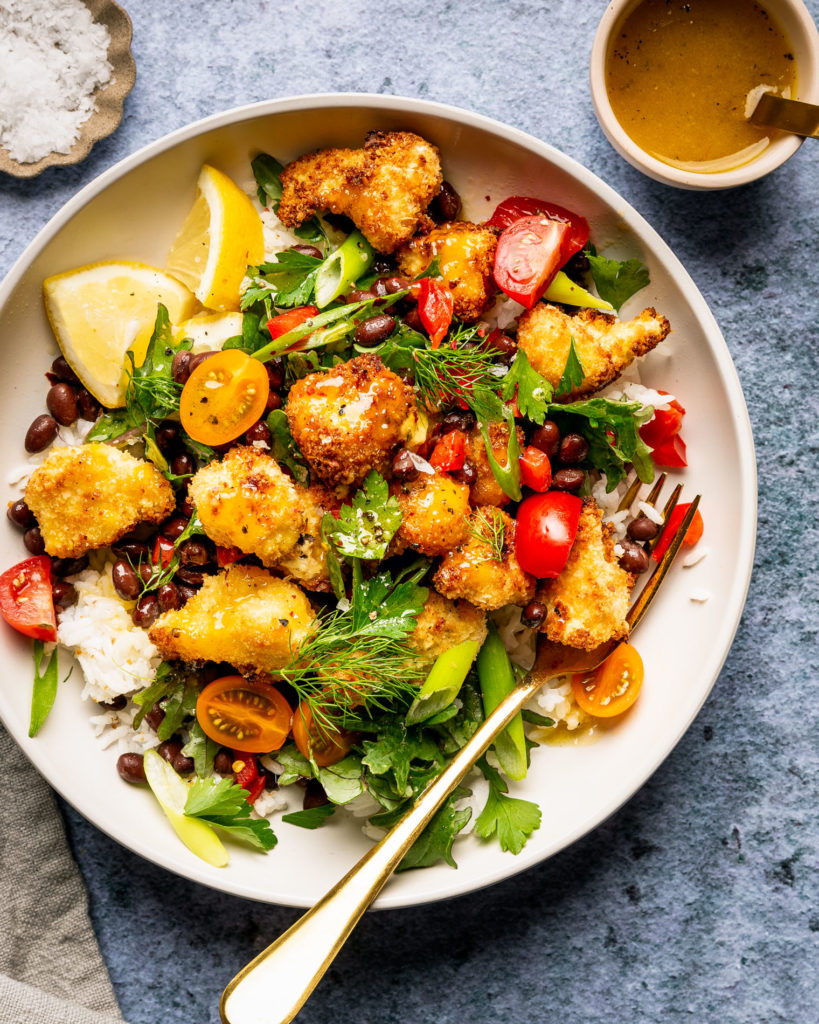 Earlier this week I posted the recipe for these Coconut Cauliflower Bites. What I love about these bites (aside from them being delicious) is that they make both a perfect snack or meal. Want them as a snack? Enjoy with some easily homemade creamy honey mustard dip. Want them as a full meal? Make a bowl with a bed of rice (quinoa would be delicious too!), black beans (for protein), veggies (like kale, bell peppers, onions, tomatoes, etc), herbs (I used cilantro, dill, and scallions) and dressing.
It's no secret that I have a love of bowls – I'd say I make veggies bowls almost once a week to use up veggies, beans, and grains I have hiding in my fridge. What's not to love about a healthy dish as versatile as that? And these cauliflower bites may be my new favorite addition – they add crunch and a sweet / savory addition that is hard to top.
I created a sweet dressing out of mango preserves for this as I loved the idea of creating a sweet contrast to the savory black beans and rice. However, if you'd prefer something more savory – the homemade honey mustard sauce I made in the last post would be a delicious drizzle option! Or keep it even simpler with a store bought vinaigrette or salsa.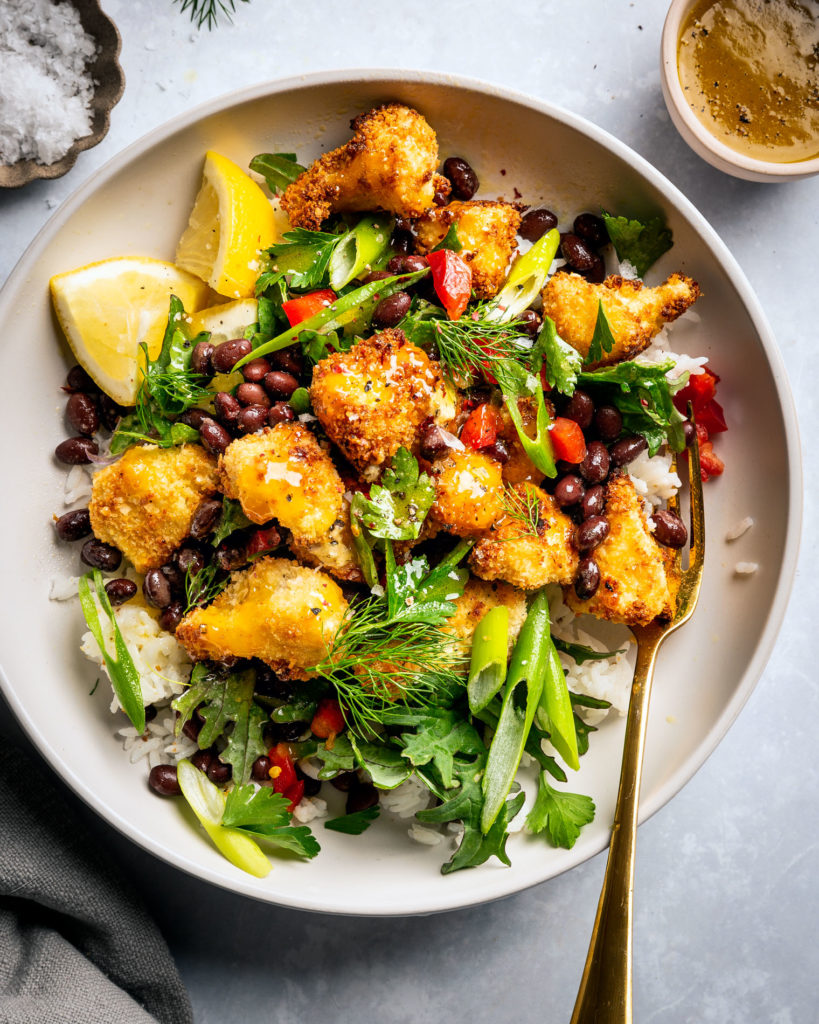 With the ongoing pandemic, I plan to give as many substitution suggestions as possible so you can continue to cook without having to run out to the store. Although some of these suggestions may vary the end result, I only make suggestions if I think it will still be delicious. Here is a list of substitute suggestions for this Coconut Cauliflower Bowl With Spicy Mango Vinaigrette recipe in case you don't have certain ingredients on hand:
Coconut Cauliflower bites – These are by far the best part about this salad so I highly recommend trying to include if you can but if not, you could just top with roasted cauliflower or even a sauteed fajita mix of bell peppers and onions.
Mango preserves – Apricot preserves would also work great here. If you don't have either, you could top with your favorite southwest salad dressing or even the creamy honey mustard I posted about earlier this week.
White wine vinegar – Besides balsamic (which I find to be a bit strong), most vinegar would work here (rice, apple, or distilled white).
Dijon mustard – Feel free to use regular mustard or even powdered mustard if you don't have Dijon.
Rice – Quinoa would be a delicious substitute (and protein packed!). You could also use a grain like farro or wheatberries instead of the rice.
Black beans – Pinto beans would be an easy substitute for this recipe if that is what yo have on hand (even refined versions would work – although they won't look at nice).
Kale – Any fresh greens will work and I'd recommend choosing whatever you enjoy eating. I bet chopped iceberg would lighten this up nicely!
Cherry tomatoes and bell peppers – Swap in whatever veggies you've got in your fridge (hardier ones like potatoes should be cooked).
Herbs – Most soft herbs (cilantro, parsley, dill) would be delicious in this as would chives or spring onions.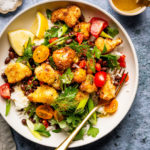 Coconut Cauliflower Bowl With Spicy Mango Vinaigrette
Ingredients
For the Spicy Mango Vinaigrette:
1 1/2

Tbsp

mango preserves

2

Tbsp

white wine vinegar

2

tsp

Dijon mustard

1

tsp

of your favorite hot sauce or chili sauce

1/4

cup

olive oil

dash of salt and pepper
For everything else:
2

cups

cooked white or brown rice

1

15.5 oz

can of black beans

drained and rinsed

1

batch

Coconut Cauliflower Bites

1

bunch kale

stemmed removed and torn into bite size pieces

1

cup

chopped cherry tomatoes

1

red bell pepper

diced small

cilantro, chives, and/or dill

for garnish

juice from 1/2 lemon

(optional but I love a squeeze of lemon juice over this)

salt and pepper

to taste
Instructions
For the Spicy Mango Vinaigrette:
Whisk together the mango preserve, mustard, white wine vinegar, and hot sauce. While whisking, slowly pour in the olive oil until the dressing is emulsified. Add in a dash of salt and pepper to taste.
For everything else:
Divide the rice between 4 shallow serving bowls. Top with cauliflower bites, black beans, kale, tomatoes, and bell pepper. Garnish with fresh herbs and a squeeze of lemon juice. Drizzle dressing over each bowl and season with more salt and pepper (if needed). Serve right away.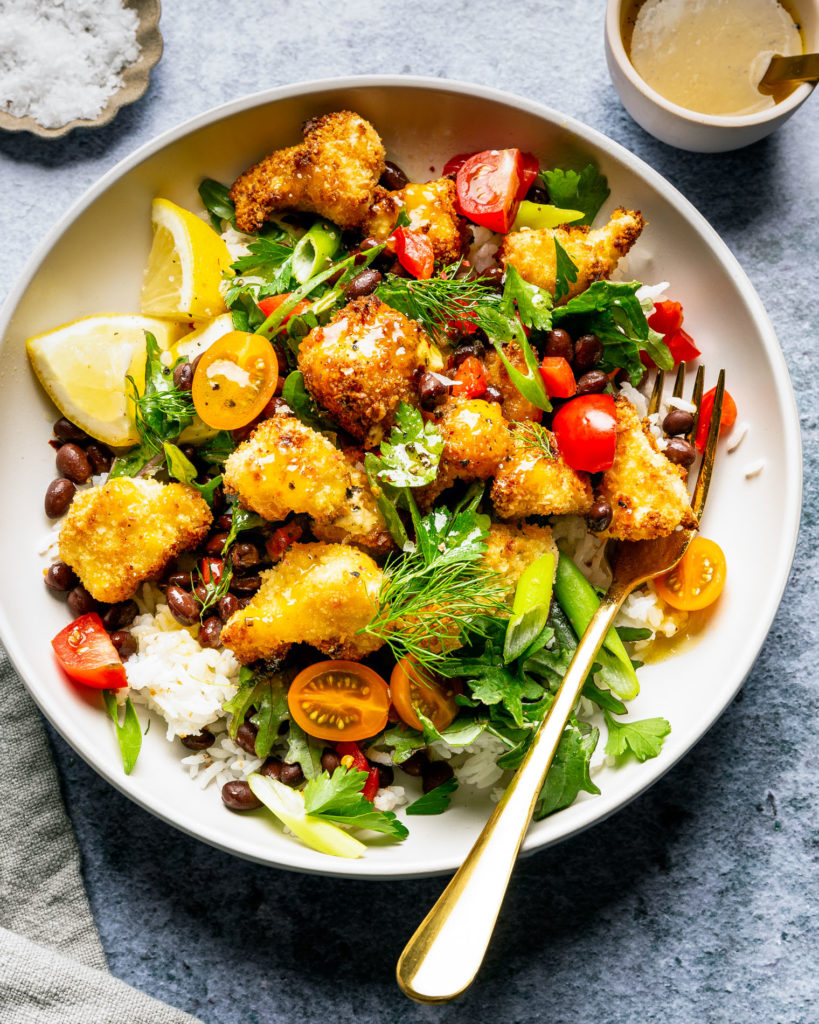 Make sure to tag me on Instagram and use #vegetarianventures when trying this dish out!