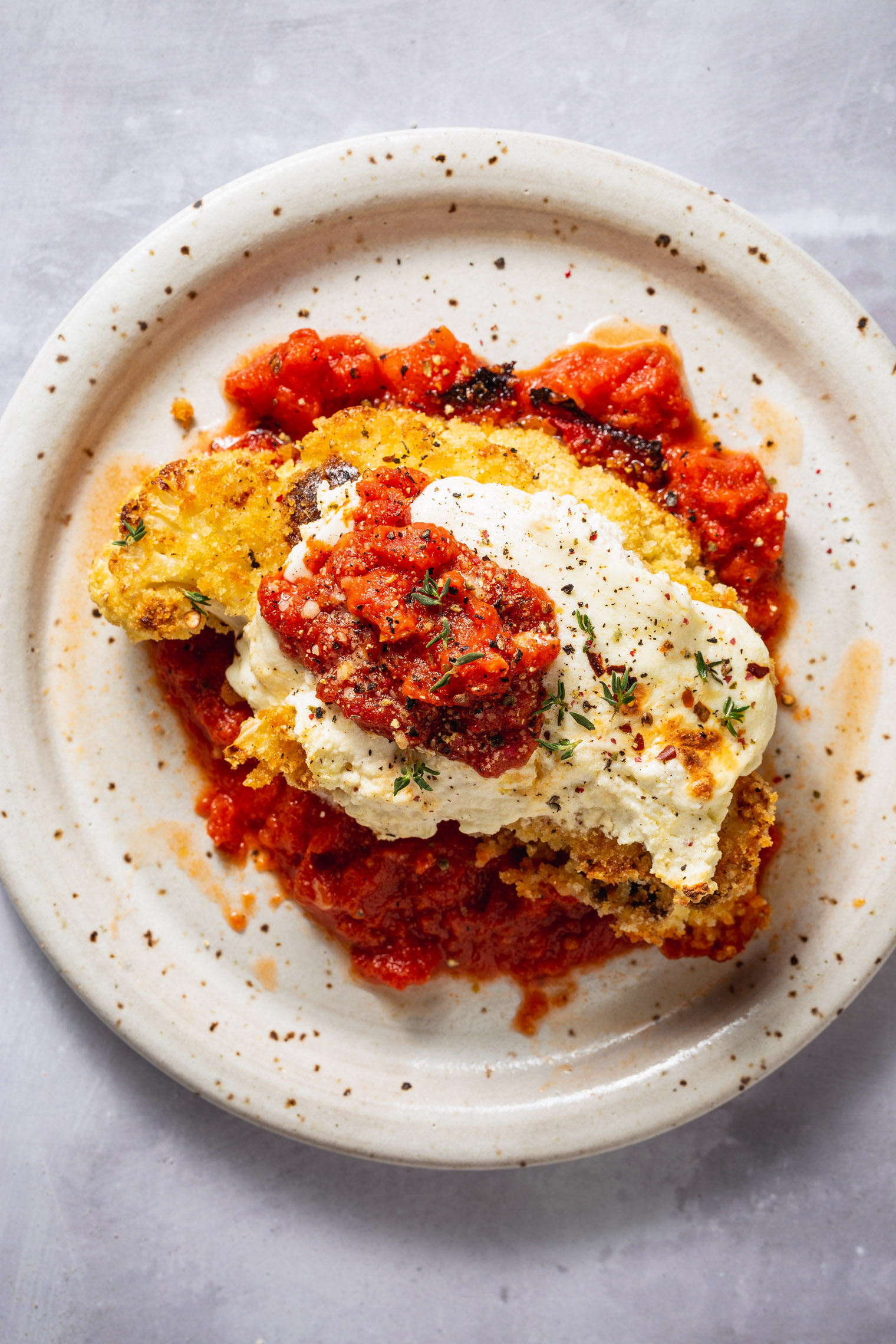 Cauliflower Parmesan
This Cauliflower Parmesan is a winter twist on the classic Eggplant Parmesan dish. This cheesy cauliflower recipe is a perfect vegetarian main for date night or even a weeknight meal.
This is a sponsored conversation written by me on behalf of Lucini Italia. The opinions and text are all mine. Thank you for supporting the brands that make VV possible.
Jump to Recipe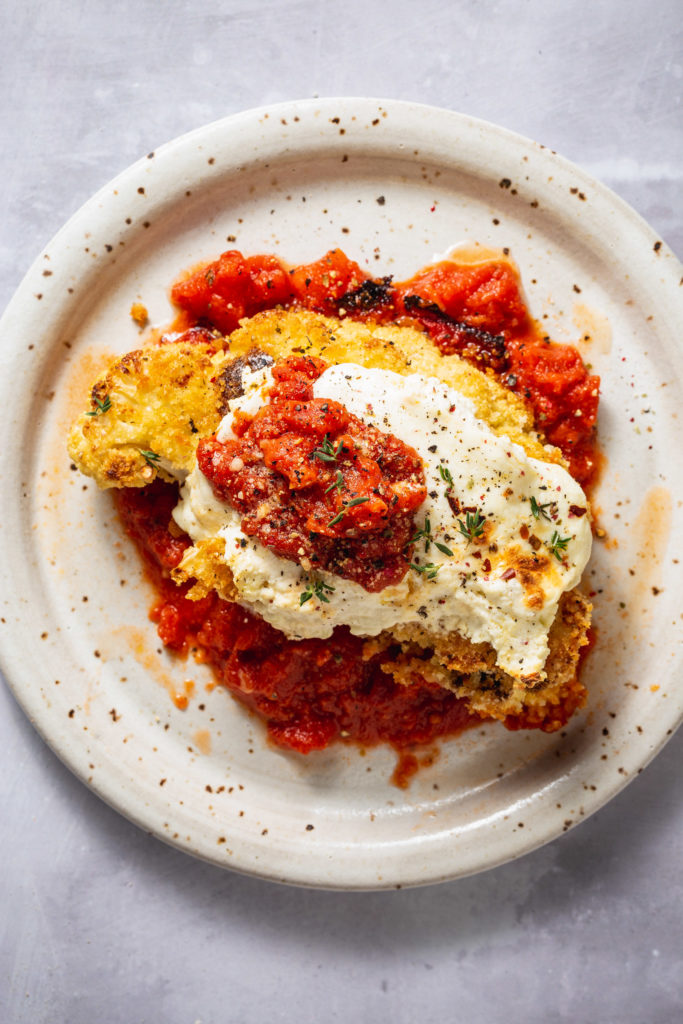 It's the holiday season (hoop-dee-dooooo!) which means endless cookie trays, gingerbread house building, and holiday party drinking galore! These are all really fun parts of the season, but it doesn't take much to over do them. I don't know about you, but I always wake up craving vegetables after a weekend of sweets and one too many punch bowl cocktails.
All of this is to say that I'm excited to partner with Lucini Italia on this post to bring you all a veg-packed healthy vegetarian main to enjoy between all the cookie binging. It's simple enough to enjoy on a weeknight and goes great with a simple side salad.
This cauliflower Parmesan recipe is inspired by an Italian classic – eggplant Parmesan. The classic isn't very winter friendly (eggplants and basil in December? Not ideal), so I decided to make a version great for all year round with cauliflower "steaks" and heartier herbs like thyme and oregano. But fear not, eggplant Parmesan purists, it is still chocked full of the best part: cheese and more cheese!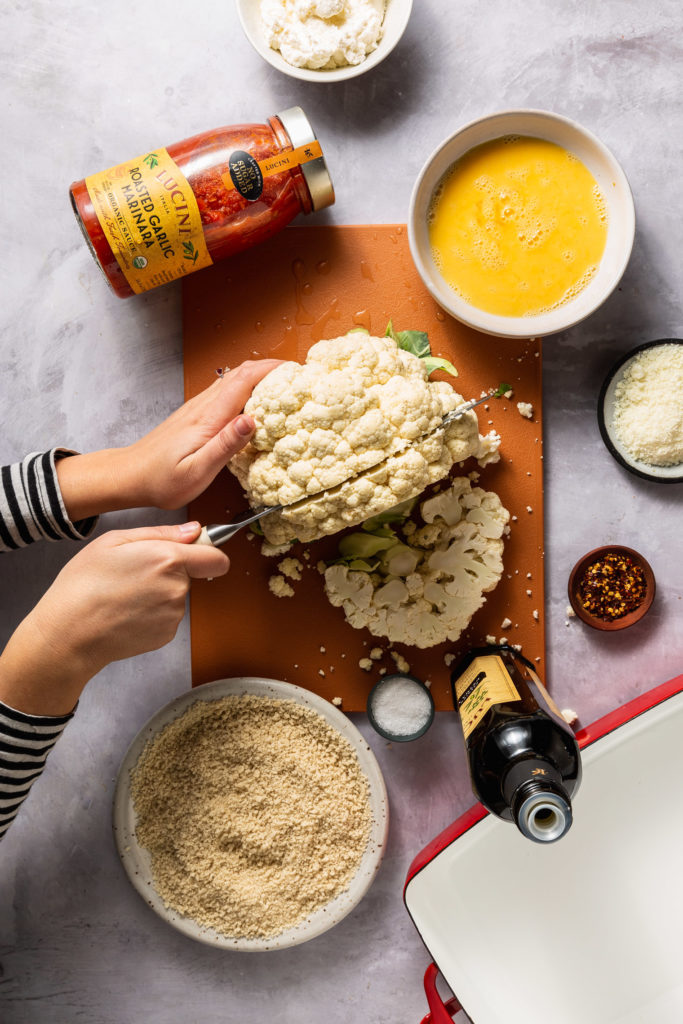 I used Lucini Italia's Organic Roasted Garlic Marinara in this roasted cauliflower Parmesan recipe which I was pleasantly surprised to learn, through working with them on this post, is made using all organic ingredients from one organic tomato farm in Tuscany. It also has no added sugar, which is something I'm always looking for when buying store-bought items.
I also found the sauce to be lighter and taste fresher than other store tomato sauces I've purchased before. This is because they use a cooked-once technique, which is a rare industry process that allows the ingredients to maintain their fresh flavor (this is in comparison to the cooked-twice method that many brands utilize and involves having the tomatoes cooked / processed when harvested and then cooked / processed again months later when adding additional ingredients).
In addition to the organic sauce, I used Lucini Italia's extra virgin olive oil, which you can learn more behind the bottle here. I always love seeing exactly where my food is coming from!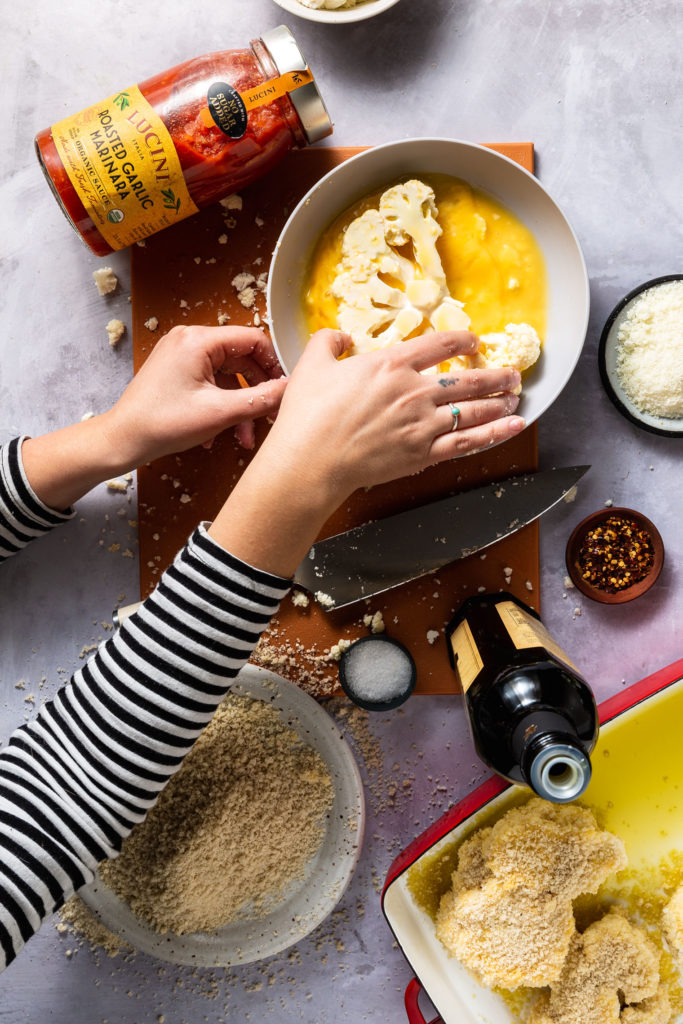 What's Needed for Cauliflower Parmesan?
The beauty of cauliflower Parm is that it requires no special ingredients. Here's what goes into this baked cauliflower Parmesan recipe:
Cauliflower
Eggs
Panko breadcrumbs
Parmesan cheese
Ricotta cheese
Dried oregano
Fresh thyme
Garlic
Crushed red pepper flakes
Salt and pepper
Mozzarella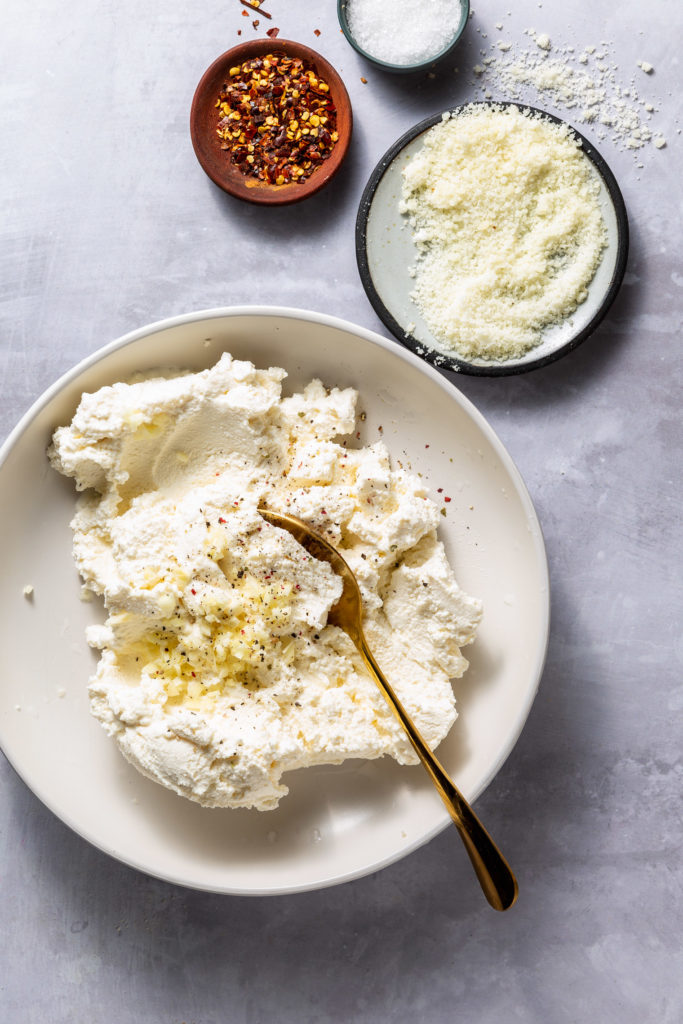 How to Make Cauliflower Parm
I've given detailed instructions on how to make roasted cauliflower Parmesan in the recipe card below, but here's a quick overview:
In a shallow bowl, whisk together a couple eggs and some water. In another bowl, spread out the Panko breadcrumbs.
Dip both sides of each cauliflower slice into the egg mixture, then into the breadcrumbs.
Place the breaded cauliflower steaks onto a baking dish and bake for 30 minutes.
Place baked cauliflower steaks onto a plate.
Using the same baking dish, spread marinara sauce onto the bottom.
Place cauliflower steaks on top of the marinara.
Whisk together the ricotta, oregano, thyme, Parmesan cheese, garlic, salt, and pepper. Spread evenly over the cauliflower slices.
Top each cauliflower steak with mozzarella, then sprinkle with additional Parmesan cheese.
Cover the baking dish with foil and bake for 30 minutes, then uncover and bake for another 15 minutes.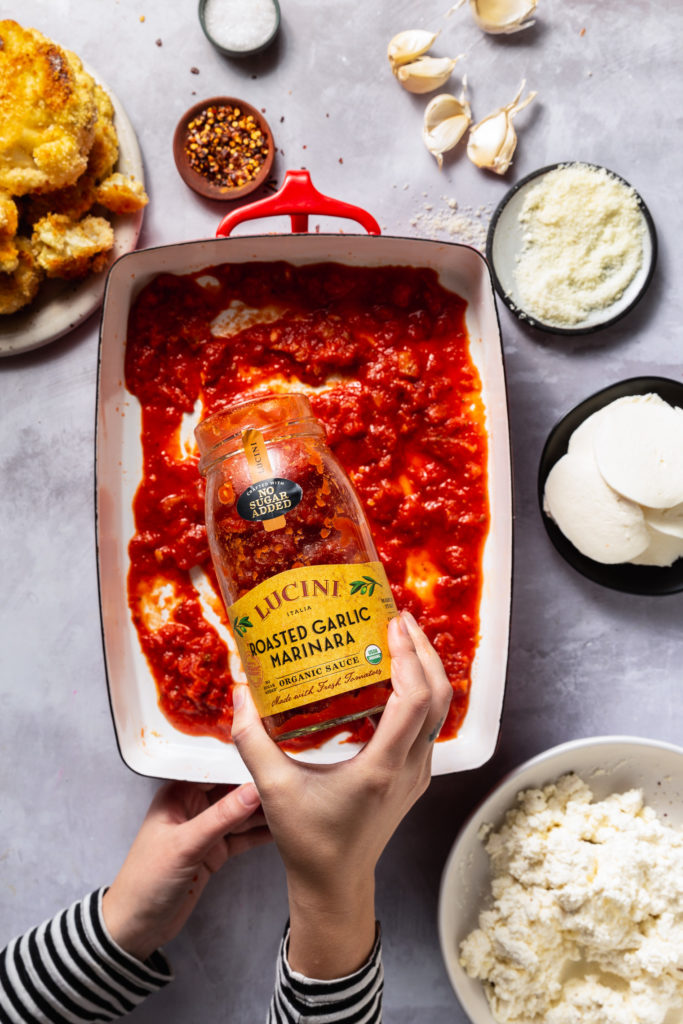 Can I Prep Cauliflower Parm in Advance?
You may be able to bread and roast the cauliflower slices ahead of time and finish prepping the dish just before you're ready to bake it a second time and eat it. However, I've never done this before so I can't guarantee this roasted cauliflower Parmesan will turn out correctly using this method.
What to Serve with Cauliflower Parmesan
As with any Italian dish, this cauliflower Parm pairs well with everything from buttered noodles to crusty bread to a simple side salad. Here are some side dish ideas to get you started: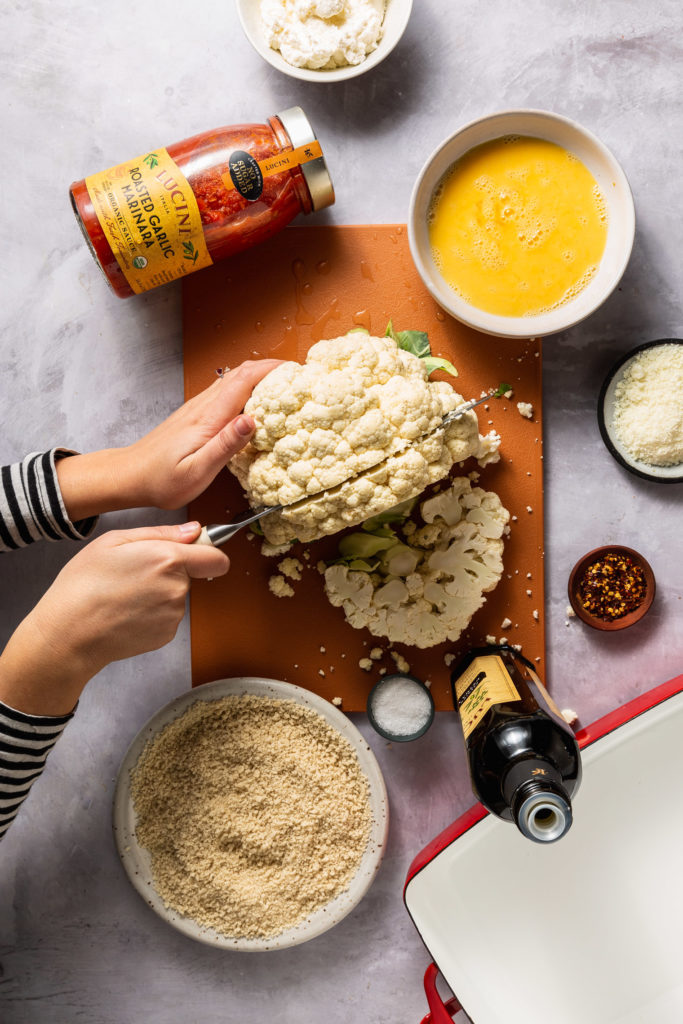 Tips for Making Cauliflower Parmesan
To ensure the cauliflower doesn't fall apart, you need to make pretty thick cuts to create the "steaks" – I'd recommend at least an inch. I cooked the breaded cauliflower on its own at first to make sure it's cooked all the way through before adding the sauce and topping it with all the cheese and baking one final time.
Note that Panko breadcrumbs are a must in this recipe. Regular breadcrumbs are much denser and won't give you the same crispy coating.
For the best flavor and texture, buy fresh balls of mozzarella and a block of Parmesan cheese for this recipe. Avoid using the Parmesan that comes in a shaker can — it's not nearly as flavorful and doesn't really melt.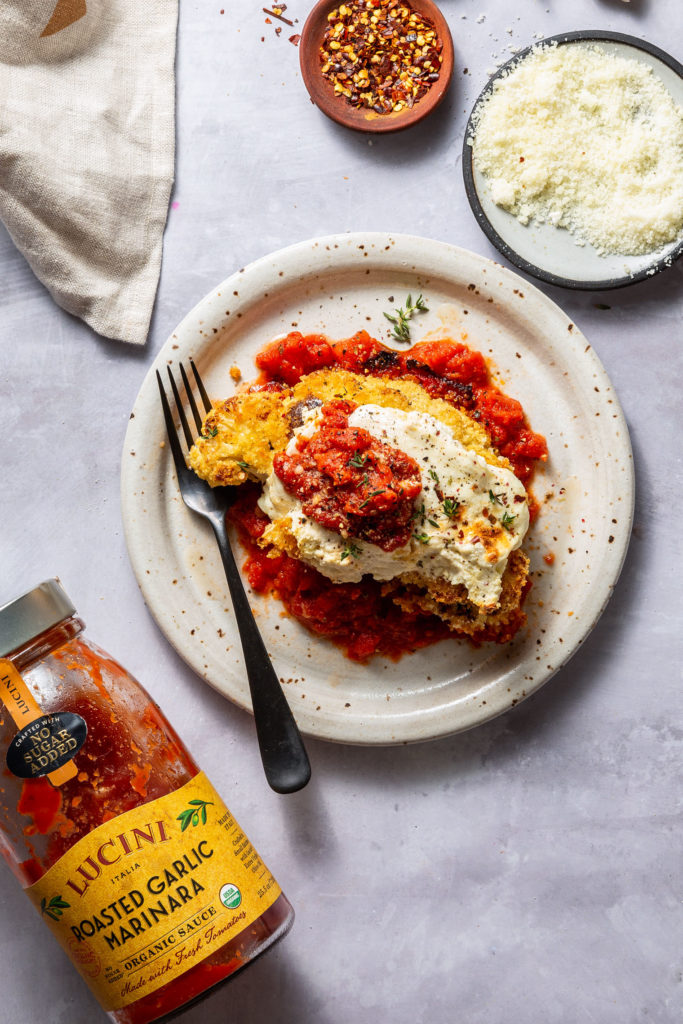 More Vegetarian Italian Recipes: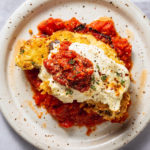 Cauliflower Parmesan
This Cauliflower Parmesan is a winter twist on the classic Eggplant Parmesan dish. This cheesy cauliflower recipe is a perfect vegetarian main for date night or even a weeknight meal.
Ingredients
For the breaded cauliflower:
Everything else:
16

oz

ricotta cheese

2

Tbsp

dried oregano

1

tsp

fresh tyme

+ more for garnish

2

garlic cloves

, minced

1

tsp

crushed red pepper flakes

1/2

cup

grated Parmesan cheese

, divided

1/2

tsp

salt

1/8

tsp

black pepper

1

egg

8

oz

fresh mozzarella

, sliced
Instructions
Preheat oven to 375 degrees F and grease a 9×13-inch baking pan with 1 tsp olive oil.

In a shallow bowl, whisk together 2 eggs and 2 Tbsp water. In another shallow bowl, spread out the panko breadcrumbs.

Dip both sides of each cauliflower slice into the egg mixture and then into the panko mixture (making sure it's completely coated). Repeat with the rest of the cauliflower pieces and place in a single layer on prepared baking sheet. Drizzle with 1 Tbsp olive oil.  

Bake for 30 minutes or until browned and a knife can easily pierce the cauliflower. Remove from oven and transfer breaded cauliflower onto a plate.


In a small mixing bowl, whisk together ricotta, oregano, thyme, 1/4 cup Parmesan cheese, garlic, salt, and pepper.


Using the same baking sheet, pour half the jar of marinara sauce in the bottle of the baking sheet and spread out into an even layer. Add cauliflower over the sauce and divide the ricotta evenly over each piece of ricotta. Dot each piece with mozzarella, more marinara (using up the rest of the jar), and the remaining 1/4 cup Parmesan. Drizzle it all with 2 Tbsp olive oil.


Cover with aluminum foil and bake for 30 minutes. Remove foil and bake for another 10 to 15 minutes or until the top is starting to brown and the sauce is bubbly.


Let cool slightly for five minutes before serving.