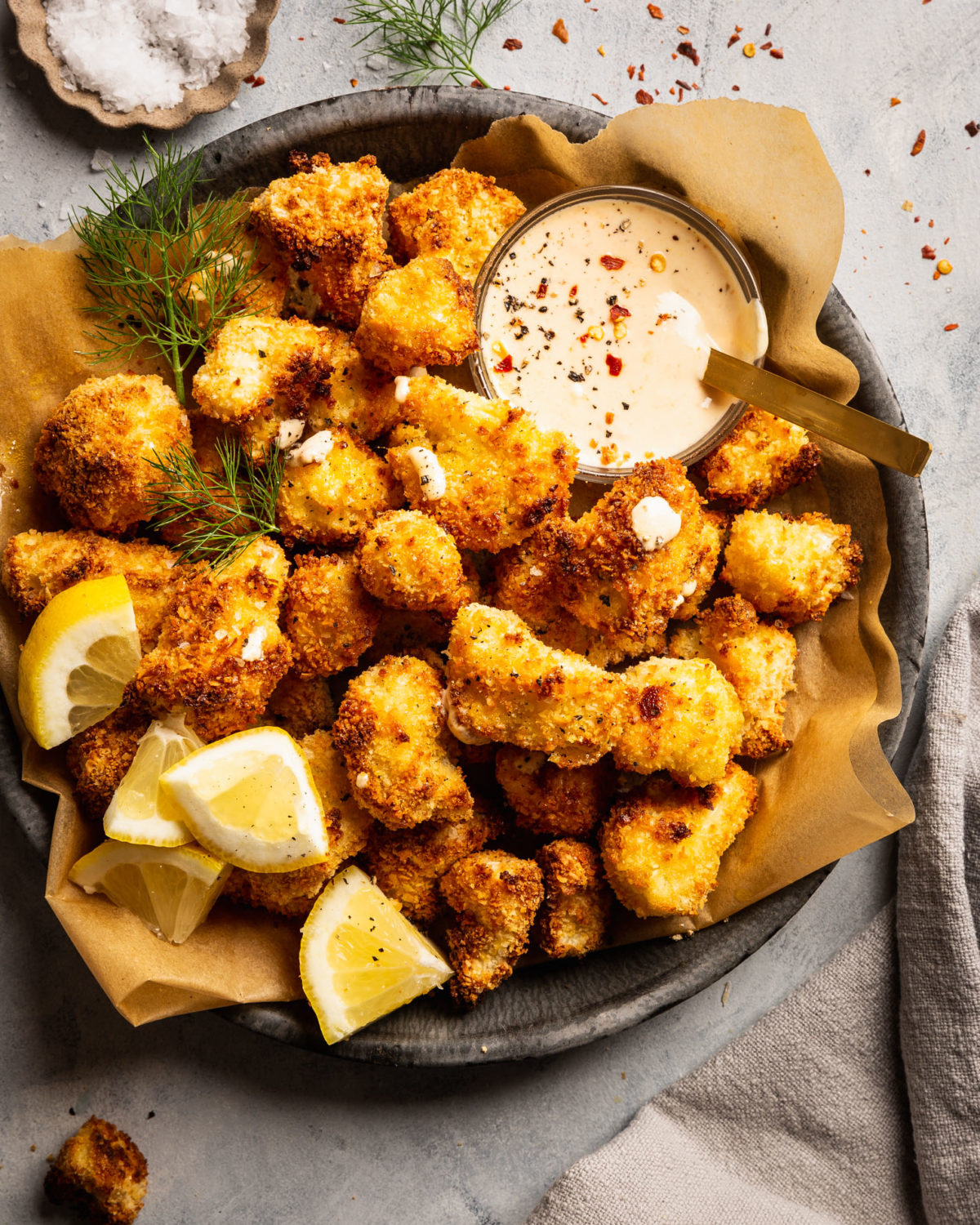 Coconut Cauliflower Bites with Creamy Honey Mustard Yogurt Sauce
These Coconut Cauliflower Bites with Creamy Honey Mustard Yogurt Sauce are a delicious veg snack when you are craving something crunchy and salty. These would be perfect to serve during your next movie night or as an afternoon snack for the family.
In a hurry? Click here to JUMP TO RECIPE!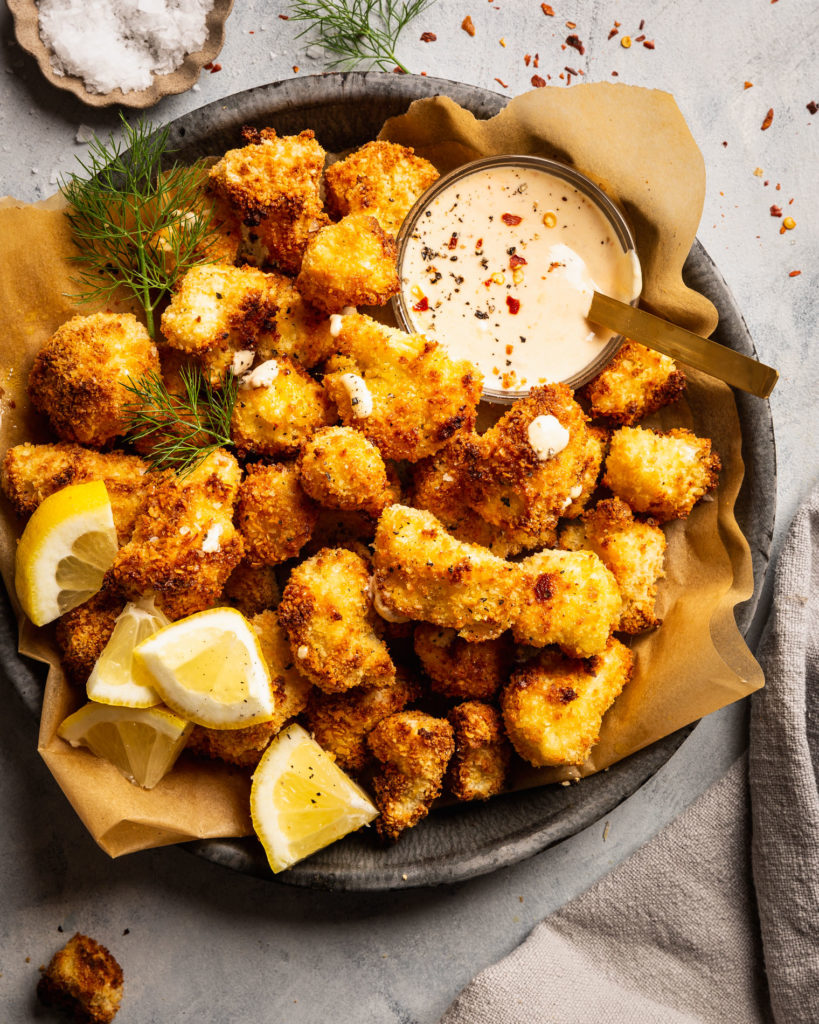 Since we've started working from home, I've gotten into the somewhat bad habit of craving an afternoon snack right around 4 PM every day. For the first few weeks, I indulged myself with a bowl of cereal or buttered toast but as the weeks have gone on, I've been trying to turn this snack craving into an excuse to eat something healthy. I've mostly been enjoying apples with almond butter or chopped veggies with a dill dip. In an attempt to diversify my afternoon snack and get me really excited for the break, I started playing around with other veggie options and that is how I came up with the idea of wanting to create this cauliflower bite option.
These are simple enough that you can make them at lunch and they will hold over just fine at room temperature for a few hours so they are all ready come afternoon snack time. They are delicious dipped in this simple and homemade creamy honey mustard sauce but would be great with store bought sauces if you are short on time (BBQ sauce? yes! Ketchup? Oh yeah! Ranch? For sure!).
The recipe calls for letting them marinate in coconut milk which helps the cauliflower bites absorb the coconut flavor and also creates a tender inside which is a perfect contrast to the crunchy outside. My suggestion is to just cut up the cauliflower in the morning and let them marinade for a few hours before making these at lunch (or if serving around dinner time, prep and start to marinate at lunch so they'll be reading in the evening). However, if you forgot to plan ahead, these are still delicious without the coconut milk soak. I recipe tested them both ways (with the marinade and without) and although I liked the flavor and texture of the marinated bites, the non-marinated bites were still delicious!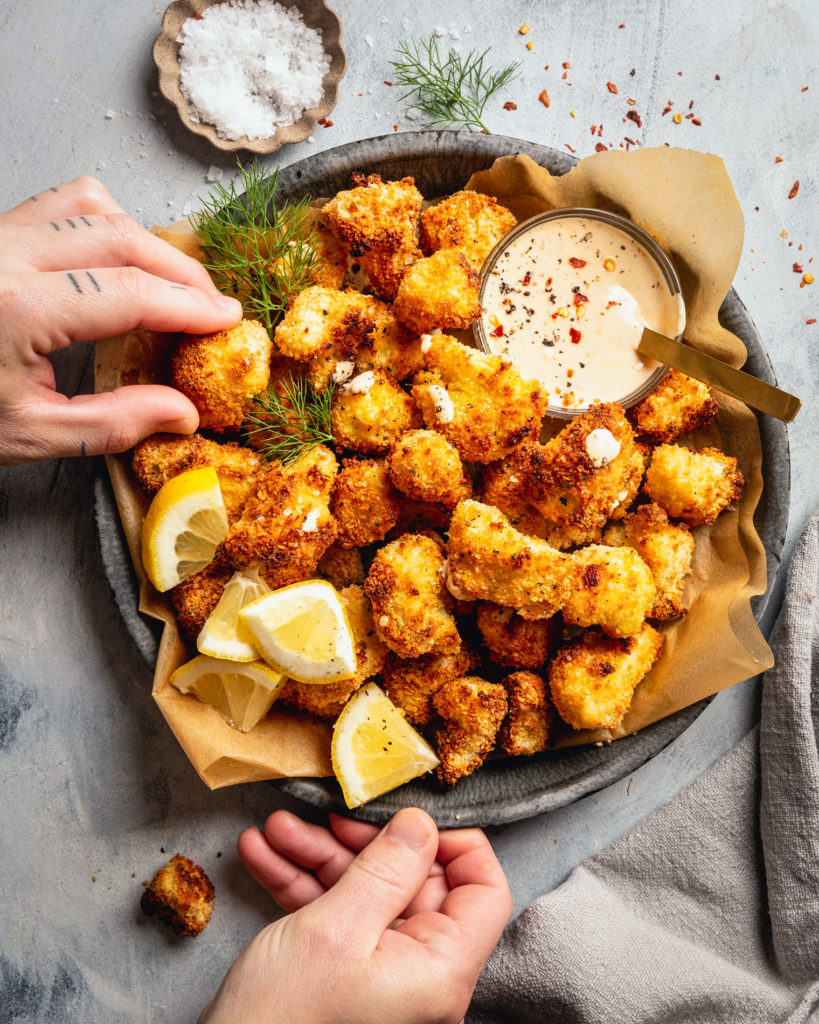 With the ongoing pandemic, I plan to give as many substitution suggestions as possible so you can continue to cook without having to run out to the store. Although some of these suggestions may vary the end result, I only make suggestions if I think it will still be delicious. Here is a list of substitute suggestions for these Coconut Cauliflower Bites with Creamy Honey Mustard Yogurt Sauce recipe in case you don't have certain ingredients on hand:
Cauliflower – I only recipe tested this with fresh cauliflower but I do imagine that broccoli bites would be delicious as well. Please let me know if you try it and how they turn out!
Unsweetened coconut milk – I mentioned above but if you don't have a can of unsweetened coconut milk on hand or forgot to plan ahead, you can skip the marinating step and jump right to breading the cauliflower. When testing, I tried both methods and although I liked the end result of the marinated cauliflower better, they were both delicious!
Plain Greek yogurt – Feel free to use sour cream or mayonnaise instead here!
Dijon mustard – You could also use regular yellow mustard or even mustard powder if you don't have Dijon.
Lemon juice – I like the extra flavor this gives but fine to skip if you don't have a lemon on hand.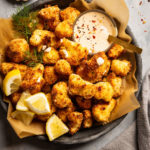 Coconut Cauliflower Bites with Creamy Honey Mustard Yogurt Sauce
Keyword:
cauliflower, snack
Ingredients
For the Coconut Cauliflower bites:
1

medium (or 1/2 half) cauliflower head

leafy parts trimmed and cut into bite size florets

1

14 oz

can unsweetened coconut milk

1

cup

unsweetened coconut flakes

1

cup

Panko breadcrumbs

1/2

cup

all-purpose flour

1

tsp

salt

1/2

tsp

freshly ground black pepper

2

eggs

lightly beaten with 1 Tbsp water
For the Creamy Honey Mustard Dipping Sauce:
1/2

cup

plain Greek yogurt

2

Tbsp

yellow or Dijon mustard

2

Tbsp

honey

1

Tbsp

juice from a fresh lemon

salt and pepper

to taste
Instructions
For the Coconut Cauliflower bites:
Add your cauliflower florets into a medium glass bowl or ziplock bag and pour in the coconut milk (reserving any cream that has formed in the can for another use). Toss and set aside to marinate for two hours, tossing every 30 minutes or so to get any pieces not submerged mixed in.

Preheat oven to 400 degrees and line a baking sheet with parchment paper.

In either a high speed blender or food processor, pulse the coconut flakes until ground into small crumbs. Transfer to a shallow bowl and add in the panko breadcrumbs. Toss to combine and set aside.

In another shallow bowl, toss together the flour, salt, and a dash of pepper. Set aside.

In a third shallow bowl, add the beaten egg.

Remove the cauliflower florets from the coconut milk and dip into the flour mixture to thoroughly coat. Next, dip into the egg mixture to thoroughly coat and then dip into the breadcrumb mixture to coat. Place coated cauliflower pieces onto your prepared baking sheet, making sure to leave a little space between each floret, and repeat the dipping steps with the remaining florets.

Bake for 30 minutes or until starting to brown all over, tossing halfway through. Serve warm with the Creamy Honey Mustard dipping sauce.
For the Creamy Honey Mustard Dipping Sauce:
Whisk together the yogurt, mustard, honey, and lemon juice. Taste and season with salt and pepper.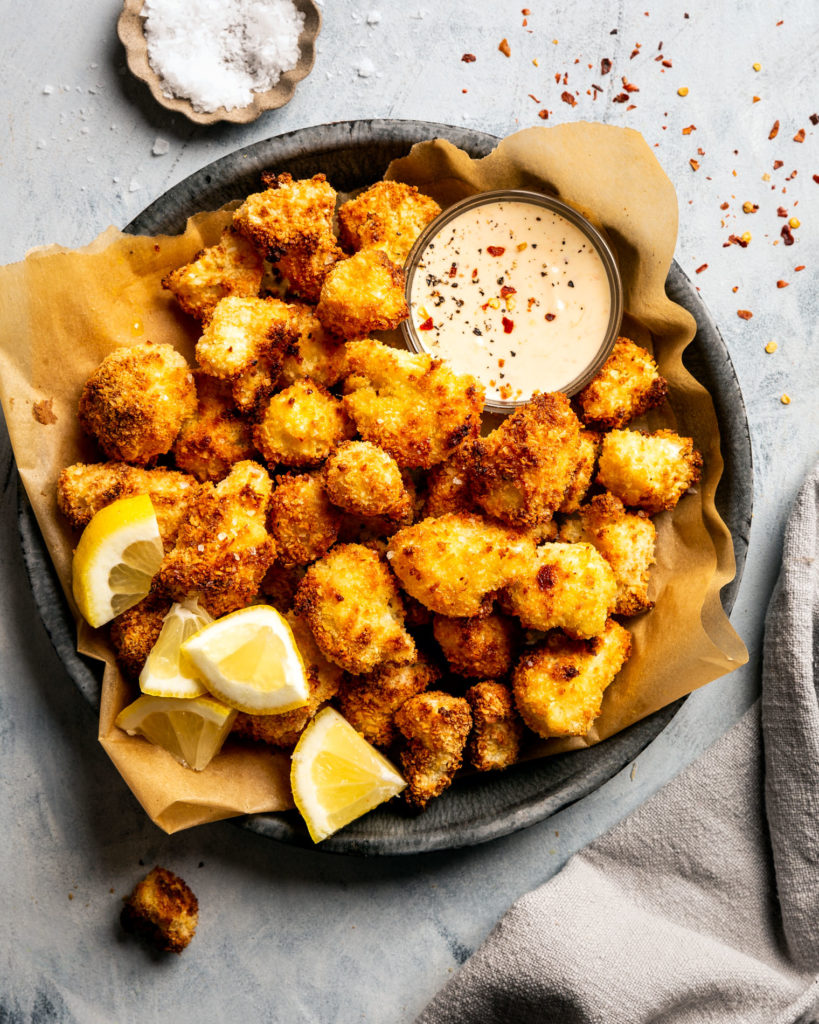 Looking for more broccoli recipes? Here ya go:
Make sure to tag me on Instagram and use #vegetarianventures when trying this dish out!