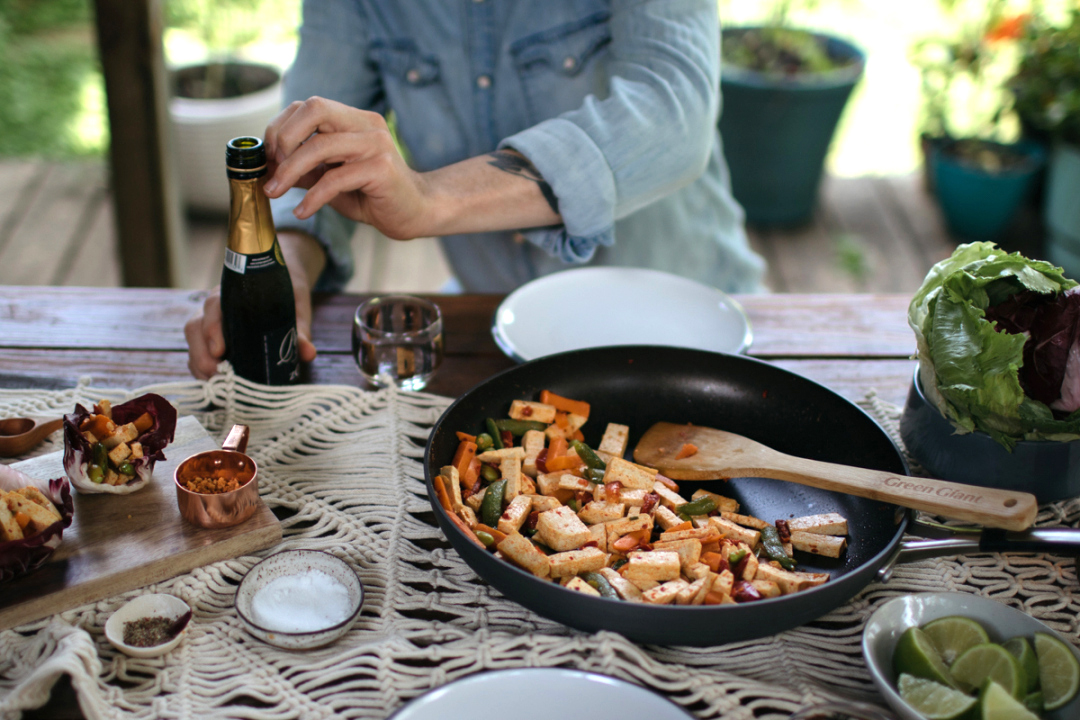 Coconut Thai Tofu Lettuce Wraps
In a hurry? Click here to JUMP TO RECIPE!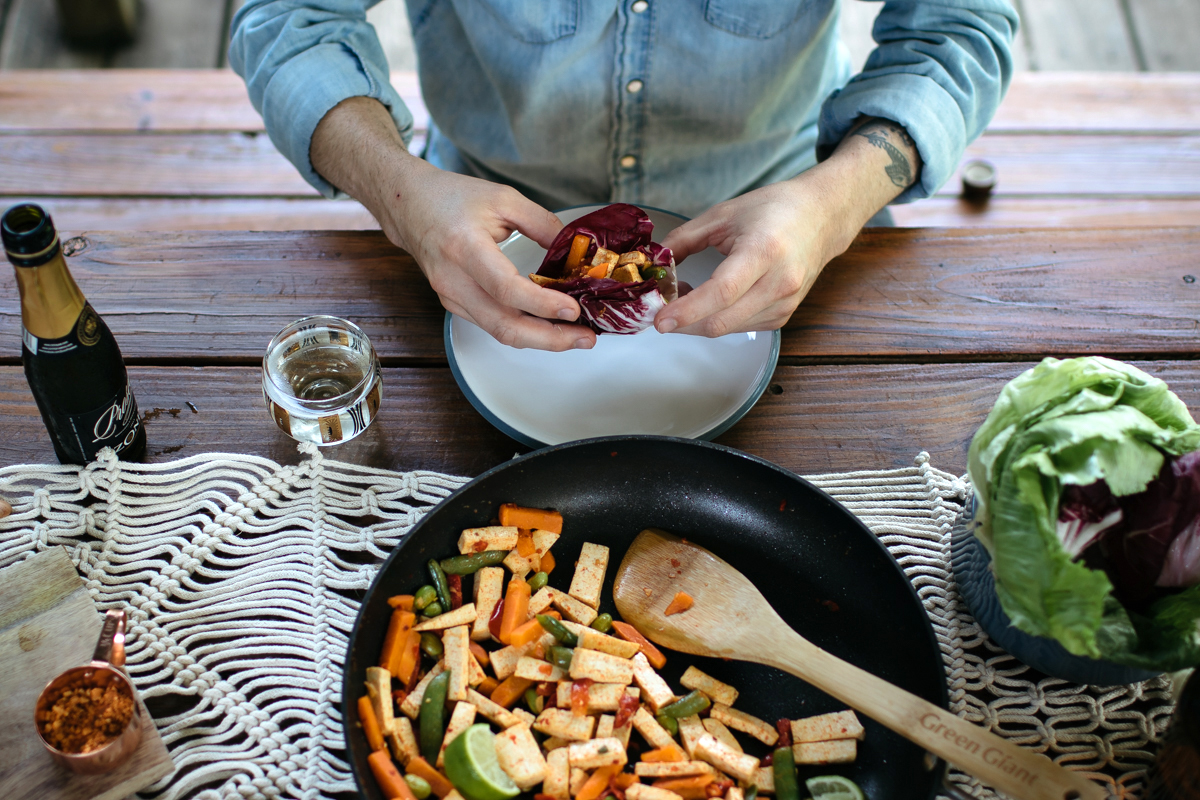 As mentioned in my last post, it's a crazy time of year for us over here with moving, having visitors, weddings almost every weekend, and a big 10 day vacation approaching fast. And somehow I bet we aren't the only ones – isn't funny how it works out that the days are so much longer this time a year but they go by so much quicker?
With all that being said, I'm going to admit to you that I've hardly cooked a full meal in almost three weeks. Sure, I whipped up some delicious food last weekend but other than that, we've been surviving off of bagels and thai takeout. I finally said enough a few days back and whipped up these lettuce wraps and you know what? Not only did I finally make dinner but I recruited Wyatt to help me and make a date night around it – no packing boxes, no entertaining guests, no walking the dog, just two hours of putting on a record, enjoying each other's company in the kitchen, and then sitting down to a meal together. It was such a relief; heck, even Wyatt was having so much fun that I talked him into putting this 'his' apron on (and he NEVER lets me dress him).
This recipe is not my standard recipe that I post around here (where all of the ingredients are pulled from my garden and I make the base from scratch) because, well to be honest, sometimes that's just not realistic. Sometimes you are tired or you don't have time to make something from scratch or you would just rather enjoy the company of your significant other than zero in on a super complicated meal. And you know what? That's okay. It's okay to not be able to do it all and it's okay to need a little help sometimes. I feel like our food society has turned into this wholefood movement that has become so beneficial to us in so many ways but also puts a lot of pressure on us to make everything from scratch. It shouldn't be that way – make an elaborate meal when you have time but don't beat yourself up if you don't. Instead of turning to the take-out menu, I'd recommend trying a simple recipe that has a little help with your freezer section because sometimes that's all you need to still get in your vegetable quota for the day.
Green Giant was also kind enough to offer a gift basket of goodies to giveaway for your next #WeeknightDateNight! The basket includes one 12-inch non-stick (PFOA-free) Calphalon fry pan, a wooden sauté paddle, love birds salt-and-pepper shakers, his & hers aprons, and two coupons for the new Green Giant Sautés. We received the same gift box in the mail before whipping up these wraps and had fun planning a night around them (I even got Wyatt to wear the apron! #win). The giveaway will be open until Tuesday, August 4th so make sure to take a few quick seconds to sign up below before then!
Coconut Thai Tofu Wraps recipe below:
These coconut thai tofu wraps are a twist on a more extensive recipe I made back in the day but the prep time is cut in half by using the Green Giant sautés. If you have the time (or can't find the Green Giant sautes in your area), I recommend checking out the original recipe but this one is just as delicious and even faster to whip up. Also, I kept the tofu matches around the same size as the vegetables but you can chop them smaller if you aren't crazy about tofu and want to have it masked more by the sauce.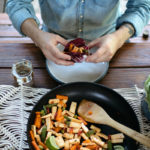 Coconut Thai Tofu Lettuce Wraps
A refreshing and addictive Coconut Thai Tofu Lettuce Wraps perfect for a quick weeknight dinner.
Ingredients
1

head of iceberg lettuce or endive

1

Tablespoon

olive oil

1

inch

piece of ginger

, peeled and minced

3

garlic cloves

, minced

1

package extra firm tofu

, drained and pressed

1

package of Green Giant Thai Coconut Sautés

Juice of half a lime + more slices for garnish
Instructions
Chop the end of the lettuce or endive and peel off each leaf layer for your wrap. Rinse and set aside (some of the inner sections may be too small – you can save them for a later use or chop them up and throw it into the vegetable saute at the end).

Heat the olive oil in a large skillet over medium. Add in the garlic and ginger and sauté for about one minute or until fragrant. Next, add in the tofu, Green Giant vegetables, and packet of seasoning (included with the sautés) and sauté for five to eight minutes. Remove from heat and top with the chopped peanuts (also included in the sautés) and juice from half a lime. Season with salt and pepper.

Serve by scooping a few tablespoons of the sauteed mixture into each leaf cup (the exact amount will depend on how big your leafs are).
This post was sponsored by Green Giant but all opinions in this post are of my own. Thank you so much for helping to support brands that keep VV thriving.