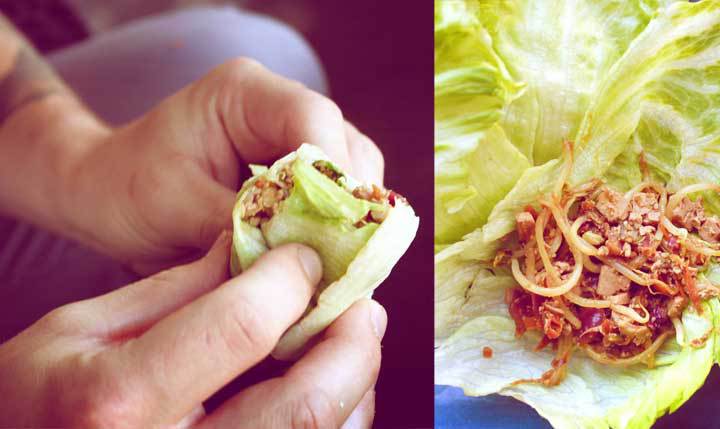 Tofu Thai Lettuce Wraps
Continuing with my "health kick" this week, I decided to whip up these lettuce wraps for a refreshing and light dinner. I use to live in Nashville, TN and would go to the PF Chang (sorry- I am USUALLY not a chain girl) just to get the tofu lettuce wraps appetizer. This is my version of those and it's fantastic; stocked full of refreshing veggies and flavorful sauces and then wrapped in a light lettuce leaf. There is something about the kick from the chili powder followed by a cool down from the lettuce that counteracts each other perfectly.
And if eating these because they are delicious and healthy weren't enough, they are so much fun to assemble and munch down on! It's like you've been given permission to play with your food (for once!). Also, if you are feeling like these won't fill you up, think about adding some Scallion Wonton Bites as a side.
PS Omit the egg if you're vegan!
Tofu Thai Lettuce Wraps
1 head of iceberg lettuce
4 garlic cloves, minced
1 inch piece of ginger, grated
1 block of tofu, drained and cut into small "match-like" sticks
1 carrot, cut into small "match-like" sticks
6 small mushrooms, thinly sliced
1 egg
1/2 a head of red cabbage
2 spring onions, sliced
2 cups bean sprouts
2 Tablespoons lime juice
3 Tablespoons soy sauce
3 Tablespoons teriyaki sauce
dash of chili powder
1 Tablespoon olive oil
dry roasted peanuts, for garnish
In a large skillet, heat up the olive oil over medium heat. Add the garlic and ginger and saute for a minute. Next, add in the tofu, carrot, mushrooms, cabbage, and spring onions and saute another minute (if the pan gets try add a little water). Mix in the lime juice, soy sauce, chili powder and Teriyaki sauce.
Push ingredients to the side and crack the egg in the skillet. Stir quickly to break the yoke and then incorporate the egg with the rest of the mix. Once the egg is cooked, remove from heat and add in the bean sprouts.
Assemble by filling a whole piece of lettuce with 2 or 3 tablespoons of mixture and then sprinkle peanuts on top.
It's probably impossible to tell because of the long hair but this is Wyatt munching down on some lettuce wraps! Mmmmm.