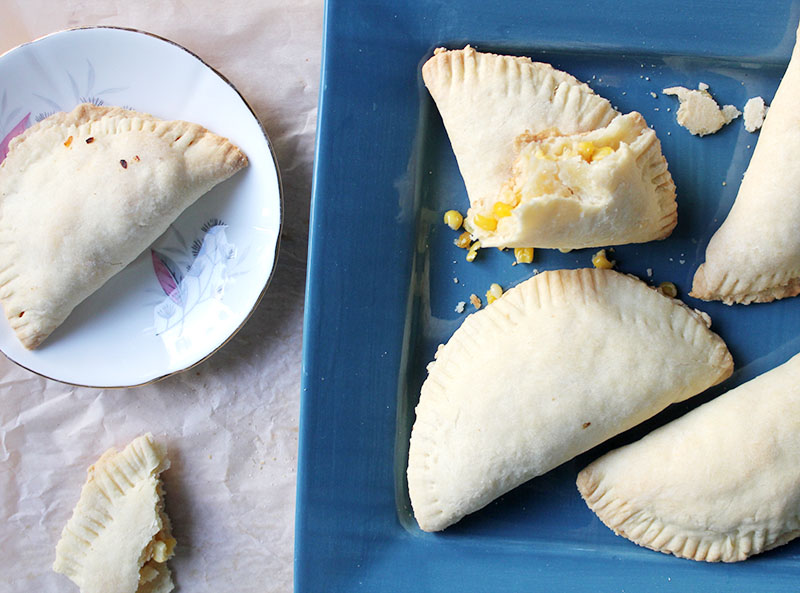 I have been having some serious wonderlust lately. It's a serious problem. I feel like it mine as well be 20 degrees out…this heat makes me feel just as claustrophobic as the freezing nights of January. It makes me long for cool breezes, sweaters, and hot apple cider. I had such a long list of camping destinations this summer and I fear we won't be able to get to any of them if these constant heat waves don't break! I need some 'smores and waterfall adventures in my life ASAP.
Well, it is SUPPOSE to rain here all day…cross your fingers! Sadly, it has been so dry that the local crops have been growing at snail pace which means we didn't get a CSA box this week! It's a total bummer. This means no fresh sage or summer squash this week. Or no beautiful drive into the country to pick up our 'goodie box' full of delicious surprises. Ah, oh well. It does also mean that we will get to do it for an extra week in October but still….
Anyhow, we still have a few leftover veggies from last week's crop (and we do live two blocks from the local co-op so I really shouldn't complain that much). We get LOADS of corn on the cob every week (go figure! What else is Indiana known for?). This was a perfect recipe to use up the leftover 7 cobs.
This was my first time ever tackling empanadas but it was surprisingly easy. Imagine calzones but without the hassle of using yeast dough (no kneading, rising, etc). It was fantastic. The dough had to chill so I was able to make the filling in the mean time and this probably didn't take more than 20-30 minutes (plus cooking time). I grew up enjoying my step-mom's empanadas which were always filled with apples, cherries, or blueberries. I feel like I could never top their sweet delicious flakiness so I decided to go in the opposite direction. I made these savory ones knowing they would be nothing like hers but being able to claim them as my own (and not compare them!).
Anyhow, this post has become very wordy. I am going to end saying one last thing about these empanadas. The filling was AMAZING. Next time I decided to make a corn side for a potluck or family gathering, I am going to just make this filling (corn + feta = oh so delicious). I am telling you this as a warning so you don't eat all of the filling before you manage to fill all the insides!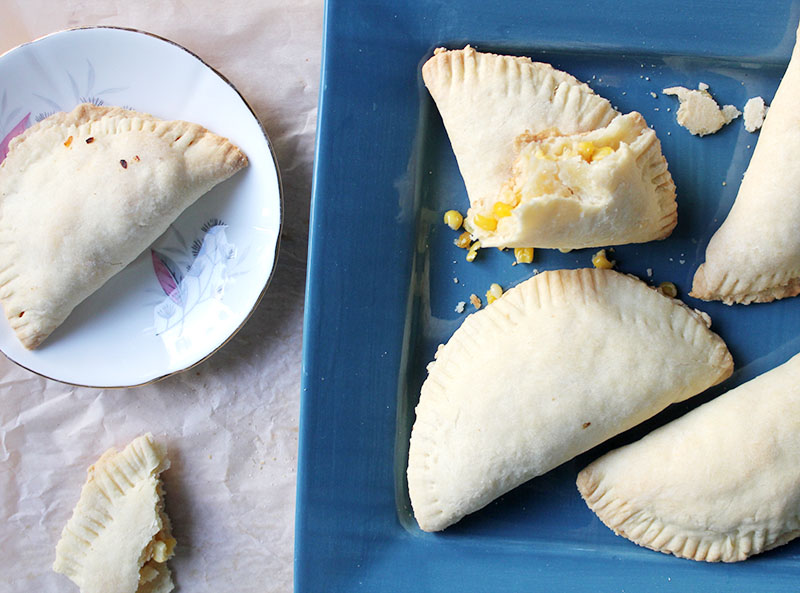 Corn and Feta Empanadas
3 cups flour
1 1/2 sticks butter, cubed and chilled
1 teaspoon salt
1 large egg
1/2 cup cold water, divided
For the Filling:
7- 8 ears of corn, boiled until softened (or about 3 1/2 cups frozen)
1/2 cup crumbled feta
3 garlic cloves, minced
1 teaspoon mustard
3 Tablespoons milk
1 teaspoon of lime juice
1/2 teaspoon paprika
1 teaspoon sugar
1/2 teaspoon salt
1 Tablespoon olive oil
Start by prepping the dough: I made the dough by hand but feel free to use a food processor if you have one. Place the flour, salt, and chopped butter in a bowl. Use your washed hands to work the butter into the dried ingredients until coarse. Whisk together the egg and water in a small bowl. Add in the water/egg mixture a little bit at a time and mix with your hands. Repeat until the dough has formed a stiff ball (you may not need all the water for this).
Divide into two parts and wrap in foil or parchment paper. Stick in the fridge to chill while you prep the filling.
To make the filling: heat olive oil over medium in a large skillet. Add in the corn and cook for about 5 minutes. Next, add in the garlic, mustard, milk, lime juice, paprika, sugar, and salt and cook for another 5 minutes. Remove from heat and fold in the feta.
Preheat oven to 400 degrees. Take the dough out of the fridge and roll out on a floured surface. I suggest just making it as thin as possible (probably about a 1/2 in thick but this all depends on personal preference). Use a small tea saucer as a template to cut out a circular hole.
Place on a parchment lined baking sheet and fill with about 2 tablespoon of the corn/feta mixture. Use your finger to rub a tiny bit of water on the outer edges of the dough (to make it sticky) and fold in half. Make indents with a fork to insure the empanadas are sealed. Repeat with the rest of the dough/mixture.
Cook for 15 or so minutes (it took mine about 22 minutes but my oven seems to take longer than most..)
Enjoy as an appetizer or as a main with a big salad!