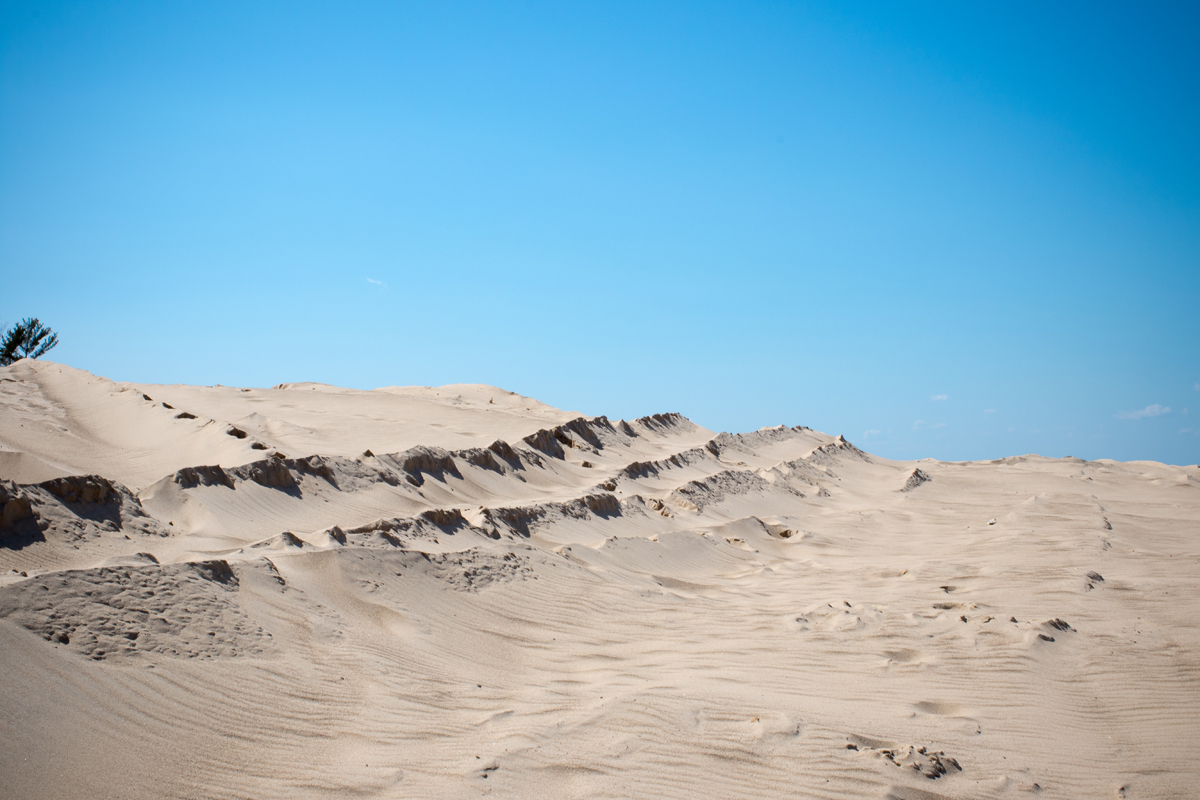 Creamy [Dreamy] Dark Chocolate & Blueberry Galette
In a hurry? Click here to JUMP TO RECIPE!
This week's post is coming late as I went up north this past weekend to visit my parent's for Easter. I'm not a religious gal but the folks love holidays and I am always into any excuse to make insane amounts of food for friends and family. My mother and I prepared a big brunch for Sunday and I spent the rest of the time exploring antique shops, snapping photos at Lake Michigan, and helping my cousin with her new invention schemes. Here are a few snapshots from the weekend:
Anyhow, as some of you may remember, I shared an insanely delicious galette last week that was filled with springy vibes. What I didn't share was it's counter-part that I also whipped up that day – a sweet galette filled with oozing dark chocolate, tart blueberries, and then stuffed with a little goat cheese for tang. The recipe is incredibly simple and I'd recommend saving a little dough for this sweet treat if you are planning to whip up the spring galette anyways (which I know you were)!
Creamy [Dreamy] Dark Chocolate & Blueberry Galette recipe below: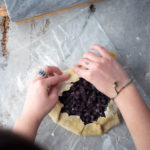 Creamy [Dreamy] Dark Chocolate & Blueberry Galette
A sweet and rustic Creamy Dark Chocolate & Blueberry Galette full of plump berries and bitter sweet chocolate.
Ingredients
For the dough:
1/2

cup

pistachios

2 1/2

cups

all-purpose flour

1

teaspoon

salt

1

teaspoon

sugar

2

sticks of butter

, chilled

1/2

cup

ice water

Egg wash from one egg
For the filling:
2

cups

dark chocolate chips

4

cups

frozen blueberries

1/4

cup

honey

(add more if your blueberries are super tart)

8

ounces

goat cheese
Instructions
Pulse the pistachios 4-5 times in a food processor or until coarsely ground. Add in the flour, salt, and sugar and pulse another 2-3 times or until combined. Add in the butter and pulse until a coarse meal is formed. While the food processor is running, slowly add in the ice water until a dough ball as formed. Wrap the dough in parchment paper and stick in the fridge for at least a half an hour.

Coat the blueberries with the honey and set aside.

Once the dough has chilled, remove from fridge and divide into four equal parts. Preheat oven to 400 degrees and line a baking sheet with parchment paper. Roll out one of the 4 pieces of dough into a rough circle shape and top with a 2 ounces goat cheese, 1/2 cup dark chocolate chips, and 1 cup of the honey-blueberry mixture. Fold the sides in towards the filling to create a crust that only slightly overlaps the filling and transfer to a parchment paper lined baking sheet.

Repeat with the rest of the dough and filling until you have 4 galettes on the parchment paper ready for baking. Brush the egg wash over the crust of all the galettes. Bake for 30-40 minutes or until the crusts have browned and the insides are starting to bubble.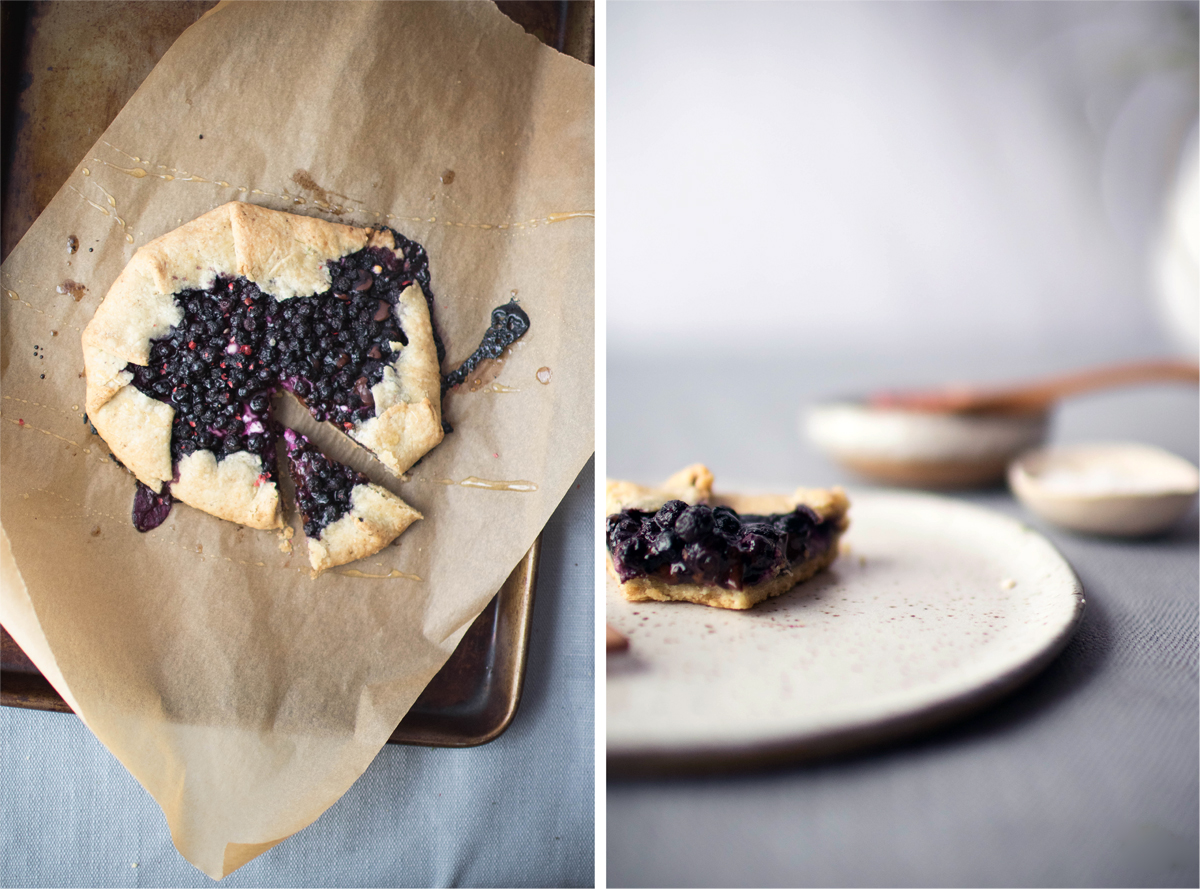 Styling: Small ceramic speckled plate: Marite Acosta /  Tablecloth: thrifted / Cake stand: West Elm / Wooden knives: mostly thrifted (+ one gifted from Carey) / Marble rolling pin: thrifted