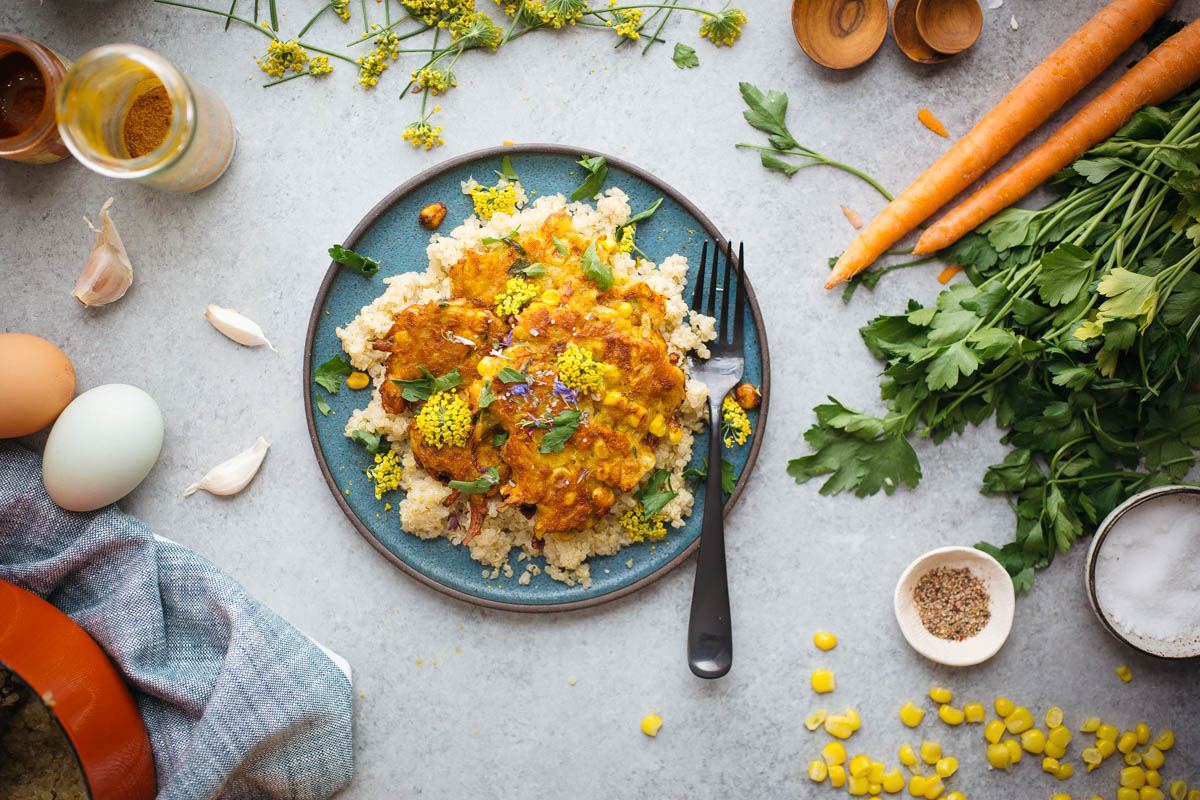 Curried Veggie Patties with Coconut Quinoa
In a hurry? Click here to JUMP TO RECIPE!
These Curried Veggie Patties with Coconut Quinoa are the perfect meal to throw together when you are trying to get rid of leftover vegetables or just looking to incorporate more veggies into your diet!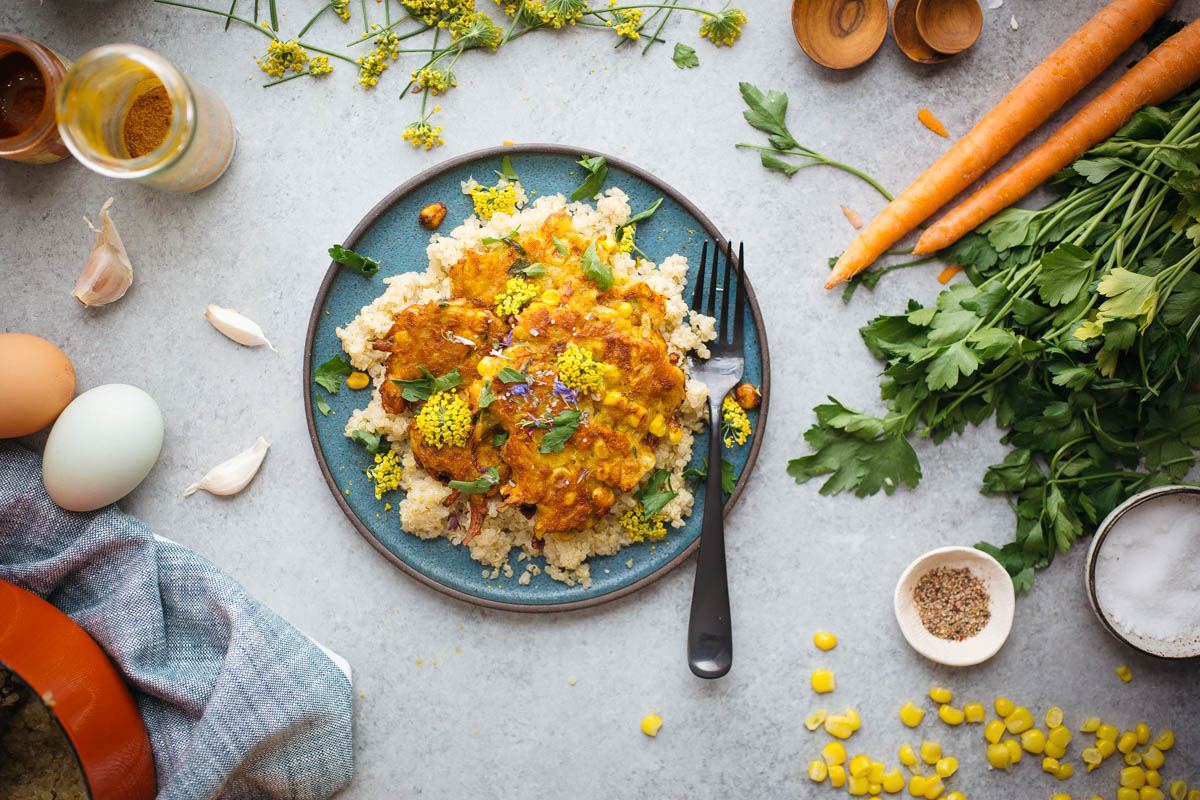 I was eight and wiggling around in the front seat of the tan Ford Explorer. My parents divorced before I was one so my brother and I would split our time between two homes, both less than a mile apart from each other. However, my brother was off being a pre-teen by hanging out at a friend's house so it was just my father and I in the car this time. We were stopped at the one streetlight between my parent's houses and my stepmother's (Connie) Shania Twain's 'Come on Over' CD was playing in the CD player. I cracked a joke at my father that he must had been listening to this entire CD on his twenty minute car ride from work to pick me up and instead of denying it, he jokingly turned it up and began singing along. We both knew the words from Connie playing it around the house all the time and I belted out all the feels to "Honey, I'm Home" without truly understanding the lines I was singing ("This job's a pain, it's so mundane. It sure don't stimulate my brain"). When the line "With all this stress, I must confess. This could be worse than PMS" came on, my dad turned the music really low to drown out "PMS" and gave me an awkward grin that I knew meant we shouldn't talk about it. It was a moment I logged in my head as I so often did as a kid; I'd close my eyes as tight as possible and say to myself 'remember this moment' as if that would neatly file away the memory for years to come until I was ready for it to resurface. I was curious and wanted to know but felt very content in the idea that I would know the answer one day but that it didn't have to be today.
Sometimes after a really exhausting day, I'll get that song stuck in my head. I'll think back to that moment where I sat there telling myself 'remember this moment for when you finally can relate to what she is talking about' and I have arrived. I logged that memory because, as an eight year old, I wanted to know what PMS meant but I look back on it realizing that the song as a whole was something I needed to still learn. The part about being too exhausted to do anything but hope that someone else will be there to wait on you. The parts of the song that always made me wonder as an eight year old 'why not just quit? Why not just never go back?' and sometimes as a 26 year old I think the same thing when listening to that song. It's not truly that simple though, is it?
Lately, I've been feeling overworked. Overworked at my day job slinging indie rock records. Overworked at photographing trying to finish up the cookbook photos. Overworked at trying to keep healthy and maintain a certain body weight. Overworked at trying to be the best girlfriend, daughter, and puppy mom. Overworked at cleaning up my messes around the house and in my head. Overworked at keeping up with a social life. It's a lot and instead of it feeling like it's lightening up, I'm feeling the pressure build. I'm feeling this all come to a head here that will naturally work itself out by pushing something out of my life. I want it all but I can feel the nagging in the back of my head saying something has to go. One more month until I am pretty much done with the book so I'm not going to make any rash decisions until then but I think I know what the back of my head is whispering throughout my body. Spring is finally here and it's time for a change.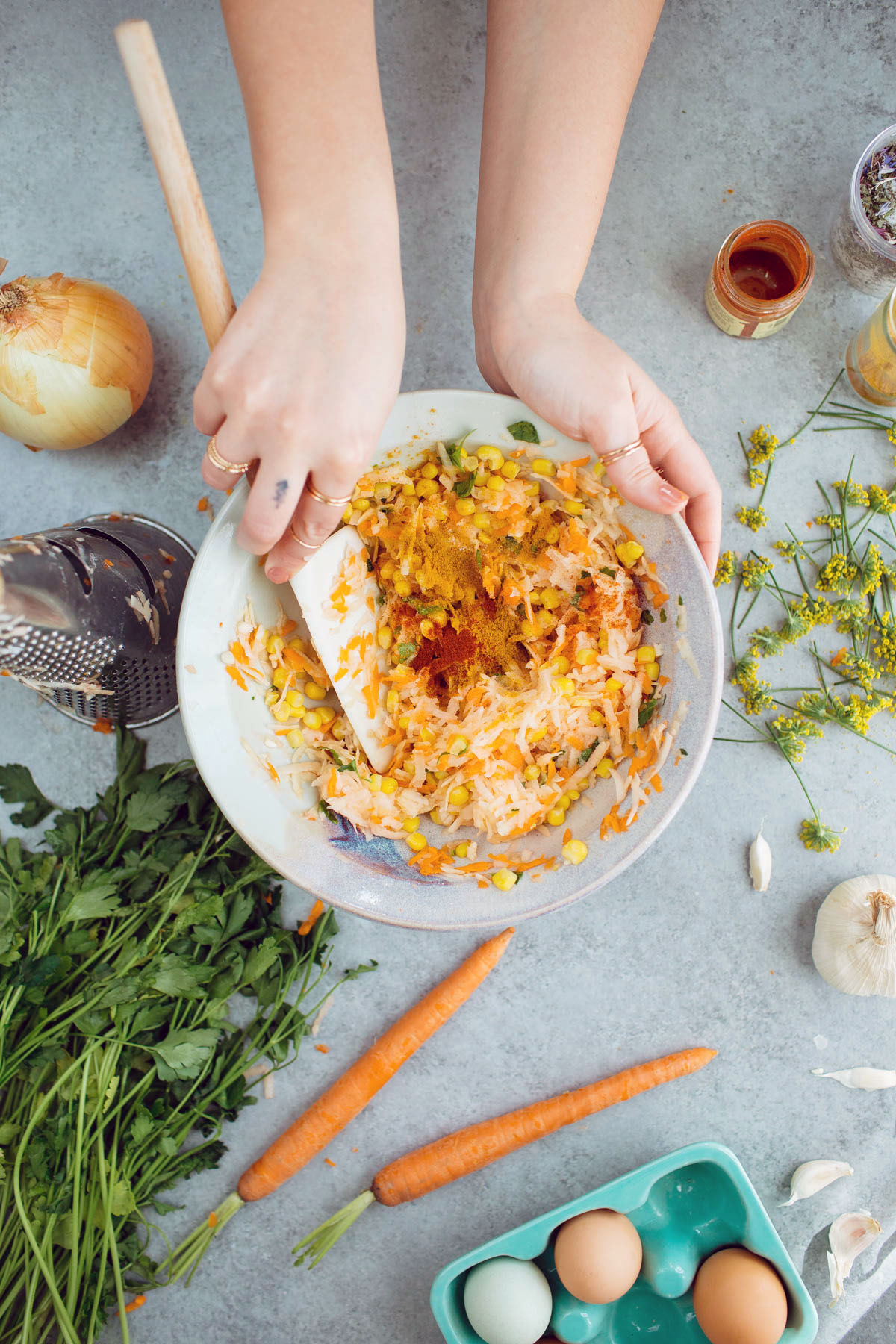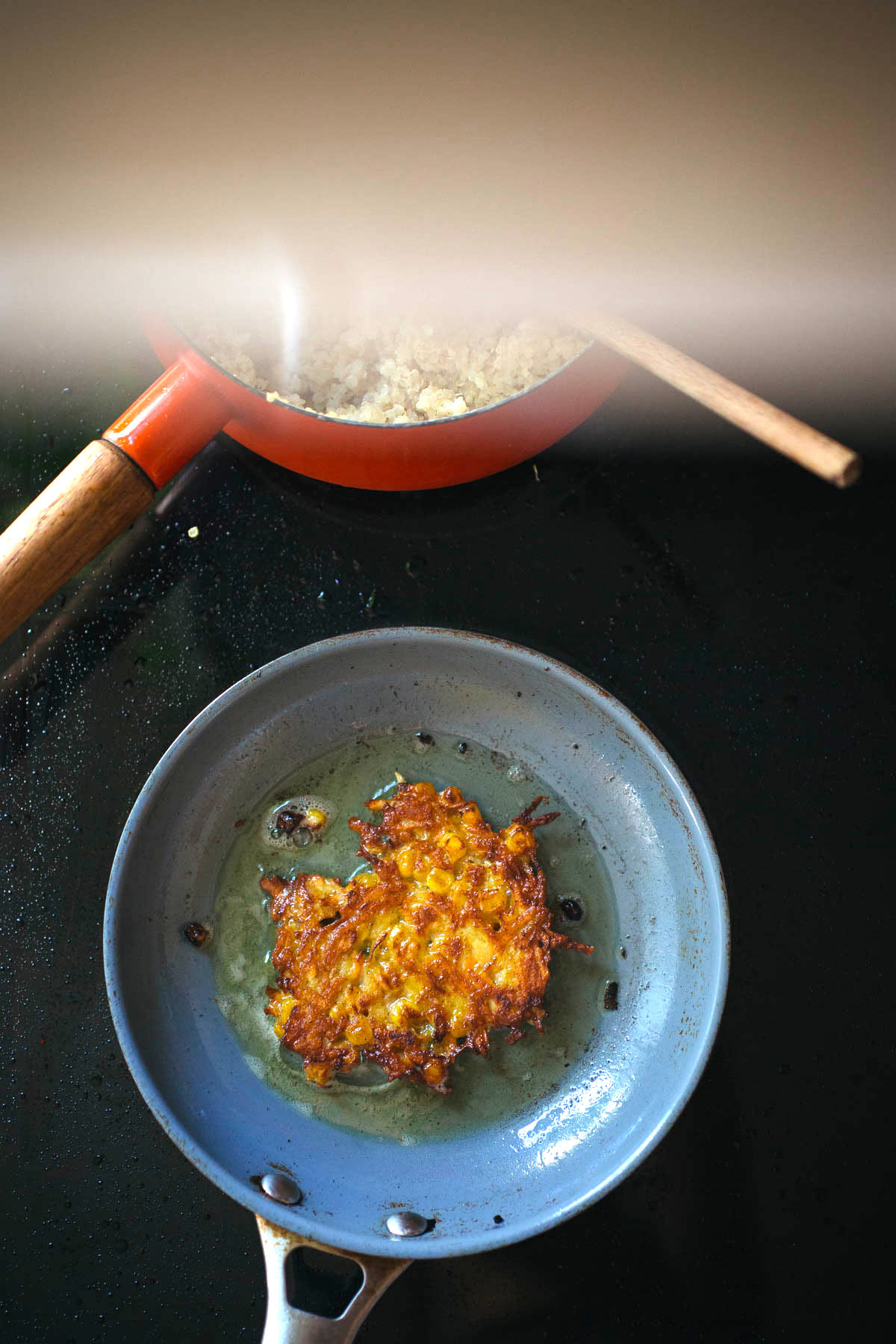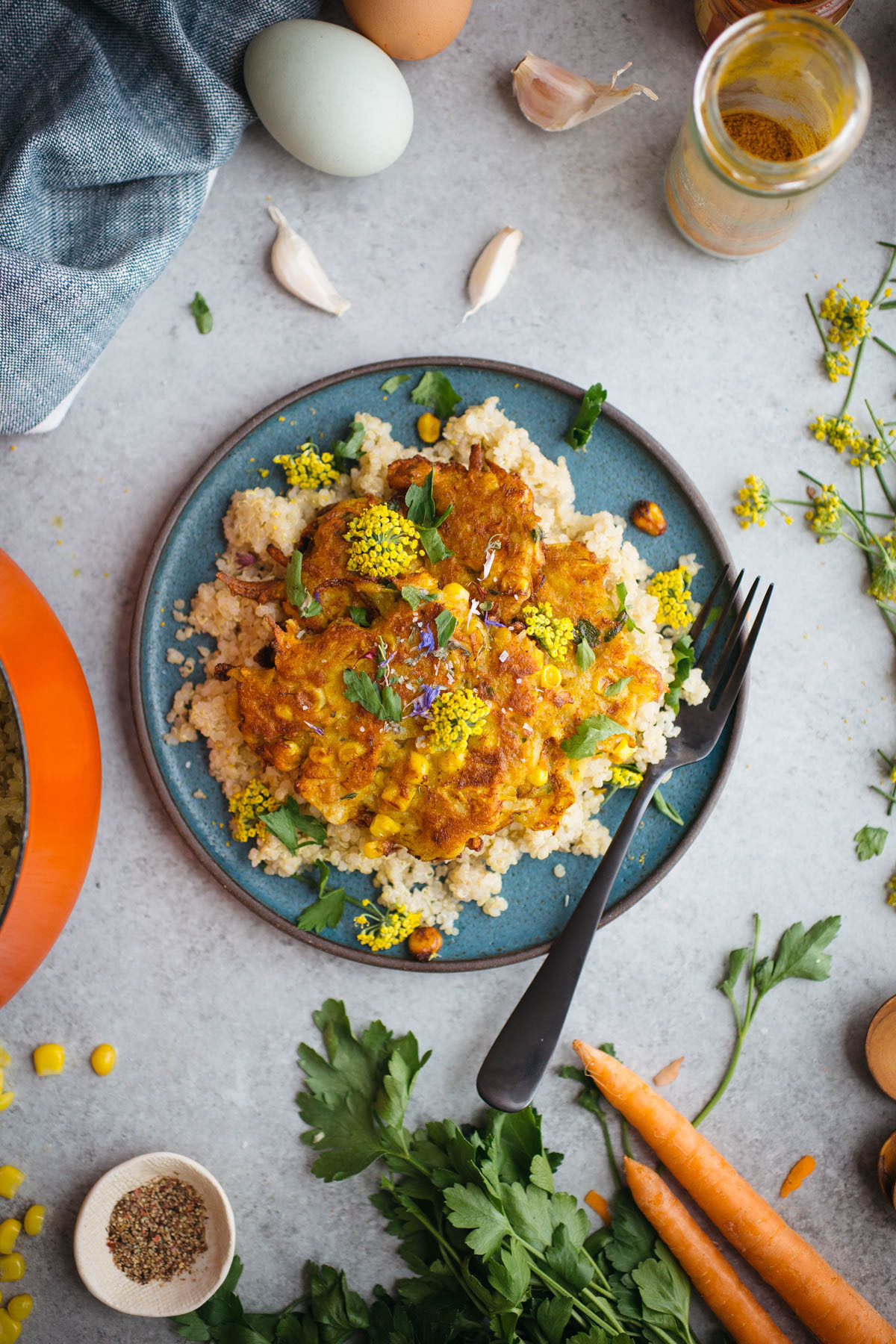 These patties were a result of me wanting to use up the leftover veggies in my fridge. The curry gives these patties a yellow hue and makes their flavor reminiscent of the delicious pakora from our local Indian restaurant. Shred and throw in whatever vegetables you have on hand to make so you don't have to run out for ingredients. Also, cooking the quinoa in coconut milk gives it the slight touch of coconut flavor without being overly sweet. Frying these little pancakes in peanut oil results in a crisp outside with a slightly soft center. You can also fry in sunflower seed oil if that is what you have on hand but avoid olive oil here since the oil has to get so hot. Also, make sure to watch your oil closely so it stays at a medium temperature – if you turn it up too high then the corn could pop!
Curried Veggie Patties with Coconut Quinoa recipe below: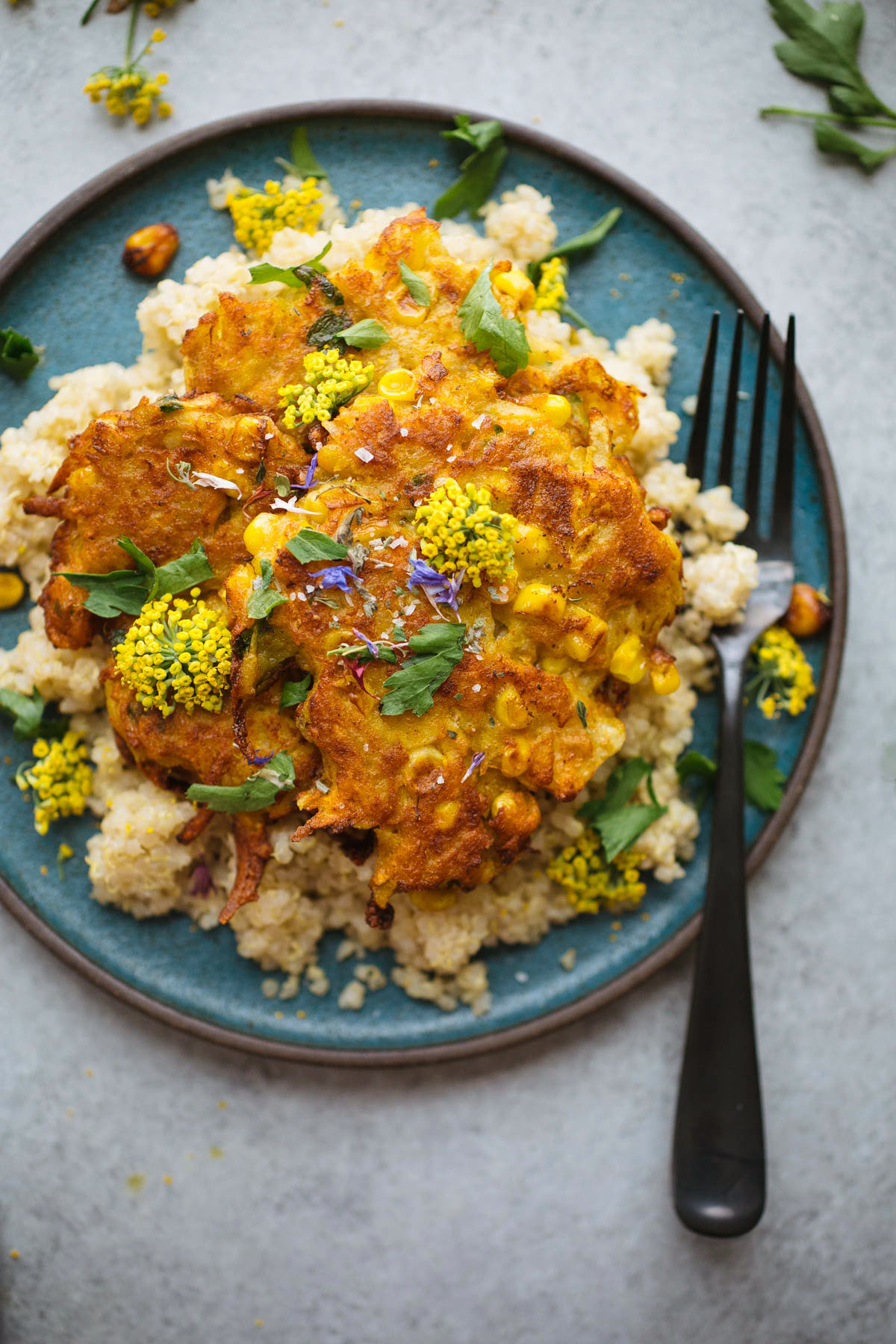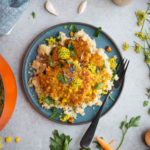 Curried Veggie Patties with Coconut Quinoa
Ingredients
1 1/2

cups

quinoa

, rinsed very well

1 13.5

oz

can of full fat coconut milk

dash of salt

2

medium russet or sweet potatoes

, peeled

1/2

large onion

2

medium carrots

1

cup

frozen corn

1/4

cup

whole-wheat flour

1

Tablespoon

curry powder

1

teaspoon

smoked paprika

1

tsp

fine sea salt

1

eggs

, lightly beaten

Peanut oil for frying
Instructions
For the quinoa: Add quinoa and coconut milk to a medium saucepan over high heat. Once boiling, cover, reduce to low, and cook for 20 to 25 minutes or until the coconut milk is evaporated. Remove from heat and let stand, covered, for five minutes. Fluff with a fork and season with salt. Set aside.

For the patties: on the large holes of a box grater, grate the potatoes, onion, and carrots into a large bowl. Wrap grated vegetables in a clean dishtowel and squeeze out excess liquid. Transfer back to the large bowl and add the corn, flour, curry powder, smoked paprika and salt and toss to coat. Fold in the eggs until the batter is fully combined.

Heat 1/2 inch of peanut oil in a small skillet over medium. Once hot, drop batter into pan, 1/4 cup at a time, leaving enough room so no patties touch. Cook for 2 minutes on each side, or until browned and cripsy. Transfer to a paper towel lined plate and repeat with the rest of the batter.

Serve warm over coconut quinoa.