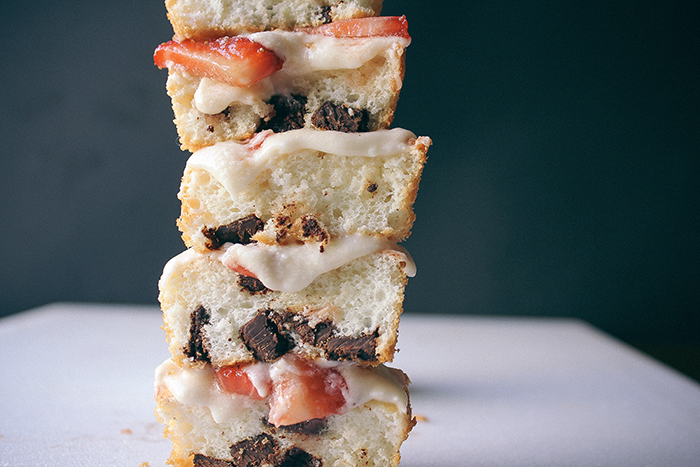 Dark Chocolate Chunk Angel Food Cupcakes with Brandied Strawberries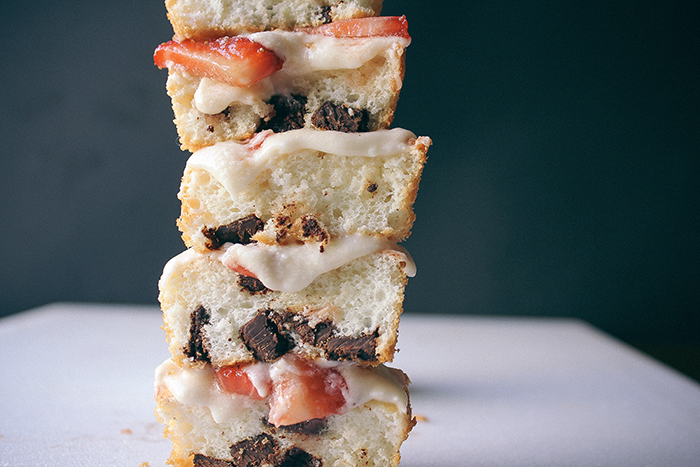 If you are a regular around here you may have noticed my usual 'Searchable Saturday' post missing these last two weeks. I am currently re-vamping that weekly column and will hopefully have it back in the coming weeks. To hold you over until it's back, feel free to find my weekly inspirations over on Pinterest.
vvvvvvvvvvvvvvvvvvvvvvvvvvvvvvvvvvvvvvvvvv
I learned all my baking techniques backward. Instead of learning the basics right off the bat – I dove right into vegan baking after moving into my first kitchen. This means I can whip up a Vegan Chia Latte cupcake like no one's business but often times still feel lost when trying to make a traditional cake…like one that involves 4 sticks of butter and 3 pounds of powdered sugar (do people actually put that much butter in a single recipe?!).
I've begun working backwards and am try to get a grasp on as many aspects of baking as possible (branching out from vegan and gluten free). So, while wondering through the bakery section of my co-op the other day, I realized I've never made angel food cake from scratch. It's something that has always been so easily accessible to me going up that I never really gave a thought to where it came from. Perhaps from a box? Or from the grocery store bakery? But what about homemade – had I ever really had homemade angel food cake? I was beginning to doubt I had. And something needed to be done about it.
I began doing research (AKA searched google) and discovered my challenge for making angel food cake would be whipping the egg whites until 'soft peaks formed'. I had read that term before and only accomplished it one other time – when making The Butterscotch Roll Up Cake for this little blog's birthday. I remember being SUPER intimidated by this term and watching many youtube videos before trying it myself. I had successfully accomplished making those 'soft peaks' but had pretty much steered clear of any recipe with this step in it since. However, the rest of making angel food cake seemed SO simple with its few ingredients and minimal steps that I knew I could shy away no longer.
In the end, the soft peaks term was nothing to fear. I used this handy visual guide from TheKitchn to make sure my egg whites were whipped properly and boom – the cupcakes turned out light and fluffy! Oh, and delicious. The chocolate chunks sank to the bottom because of the light batter but it made an amazing angel food sandwich – with dark chocolate on the bottom, boozy strawberries on top, and angel food cake in the center.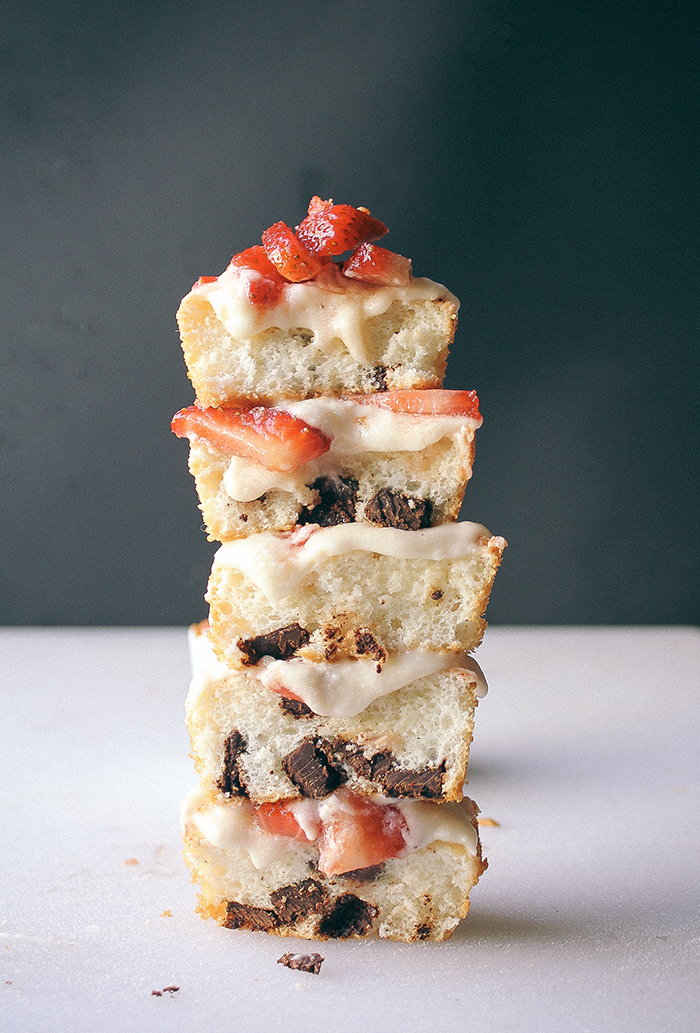 Dark Chocolate Chunk Angel Food Cupcakes with Brandied Strawberries
Brandied Strawberries:
1/2 pint strawberries, sliced
1 Tablespoon brown sugar
1/2 Tablespoon brandy
For the cupcakes:
3/4 cup powdered sugar, divided
1/2 cup all purpose flour
5 large egg whites, at room temperature
1/2 teaspoon cream of tartar
1/8 teaspoon vanilla extract
1/2 dark chocolate chunks (or regular chocolate chips)
For the frosting:
1/4 cup butter, softened
2 cups powdered sugar
1 teaspoons vanilla extract
3 Tablespoons milk
Slice the strawberries and place them in a bowl with the brown sugar and brandy. Cover and place in the fridge while you prepare everything else (try to let them sit in their for at least an hour).
Preheat oven to 350 degrees and slightly grease a 12 muffin pan.
In a small bowl, combine the flour and 1/4 cup powdered sugar. Set aside.
Add the 5 egg whites to your stand mixer bowl and beat until foamy. Next, add the cream of tartar and salt and turn the mixer up to high. Gradually add in the remaining 1/2 cup of powdered sugar and then vanilla extract. Beat until soft peaks form.
Next, fold in the flour mixture in three additions. Try to keep the batter as light and fluffy as possible and doing it in three additions will help not to weigh it down. Keep folding until everything is incorporated.
Transfer batter to the prepared muffin tins and bake for 15 to 18 minutes. You can tell they are done if the center is browned and bounces back slightly when you touch it.
Remove from heat and transfer to a cooling rack (I've read that you should place them face down on the cooling rack so they don't sink – I didn't have a problem with them sinking but would recommend you do this step just in case).
To make the frosting: Use a mixer to beat the butter until creamy. Next, add in the powdered sugar and vanilla and continue beatings on medium speed. Add milk a tablespoon at a time until the desired consistency is reached.
Drain the strawberries of any excess sugar liquid (or reserve it to drizzle on top).Once the cupcakes are cooled, frost them and top with brandied strawberries.