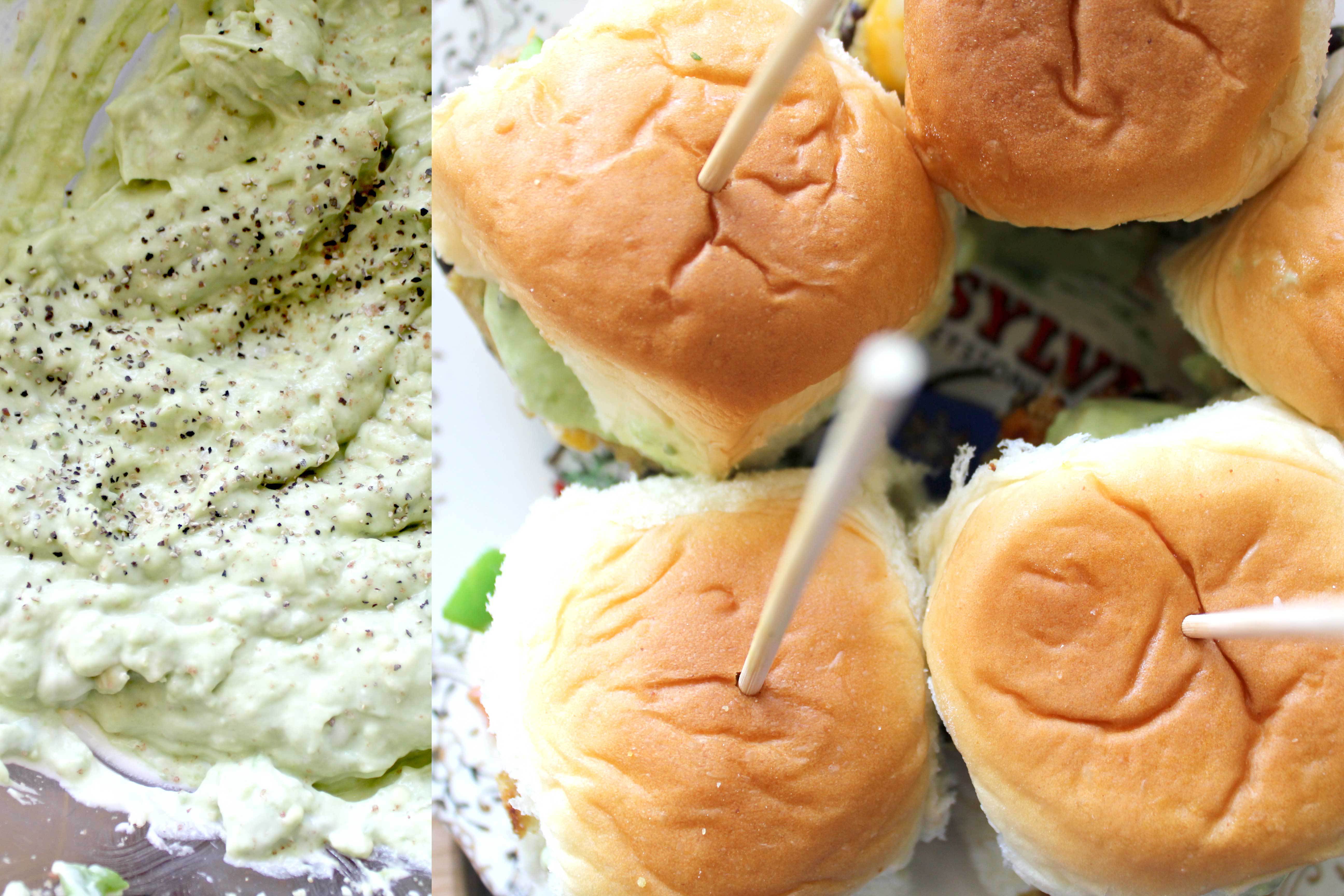 Dinner Picnic Part 2: Southwestern Veggie Sliders with Avocado Mayo
Continuing on with our discussion from Dinner Picnic Part 1, let's chat about the main course! I don't know about you guys but for me summer means sangria, grill outs, picnics, and veggie burgers. I love Morningstar's Black Bean Burgers when I am in a hurry but I find too much processed food to be a big no-no for my diet. This has led me to experimenting loads with veggie burgers and often times ending up with negative outcomes. I mean, I understand what kind of veggie combination I enjoy but getting the correct consistency with a veggie patty is wayyyy harder than you'd think! I've made sweet potato burgers which where so mushy that I should have served them as mashed potatoes and I've made really damn good chickpea burgers (but I had to have them sit in the fridge overnight to firm up – very time consuming). After many discouraging endeavors, I discovered the perfect ratio between vegetables, beans, and the ingredients that mend everything together (with a bit of help from this recipe).
These sliders are going to be my new go-to burgers when it comes to grilling. Not only is the patty absolutely delicious and stays together firmly, but the avocado mayo is amazing lathered on it them (and on pretty much everything else you happen to be serving!).
Southwestern Veggie Sliders with Avocado Mayo
1 onion, diced
1 15 oz can black beans, drain and thoroughly rinsed
1/2 cup corn
1 carrot, chopped
1/2 bell pepper, chopped
1/2 cup breadcrumbs
1/2 cup cornmeal
1/2 cup salsa OR salsa verde
olive oil, for cooking
12 Hawaiian rolls
pepper jack cheese, sliced
For the avocado mayo:
1 ripe avocado
1/2 cup mayo
2 garlic cloves, minced
salt/pepper
1 Tablespoon lime juice
In a large skillet, heat 2 tablespoons olive oil over medium heat. Add onions and saute for 5 or so minutes or until they start to soften. Add the bell pepper and saute for another two or so minutes.
Remove from heat and add to a large mixing bowl. Add the corn, carrot, black beans, bread crumbs, and cornmeal. Fold in salsa until everything is combined.
Divide the mixture into 12 equal parts and form patties. Heat another 2 Tablespoons of olive over medium heat and cook each side of the patty for about (depending on how hot your skillet gets) 2 minutes on each side.
To make the sauce: mash together the avocado, mayo, garlic, and lime juice. Season with salt and pepper to your liking.
To assemble: Slice each roll in half. Lather the avocado mayo on the bottom with a slice of cheese and then stick the patty on. Feel free to top with tomatoes, lettuce, or whatever else you'd like. Enjoy warm and on a beautiful porch or blanket outside!
PS Or feel free to cook these on the grill outside as well!