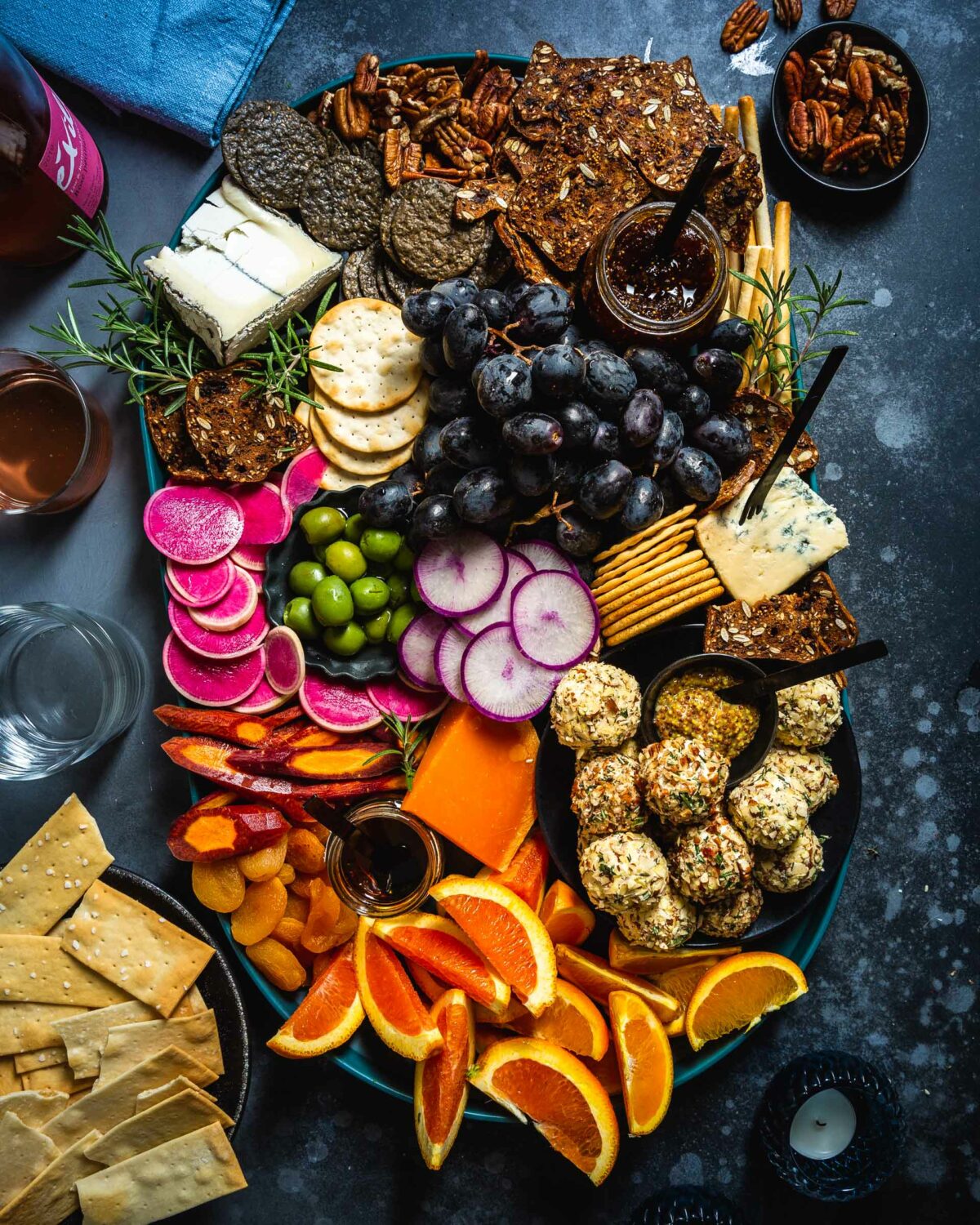 Fall Cheese Platter With Mini Cheese Ball Bites
This striking fall cheese platter with mini cheese ball bites is sure to wow your guests and a perfect way to start your holiday with friends and family.
Jump to Recipe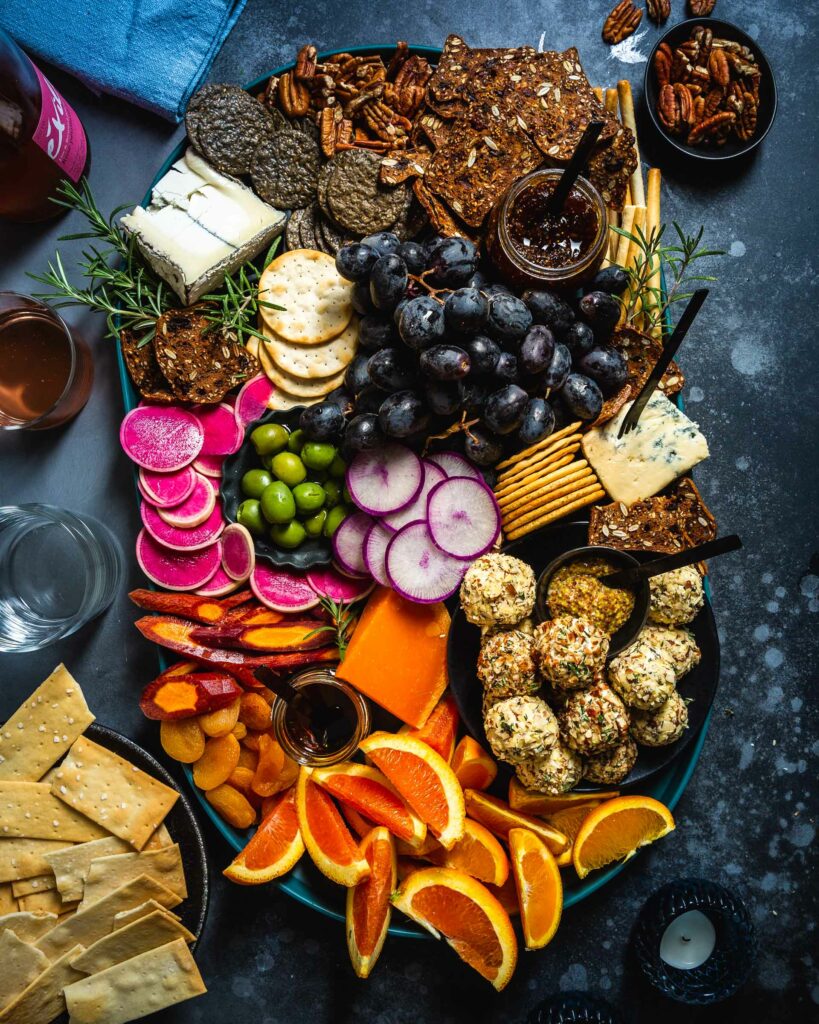 I can't believe it's been over a year since I shared a cheese platter or board (I tend to use the terms 'board' and 'platter' interchangeably so you'll see both in this post FYI) on here! I have a feeling that a good amount of you reading this may have found me from my cookbook, Platters and Boards, and may have even started following thinking you'd see a lot more of those around here so I apologize for that. To be honest, I made so many for my third book coming out in the spring that I had to take a little pause on making them to keep myself from burning out. However, it's now the holiday season and no gathering (although probably pretty small right now) is complete at my house without one.
There is also a version of these little cheese ball bites in my second cookbook but I simplified them here so they'd come together quicker without compromising too much flavor. You can make them ahead of time (you could even make the whole thing a few days ahead of time and then wait to roll them in the nuts until the morning of) and store in the fridge until ready to use.
You are welcome to use whatever vegetables and fruit you like in this board but to give it a 'fall' / 'winter' vibe, I'd recommend using items that are in season right now. For my platter, I used vegetables like carrots and radishes and then fruit like grapes and citrus. And now here are a few tips to keep in mind when planning out your platter (although if you have a copy of Platters and Boards then you've probably already mastered these!):
What are good cheeses for a cheese platter?
I always recommend a hard or semi-hard cheese (such a gouda, cheddar, etc), a goat cheese or soft cheese (such as a dressed up mascarpone, ricotta, brie, or goat cheese log), and a blue cheese to give your guests some variety. Also, consider making sure a few of the cheeses are familiar to guests in case you have a picky eaters (such as a nice cheddar) and then also putting some more specialty cheeses in there to make it feel exciting and interesting for the other guests (my go-to is Humboldt Fog but I'd recommend going to your local cheese shop and asking them for some suggestions too). I also always like to remind my vegetarians to make sure that the cheese you are picking up is vegetarian (any good cheese shop should have it labeled or be able to tell you when you ask).
How Do You Garnish A Cheese Platter?
To keep your board feeling cohesive, I always recommend garnishing with herbs that were either used in your board or are in season. For example, I used mostly rosemary sprigs from my garden to garnish this board with a few thyme sprigs near the cheese ball bites (both were used in that recipe). If it's the spring or summer, garnishing with edible flowers is a great option.
Can You Make a Cheese Board Ahead of Time?
You can definitely make a cheese board ahead of time (wait to put the crackers on the board until the day of to keep them from going soggy or stale) and store covered in the fridge. I recommend making sure none of your cheeses are touching so that flavors don't meld together. If you've cut your vegetables and fruit ahed of time and they are looking a little dried out by the time you go to serve the platter, just spritz them with a little water to bring them back to life. Also, I recommend putting your platter or board out at least 20 minutes before guests arrive so your cheese has time to come to room temperature.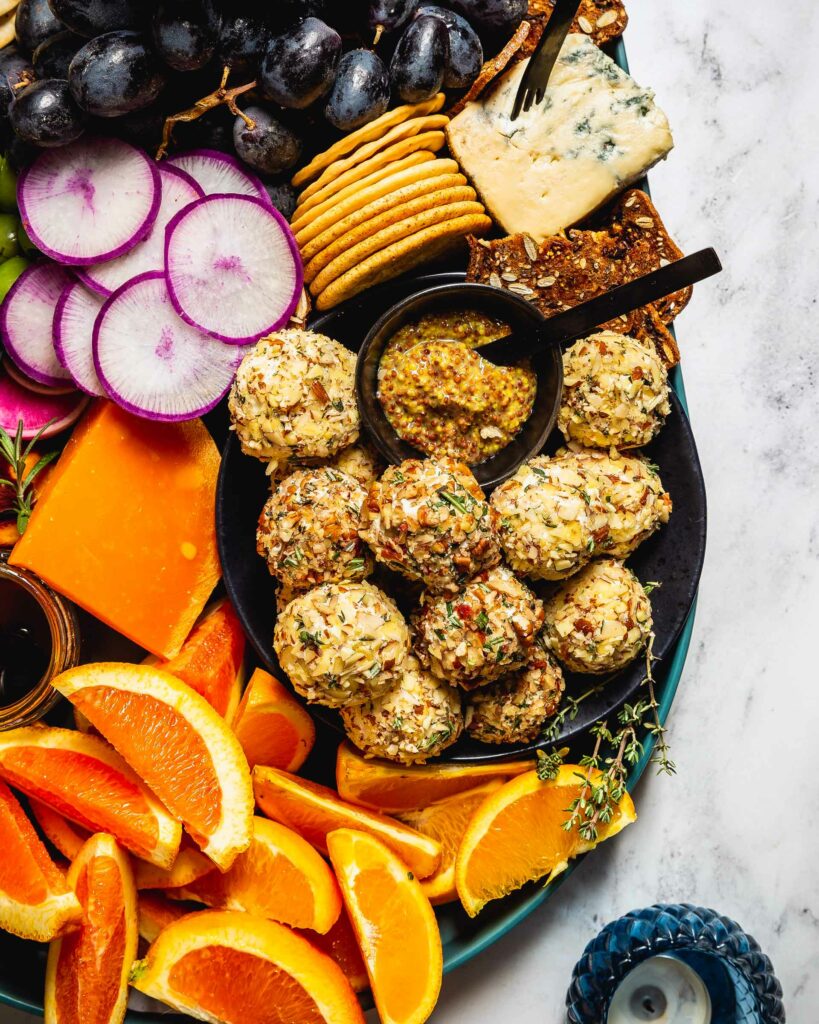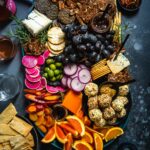 Fall Cheese Platter with Mini Cheese Ball Bites
This striking fall cheese platter is sure to wow your guests and a perfect way to start your holiday with friends and family 
Ingredients
For the mini cheese ball bites:
1

8 oz

package of cream cheese,

softened

1

8 oz

package of goat cheese log,

softened

1

tsp

honey

1/2

tsp

orange zest (from 1/2 medium orange)

1/2

cup

chopped toasted pecans

1

tsp

minced rosemary leaves

1/2

cup

chopped toasted almonds

1

tsp

minced thyme leaves
For the cheese platter:
6

oz

blue cheese wedge

6

oz

semi-hard cheese wedge (such as gouda, cheddar, etc)

6

oz

goat's milk cheese (such as Humboldt fog, goat cheese log, etc)

1/4

cup

whole grain mustard

1/4

cup

fig spread

1/4

cup

honey

1

cup

olives

4

cups

vegetables (such as carrots, radishes, bell pepper, etc),

washed and cut into bite size pieces

3

cups

fresh or dried fruit (such as dried apricots, orange slices, grapes, etc),

washed and cut into bite size pieces

1

cup

roasted nuts (such as pecans, almonds, etc)

16

oz

crackers

rosemary,

for garnish
Instructions
For the mini cheese ball bites:
Transfer the cream cheese, goat cheese, honey, and orange zest into a food processor with a blade attachment (alternatively you could blend this with a stand mixer if you don't have a food processor). Turn the food processor on and blend for 20 seconds or until everything is incorporated and the mixture is light and fluffy. Remove the blade, re-cover, and stick in the freezer to chill for at least 20 minutes.

Meanwhile, transfer the pecans and rosemary to a small shallow bowl and toss to combine. In a separate small shallow bowl, add the almonds and thyme and toss to combine. Set aside.

Once chilled, use a tsp measuring spoon to scoop out 2 tsp each of mixture so that you end up with about 35 balls. Use clean hands to roll the balls between your hands (wetting them if the cheese is sticking) to form circular balls. Roll half the balls in the pecan mixture and half in the almond one (you'll have one extra since it's an odd number – go ahead and roll the last one in whichever mixture sounds better to you).

Serve right away or cover and chill until ready to serve.
To assemble the cheese platter:
Place a large serving platter on your appetizer table or where ever you plan to serve it. Arrange the cheeses in different corners of the platter (you want to make sure none are touching so the flavors don't mingle).

Place mustard, honey, fig spread, olives, and mini cheese bites onto their own small plates or bowls and then place in different areas on the platter.

Use the vegetables, fruit, crackers, and nuts to fill out the rest of the platter. Add a few sprigs of the rosemary for garnish and then finish the platter off by adding cheese knives and spoons near foods that need utensils to serve.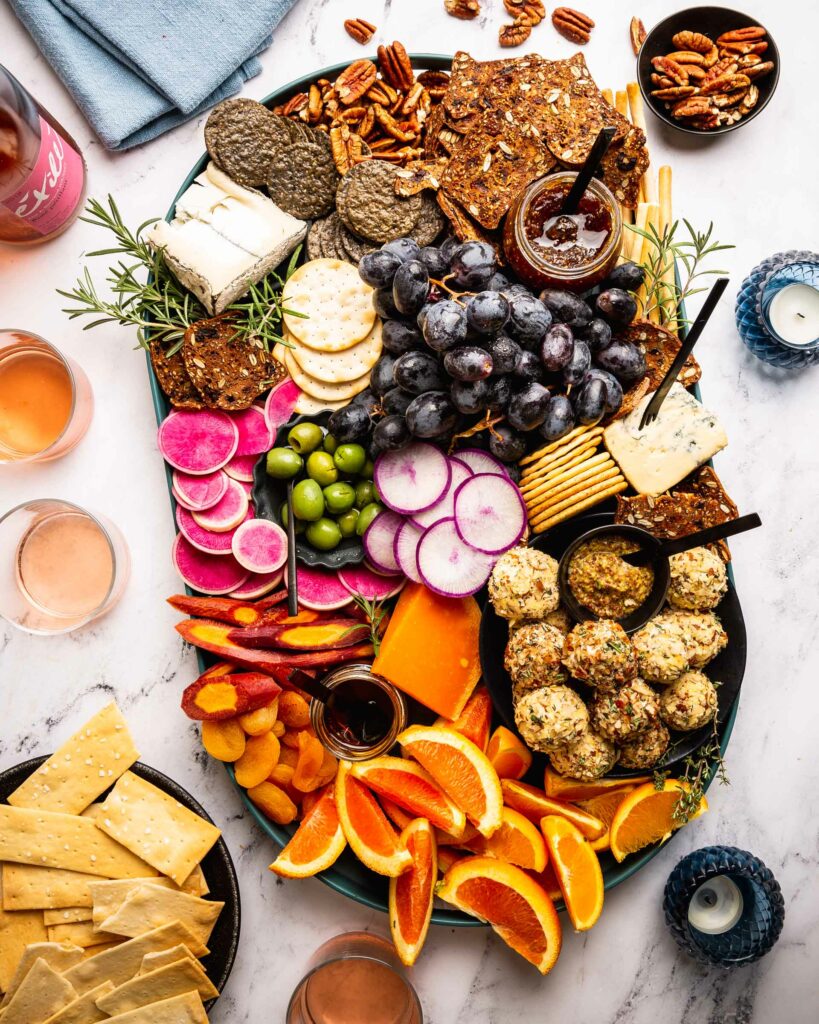 Make sure to tag Vegetarian 'Ventures on Instagram and use #vegetarianventures when trying this dish out!