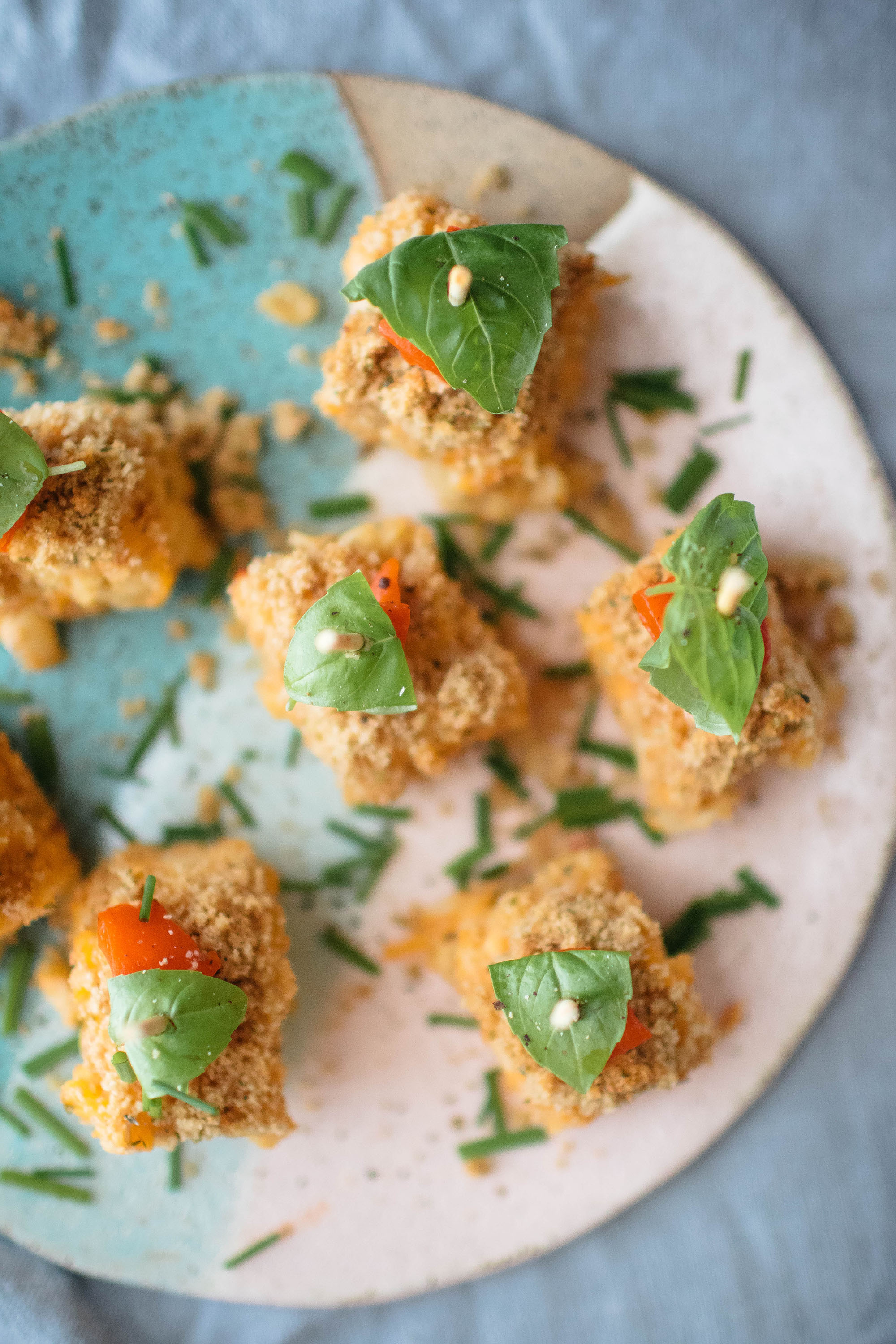 Mini Pimento Mac & Cheese Bites
In a hurry? Click here to JUMP TO RECIPE!
Creamy and cheesy bite size Mini Pimento Mac & Cheese Bites!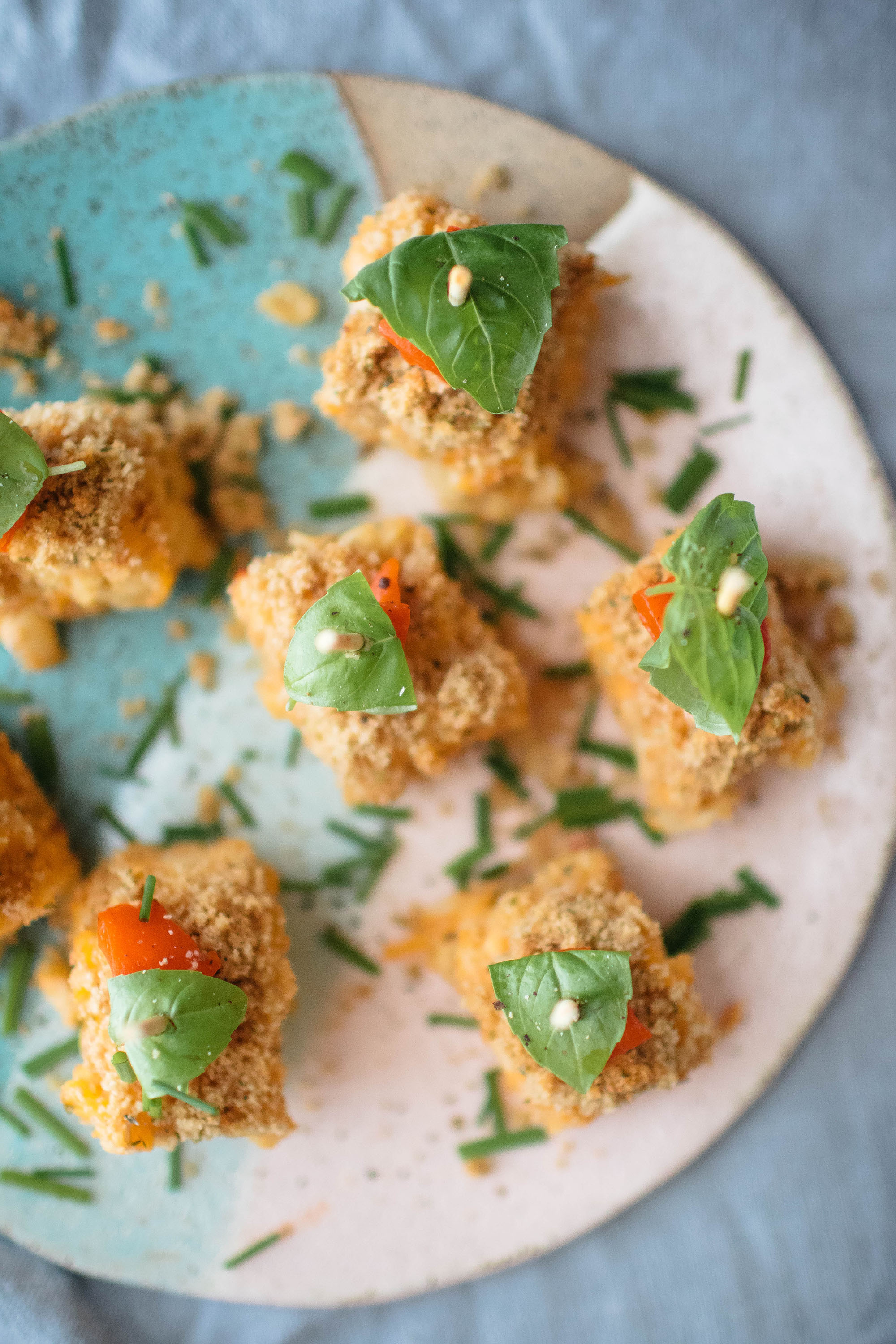 I've got some freaking amazing Mini Pimento Mac & Cheese Bites for you all today! But what's the special occasion, you ask? Well today I am so beyond excited to be a part of Sarah from Snixy Kitchen's virtual baby shower! Over thirty of us bloggers have come together to celebrate her #cheesebabyshower by posting a cheesy recipe for her virtual celebration!
I've spent the past few days thinking of really great talking points for a baby shower (as if I was actually prepping to head to one with all these fine ladies and gentleman) because I've never actually been to one before. I honestly just went to my first wedding shower this year so I guess, at 26, I'm a little behind in celebrating all these big adult milestones. Anyhow, while I was thinking of topic points, I caught myself saying 'No Shelly. Not appropriate baby shower talk' and realized that my 'do not bring up at baby showers' list was as long as my 'talking points' list; because I'm not actually at a real shower, I thought it might be nice to share both lists with you:
Don't list: "What are all of the weird pregnancy cravings you all have gotten while pregnant? I've never had a kid but imagine I would just constantly be eating a jar of peanut butter and a tub of cream cheese at the same time"
Do list: "Can you tell what kind of foods your baby girl likes so far? Does she kick in approval?"
Don't list: "Sarah, can I see your studio set up? I love the lighting in your photos and would love to see how you shoot them!"
Do list: "Can I see the nursery? I sure hope it's Wes Anderson themed!"
Very Don't list: "Aren't you scared of the whole birth process?"
Do list: "What are all the shows you are going to binge watch while waiting to go into labor? I'd recommend Empire, Gilmore Girls, The O.C., and Nashville"
Don't List: "Would you mind if I put 'Look Who's Talking On' on your TV during the party?"
Do List: "I made this cheese themed music playlist – can I put it on during the party?"
Don't List: "Do you think I should throw a shower for my new dog? I mean I didn't spend 9 months growing him but I still really like him."
Do List: "Sarah, I'm really clumsy and am constantly knocking things over when I shoot my recipes. How do you manage to keep it all so together with an additional human inside of you?"
I'd assume that these talking points would get me through at least the first half an hour of the party, at which point I could excuse myself and munch down on all the freaking amazing food there is because everyone at the event would just be a bunch of nerdy food bloggers! Speaking of that…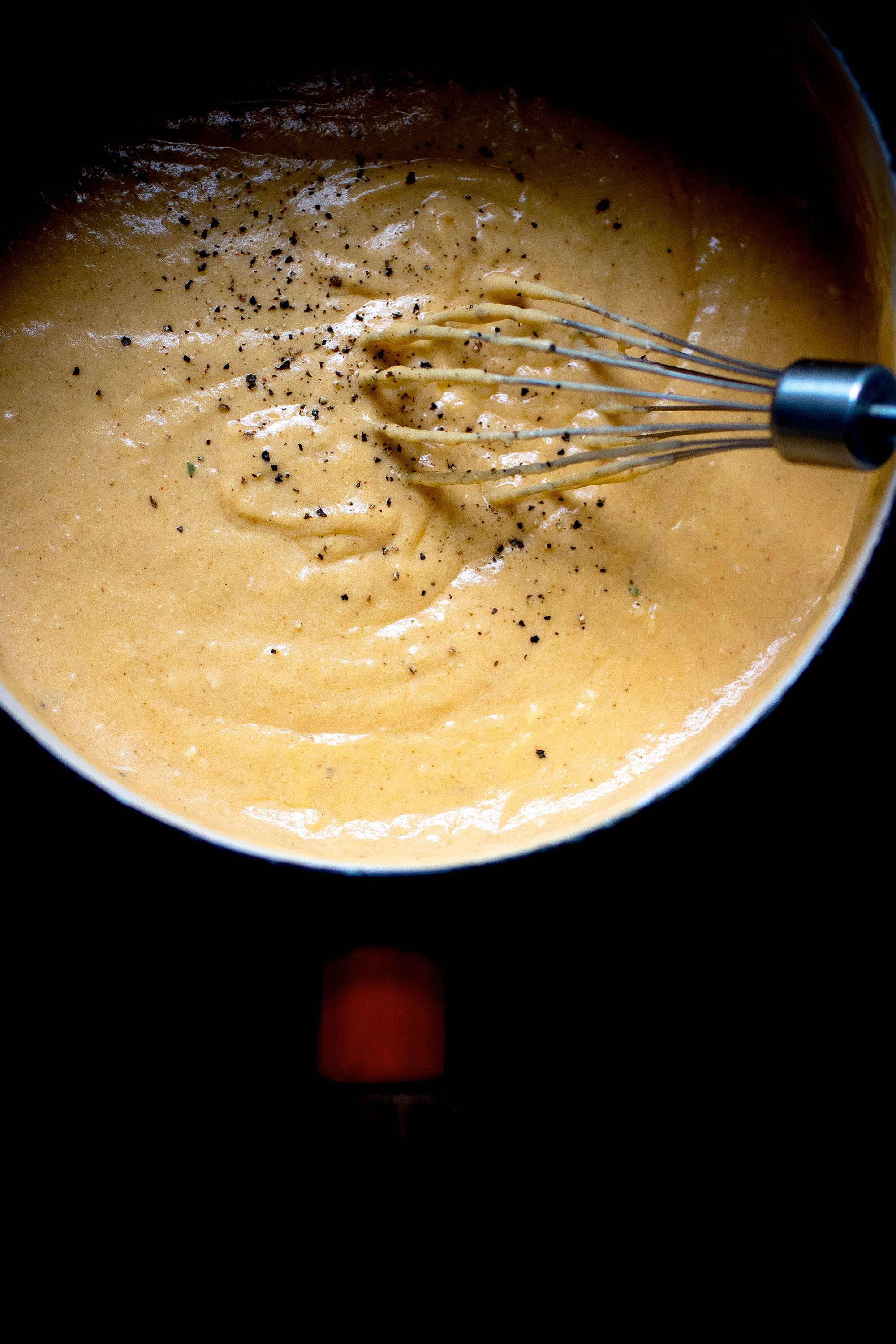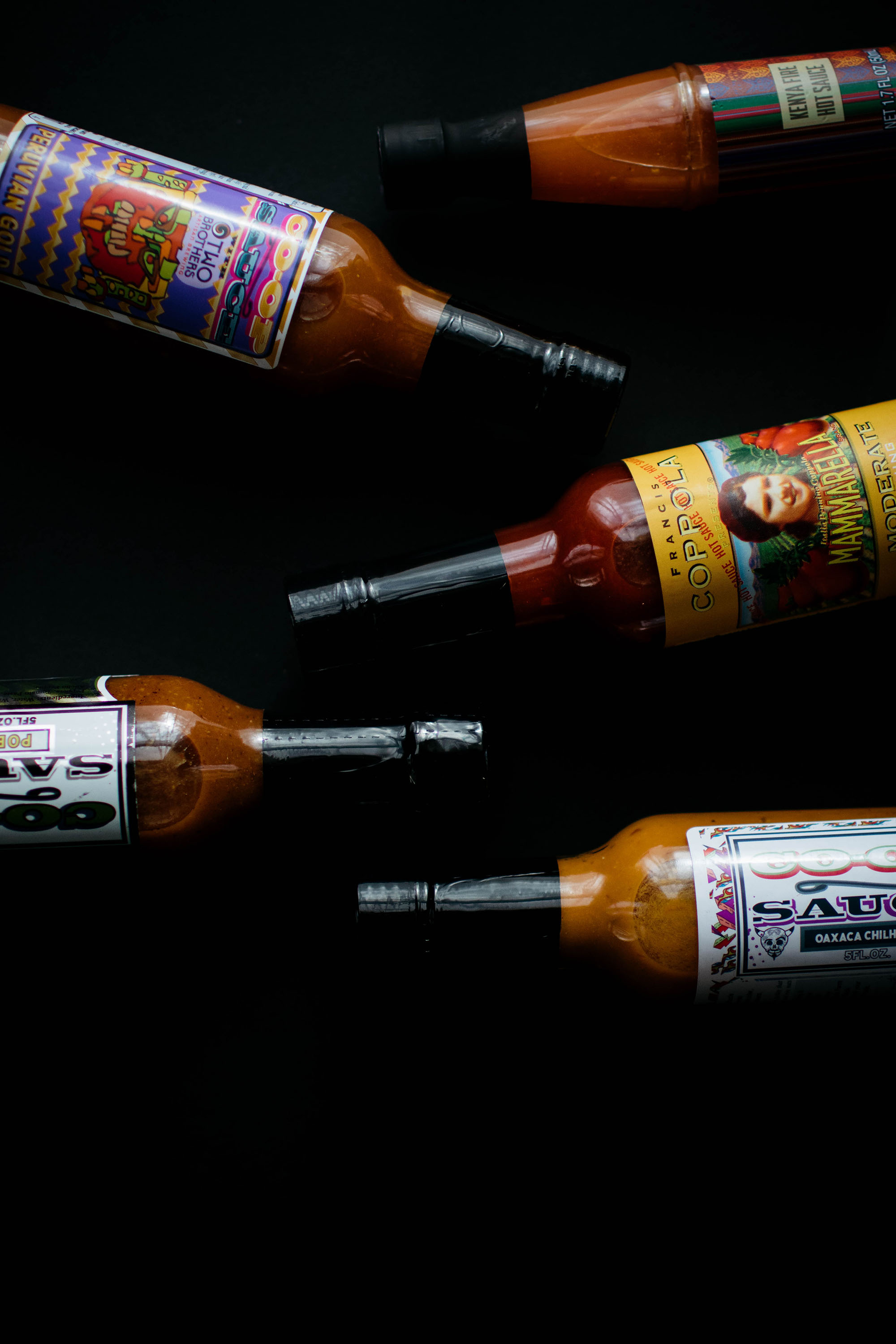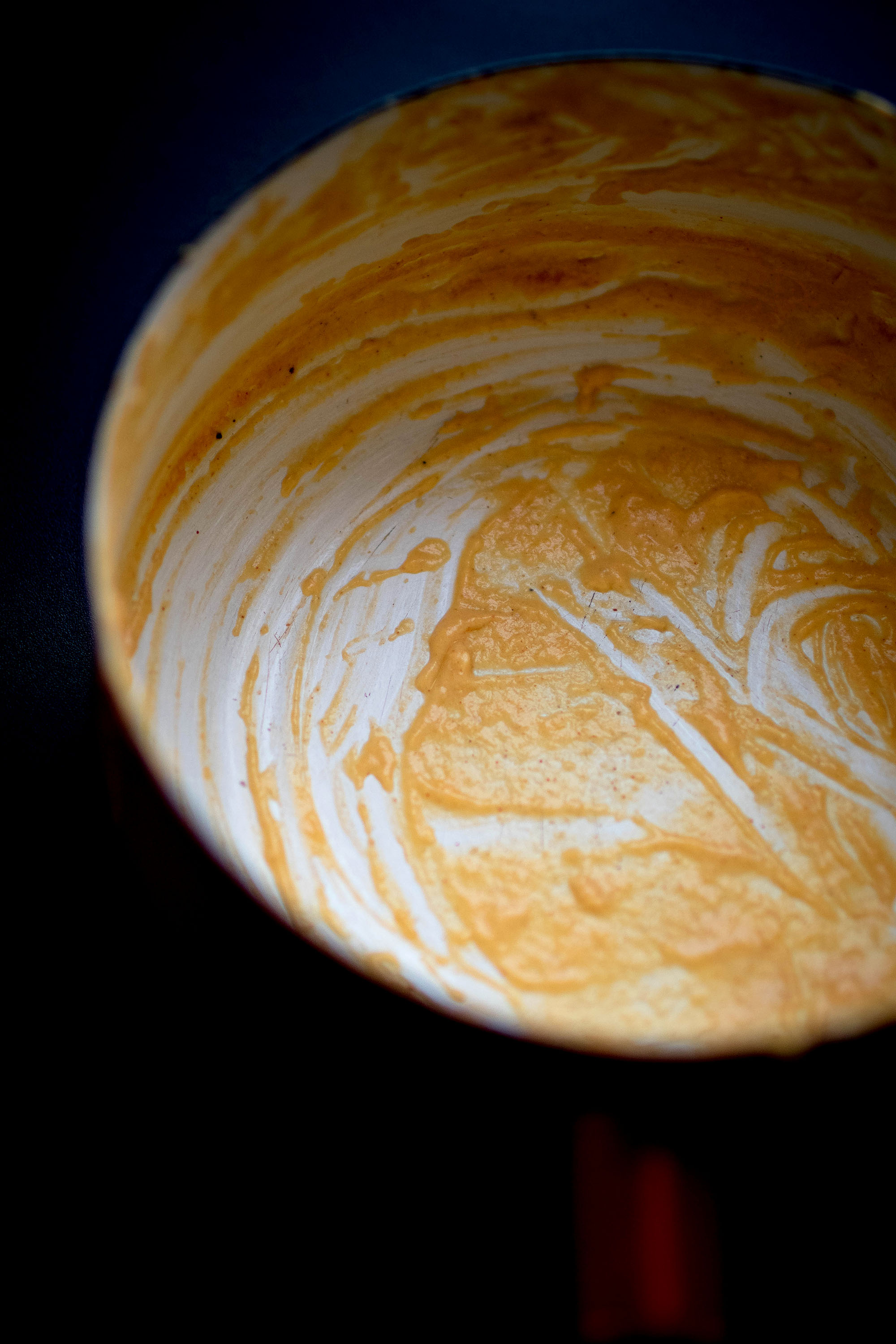 …here is a list of all the delicious recipes from everyone participating in the shower:
Cheesy Things
Sweet Things
Cheesy & Sweet Things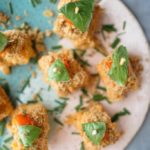 Mini Pimento Mac & Cheese Bites
Creamy and cheesy bite size Mini Pimento Mac & Cheese Bites!
dapted from
Alton Brown
Ingredients
1/2

pound

elbow macaroni

, cooked al dente according to packaged direction

3

Tablespoons

butter

3

Tablespoons

all-purpose flour

1

Tablespoon

powdered mustard

1/2

teaspoon

onion powder

1

teaspoon

garlic powder

1

teaspoon

smoked paprika

3

cups

whole milk

1

large egg

, lightly beaten

8

ounces

of cheddar cheese

, shredded

4

oz

. diced pimento

1

teaspoon

sea salt

Freshly ground black pepper
For the toppings:
3

Tablespoons

unsalted butter

1

cup

breadcrumbs

32

basil leaves

32

pieces

of pimento

(can use roasted red pepper if you can't find large enough pimento pieces for garnish)

32

toothpicks

Hot sauce

, for serving
Instructions
Preheat oven to 350 degrees and grease a 8 inch square baking pan.

In a medium saucepan, melt the butter over medium heat. Whisk in the flour and whisk constantly for two minutes. Next, slowly whisk in the milk until completely combined and no lumps are left. Add in mustard, onion powder, garlic powder, and paprika, and bring to a simmer. Let simmer for ten minutes, whisking often. Remove from heat.

Next, temper the egg by adding a teaspoon of milk mixture to the egg at a time until it's heated up. Whisk egg into milk mixture and fold in macaroni and pimentos. Transfer to prepared baking dish.

In a small saucepan, melt the additional three tablespoons of butter over medium. Fold in the breadcrumbs until they are completely coated with the butter. Spread over macaroni and bake for thirty minutes.

Remove from oven and let cool completely. Once cool, stick in the fridge for at least an hour or until thirty minutes before serving.

When ready to serve, use a sharp knife to slice the macaroni into 2 inch squares and transfer to a serving tray. Top each square with a toothpick that has a basil leaf and pimento piece on it.

Serve with hot sauce.
Styling & photography notes: Ceramic blue and pink plate: Clay Kat Ceramics / Tablecloth: thrifted / Saucepan: Dansk Kobenstyle 2-Quart Saucepan
/ Photos shot with a Canon EOS 5D Mark III
and edited with Adobe Photoshop Lightroom 6.