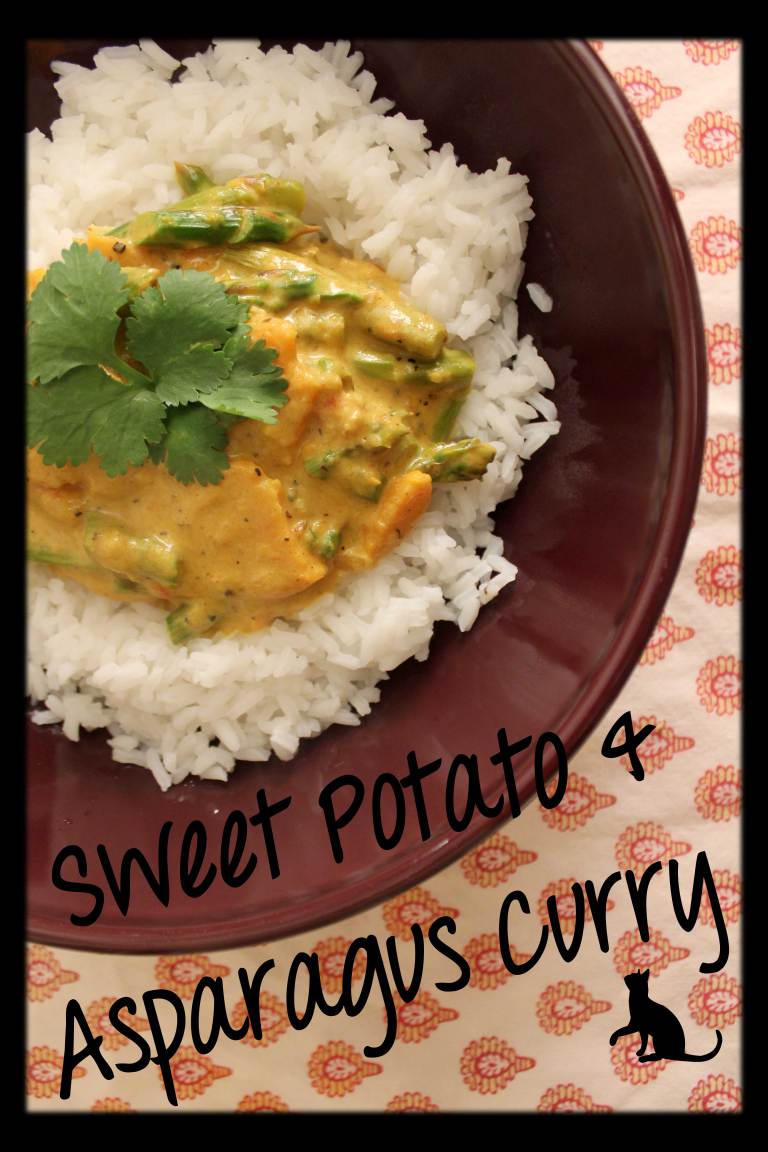 Yesterday morning, after much anticipation, I went to the first outdoor Farmer's Market of the season!! It was even better than expected. In years past the first few market's were only filled with budding herb plants and strawberry shrubs but with the weather being so warm lately, there was plenty of produce to be had! I got a box of sweet potatoes, a (still living) head of lettuce, and a bunch of asparagus.
Needless to say, I immediately started thinking about how to combine the three. I ended up saving the lettuce for sandwiches this week but found this great curry recipe for the sweet potatoes and asparagus. This made me particularly excited because
I am using my sweet potato and asparagus
 I LOOOOOOVE curry
 this curry was like no other curry I have ever made before
[Here comes the rant about my love for curry] WOAH, it is kind of ridiculous how much I love curry. It's so flavorful, vegan, stocked full of all my favorite vegetables, and infinitely versatile. Yesterday was a particularly chilly day compared to what we've been having so the idea of warm goodness lathered over some soft rice sounded so satisfying. Summer is no place (sadly) for curry and I was super excited about being able to make this one more time this season. What was especially fantastic about this curry was it used every vegetable I would have avoided when making my usual curry. I associate curry with onions, peppers, potatoes, etc but this one was chocked full of asparagus, sweet potatoes, and even a bit of corn! And the best part is it still turned out fantastic. Gah, okay, I am done ranting about how amazing it is and am going to now tell you how to make it.
Sweet Potato and Asparagus Curry
1 bunch of asparagus, trimmed
2 Tablespoons olive oil, divided
1/2 teaspoon mustard seeds
1 small onion, diced
2 garlic cloves, minced
1 teaspoon of ginger powder
1 teaspoon chili powder
1 teaspoon salt
1/2 teaspoon pepper
1/2 teaspoon garlic powder
1 teaspoon cumin
2 teaspoons powdered turmeric
3 bay leaves
2 tomatoes, diced
1 can of corn, drained and rinsed
1 (14 oz) can of coconut milk
2 sweet potatoes, washed and thinly sliced
2 cups cooked rice
fresh cilantro, for garnish
Preheat oven to  400 degrees. Bring a large pot of salted water to a boil. Once boiling, throw the asparagus in and immediately turn off he heat. Let it sit in the warm water for a minute and then drain.
On a large baking pan, toss the asparagus with 1 tablespoon of the olive oil. Cook for 8 minutes in the oven. Once cooled, cut into 1 inch pieces.
In a large pot, heat the other tablespoon of olive oil over medium. Add the mustard seeds and cook until they pop (about 3 minutes). Next, add the onions and saute for 5 minutes or until they have softened. Then add in the garlic, spices, and bay leaves and cook for another 2 minutes.
Next, add in the coconut milk + 1 can full of water to the mixture. Add in the tomatoes, corn, and sweet potatoes and bring the sauce to a simmer. Let simmer for about 30 minutes or until the sauce has become thick. Lastly, add in the asparagus and simmer for 1 more minutes.
Serve over rice and garnish with cilantro. Munch down with naan bread or a mango lassi! Enjoyy!