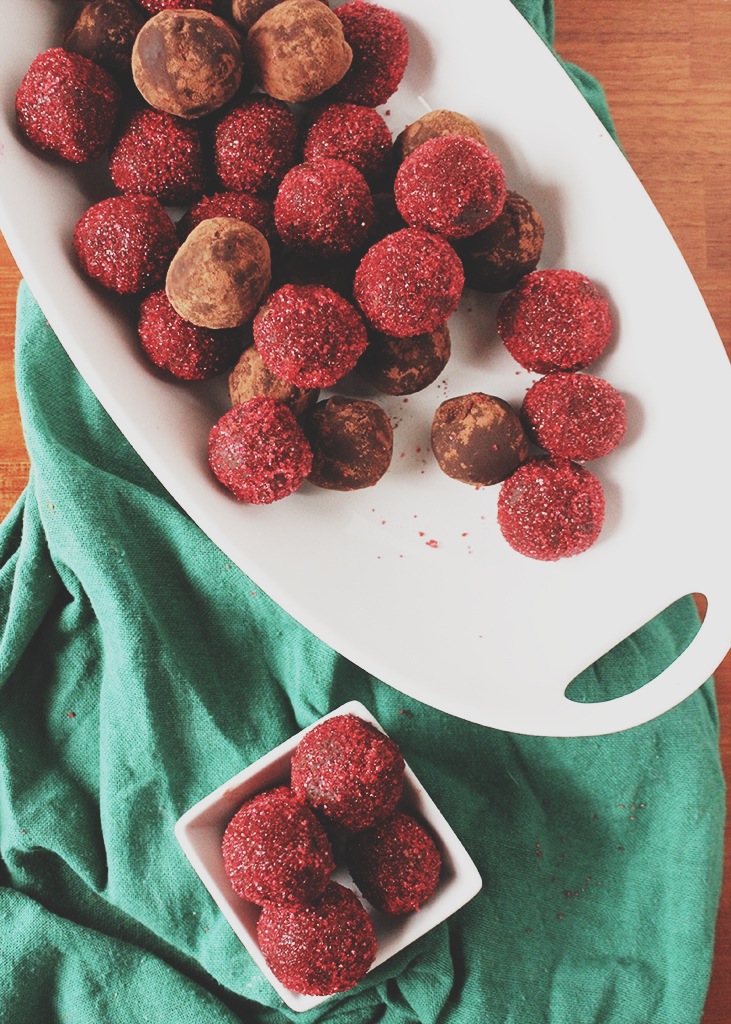 Festive Rum Balls
…And I'm officially feeling behind on holiday prep. When did Christmas become a week away? Yikes! Is it okay for me to admit that I have not started my Christmas shopping yet? Okay, let's not talk about it.
Instead. let's talk about these little balls of chocolate. We had our annual holiday party for work over the weekend and it was…I mean this politely…a shit show. Every year, we have a combined party with the three record labels that work in our building and a manufacturing company that manufactures our vinyl. We had three alcohol companies sponsor the event this year which meant cases of liquor and several kegs. Did I mention all the people who I work with LOVE to drink? Go figure. Well, I decided that these rum balls would go with the 'alcohol' theme of the party. And they did. They lasted a whole 15 minutes.. A success? I'd say so.
These rum balls have a texture somewhere between a super moist brownie and cakey fudge. And then there is the ever-so-slightest tint of rum flavor which makes it fancy (adding booze to anything classes it up, right?). I rolled mine in red sprinkles and cocoa powder but feel free to experiment and try any sprinkles you have on hand, coarse sugars, chopped nuts, etc.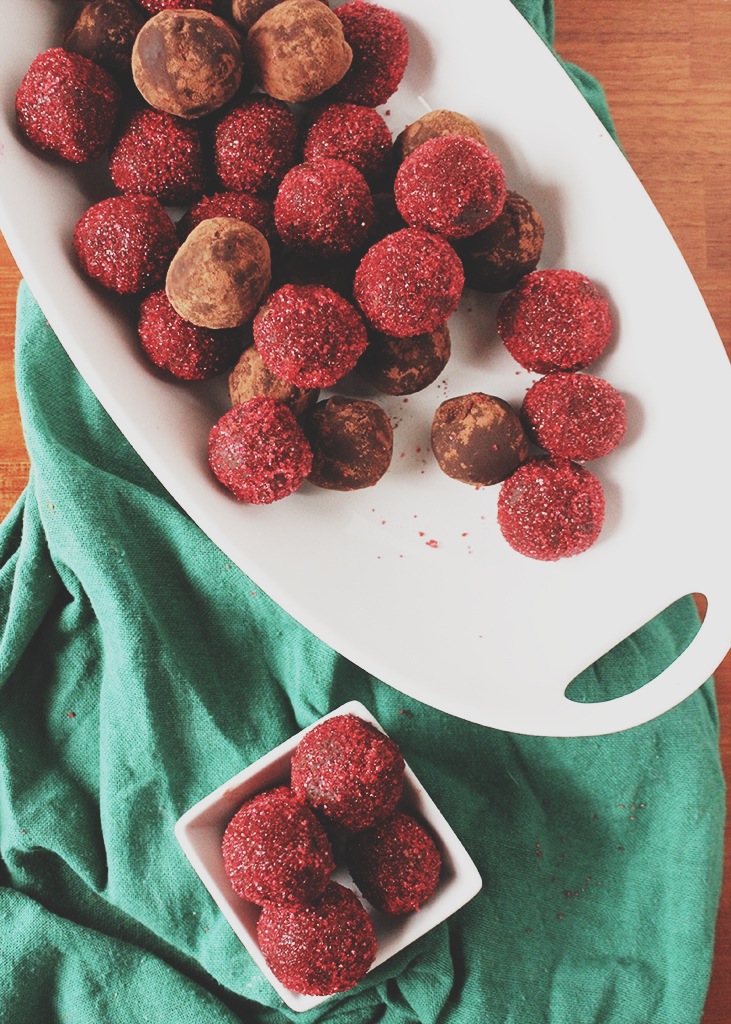 Rum Balls
3/4 cup butter (1 and a half sticks)
8 ounces of semisweet chocolate chips
3 large eggs
1/2 cup brown sugar
1 teaspoon vanilla extract
1/2 teaspoon salt
3/4 cup all purpose flour
1/4 cup spiced rum
red or green sprinkles
Preheat oven to 350 degrees and grease a 13 by 9 baking pan. In a double boiler, heat the butter and chocolate over simmering water. Stir constantly until melted and remove from heat.
In a large bowl, whisk together the eggs, brown sugar, salt and vanilla extract in a mixing bowl. Next, add in the chocolate and whisk until smooth. Finally, fold in the flour. Transfer dough to the prepared baking sheet and bake for 15 minutes or until a tooth pick comes out clean from the center. Remove from oven and let cool.
Once cooled, break up the cooked batter into chunks and transfer to a mixing bowl with a paddle attachment. Turn mixer on low and slowly add in the rum. Turn the mixer up to medium and continue to beat until the batter comes together and forms a large ball.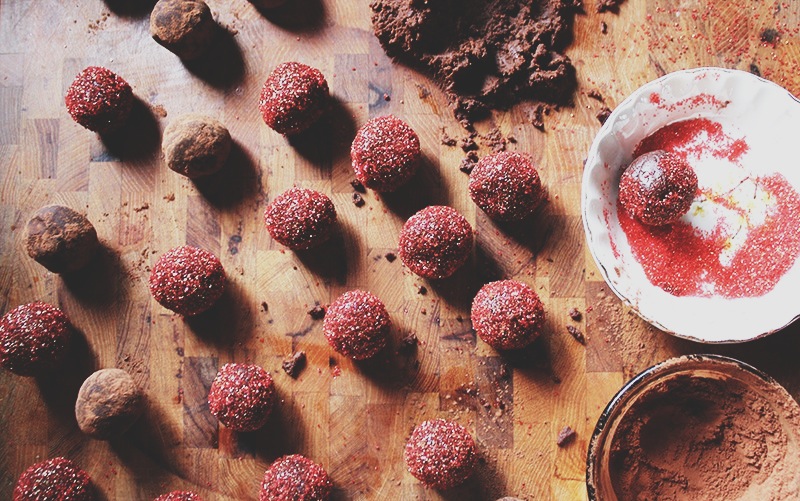 Use your hands to roll batter into one inch thick balls and dip in sprinkles or cocoa powder. Repeat with the rest of the batter and transfer balls to a wax paper lined baking sheet. Stick in the fridge for at least an hour before serving. Done!
Looking for other Christmas cookie options? Try these Peppermint dipped Brown Butter Shortbread cookies or check out my Winter inspiration board on Pinterest