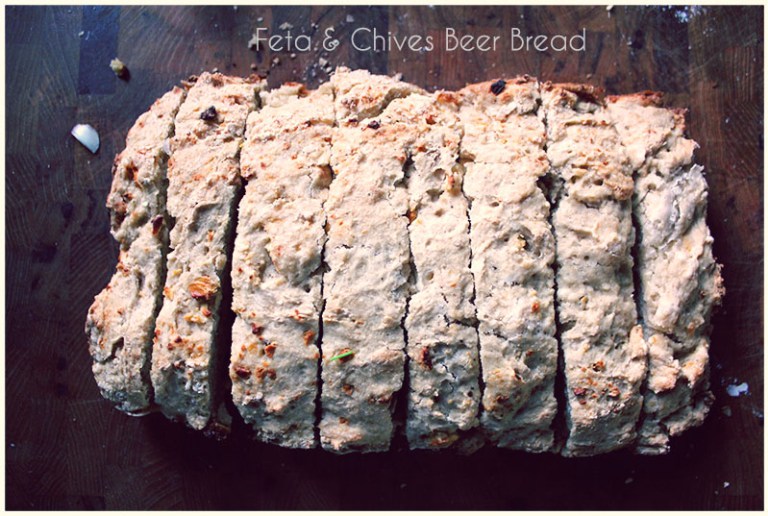 Feta and Chives Beer Bread
I've been feeling very inspired today. Do you ever have those days where you go to check your "inspiration feed" [mine is bloglovin' but any sort of RSS feed is what I am referring to] planning to look for ten minutes and then one blog leads to another which leads to an idea which leads to lots of online "reasarch"? Of course you do…I mean you are on a blog right now reading this and there is a good chance if you stumbled upon VV that you were also on some sort of blog journey at one point.
Anyhow, I stumbled upon 'Going Home To Roost's' monthly membership (that is only 5 dollars, might I add) where you get weekly newsletters filled with tutorials, e-courses, designs, etc. This led to me (of course) signing up and reading her e-courses triggered thoughts of the classes that I've taken in the past (Blogging Your Way and A Beautiful Mess) so the afternoon turned into lots of reflecting on concepts and ideas that were brought up in those classes. Anyhow, I bring this up because you should hop on over to Going Home To Roost if you are looking for some inspiration and consider signing up for her monthly plan. A lot of bloggers say that paid subscription for extra content in the way of the future for bloggers. It's sort of a cool concept (who doesn't like exclusivity?) and at 5 bucks a month…I bet we could handle it!
_____________________________
And now, let's talk about food. This is probably one of the easiest recipes I have/will ever posted. I've actually made beer bread way more than any food blogger should EVER admit [ but it's totally not my fault!]  I could make the fanciest truffle pasta or elegant french soup with Gruyere croutons and Wyatt would reply "are we having beer bread with that?". Seriously, anything that you can dip bread in…he requests beer bread as the side. I've made fresh baguette and seasonal Foccaccia but he always goes back to asking about the beer bread. And so here we are, it's probably the trashiest American bread to ever exist but it's SO easy (no rise time) and actually can be rather addicting.
Another thing that is great about beer bread is its super versatile. I added feta and chives because that is what I had on hand but in the past I've added sun-dried tomatoes, basil, oregano, sage, cheddar, etc etc. The options are pretty endless! All you have to do is think of a combine that goes well together and do it!
So whip this up next time you are planning to spend hours making a soup (so then you don't ALSO have to worry about an elaborate bread to go with it) or need some spongy bread for warm gooey grilled cheese.
Beer Bread with Chives and Feta
3 cups all-purpose flour
1/3 cup sugar
pinch of salt
1 12-ounce beer
2 ounces feta, crumbled
1/4 cup chopped chives
Preheat oven to 375 and grease a small loaf pan. In a large mixing bowl, combine the flour and sugar. Add in the beer and stir until just combined. Fold in the feta and chives.
Cook for 50 minutes or until the top is crusty.
Serve warm with soups and sandwiches!