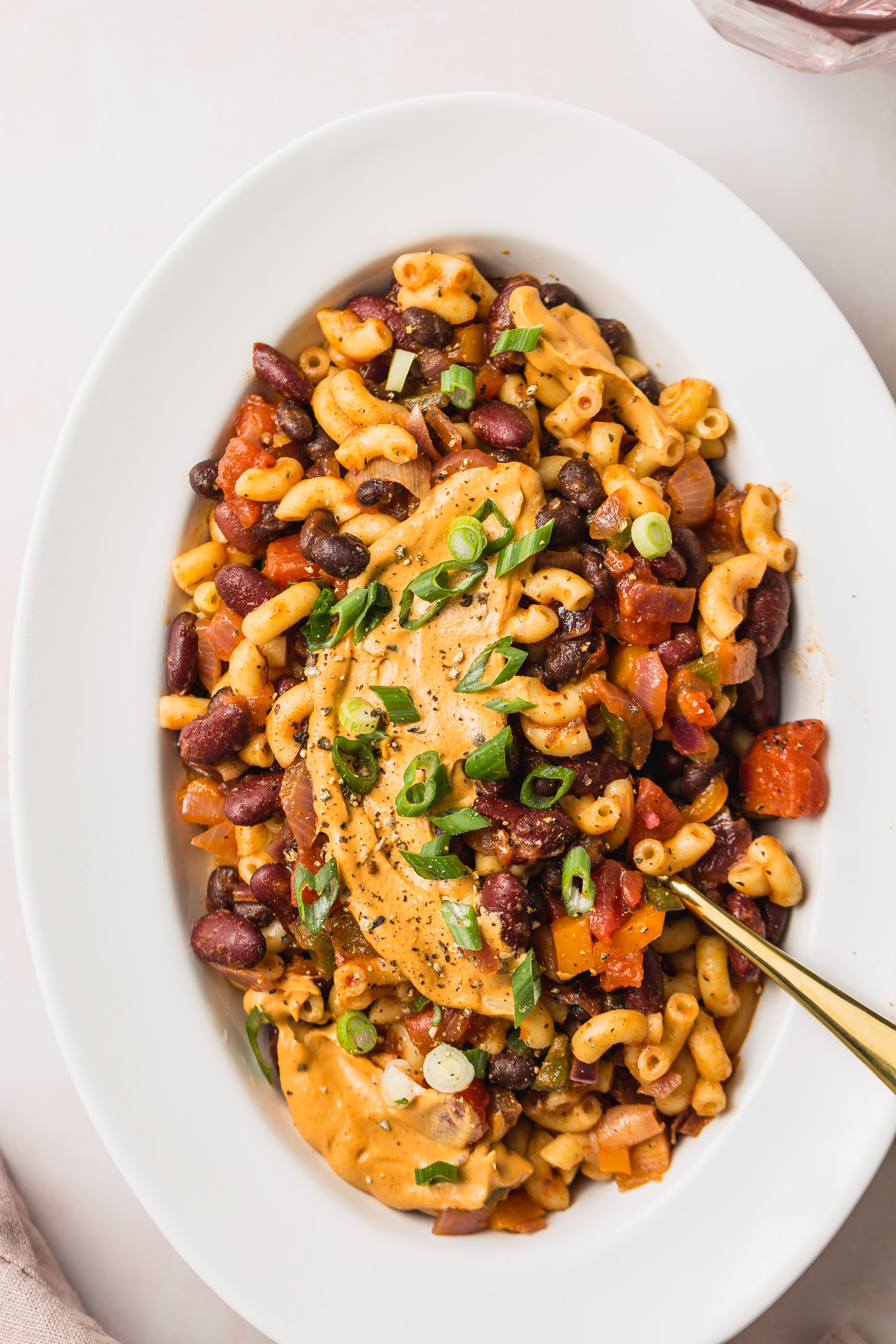 Vegan Chili Mac & Cheese
This Vegan Chili Mac recipe from Power Plates is the ultimate comfort food: a vegan hybrid between macaroni and cheese and chili.
Jump to Recipe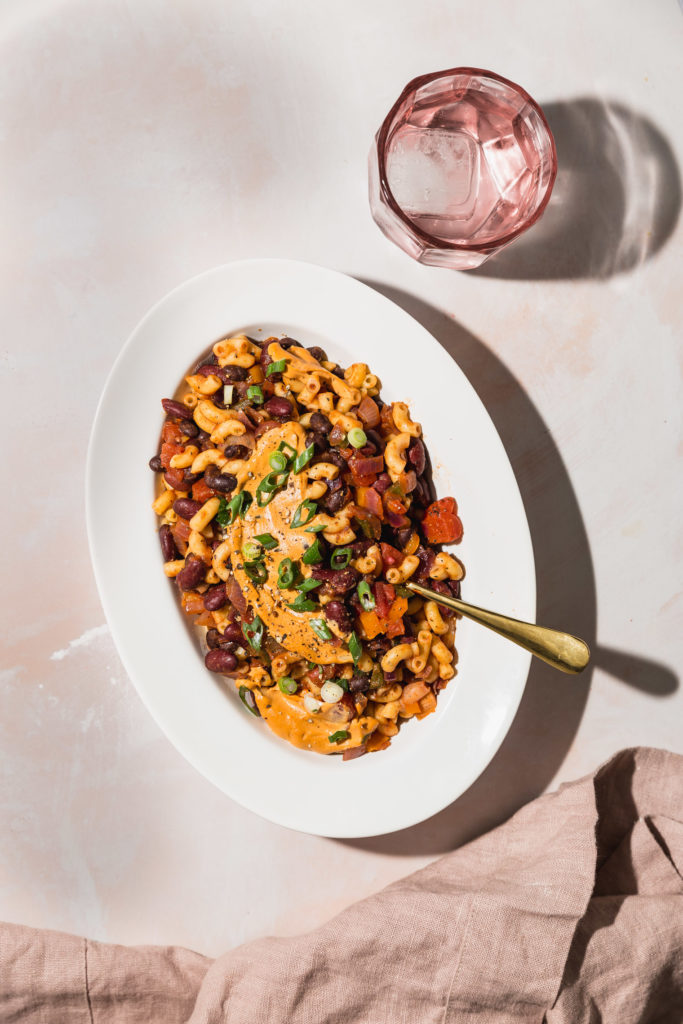 I have a confession to make. I've been holding out on you. I literally have been meaning to photograph and share this recipe with you for over a year. I received Gina's Power Plates cookbook last winter and fell totally in love with this vegan chili mac recipe — it's the ultimate comfort food meal: rich macaroni and cheese meets hearty bean chili.
Chewy pasta is folded into an easy homemade "queso sauce" and then wrapped up in a quick homemade chili. Don't let the lack of actual cheese (the queso is vegan) in this recipe deceive you — the homemade "queso" is smoky and creamy and totally as good as any cheese sauce I've made at home (including ones with real cheddar).
So, if this vegan chili mac and cheese recipe and book are so good, why did I wait so long to make this for you? Well, to be completely honest, it was because I knew that it was going to be a tough one to photograph (one bowl meals with all cooked ingredients tend to be) and I was really worried about doing it justice. So worried, in fact, that it took me over a year to get around to finally photographing it. So yeah, such a silly reason but here it finally is!
Make sure to check out Gina's cookbook if you like simple vegan recipes that are balanced, filling, and delicious! In addition to seeing it for sale online, I've also spotted it at Anthropologie (in case you want to go see it in person before snagging a copy). Oh, and did I mention that there is even a recipe in the book inspired by one of mine? You are going to have to pick up the book to find out which one! 🙂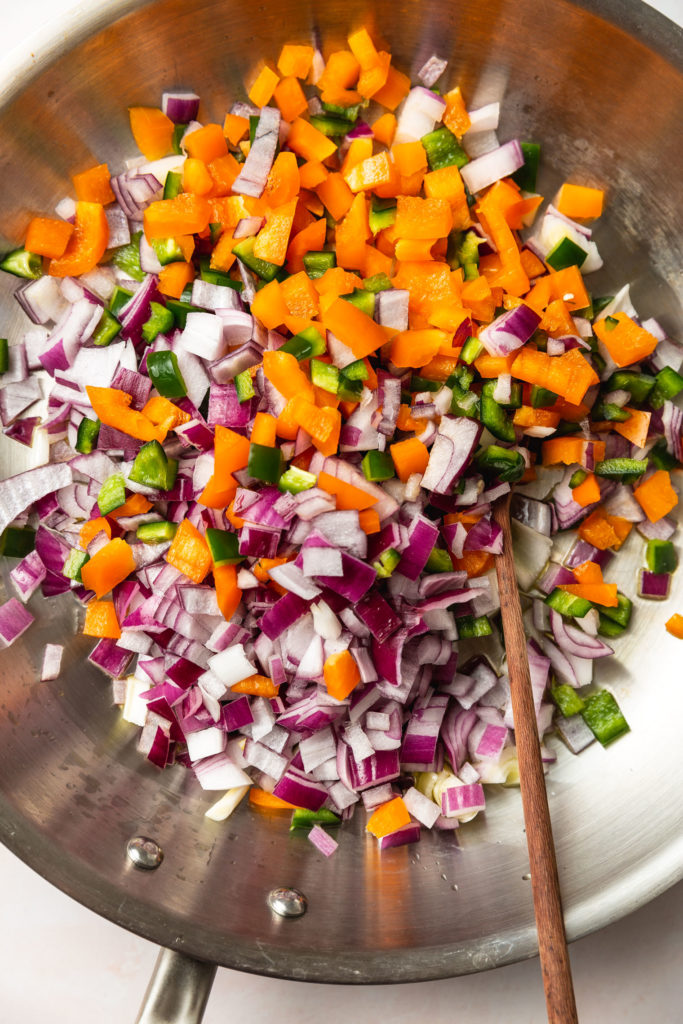 What's Needed for Vegan Chili Mac?
The ingredients list looks a little lengthy, but I promise this is such an easy chili mac recipe. Here's what all goes into this vegan chili mac:
Olive oil
White onion
Bell pepper
Poblano pepper
Garlic
Dried herbs and spices
Diced tomatoes
Black beans
Kidney beans
Elbow pasta
Raw cashews
Tomato paste
Nutritional yeast
Water
Lemon juice
Scallions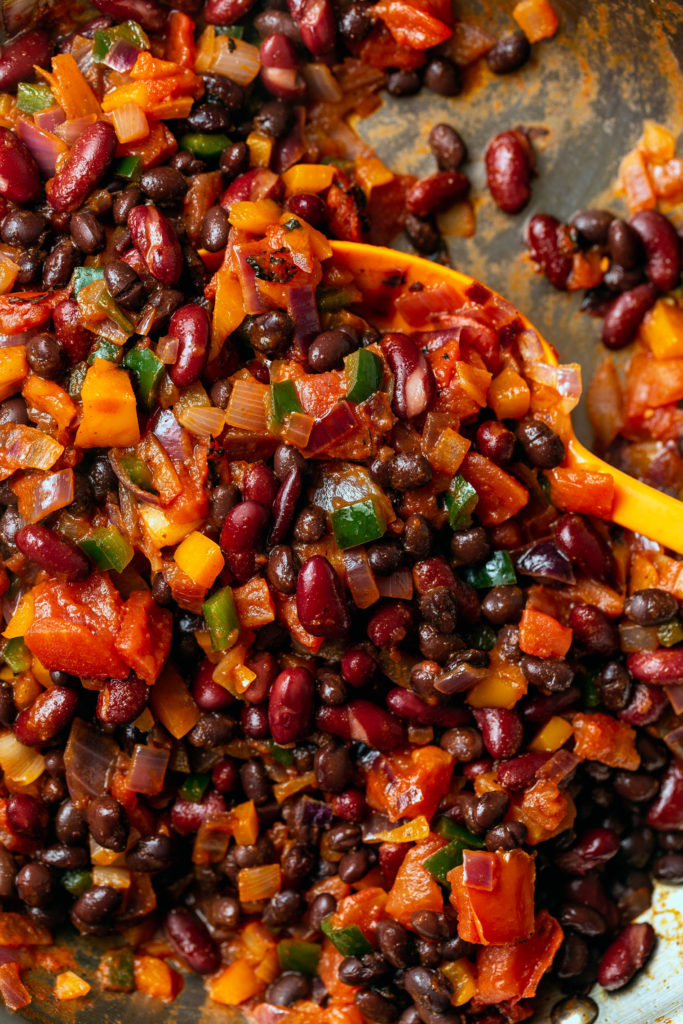 How to Make Homemade Chili Mac
I've given detailed instructions in the recipe card below on how to make vegan / vegetarian chili mac. Here are the basics:
Cook the pasta until al dente.
In a skillet, sauté the onion, bell pepper, and poblano until softened. Stir in the garlic.
Stir in the herbs and spices, beans, and tomatoes. Simmer for 5 minutes.
Then, add the queso ingredients to a high-speed blender and blend until smooth.
Fold together the tomato-bean mixture, cooked pasta, and queso. Sprinkle with scallions and dig in!
Can I Use Another Type of Pasta?
Yes, but then this won't technically be considered homemade chili "mac." But any short, sturdy pasta should work in this recipe!
How to Reheat Vegan Chili Mac
This homemade chili mac recipe makes four generous portions, so you may wind up with leftovers. If that's the case, I recommend reheating your chili mac in a saucepan over low heat with a splash of water or non-dairy milk.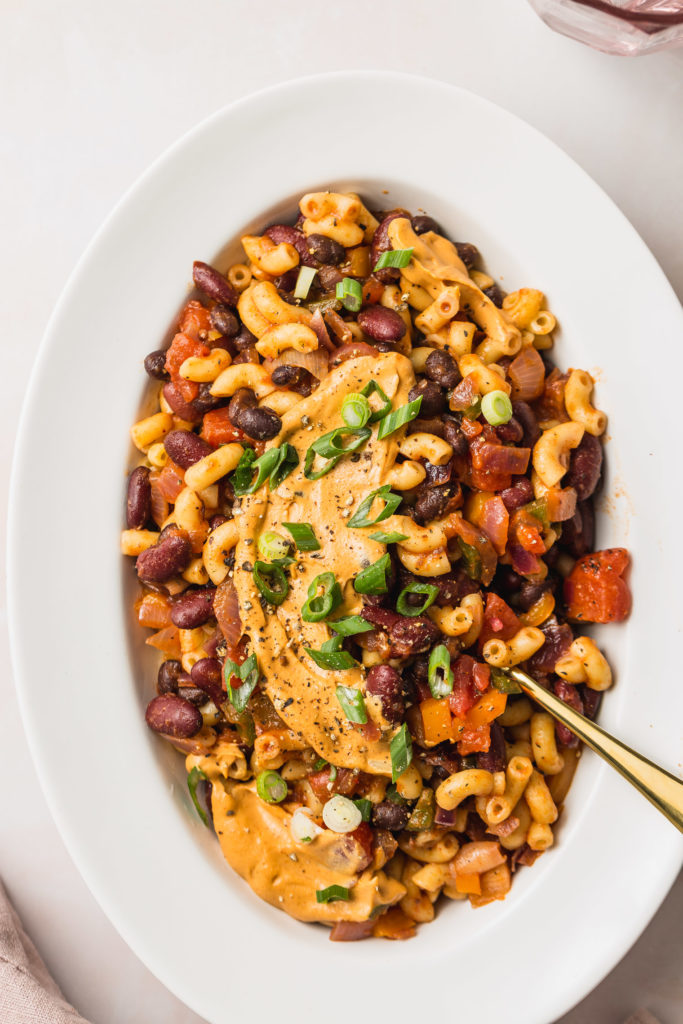 Tips for Making Vegan Chili Mac
Note that you must use raw cashews to make the vegan queso. You don't want roasted or salted nuts here! Also, you MUST soak the cashews in water, otherwise they won't blend up well.
I used kidney beans and black beans to make the chili, but I bet you could use different kinds of beans. It's your chili, so feel free to play around a bit.
For a spicier vegan chili mac, use extra chili powder and / or add a dash of cayenne to this recipe.
Want More Vegan Pasta Recipes?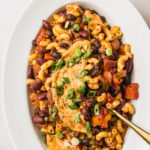 Vegan Chili Mac
This vegan chili mac recipe from Power Plates is the ultimate comfort food — a vegan hybrid between macaroni and cheese and chili.
Keyword:
chili, macaroni, vegan
Ingredients
1

Tbso

olive oil

1

white onion

, diced

1

bell pepper

, diced (green or red will work)

1

poblano pepper

, finely diced

2

garlic cloves

, minced

1

tsp

ground cumin

1

tsp

chili powder

1

tsp

dried thyme

pinch of red pepper flakes

1/4

tsp

salt

1-

14.5 oz

can diced tomatoes

(preferably fire-roasted)

1 1/2

cups

cooked black beans

, drained and rinsed (or 15 oz can)

1 1/2

cups

cooked kidney beans

, drained and rinsed (or 15 oz can)

8

oz

elbow shaped pasta
Cashew Queso Sauce:
1/2

cup

raw cashews

, soaked for at least 2 hours and drained

2

Tbsp

tomato paste

1

tsp

chili powder

1/4

tsp

smoked paprika

3

Tbsp

nutritional yeast

1/2

cup

water

1/4

tsp

salt

1

Tbsp

freshly squeezed lemon juice
Instructions
Bring a large pot of salted water to a boil over high heat.


Meanwhile, heat oil in a large skillet over medium heat. Add onion, bell pepper, and poblano and cook, stirring occasionally, for 5 to 7 minutes or until onions are translucent.


Add garlic and cook for another minute. Stir in cumin, chili powder, thyme, red pepper flakes, salt, tomatoes, and beans. Lower the heat, cover, and simmer for 5 minutes.


When the water is boiling, stir in the pasta and adjust the heat to maintain a low boil. Cook until pasta is al dente (reference package directions).
For the queso:
Combine all the queso ingredients in a high speed blender and process until completely smooth. If the sauce is too thick to pour, add another tablespoon of water.

To serve:
Fold tomato bean mixture, pasta, and queso together until combined. Top with scallions and season with more salt and pepper (if needed).