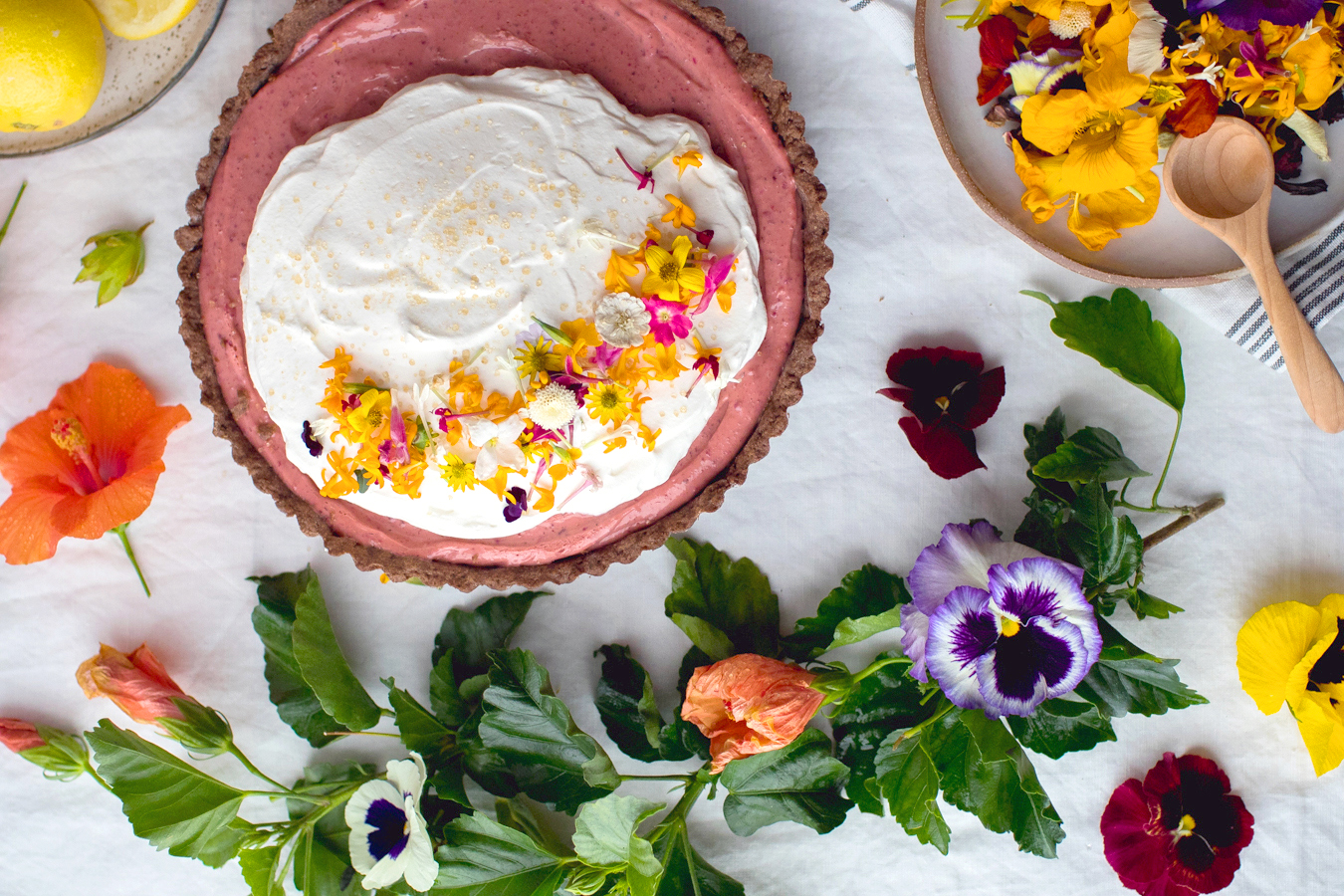 Hibiscus Lemon Curd Tart With Cocoa Crust & Edible Flower Garnish
If you are a fan of lemon or hibiscus, you will love this lemon curd tart recipe, with cocoa pie crust and organic edible flowers.
In a hurry? Click here to JUMP TO RECIPE!
This is part one of a two part series I am doing on edible flowers. Next week's post will be part of a fun little virtual potluck but I am flying solo on this one since the gorgeous flowers Marx Food sent me were just too amazing to keep for only one recipe.
If you are a fan of lemon curd then you will love this easy lemon tart recipe! It's tangy and sweet with a dose of chocolate (crust) for good measure. I blended the dried hibiscus into the curd to get the most flavor possible, but feel free to strain the hibiscus out of the filling before blending in the butter if you'd like to keep the hibiscus flavor subtle.
Also, I used these micro flowers for garnish but some organic hibiscus flowers would be gorgeous or even just a few dried petals leftover from the custard would make an appealing garnish.
What's Needed for Lemon Curd Tart?
This lemon curd tart has two main components: the homemade cocoa crust and the tangy lemon filling. To make this lemon curd tart recipe, you'll need the following:
All-purpose flour
Cocoa powder
Granulated sugar
Salt
Unsalted butter
Ice water
Lemon juice
Dried hibiscus
Eggs
Whipped cream
Edible flowers
How to Make Lemon Curd Tart
I've shared detailed instructions on how to make this lemon curd tart in the recipe card below, but here's a quick overview of how you make this delicious dessert:
Pulse the cocoa crust ingredients in a food processor until the dough comes together.
Wrap the dough in plastic wrap and chill for 30 minutes.
Once chilled, press the dough into a 9-inch tart pan. Bake for 10 minutes.
Use a double boiler to cook the lemon curd filling. The butter is incorporated last with the help of an immersion blender (this makes the filling ultra creamy).
Pour the curd filling into the prepared cocoa crust, then chill.
Optionally top with whipped cream, edible flowers, and coarse sugar.
Tips for Using Edible Flowers
Flowers may seem like an unusual and even intimidating ingredient to incorporate into your cooking but they add a whole new flavor to dishes and make for the most gorgeous garnish. Since not everyone is super familiar with incorporating edible flowers into their kitchen, I've outlined a few tips for cooking with edible flowers:
Organic only. As temping as it may be, you can't just go out into your neighborhood and pick some flowers for dinner. It's important that you only use flowers that you grew yourself organically or that are labeled as edible. This will ensure that you don't eat any pesticides that could have been sprinkled onto the flowers and also to help avoid accidentally eating poisonous flowers.
Play with the flavors you already know and like. For example, I've been a huge fan of hibiscus tea for years so I made sure to incorporate that flavor into the dishes I made since it was a flavor that I knew I already liked. If possible, ask to sample the flowers before buying so you can figure out which ones taste the best to you. Also, if you aren't a huge fan of the flavor of any of them, mix the flowers with a strong flavor you do enjoy like citrus or a fragrant herb.
A little goes a long way. Flowers are not for everyone and they have a flavor that we aren't always used to eating in our everyday diets. Don't hesitate to mention to your guests to stay clear of the little flowers if they don't enjoy bitter foods or to only start with a few if they are new to edible flowers. Also, some people may have trouble digesting them if they haven't been exposed to edible flowers before.
Keep it simple. It's not everyday that you cook with flowers so make sure to really let them shine when you do. They look best when kept raw so make sure you put a few aside to garnish the dish with.
Do I Have to Use a Tart Pan?
Yes, a tart pan is necessary for making this recipe. Tart pans are much shallower than pie plates and baking dishes, and the fluted edge ensures a crisp cocoa crust.
Can I Make the Crust Gluten-Free?
Perhaps, but I've only made the cocoa crust with all-purpose flour before.
Can I Omit the Edible Flowers?
Of course! The toppings are all optional.
Tips for Making Lemon Curd Tart
Now's not the time to skimp on flavor. Real butter is a must in this recipe. If you substitute margarine or another butter alternative, I'm not sure if the lemon curd filling will set up properly.
When making the filling, you can use a heat-safe bowl over a small saucepan if you don't have an actual double boiler.
Likewise, a regular stand blender can be used in place of an immersion blender. Just be careful when blending the hot filling!
Want More Tart Recipes?