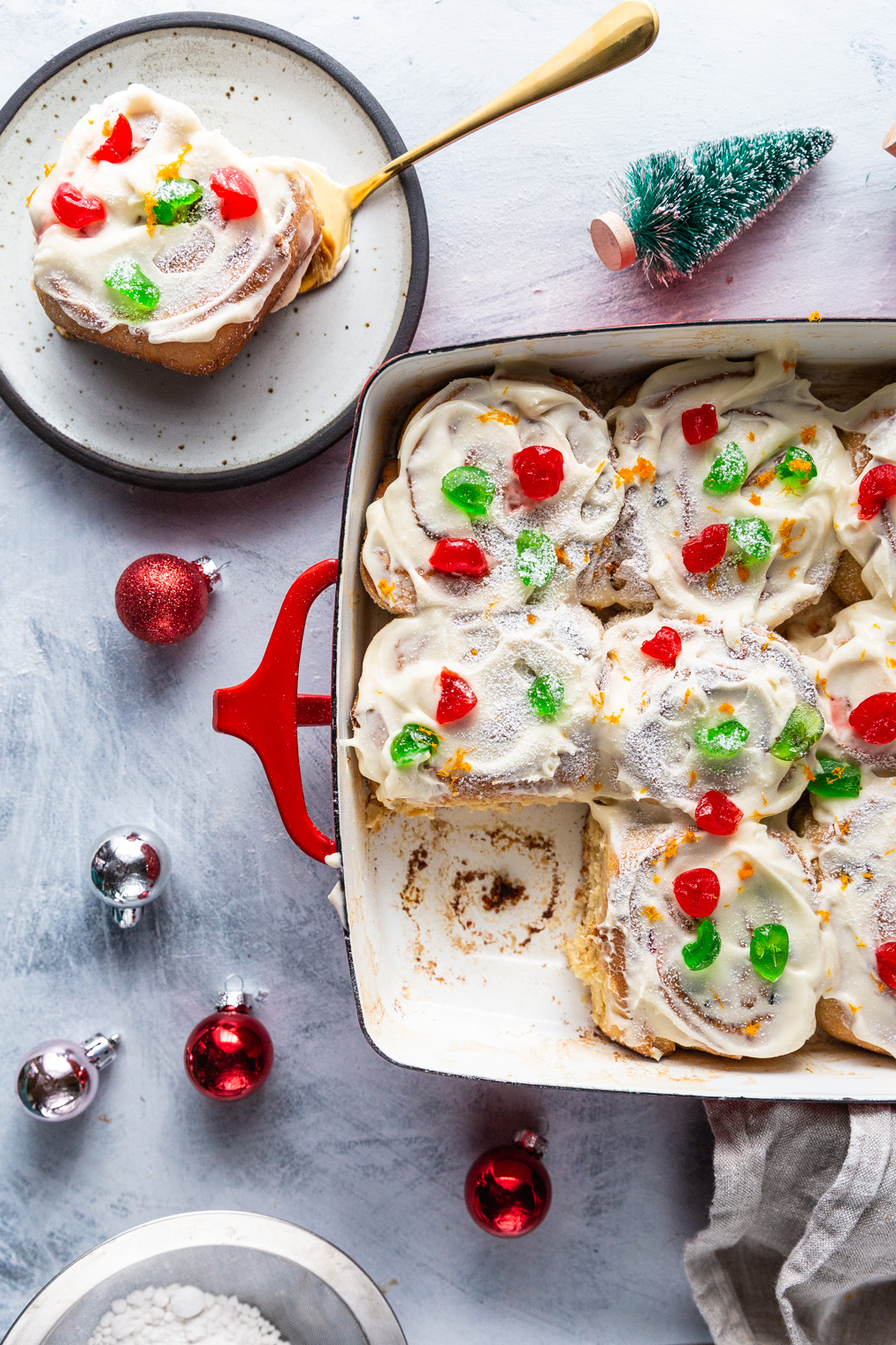 Holiday Stollen Homemade Cinnamon Rolls
This batch of Holiday Stollen Homemade Cinnamon Rolls are perfect for Christmas morning or for a lazy weekend around the holiday season.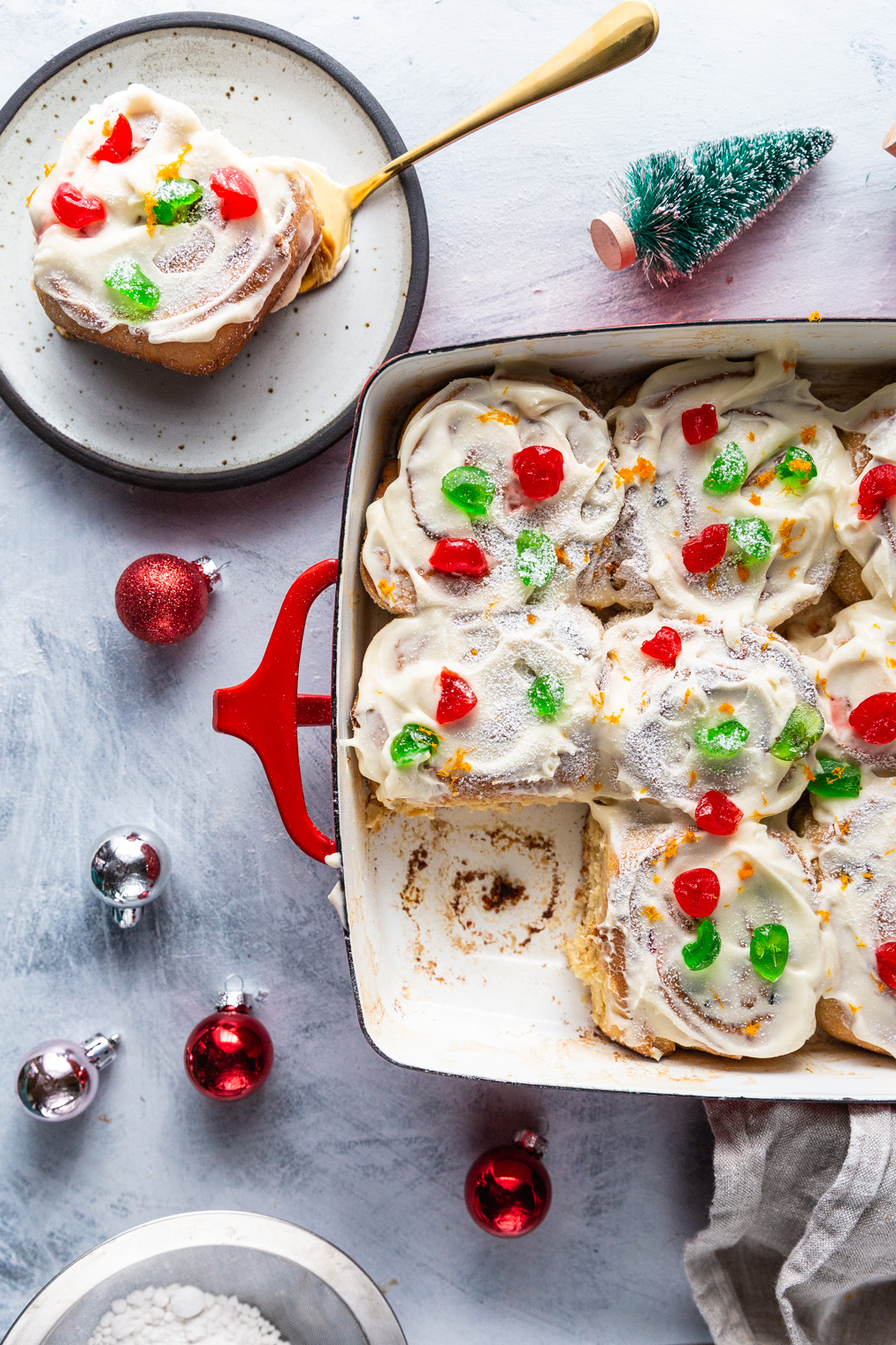 A few Christmas seasons ago, I somehow talked my mother, aunt, and grandma into helping me make our family stollen recipe. The recipe called for several bags of flour, obscene amounts of fruit, required all of us to knead the huge pile of dough by hand, and took several days from start to finish. Needless to say, no one has suggested we make that recipe since. Even though our family recipe was beyond labor-intensive, I still loved the end result which was yeasty, boozy, and studded with just enough fruit to be sweet but not overly sweet. I made a stollen cookie in my first cookbook and although it's a delicious shortbread, it doesn't have the yeasty flavor I crave. After a few trial and errors, I was able to translate all my favorite parts of stollen into cinnamon roll form with these little rolls. It's a pretty amazing hybrid with yeasty base, rum-soaked fruit, cream cheese frosting, and a touch more cinnamon than traditional stollen has (but more of other spices that a cinnamon roll usually would).
This is the perfect homemade cinnamon rolls recipe for Christmas morning! You can prep the dough up to the second rise and place it, covered, in the fridge overnight. From there, just bring it out of the fridge and let it come to room temperature before baking and lathering with cream cheese frosting.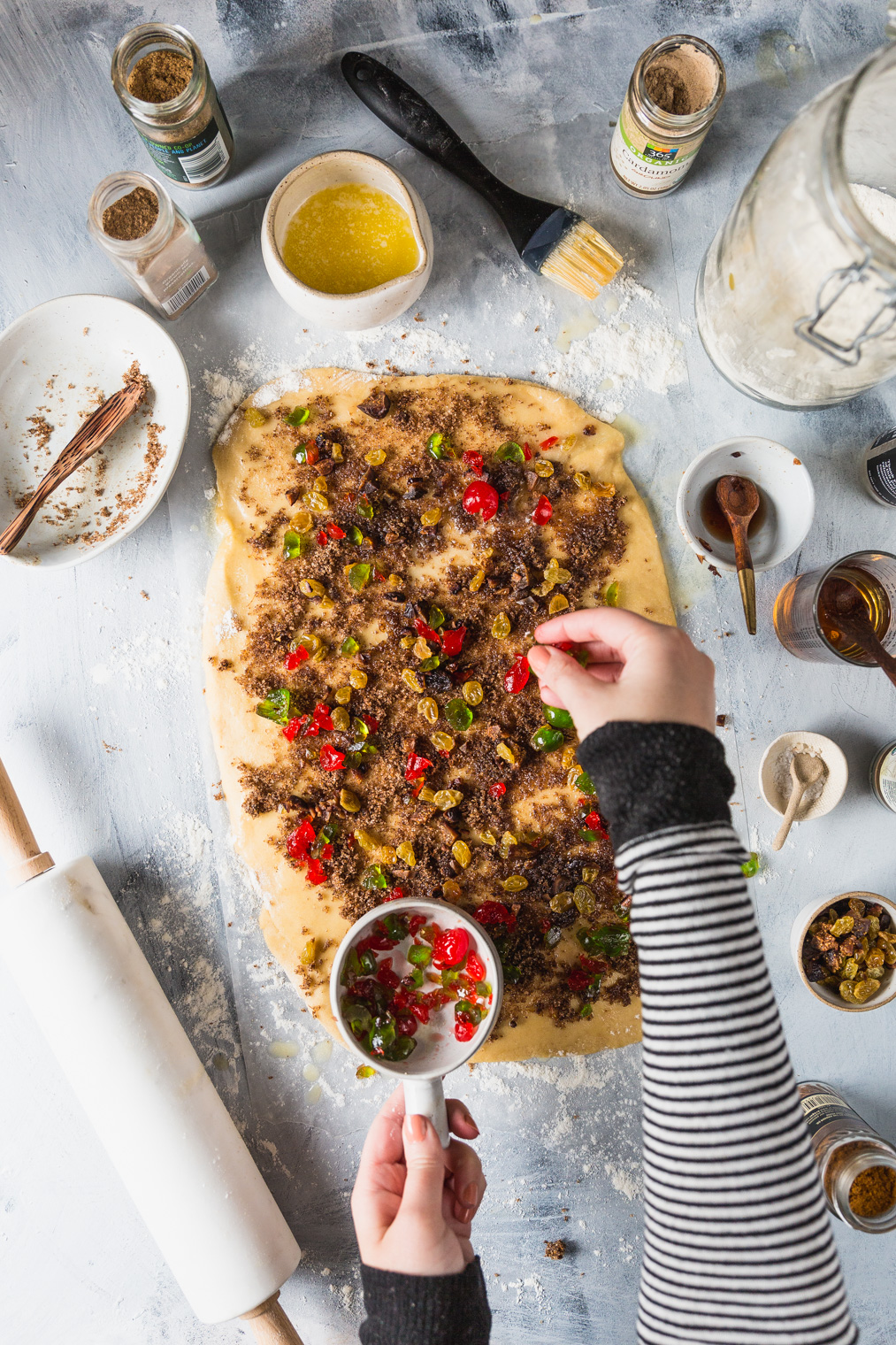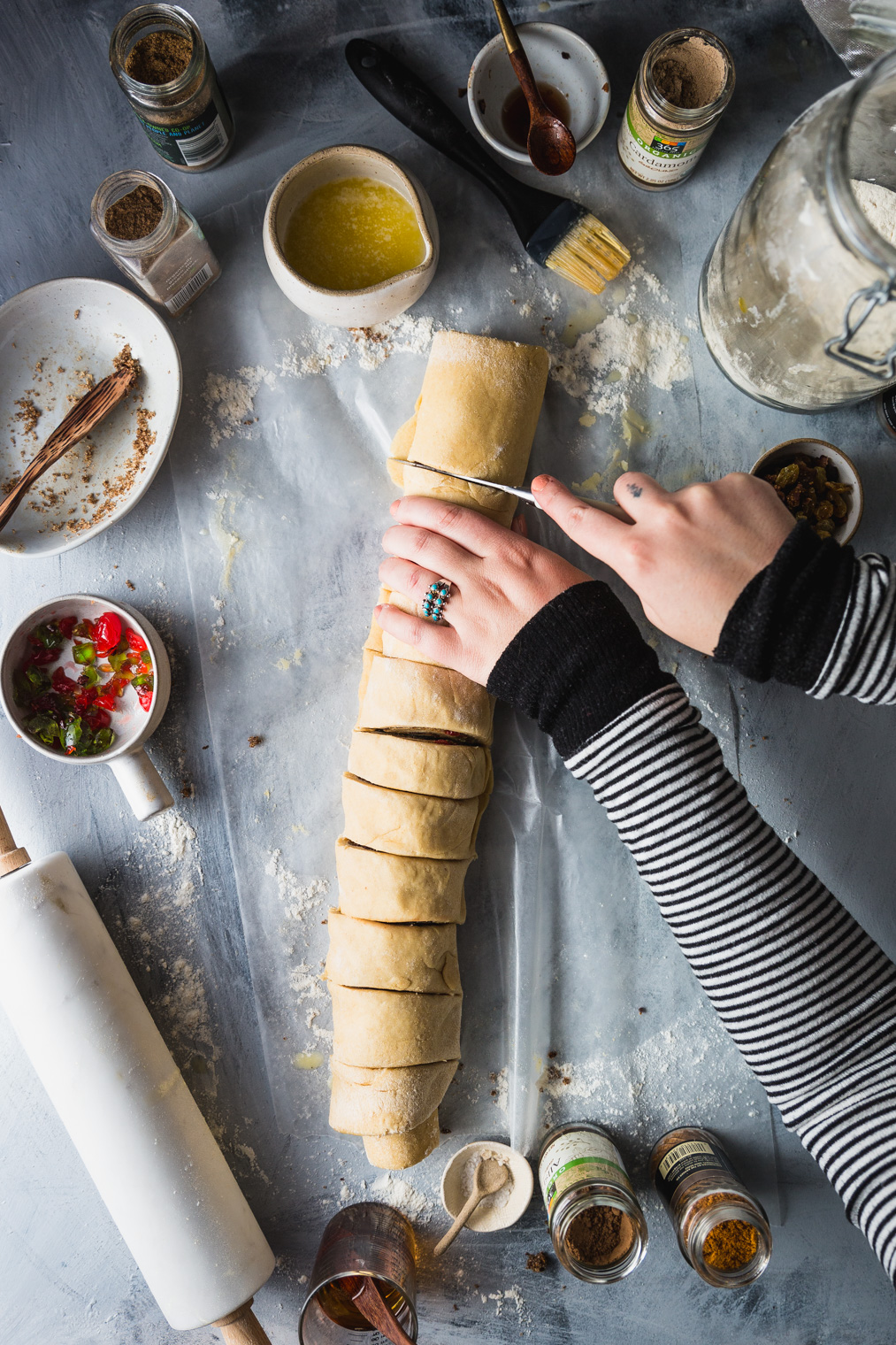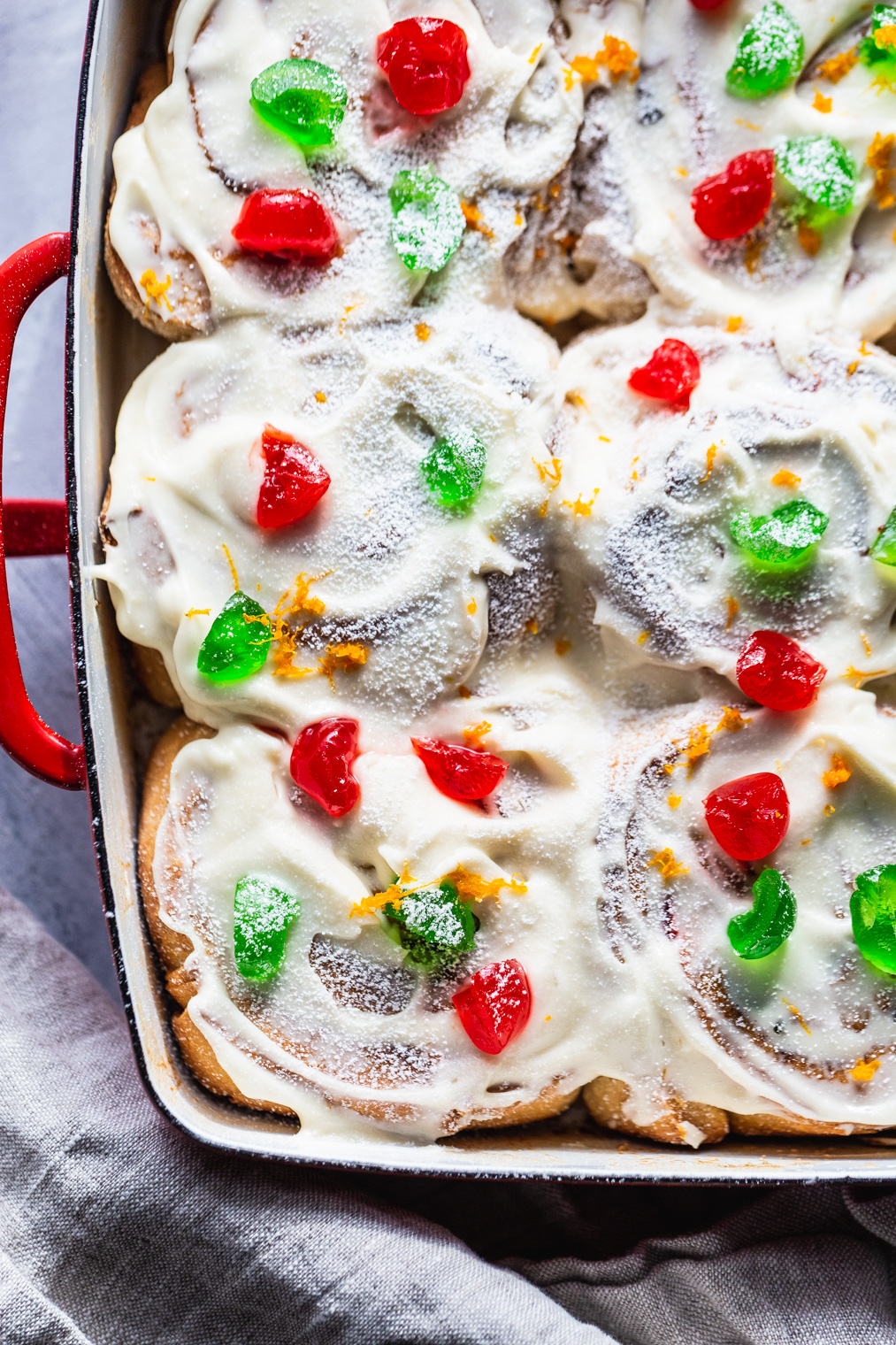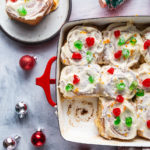 Holiday Stollen Homemade Cinnamon Rolls
This batch of Holiday Stollen Homemade Cinnamon Rolls are perfect for Christmas morning or for a lazy weekend around the holiday season.
Ingredients
2 1/4

tsp

active dry yeast

1/2

cup

warm water

1/2

cup

milk

1/4

cup

sugar

1/3

cup

unsalted butter

1

tsp

salt

1

large egg

3 1/2

cups

all-purpose flour
For the Filling:
1/4

cup

melted butter

+ more for greasing the pan

1/2

cup

brown sugar

1

Tbsp

cinnmaon

1

tsp

cardamom

1/2

tsp

nutmeg

1

Tbsp

orange zest

+ more for topping

1/2

cup

dried fruit cut into small pieces (golden raisins, figs, etc)

1/4

cup

rum

1/2

cup

candied fruit (such as cherries, pineapple, etc)

+ more for topping

1/4

cup

toasted chopped almonds
For the frosting:
4

oz

unsalted butter

softened

4

oz

cream cheese

softened

2

cups

powdered sugar

splash of vanilla extract
Instructions
In a small bowl, dissolve yeast in warm water and set aside for at least 10 minutes. Meanwhile, put milk in a small saucepan and heat over medium heat for 2-3 minutes or just until it starts to bubble around the edges. Remove from heat.


In a mixing bowl fitted with a dough attachment on a stand mixer, whisk together milk, sugar, 1/3 cup melted butter, salt, and egg. Add 2 cups of flour and mix until smooth. Add yeast mixture and mix, slowly adding in the remaining dough, until it forms a dough ball. Turn mixer speed up to medium-high and mix for 5 minutes.


Transfer to a well-greased bowl, cover, and let rise until doubled in size (about an hour).


Meanwhile, pour dried fruit and rum into a small bowl and let soak while the dough rises. Once the dough has risen, strain out the rum and reserve it for another use. In another small bowl, mix together brown sugar, cinnamon, cardamom, nutmeg, and orange zest. Set aside.


Once doubled in size, punch down the dough and transfer to a floured work surface. Roll out into a 15 by 9 inch rectangle. Spread all but 1 Tbsp of the 1/4 cup melted butter all over the dough. Sprinkle brown sugar mixture, rum soaked fruit, candied fruit, and almonds evenly over the dough.


Beginning at the long side, roll up the dough and pinch edge together to seal. Cut into 12 even slices.


Grease a rectangular baking dish with remaining melted butter and place roll in prepared pan (4 rows of 3 each). Cover and let rise for an additional 45 minutes or until doubled in size. Meanwhile, preheat oven to 350 degrees.


Bake for 30 minutes or until browned on top. Remove from oven and let cool slightly.


While the rolls are cooling, whisk together the frosting ingredients until smoothed. The frosting should be spreadable and not runny. If it ends up runny then add more powdered sugar.


When ready to serve, lather the rolls with frosting and sprinkle with candied fruit and orange zest.