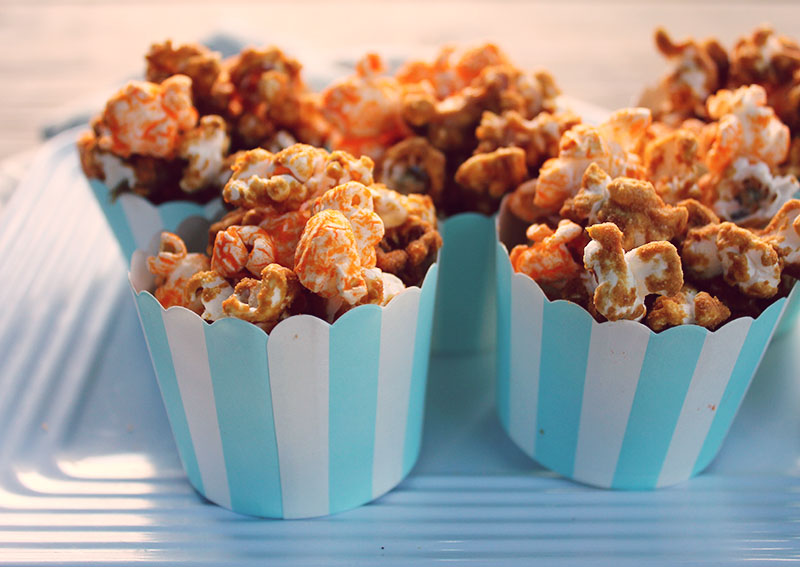 Homemade Caramel Corn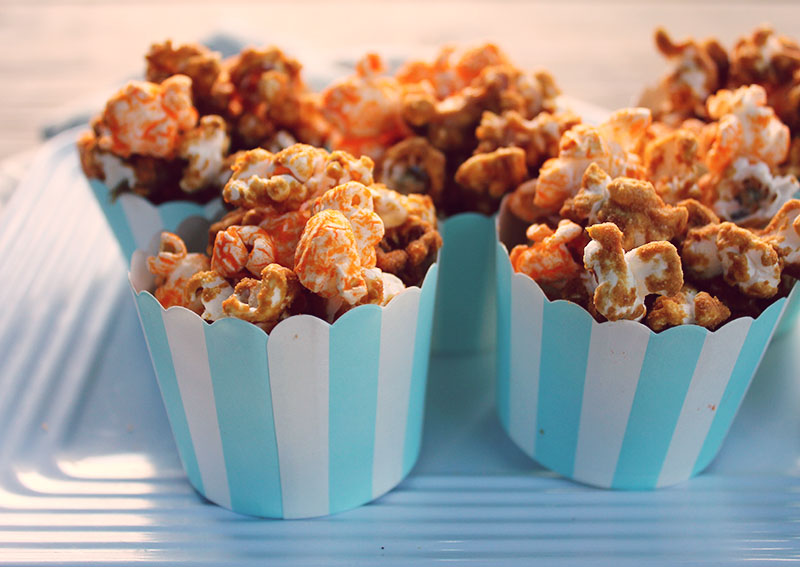 When I was in middle school, I would sometimes go to work with my Ma in the mornings and then walk to school [since it was right down the street]. This meant that there was about an hour where I would just be hanging out around her office doing "homework" (which was actually just me distracting her or going through the stuff in her office). My favorite time of year to be around was after the holidays because she would have lots of edible gifts that she received from employees/clients. Chocolate bars were a popular choice but as a little kid, I was always drawn to the GIANT tin of popcorn that had a tiny paper divider splitting the caramel and cheese popcorn [when you are little – everything is cooler when it's in mass quantities]. I always liked taking the divider out and mixing the two flavors…which was probably my first introduction to the 'sweet/salty' combination. [and look at me now! 10 years later and I can't imagine eating caramel without some big hunks of sea salt on top!]
Anyhow, so fast forward to present [~ 10 years later]: We've been having weekly movie nights on Thursdays which has given me a chance to make some treats for guests. Popcorn seems like the likely suspect for a movie night so immediately I thought of my Ma's caramel popcorn recipes (which was actually my Grandma's). This stuff is amazing…I mean..melt-in-your-mouth, can't-stop eating-until-it's-gone amazing. I tweaked the recipe slightly to fit what I had in my pantry and used agave nectar instead of corn syrup (sorry, Ma) but it was just as fantastic as I remember.
The moment that the popcorn came out of the oven and the sweet caramel smell filled my kitchen, I started nibbling at it… like, uncontrollably nibbling at it. And then before I knew it…a large chunk of the popcorn was gone (and the guests had not even arrived). I started pondering if this amount of popcorn was going to be enough (don't get me wrong…it makes a ton of popcorn…but this stuff was good and I didn't want it to be gone before the movie even started). So I started brainstorming ways I could make it last longer and that is when I remember the old cheese/caramel mix. Boom! Perfect. I [sort of cheating…] ran down to the co-op and bought a bag of cheesy popcorn [I know, I SHOULD have made it from scratch…but to be fair…I could not find any recipes that could truly capture that cheesy, powdery texture that the store-bought has. And…at least I went organic with it!]
And thus, the popcorn was a hit! It was [almost] gone before the movie started but lasted long enough for everyone to get their fill. The point of my story? Well 1. I like to ramble and 2. plan for the fact that you may eat half of it beforehand and 3. include the cheddar popcorn or just eat the caramel corn by itself…it will be irresistible regardless.
Homemade Caramel Corn
2/3 cup corn kernels
vegetable or canola oil (amount depends on the size of your pot)
1 cup brown sugar
1 stick of butter, melted
1/8 cup agave nectar
pinch of cream of tartar
1/2 teaspoon baking soda
salt
store-bought cheddar cheese popcorn, optional
First, pop the popcorn! You can either use your favorite method or follow mine. In a large pot with a lid, pour oil until it just coats the bottom. Place two kernels into the pan and heat over medium (with the lid on) and wait until the kernels pop (this will let you know the oil is ready). Once they pop, immediately add the rest of the kernels and stick the top back on. Shake the pot back and forth across the burner (this will be loud and a workout for your arms – both are good for ya!) and continue to shake until all the popcorn has popped (shaking will keep the popcorn from burning). Remove from heat once all the popcorn has popped and set aside.
Preheat oven to 225 degrees. In a small saucepan, combine the sugar, butter, agave, and cream of tartar. Bring to a boil and boil for five minutes while stirring constantly. Remove from heat and stir in the baking soda.
Pour the heated mixture over popcorn and stir until all the popcorn is coated. Transfer popcorn to two cake pans or 1 baking sheet (if using baking sheet, make sure not to spill it in the oven!). Cook for 2 hours and stir every 30 minutes.
Enjoy warm with all your friends!