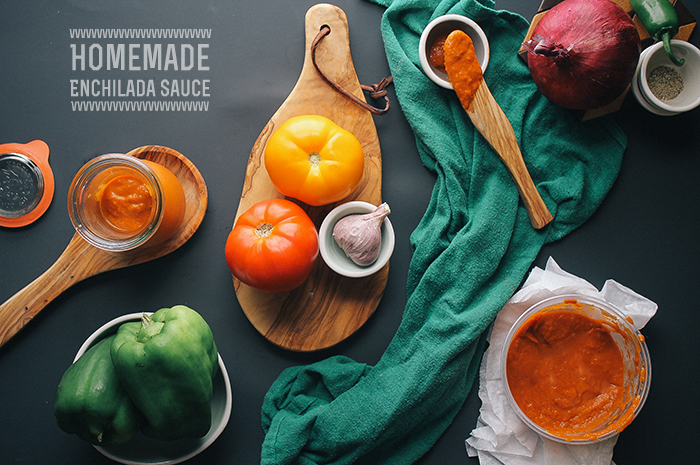 Homemade Enchilada Sauce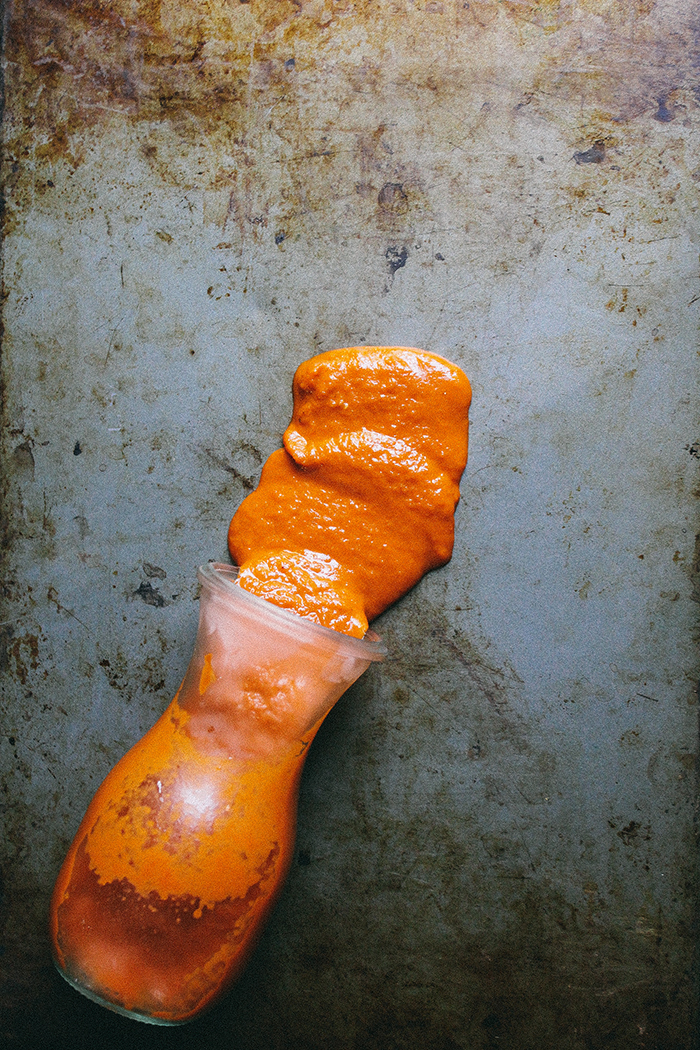 I don't know about you but the term 'enchilada sauce' doesn't exactly conjure up fresh and summery images. It mostly makes me think of that dark, musky aisle in the already dingy international grocery store where you have to brush the dust off the can before picking it up and throwing it into your cart. This off-putting imagery doesn't happen with all Mexican food. In fact, tamales conjure up wonderful memories of watching my step-mother whipping up several dozen in our kitchen when I was little. And tacos make me think of fresh grilled pineapple and strong margaritas. But I don't know – there's something about that enchilada sauce…something about the old-fashioned design on the cans that make me think it's been on the shelf since that art was in style in the 80s (maybe even 70s?).
That was until I decided to start making my own. And everything changed in the enchilada world for me. It doesn't taste like the enchilada sauce from the can…it taste so much fresher. And though it's not the flavor your tongue is expecting at first, you will glow with the realization that this is how enchilada sauce is supposed to taste. Fresh and spicy. A little tomatoey, peppery, and full of heat. Of course, the amount of heat you'd like to create is up to you. Different peppers will result in different spice levels so go ahead and get acquainted with what peppers work for you (okay, so maybe that link is a little over-kill but it's sort of fun to realize that all these peppers exist..)
This recipe isn't challenging but there are lots of little steps – mostly simple ways to remove the outer peels from the tomatoes and peppers to create a creamier sauce. Don't feel discouraged by the wordy directions below – it won't take long and you'll have deliciously fresh enchilada sauce in no time!
PS – Oh…and it's vegan!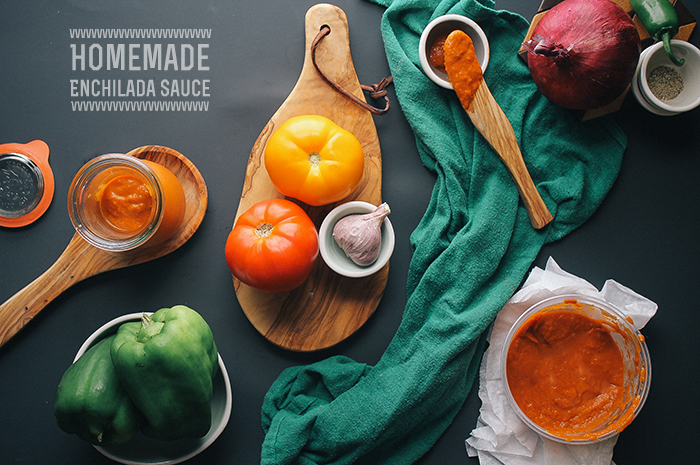 Homemade Enchilada Sauce
2 fresh red chilis, sliced in half with the seeds removed
1 1 /2 cups vegetable broth (I used homemade)
2 large tomatoes, cut a large X in the bottom of both
2 jalapeños (or 1 poblano pepper)
2 Tablespoons olive oil
1/2 red onion, diced
2 garlic cloves, chopped
1/4 cup tomato paste
1 teaspoon cumin
1 teaspoon chopped oregano
salt/pepper, to taste
Add vegetable broth to a small saucepan and bring to a boil. Add chili peppers and let simmer for about 15 minutes or until soft. Remove from heat but DON'T drain the broth. Set aside.
Chard the jalapeños by placing them directly over a gas burner flame until blackened on all sides (or broil in your oven). Remove from heat and immediately transfer to a plastic sandwich bag. Let steam in the bag for about 15 minutes and peel the skins right off. Cut in half and remove seeds. Set aside.
Bring another saucepan full of water to a boil and get a bowl full of ice water ready. Add tomatoes and blanch for a minute or two or until the skins peel right off. Remove from heat and transfer tomatoes to the bowl of ice water. Peel tomatoes and then dice.
Heat olive oil in a saucepan over medium heat. Add onions and garlic and sauté until translucent (about 7 minutes). Add tomatoes, tomato paste, chillis with the vegetable broth liquid, jalapeño, oregano, and cumin. Let simmer for 10 minutes and remove from heat. Once slightly cooled, transfer to a blender and blend until smooth.
Use right away or store in the fridge for up to four days.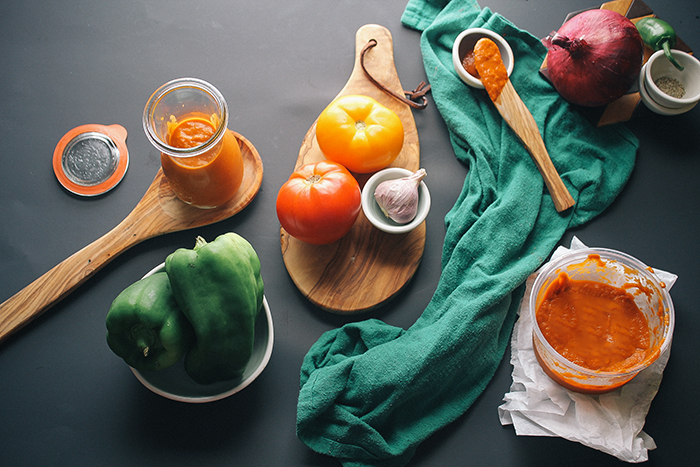 1