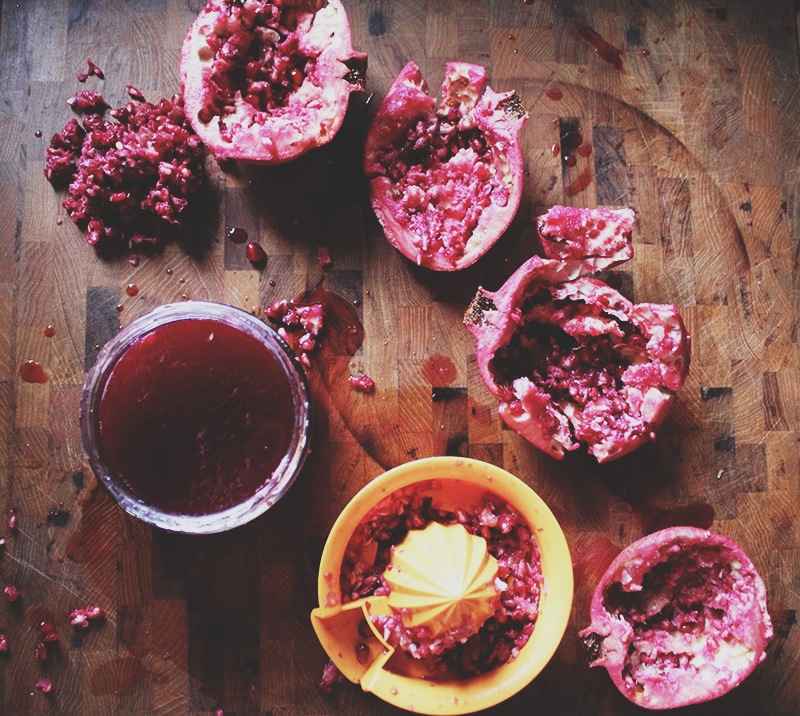 Homemade Grenadine // Tequila Sunrise + Shirley Temple
Okay, I have a confession to make. I grew up on Shirley Temples. Any fancy occasion that I was out with my family and my Grandma would order her 'Manhattan', I would proudly announced my 'Shirley Temple' drink order. They would bring it out in a fancy cocktail glass and it would be garnished with a few cherries. Ah, I felt like such a sophisticated ten year old.
But this is where my confession comes in. I went the first 23 years of my life thinking that grenadine was cherry flavored syrup. Wrong. How can you blame me? After all, they did always garnish those Shirley Temples with cherries! It's actually pomegranate syrup! Who would of thought I was so health trendy in my tweens? If only I knew French then I would have known that grenade means 'pomegranate'. Ah well. Silly me.
Anyhow, so I've been on a drink kick lately. More specifically, I've been on a booze kick (see Boozy Stout Brownies, Cranberry Mojito, etc). And my fascination with simple syrups started this summer when I first whipped up that delicious Sparkling Blackberry Lemonade. And then the Rosemary Lemonade. and then the Lemongrass cooler. and so on. You get the point. So when I found out that grenadine was just an over-produced, over-sugared version of pomegranate simple syrup….I knew I had to try my own.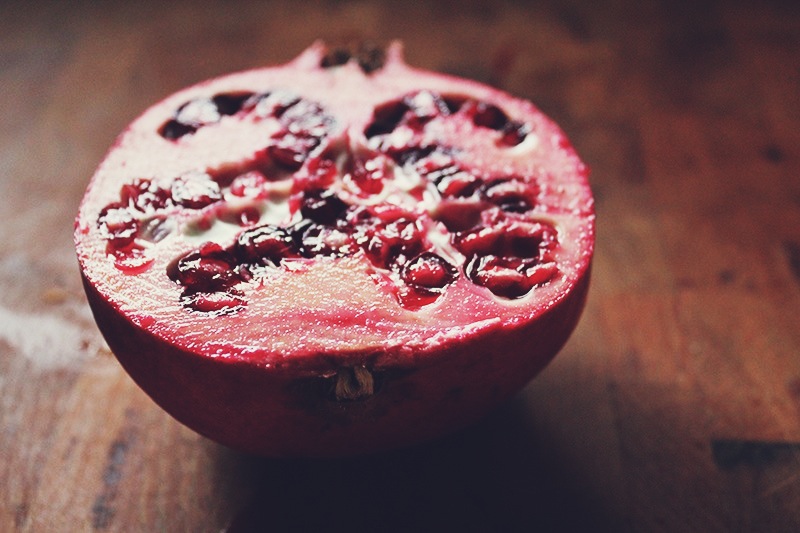 If you are use to making your own simple syrups, you will notice that this process is a bit different because we are starting off with pomegranate juice instead of having the fruit boil and steep into a juice. But anyhow, it's not complicated and more on that later. Oh! And last thing – don't wear white while making this. The juicing part is both fun and messy.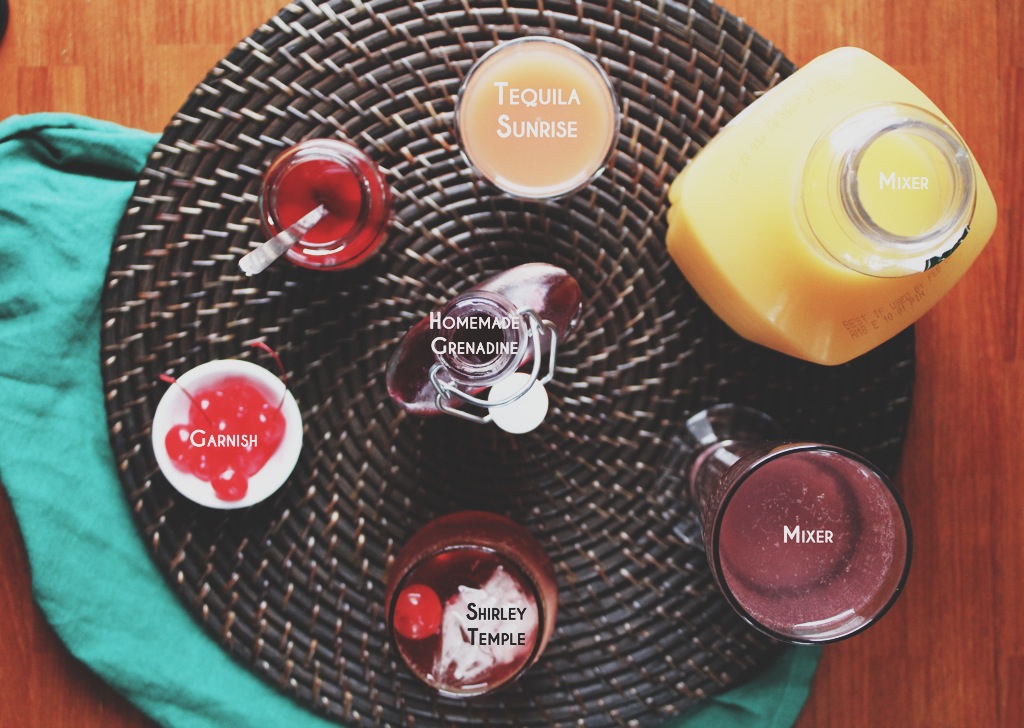 Homemade Grenadine
2 pomegranates
1 1/2 to 2 cups sugar (depending on how sweet you like your syrup)
First, the fun [and messy] part! Making the juice. I used a citrus squeezer and sliced the pomegranates into quarters to juice them. You could use a hand held squeezer if you have it or even a zip lock bag (break the seeds up as much as possible and then strain out the seeds). The goal here is to get as much juice out of the pomegranate without 1. breaking the tiny white seeds within the red seeds because they will release a bitter flavor (hence why a blender wouldn't work) and 2. separating the juice from the tiny seeds and whites of the pomegranate. If you don't have a juice squeezer, this may take some creative thinking on your part but it's not impossible. Using my citrus squeezer yielded about 2 cups of juice from 2 pomegranates so try to achieve around that amount.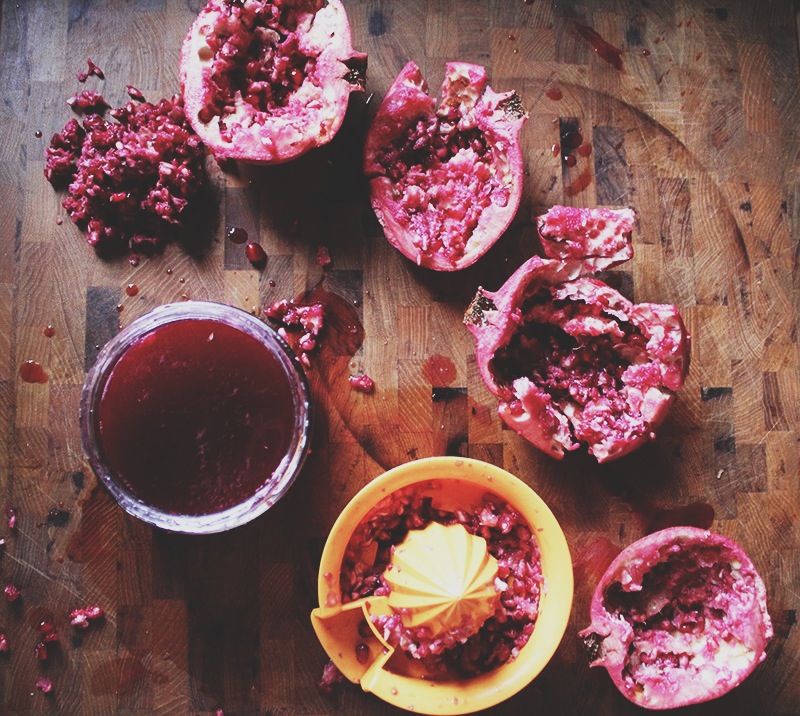 Next, transfer the juice to a small saucepan and add the desired amount of sugar (I started with a cup and a half).  Bring to a boil over medium heat and then immediately remove from heat. Stir until all the sugar is dissolved (if it has not dissolved already). Let cool completely then transfer to an airtight container and store in the fridge.
Annnnd, in case you were wondering what MY favorite ways are to use grenadine are…
Shirley Temple
1 ounce grenadine
2 maraschino cherries
ginger ale or lemon-lime soda
Place the grenadine and cherries in a glass. Fill the remainder of the glass with ginger ale / soda and enjoy!
Tequila Sunrise
2 ounces tequila
2 ounces grenadine
Orange Juice
maraschino cherry or orange slice, for garnish
Place grenadine and tequila in a cocktail glass. Fill the remainder of the glass with orange juice. Garnish with cherries or orange slices.