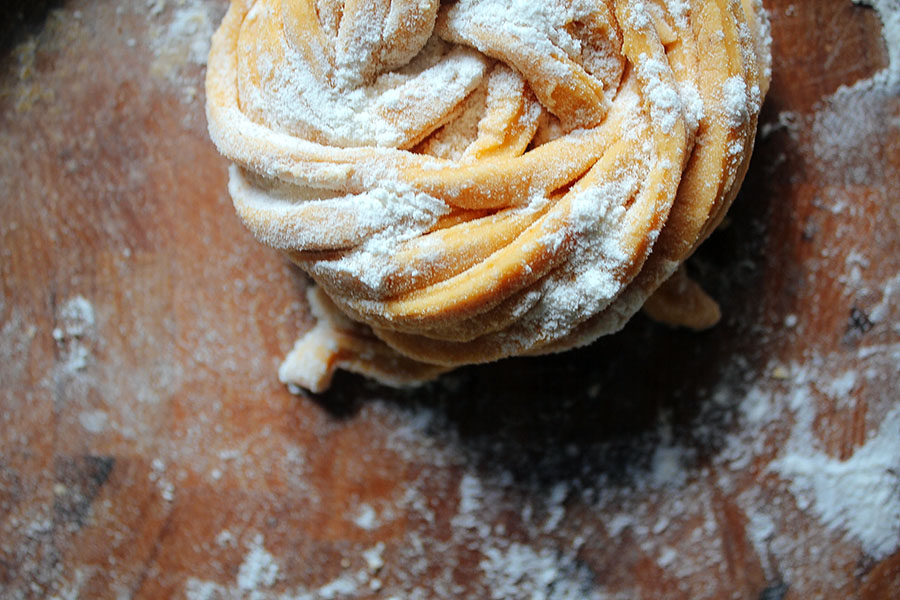 Homemade Pumpkin Pasta with Goat Cheese Whip & Browned Butter Sage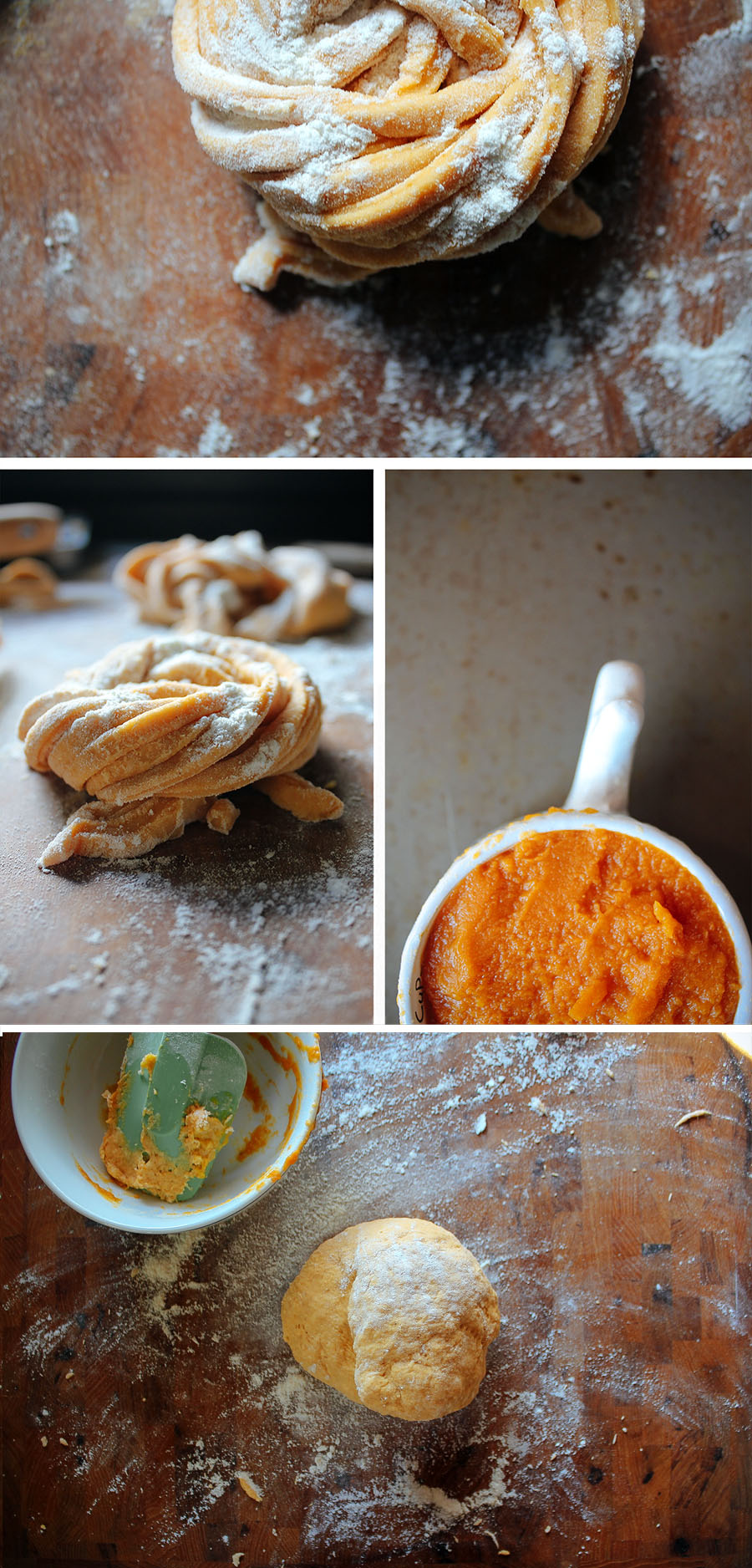 You know, I was so proud of myself for thinking about using that can of pumpkin before October rolled around. I was like 'damn, I'm going to beat the pumpkin craze this year for sure!' and then I waited 3 days to post this. And now this recipe is in the dead middle of all the pumpkin blondies and nutmeg dutch babies. Oh well. This was my attempt to create a 'savory' dish with the pumpkin instead of the sugar overload that October tends to bring (helloooo Halloween!).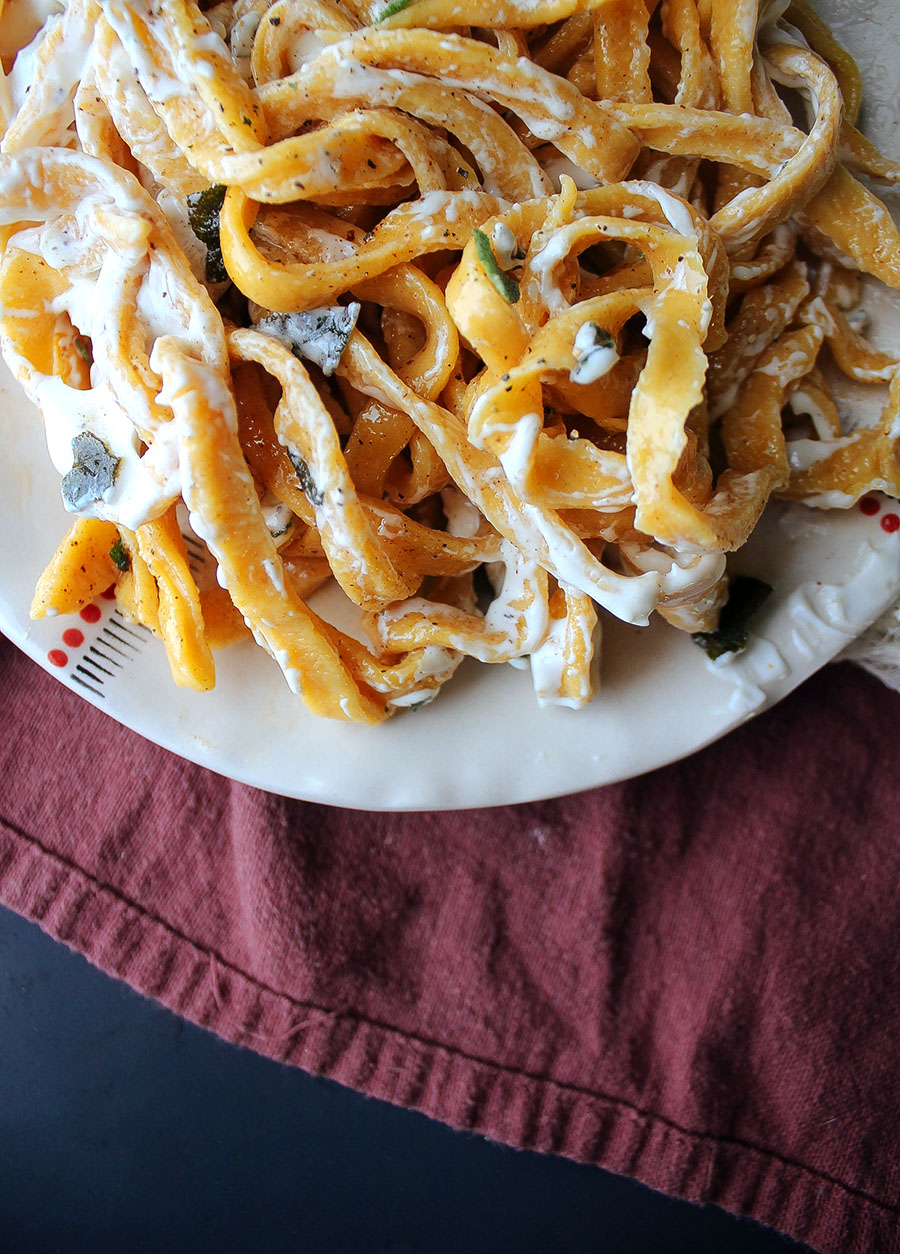 This dish was inspired by a ravioli entree that was only served once a month in my hometown growing up. It was pumpkin stuffed ravioli with sage butter and I absolutely loved it. I'd never have any desire to go to that restaurant except for that month which I'd beg to go 3-4 times. This version I made incorporates the pumpkin puree into the pasta dough instead of making pockets of filling. I also added goat cheese. Because, let's be honest, everything is better with goat cheese. And goat cheese whip has recently stole my heart.
The goat cheese whip and fried sage are completely optional but highly recommended for this recipe. I mean, come on people, it's goat cheese and lots and lots of butter!! Are you really going to skip that part? But if you must, I bet this would be killer with just some simple browned butter or Alfredo sauce.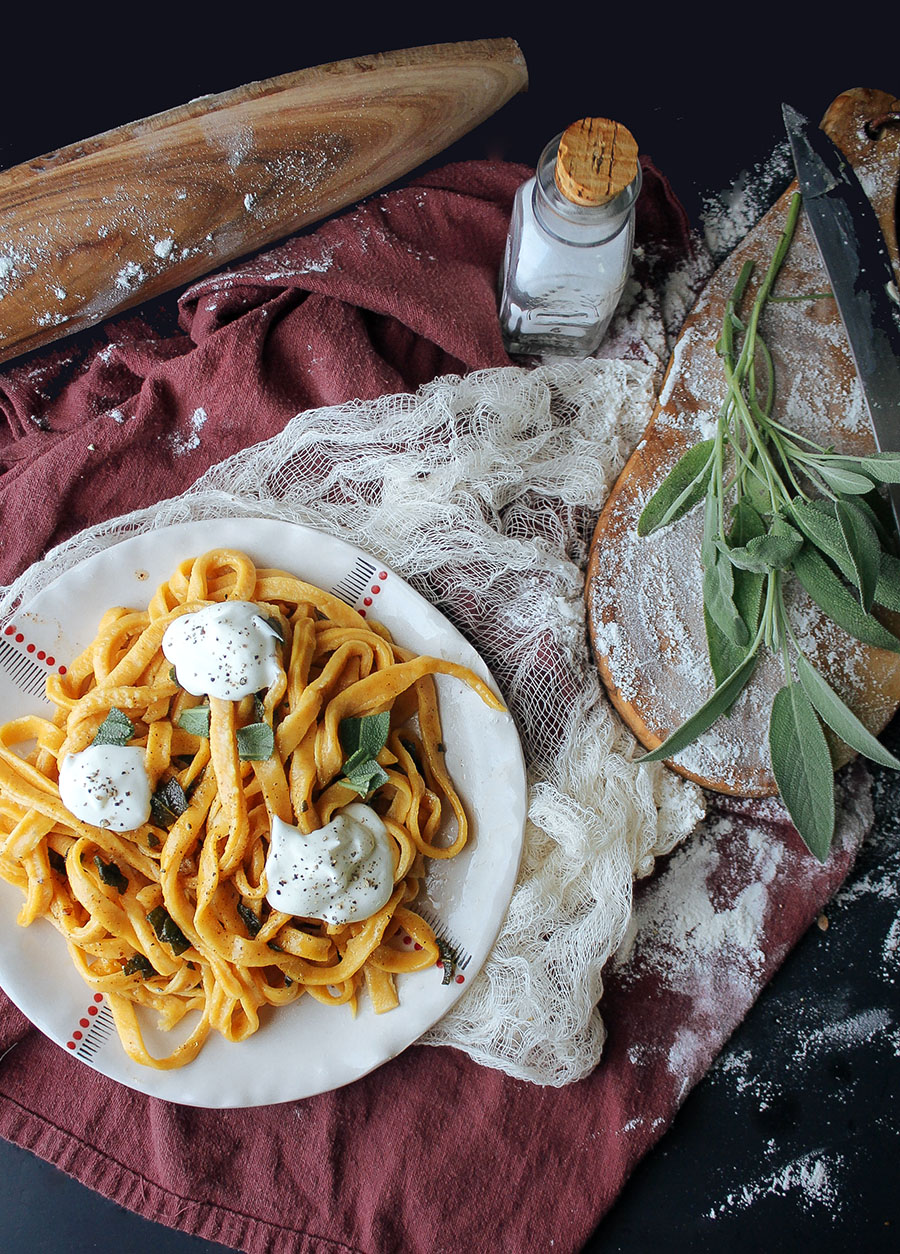 Homemade Pumpkin Pasta with Goat Cheese Whip & Browned Butter Sage
 Serves 4 or 2 very very hungry / Adapted from Leite's Culinaria
1/3 cup pureed pumpkin (either fresh or from a can)
1 large eggs
2 1/4 cups all purpose flour, plus more for dusting
3/4 teaspoon salt
4 ounces of goat cheese
2 tablespoons cream cheese
1 teaspoon milk
4 tablespoons butter
1/4 cup chopped fresh sage
In a large mixing bowl, whisk together the pumpkin and one egg. In another bowl, whisk together the flour and salt. Slowly start adding the flour mixture to the pumpkin and fold the dry ingredients into the wet while pouring. Mix until a thick dough has formed.
Turn dough onto a lightly floured surface and knead for five minutes or until the dough is completely smooth. Add a tiny bit of water if the dough is too dry. Wrap in plastic wrap and let rest for 30 minutes.
Meanwhile, use a hand mixer to whip the cream cheese and goat cheese together. Add a teaspoon of milk and continue to whip for 3-5 minutes. Add more milk if needed.
Bring a large stockpot of water to a boil. Add 1 Tablespoon of salt to the water.
There are two ways you can make the pasta from here: 1. you can use a pasta maker and follow the instructions on the box 2. you can do my way. To do it my way, you'll want to grab 1/4 of the dough (keep the rest in the plastic wrap to avoid from getting dry) and roll out onto a floured surface. Your desired thickness is between 1/8 and 1/4 inch thick and you want to roll out a long oval shaped piece (there is no exact science here; make the pasta thicker to thinner to your liking). Use a pizza cutter to cut thin strips into the dough (I did about a 1/4 thick) and either  drop directly into your boiling water or dust with flour (to avoid from sticking) and roll up into noodle nests (see picture above) and place on floured surface until ready to boil. Repeat with the rest of the dough. Boil the noodles for 3-4 minutes or until 'al dente'. Remove with a slotted spoon and place on serving tray. Toss with the goat cheese sauce to avoid sticking.
To make the browned sage butter, add butter to a heavy skillet over medium heat and stir frequently. Once small brown flakes start to form, add the sage and stir constantly (if the brown flakes settle on the bottom for too long they could burn). Once a nutty aroma starts and the sage is fried all the way though, remove from heat and toss with the fresh pasta.
Serve  right away with a fresh salad.