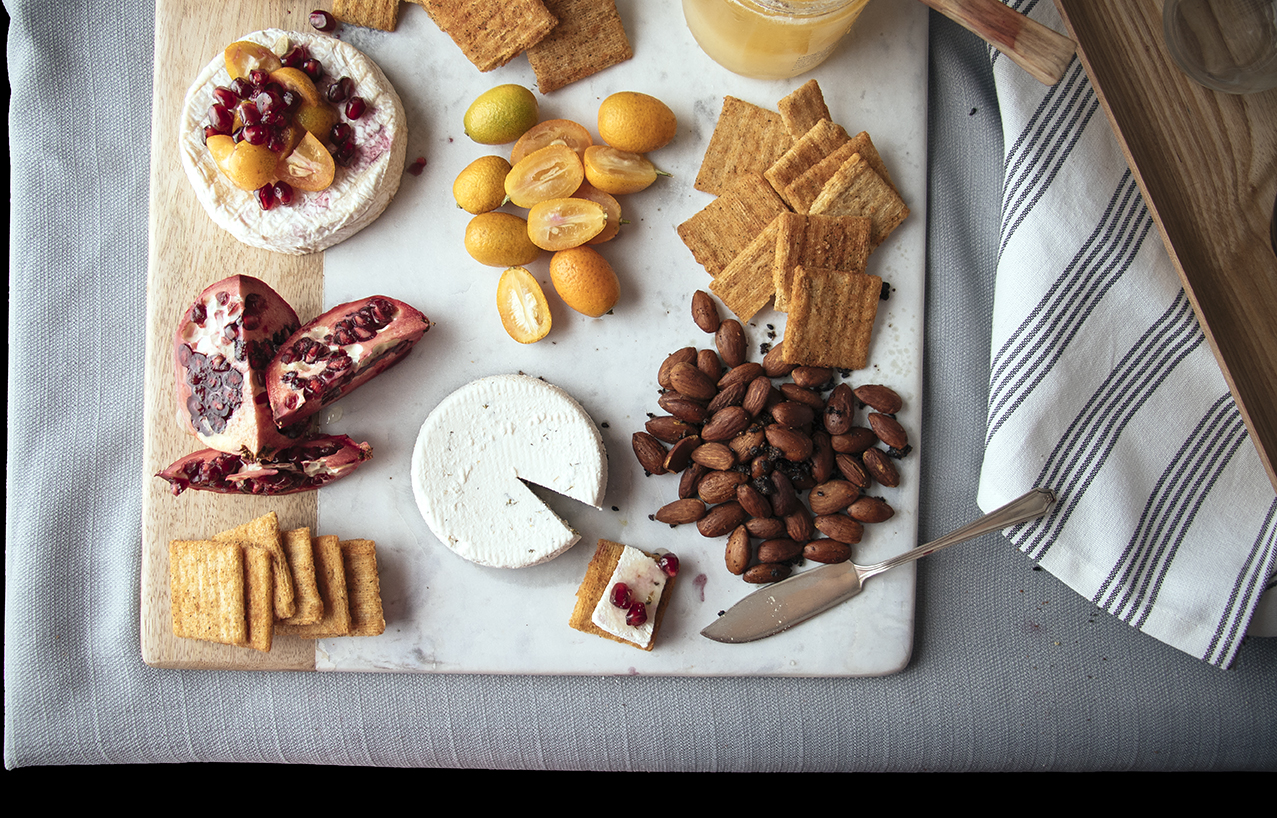 How To Make A Quick & Healthy Cheese Plate [Vegan Option] /// Roasted Curry Sesame Almonds
In a hurry? Click here to JUMP TO RECIPE!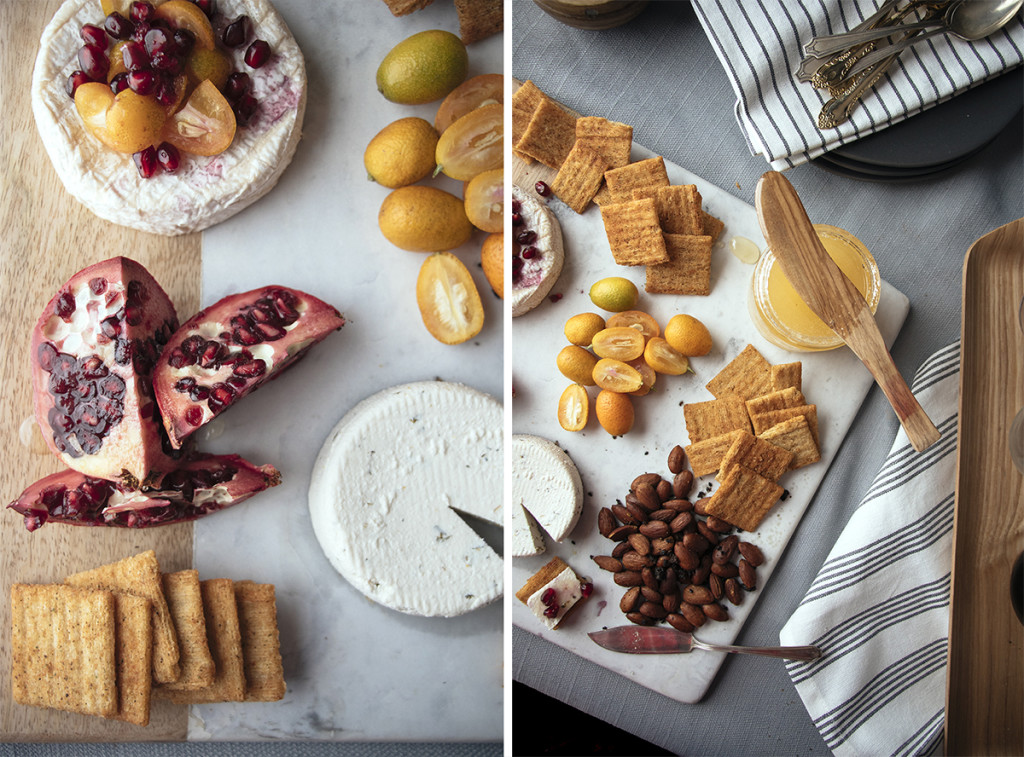 For today's post, I've paired up with the fine folks over at Kite Hill to bring you a simple and straightforward guide to creating a healthy cheese plate.
I notice the same goals popping up again and again on my resolution list come January: try to eat healthier, get outside more in the cold months, be more social, etc. On this year's list was 'host more friends' so I jumped at the chance to work on a cheese plate when Kite Hill contacted me about sending over some cheese to try. Wyatt & I recently signed a lease to a smaller (but newer) house that we'll be moving into in this summer so I'm feeling the urge to have as many gatherings as we can while we still have a huge dining room for game evenings, a big fenced in back yard for grill outs, and a roomy living room for movie nights.
Hosting a cheese and wine party (or even just starting out an evening with a cheese plate) doesn't have to exclude all of your vegan friends. Because of places like Kite Hill, there are now delicious nut-based cheeses that are just as diverse and interesting at the ones you pick up at the local dairy farm. The cheese plate I made here featured cheese exclusively by Kite Hill but I plan to mix and match my cheese plates in the future with both dairy and non-dairy options to please any kind of guest.
Below you will find some tips and tricks that I've discovered along the way on how to assemble a quick and healthy cheese plate along with a recipe at the bottom for some zesty roasted almonds that are the perfect accompaniment to all of your favorite cheeses.
Cheese: Use a variety of hard and soft cheeses. For dairy cheeses, use a few that you know are crowd pleasers and then a few that most people probably haven't tried yet. For non-dairy cheeses, you can make your own for a personal touch or an array of store bought versions (I'd recommend Kite Hill, Herbed Chao Cheese, etc). Also a great way to make cheese your own is by creating a flavorful cheese ball out of ingredients that are already in your pantry.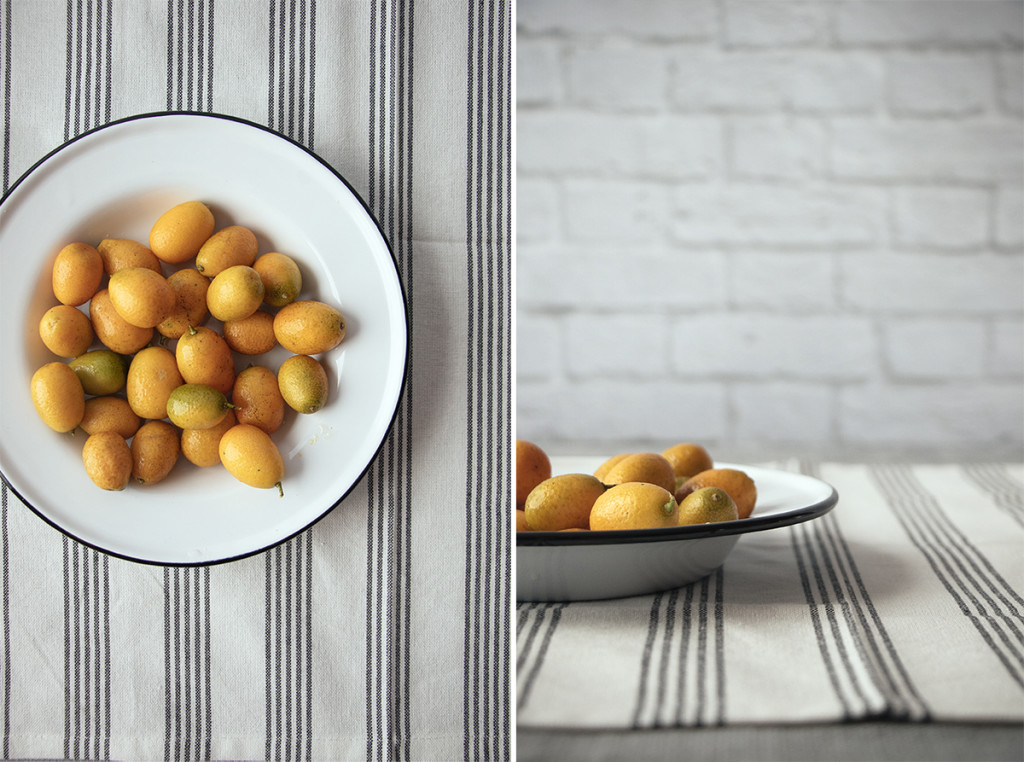 Savory: If you have the time then you can make your own crackers or bread to really give your plate a personal touch or purchase artisan versions from your favorite grocery. Adding nuts to your cheese plate will round the plate out with a crunchy and satisfying component; try the roasted curry sesame nuts recipe below for a simple way to jazz up the nuts you have on hand.
Other perfect savory options are pickles (try pickling up some quick pickles that can be prepared right before serving), mustards (speciality mustards with fancy packaging add great decorative contrast to your table), or  olives.
Sweets: Fresh fruit is a simple and healthy way to incorporate color into your presentation. If you can, I'd recommend picking out 1-3 different types of fruit that are different sizes, shapes, and color to make the plate really pop. Make sure you pick fruit that is in season as it won't be hidden in a recipe so having the fruit perfectly ripe is essential. I chose pomegranates and kumquats for this board since it's the middle of winter here in Midwest America.
Jam is also a great way to add sweetness to the plate and using unique flavored jams will give an added touch of appeal to your plate. If you have the time, you can make your own jam or just purchase a small batch flavor from your local market or co-op.
I like to use honey on my cheese but if you are vegan than you can substitute it with maple syrup. Buy a small maple syrup jar or a local honey jar (which you should be doing anyways!!) that has a clean and intriguing label so that you can set the jars right on the table for an added decorative display.
Final tips:
– Keep it simple. You want to try to make the plate look full enough so that the guests won't feel guilty eating from it but also with enough room to let each component on the plate shine. Make sure there is enough room so no two types of ingredients are touching.
– Mix and Match textures and colors on the plate. Create a visually pleasing presentation by spreading out the color of the fruit through out the plate and the texture of the nuts on opposite sides of the tray.
– If serving the cheese as the main entree, Real Simple recommends having 3 pounds of cheese on hand for 8 people and 6 pounds for 16 people.
Roasted Curry Sesame Almonds recipe below: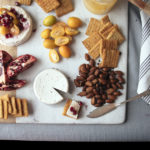 Roasted Curry Sesame Almonds
Savory almonds perfect for your next cheese board!
Ingredients
1

cup

whole almonds

1

teaspoon

salt

1

Tablespoon

black sesame seeds

1

teaspoon

curry spice

1

teaspoon

grated ginger

1

teaspoon

soy sauce

1

Tablespoon

peanut oil
Instructions
Preheat oven to 350 degrees and line a baking sheet with parchment paper. Whisk together the salt, sesame seeds, curry spice, ginger, soy sauce, and peanut oil in a medium bowl. Fold the almonds into the spice mixture until completely coated.

Spread the almonds into a single layer on the prepared sheet. Bake for 15 minutes, stirring every 5, until golden brown. Remove from oven and let cool.