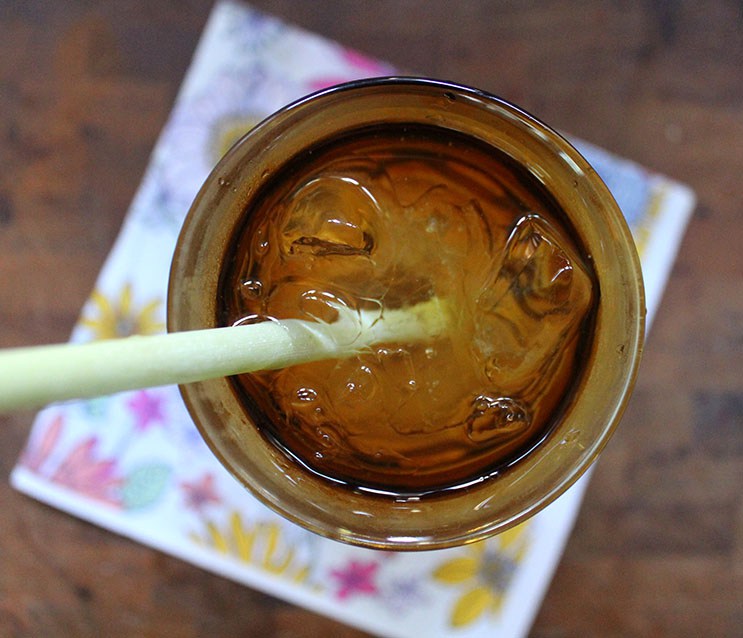 Lemongrass Cooler // Collaboration with Dishes Undressed
Happy Friday! I have a very exciting project to share with everyone today. One of the best parts about the blog world is meeting other creative bloggers and being able to put your creative heads together to create something wonderful. Today I am collaborating with my friend Angie from Dishes Undressed.
We met through our Blogging 2.0 class and were both immediately drawn to the idea of swapping food recipes from halfway around the globe. Angie is blogging to us from Great Britain while I reside in my small town in the Midwest United States. This is going to be a fantastic adventure because I love stepping out of my comfort zone with food and trying things I would have never thought of. We are going to do a 4 part series (cocktail, appetizer, main course, and dessert) for which we both give each other a recipe that is traditional to our countries.
Today I am starting off with the Lemongrass cooler recipe that Angie sent over. This was particularly exciting for me because 1. as many of you know – I am currently OBSESSED with making simple syrups for drinks and 2. I have never cooked with lemongrass and didn't know anything about it.
I had to get the lemongrass pre-cut and packaged because that seems to be the only way they sell it here in Bloomington but I've gathered that it usually comes in long stalk form. I also learned that is it used in many Thai curries and stews which means my head has already been spinning with ideas for my next lemongrass adventure.
The simple syrup turned out wonderful. Easy to make but very fragrant and flavorful. I used it make a little gin cocktail last night that was absolutely stunning. The lemongrass stalk made for a perfect garnish as well!
I also stumbled upon a great use for the leftover syrup. The syrup was so delicious that I may have added it to my morning cup of tea as … okay, I DID add it and it sweetened and gave the tea a hint of lemon. Delicious.
Lemongrass Cooler
4 cups water
2 cups sugar
2 lemon stalks, chopped into 3 inch chunks
Juice from 1 lime
carbonated water
extra lemon grass, for garnish
1 oz of gin, optional
Ice
To make the simple syrup: In a small saucepan, bring the lemongrass, water, lime and sugar to a boil. Stir until the sugar is completely dissolved into the mixture. Boil for 10 minutes or until the mixture has thickened. Remove from heat and let it come to room temperatures.
Combine in a glass with some carbonated water, a shot of gin, and ice.
Keep leftover syrup in the fridge and use the next mornings to sweeten your tea!
________________________
Also! Don't forget to check out Angie's part of the collaboration. She whipped up a fresh version of some delicious Southwestern Sliders.