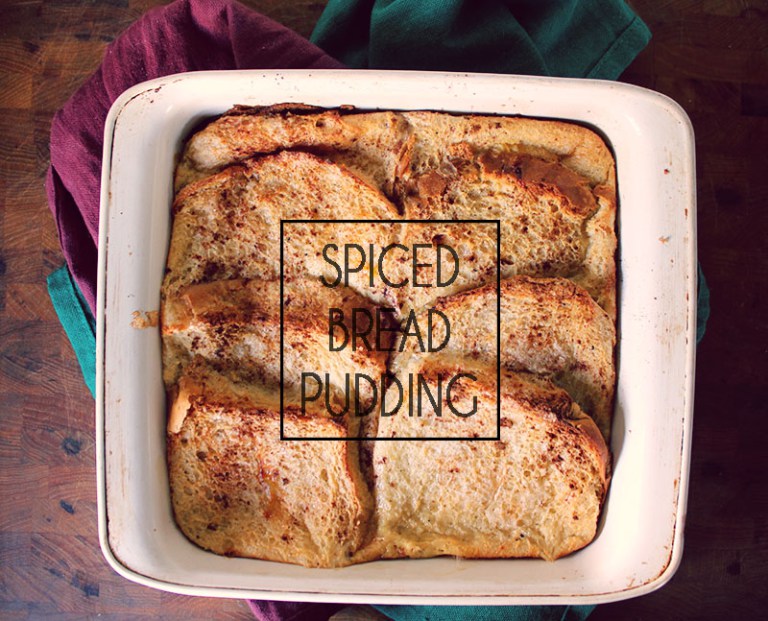 Spiced Bread Pudding // Collaboration with Dishes Undressed
Happy Tuesday! I'm here today with another collaboration with Angie from Dishes Undressed and this one is our dessert edition! I had her try out my vegan cobbler cake [which sure does look delicious!] and she had me tackle this mouth-watering bread pudding.
Okay, so let's talk pudding. The REAL kind of pudding…not the stuff you get at the store that is in powder form and you add milk [or something to that nature] to make it come alive [do people still do that? I remember my Dad making us pistachio pudding a lot like this when I was a kid]. I'm talking about the traditional puddings which are created from recipes filled with generations of memories. I never grew up on those puddings and have sort of been making up for lost time. Earlier this month, I whipped up my first ever persimmon pudding and have enjoyed several batches of the stuff since. And now, here I am, trying out bread pudding for the first time. Who knows what's next! Maybe I'll try to conquer rice pudding  [again, do people eat that stuff?]. Do you have a favorite pudding recipes? I think I might just have to go on a pudding kick to find mine!
So…my first experience with bread pudding. I was a bit unsure of what to expect but was smitten by the idea that the ingredients were so similar to my favorite breakfast food ever: french toast. I mean, anything that encourages eating french toast more than just before 10 AM is a keeper in  my book. Anyhow, so the result was similar to baked french toast but soften. It was moist, spongy, and full of spices. The warm jam with the perfect sidekick to bring out the sweetness of the pudding. I adapted mine slightly from Angie's recipe to accommodate what I had on hand.
PS- One last thing! I am a total instagram, bloglovin, and facebook addict [do you follow me on all these things??]. I am, however, totally clueless when it comes to Twitter but I've decided it's time to make the plunge! That is right, VV is offically going to be on Twitter so please hop on over and…say Hi or whatever you do on Twitter. [Username: ShellyWester]
Spiced Bread Pudding
2 1/2 cups whole milk
1 vanilla bean
8 thick slices of stale bread
2 eggs
1/2 cup sugar
dash of cinnamon and nutmeg
fig jam, optional
Preheat oven to 350 degrees and arrange the bread pieces on a small pan.
Slice the vanilla bean in half and scrap out all the seeds. Discard the pod and place seeds in a small saucepan with the milk and bring to a boil. Once boiling, immediately remove from heat and let cool.
In another bowl, whisk together the eggs and the sugar. Once the milk mixture is completely cooled (we don't want the eggs scrambling now!), slowly add it into the egg mixture and stir until combined.
Pour over the bread pieces and let sit for ten minutes. Pop it into the oven and cook for 30 minutes or until the top is browned and crusty. Remove from oven and let cool.
In a small saucepan, warm the jam until it becomes runny. Swirl into the bread pudding and enjoy right away! Perhaps along side a big mug of chia tea or with a blanket on your hammock.