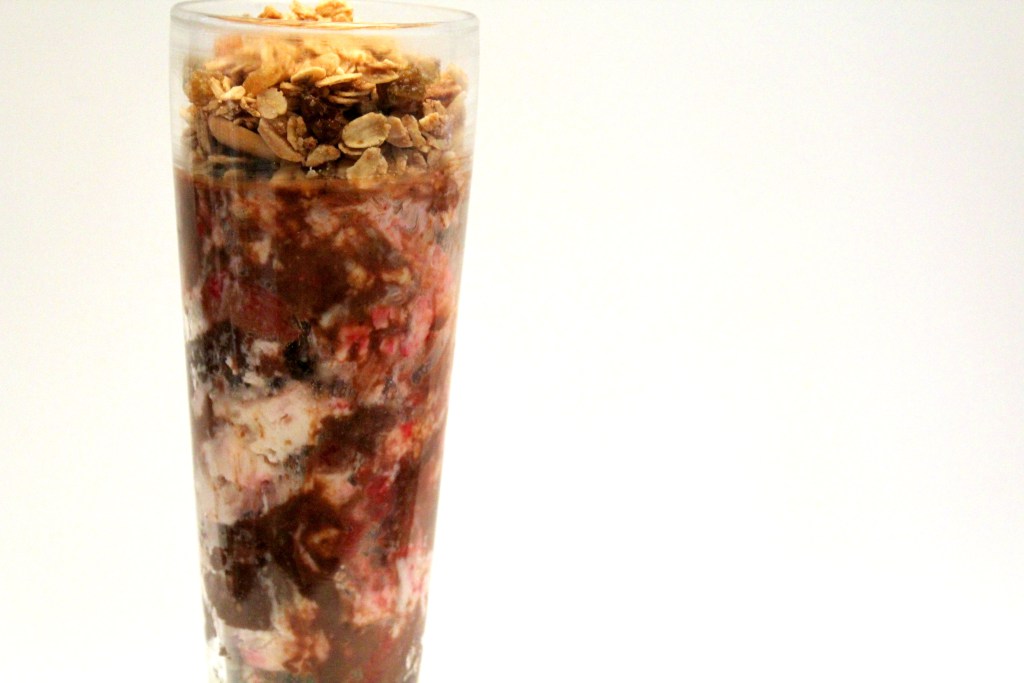 Marbled Parfait with a Raspberry Brownie Goat Cheese Filling
Woah, that is a mouthful. It's needed though- all those ingredients stick out so much in every bit that I would feel guilty not letting you know what you are in for. The salty goat cheese counteracts that brownie so well that they are an [odd] match made in heaven. Plus, anything with goat cheese is amazing. Right?
I should probably admit that I'm delusional to think that this is a "healthier" version of dessert but this was an attempt at some sort of weird compromise. I love parfait for dessert because they are light and sweet but not too sweet. Wyatt loves chocolate and ice cream and anything with more calories than is supposed to be consumed in a week. SOO I made this thinking it would satisfy both of our needs…but to be completely honest, this is for no one on a diet or watching their calories. It's rich and indulgent in the best way possible.
I would imagine you could probably even top this with ice cream instead of granola. And replace the raspberries with strawberries or blueberries or whatever you'd like. Get creative…that's the best part about baking!
Marbled Raspberry Brownie Goat Cheese Filling:
Brownie Part:
1/2 cup shortening
1 cup sugar
2 eggs
1 teaspoon vanilla extract
1/2 cup all purpose flour
1/3 cup cocoa powder
1/4 teaspoon baking powder
1/4 teaspoon salt
Goat Cheese Filling:
1 cup raspberries
8 ounces goat cheese, room temperature
4 ounces cream cheese, room temperature
2 tablespoon unsalted butter
1/4 cup sugar
1 egg
1/2 teaspoon vanilla extract
Other things to put in the parfait:
granola
more fruit
greek yogurt
honey
Preheat oven to 350 degrees and grease a 9×9 baking dish. In a large bowl, mix together the shortening, sugar, and vanilla. Next, beat in the eggs. Then add the rest of the dry ingredients and fold until well incorporated. Pour into prepared baking pan.
In a separate bowl, beat the cream cheese and goat cheese together. Next, cream the butter, sugar, egg, and vanilla until well blended. Fold in the raspberries (I crushed them a little bit on purpose so that they would bleed some pretty marbled red into the mix). Pour on top of the brownie mix.
Cook for 30 minutes or until it starts to brown on the top. Let cook for at least ten minutes then prepare your parfait with whatever fixins' you'd like. Don't worry if the brownie mixture is gooey because that helps it blend well with the other parfait ingredients.
Mmmmm, gooey goodness. Don't share with your puppy but feel free to share with your roommates!