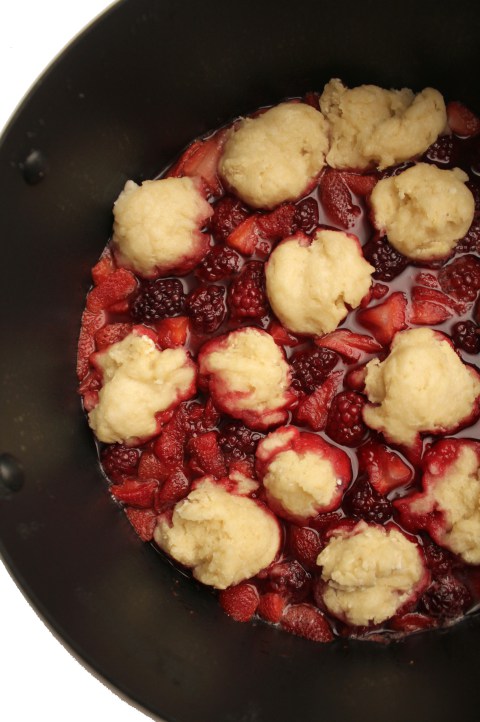 I don't know what the proper name of this dish is called; I've heard grunts or dumplings or just plain old stove top cobbler. Whatever it is, it's amazing. I looooove cobblers but when I discovered that I could make a version that has doughy dumplings drenched in fruity sugar…I was sold. I made a vegan version last summer which you can find here.
It's like we skipped most of winter and now we are skipping spring and heading straight for summer. This is totally throwing my body off and the summer vibe is making my body crave fruity desserts. But it's not fruit season yet (is it still March?) and my blueberry bush has just started blooming so what's a girl to do? Well, I marched (in the form of walking my puppy) right to the store and picked out the freshest berries I could find. The pickens' were slim with lots of impersonator fruits that we all know have traveled thousands of miles and were picked weeks ago but I did manage to find a batch of delicious looking strawberries and a batch of blackberries (sorry Kroger, I don't like my blueberries shriveled and decrepit).
Don't hesitate to make this vegan by substituting Almond/Soy milk for the milk, sugar cane for the sugar, and Earth Balance instead of butter!
Mixed Berry Grunts
1 pint of strawberries (about 2 cups)
2 cups Blackberries (or blueberries or raspberries)
1/2 cup sugar
1 teaspoon of lemon juice
1 cup flour
1 teaspoon baking powder
1/2 teaspoon salt
1/2 cup milk
2 Tablespoons unsalted butter
In a large saucepan, combine the fruit, sugar and lemon juice. Let sit for about ten minutes so that a sugar starts to form. Next, bring the mixture to a simmer over medium heat and stir it often.
While waiting for the mixture to simmer, combine the flour, baking soda, and salt in a bowl. Next, melt the butter into milk in a tiny saucepan. Add the warm mixture to the dry ingredients and stir into a thick dough.
Scoop heaping tablespoons full of the mixture into the simmering fruit to make dumplings. Then cover with a lid and let simmer for another 20 minutes.
The dumplings should double in size and the fruit should be drenched in a syrup. Serve warm with yummy ice cream on a sticky [March] summer [spring] evening!