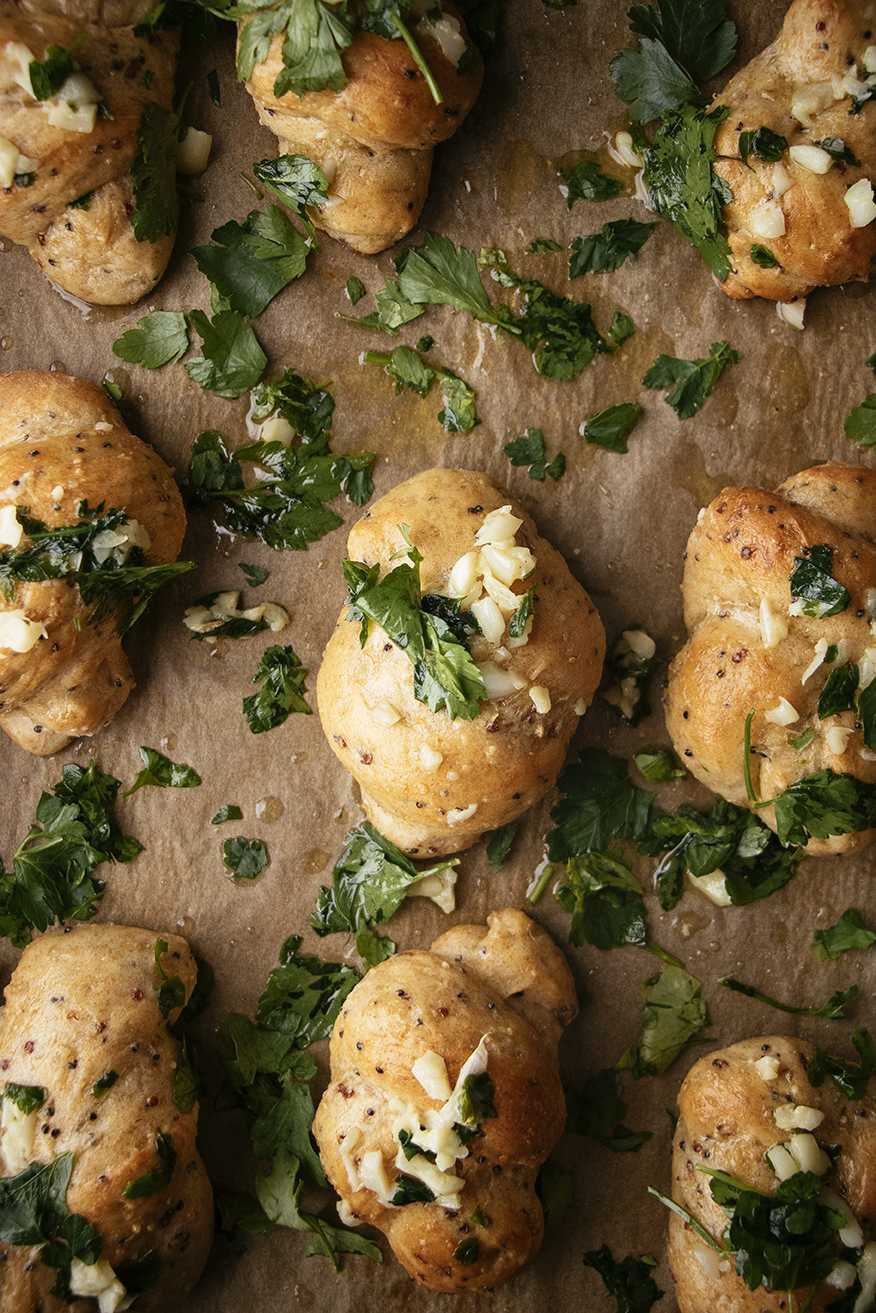 Multi-Grain Knots 2 Ways: Parsley-Garlic & Cinnamon-Whiskey Sugar
In a hurry? Click here to JUMP TO RECIPE!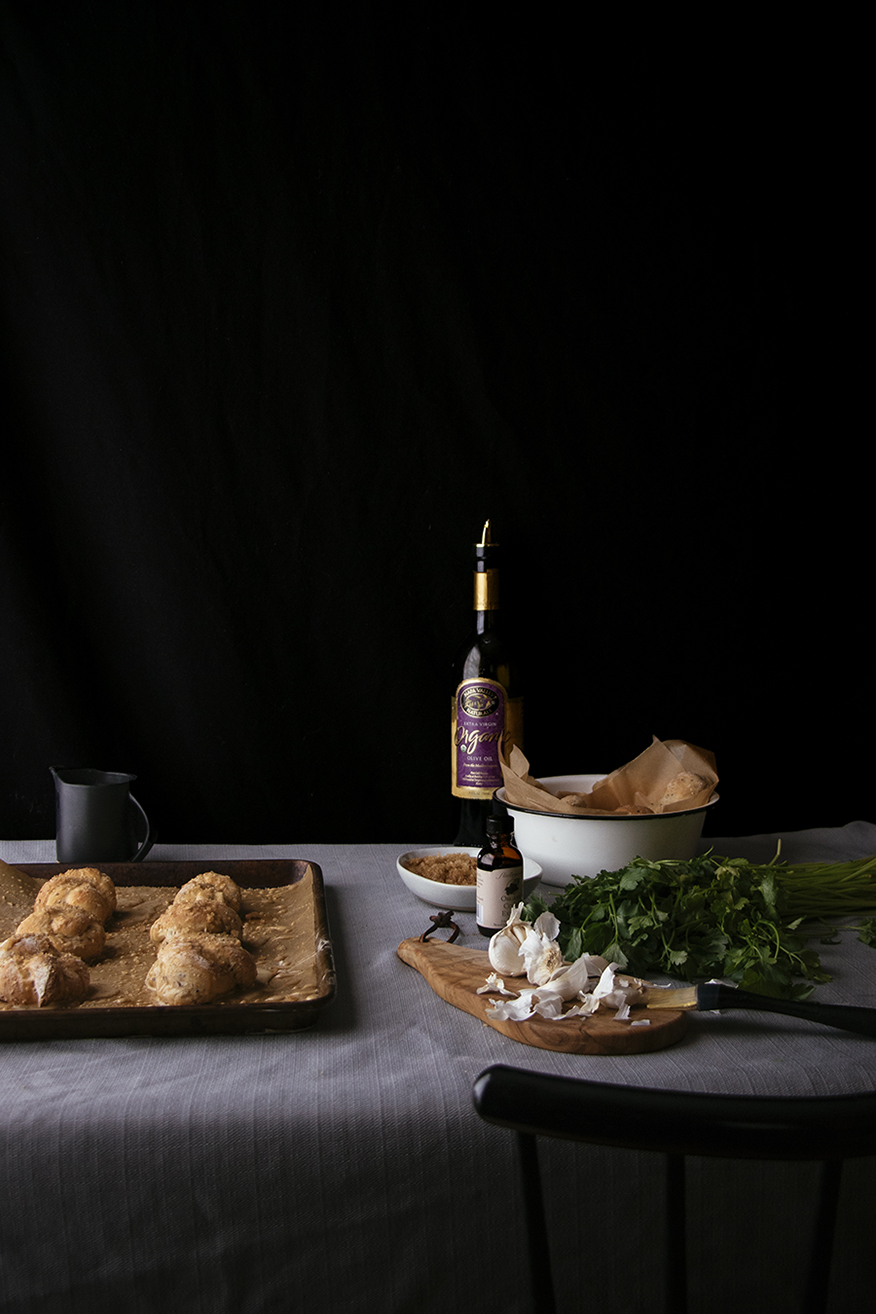 Remember when I used to post about salads and juices and the benefits of food healing? Well those topics feel miles away as this Midwest February demands carbs, alcohol, and anything else that is going to fatten me up and keep me warm. Honestly, if I wasn't so set on turning these into garlic knots and sweet rolls then the bread would have just been fantastic on it's own; I sometimes struggle with my loaves coming out dense  but these were light (despite using whole wheat flour!) with a wonderful crunch on the outside and pillowy soft on the inside.
As you may notice, this post is crowded with photos; I'm trying out something new today. Instead of photoshopping my photos side by side (since my site doesn't allow me to put photos next to each other – grrrr), I just made them all HUGE! The only problem with that is that there are now SO many of them which makes me think that I probably spend way too much time editing photos to begin with and I could have just shown you a finished product shot and been done with this post five hours ago. Ugh, unfortunately that is not how I work – my words aren't usually that inspiring (hey, I know where my strengths and weaknesses are) so I strive to lead with gorgeous photos. Anyhow, I'm sorry if it's crowded – I've already spent all afternoon editing photos so I'll keep it minimal with the words to try and tone down the scrolling. Maybe we'll end up being really into it this way and it will feel less crowded with time? Or maybe I'll go back to the side-by-side photoshop edited photos that look so uninspiring when pinned and awkward when linked to on Facebook. Who knows – we'll see.
The dough for the sweet and savory variations of these knots is exactly the same – a pillowy, grainy bread that is beautifully studded with quinoa and left neutral to allow us to customize. The dough is sticky and it's totally okay – plan to get your clean hands in there to avoid trying to maneuver the sticky dough with a spatula. Also, I am no bread expert but I swear to the pillowy end results due to two factors: use bread flour and don't use a mixer. I realize that both of these factors are nuisances but the extra gluten from the bread flour is so important to the end texture and it must not be ruined with overworking it in the mixer (even with a bread attachment).
After the basic bread recipe is made, I've given you two variations to customize them with. I'd like to think these are the perfect feast for a chilly movie night that brings your frozen pizza to the next level. Why JUST have a frozen pizza when you could have garlic knots with it and then also a few sweet knots at the end for dessert? It's the perfect Saturday night treat when you've been hiding all day from a snow storm or the polar vortex / Siberian Express / whatever they are calling these below zero temperature tantrums these days.
The first variation for this bread is a sweet one; we've created a cinnamon-whiskey sugar that is glued to the top of the knots by a coffee glaze. It's sweet – like woah, this is heavenly and also going to give me a crazy sugar high, sweet but it's totally worth it. The bread has a neutral flavor to it which helps counter the intensely sweet topping. If you want to tone it down (not sure why you'd want that but whatever), you could just use a little melted butter to help the sugar stick and avoid the glaze altogether. Your choice but I wouldn't recommend it.
The second variation is a more traditional knot; garlicy-parsley knots with an extra dose of butter for the glaze. They were comforting and best enjoyed warm. There is a pizza joint in the town I grew up in that had legendary garlic knots – the pizza was so-so but you'd come out with butter dripping from your hands and your breath smelling of garlic for the next three days. These knots were inspired by those: these aren't quite as intense but they are as close as I'll probably ever get to those soft garlic twists.
Multi-Grain Knots 2 Ways: Parsley-Garlic & Cinnamon-Whiskey Sugar recipes below: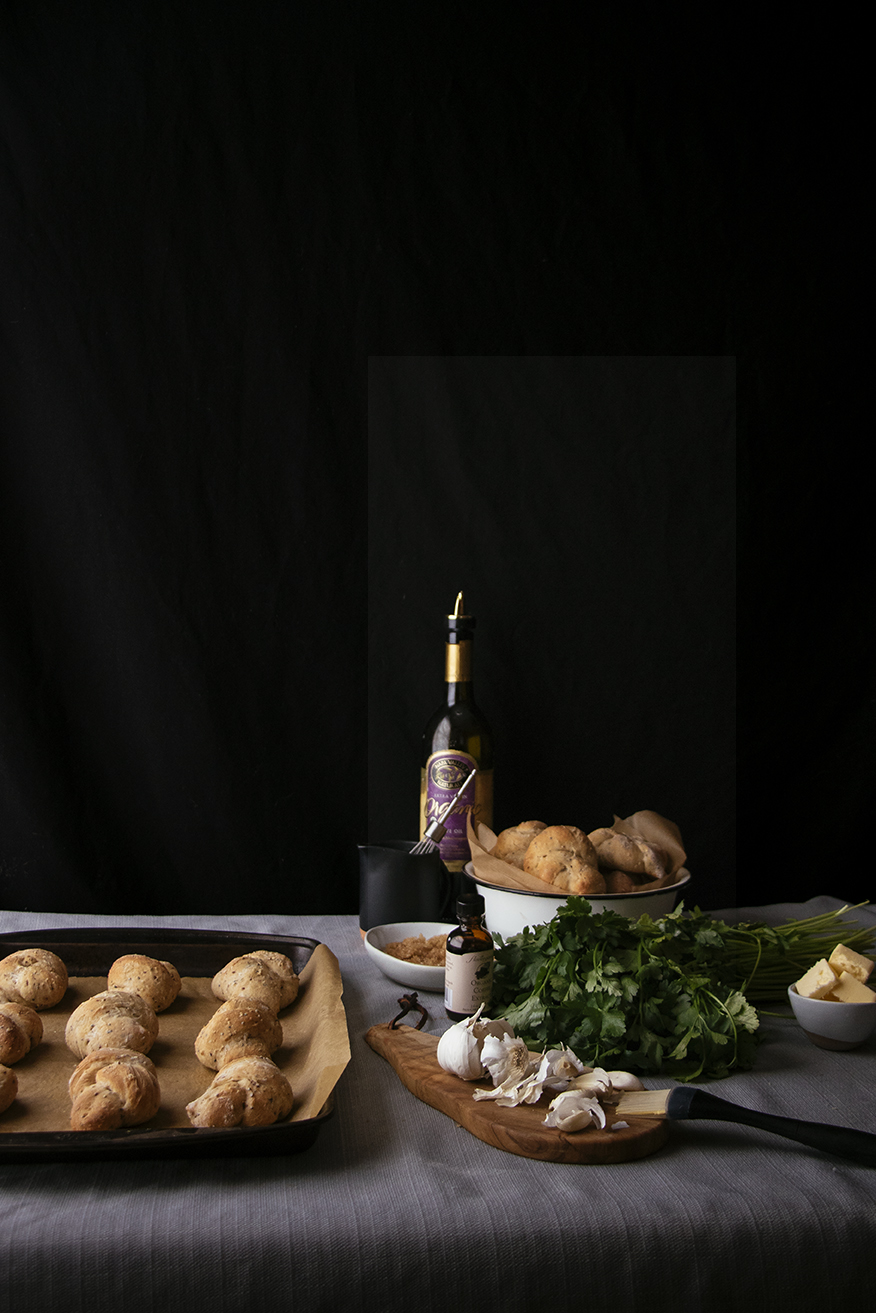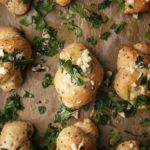 Multi-Grain Knots 2 Ways: Parsley-Garlic & Cinnamon-Whiskey Sugar
Two takes on the traditional breaded knot: a buttery parsley-garlic version and a sweet cinnamon sugar. Both are sure to cure all your carb cravings!
Ingredients
For the multi-grain knots:
1/3

cup

quinoa

, rinsed

1/3

cup

oats

(not instant)

1 1/2

warm water

(preferably around 100 degrees)

2 1/4

teaspoons

yeast

(one packet)

1

cup

whole wheat flour

2

cups

bread flour

1

teaspoons

salt

1

Tablespoon

olive oil

(+ more for greasing the bowl)
For the Parsley-Garlic topping:
4

– 6 Tablespoons butter

(depending on how buttery you want them)

4

garlic cloves

, minced

1/4

cup

chopped parsley

For the Cinnamon-Whiskey Sugar topping:

1/2

cup

turbinado sugar

1

Tablespoon

whiskey

1

Tablespoon

cinnamon

1

cup

powdered sugar

2

teaspoons

coffee extract

(you can substitute strong brewed coffee here but the flavor won't be as intense)

~ 1 teaspoon milk

(more if needed)
Instructions
If making the sweet knots, start by heating the oven to 150 degrees and lining a baking sheet with parchment paper. Combine the tubrinado sugar and whiskey and transfer to the baking sheet. Spread as thin as possible on the sheet and stick in the oven for at least an hour to dry out. If you have the time, heat the night before and then let sit in the oven to dry out overnight.

For the knots: Bring the 4 cups of water to a boil in a medium saucepan. Add in the quinoa and oats and let simmer for 10 minutes. Remove from heat and let the oats / quinoa strain for 10 minutes. Pat the cooked oats and quinoa dry with a paper towel to remove any excess water.

In a large mixing bowl, combine the yeast and warm water and let sit for 10 minutes or until there is a layer of foam on the top of the water. Next, add in the flours, salt, and olive oil and mix until a stick dough has formed. Transfer the dough onto a floured surface and knead for five to eight minutes.

Grease the mixing bowl with olive oil and transfer the dough back into it. Cover with a clean dish towel and let rise in a warm area for one hour or until doubled in size.

Once doubled, transfer your dough to a floured surface. Working in two batches, roll the dough into a rectangle that is about 6 by 10 inches. Use a pizza cutter or knife to cut 1 inch thick strips across the short part of the rectangle. Using floured hands, tie a knot into each strip and transfer to a floured baking sheet (you will most likely need 2 baking sheets for all of the knots). Repeat with the rest of the dough until all the dough has been formed into knots. Place a clean towel over the knots and let rise for another 30 minutes.

Preheat oven to 400 degrees. Bake for 20 to 25 minutes, rotating the baking sheet halfway through, or until the knots are golden on top. Remove from oven and let cool slightly.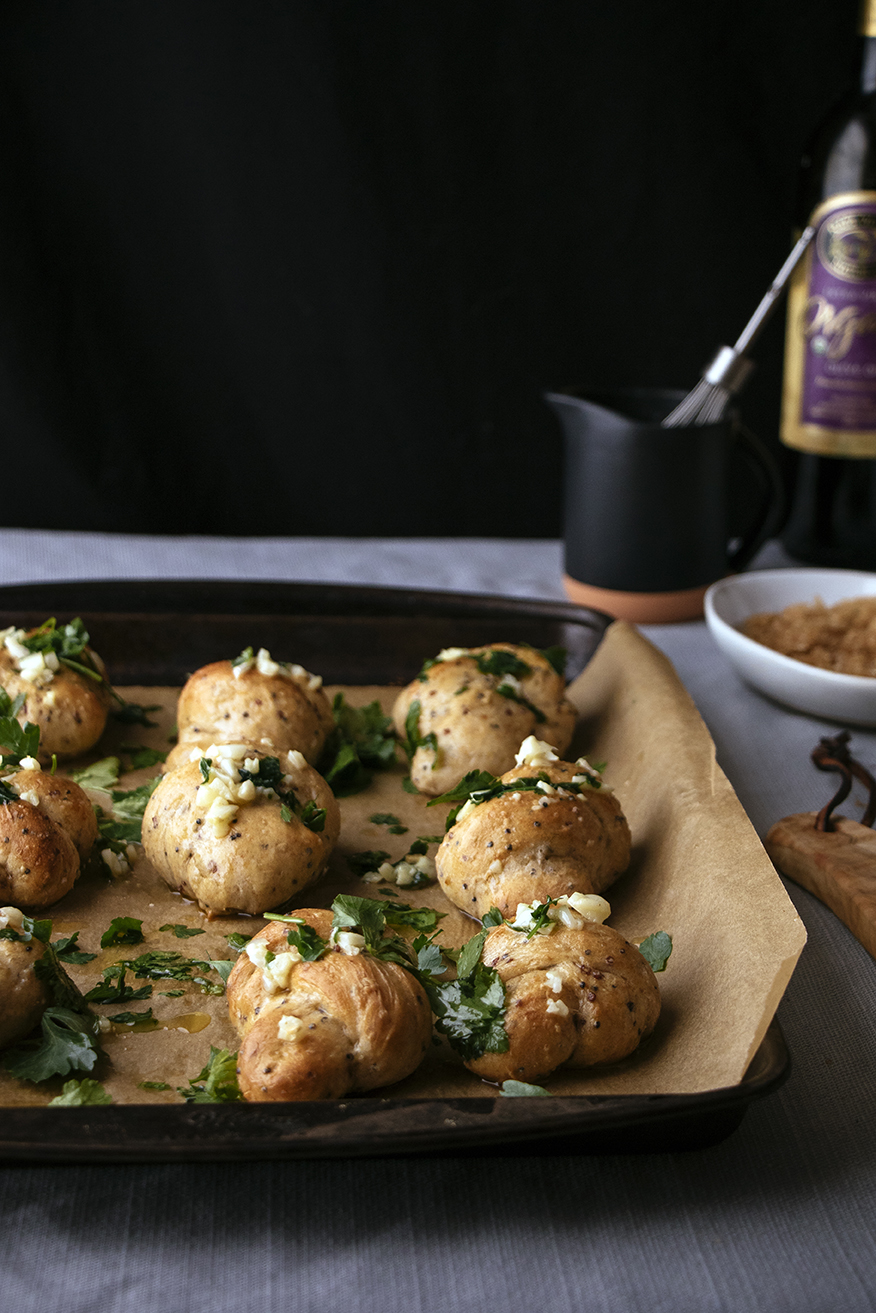 To make the savory topping: Melt butter in a small saucepan over low heat. Once melted, add in the minced garlic and let cook for 5 minutes (don't let the garlic brown – this is just to take the bite out of it). Add in the parsley and cook for a minute more. Remove from heat and divide evenly between a dozen of the knots. Add more shredded parsley for garnish.
To make the sweet topping: Once the whiskey-sugar is dry (see beginning of instructions), toss in the cinnamon until evenly combined. Whisk together the powdered sugar, coffee, extract and milk until a thick glaze as formed (add more milk if it's too thick and more sugar if it's too thin). Drizzle the coffee glaze over a dozen of the knots and sprinkle with the whiskey-sugar. Serve warm.