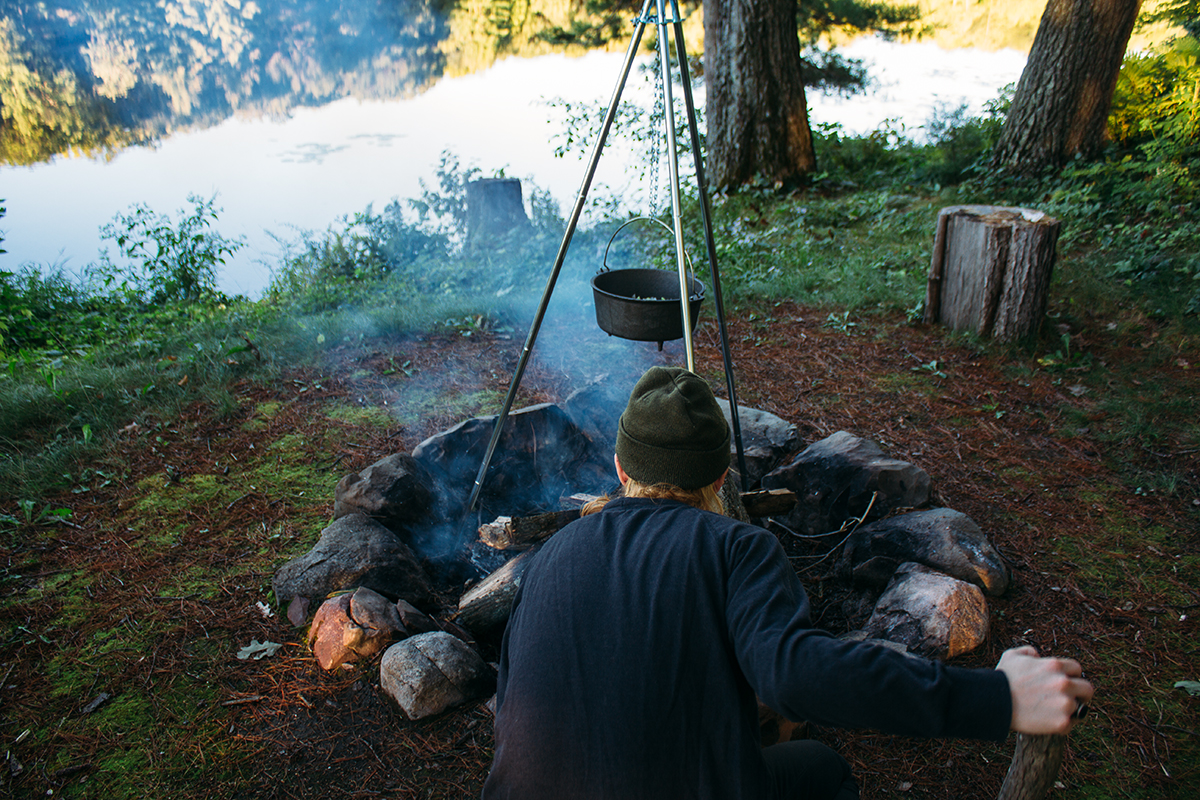 One Pot Veggie Chili Cornbread Casserole Over the Open Fire
For your next camping trip or cookout, whip up this three bean chili with cornbread topping. Vegetarian camping food at its most comforting!
In a hurry? Click here to JUMP TO RECIPE!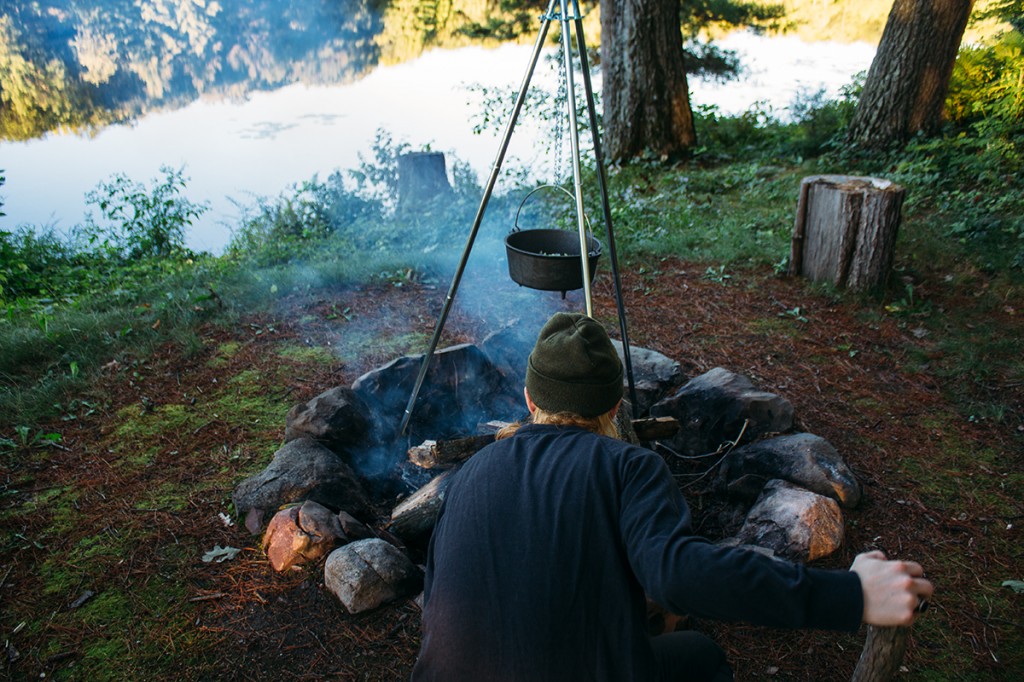 Man, all this talk about getting older, family members passing away, and animal cruelty is exhausting. How about we keep this one light today, cool? Cool, because I'm about to overload you with photos from our trip last month!
People always talk about apple picking this time of year, but what about camping? For some reason, camping gets lumped into summer activities, but have you ever tried to go camping in July? If the heat doesn't eat you alive, then the bugs will. So many people I talk to won't go camping after Labor Day even though this is the best time of year to be outside.
What is better than spending all day hiking around in the woods while the leaves change colors? And what is better than getting a huge fire going to keep you warm in the evenings and to roast your 'mallows over? And what is better than zipping two sleeping bags together so you have to snuggle really close to your significant other to keep warm at night? Not much if you ask me.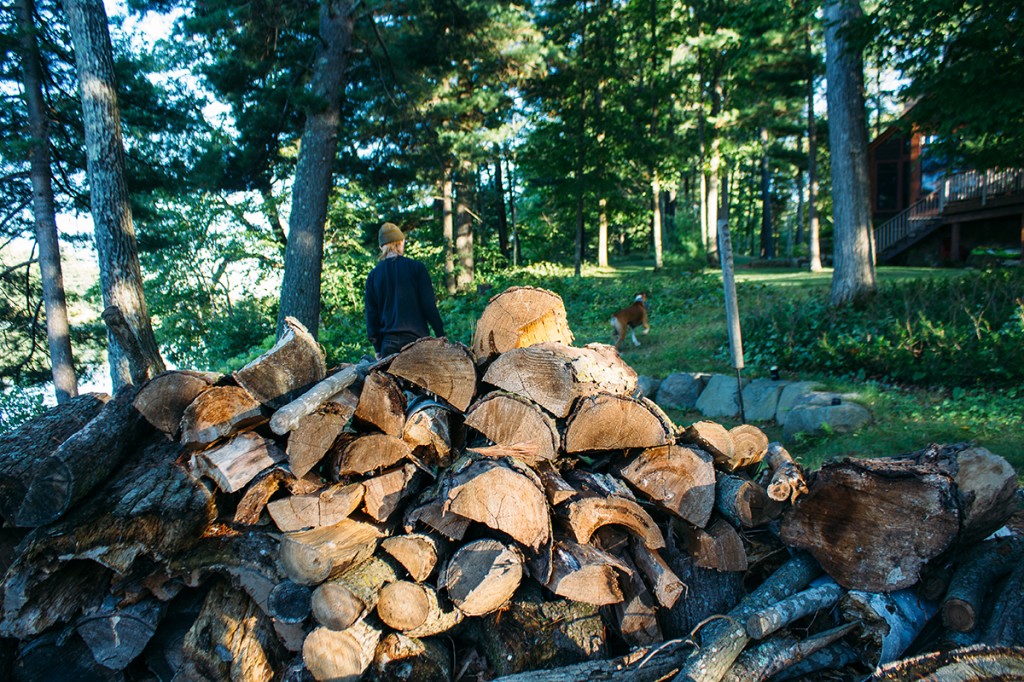 We were staying at a cabin when we whipped up this three bean chili recipe, but it would also be so easy to make out in the woods with a little beforehand prep. Measure out the dry ingredients for the cornbread and stick them in a gallon bag labeled 'cornbread'. You'll then be able to just dump your wet ingredients into the bag and mix it altogether right before throwing over the chili. 
I'd also suggest measuring out the spices for the chili beforehand and sticking in a little baggie. You should be able to pick up a little travel size vegetable broth carton and even a small non-dairy milk carton that won't need to be refrigerated. You can slice the vegetables beforehand if needed or just bring a small knife and find a somewhat clean flat surface to chop them up on.
And finally, camping is fun and meant to be relaxing so don't take the campfire chili recipe too seriously! You don't need to actually measure out 1/4 cup olive oil — just eyeball it! Same goes for most of the other ingredients listed below — chili has a way of being fantastic even if something is off by a teaspoon or two, so no need to be exact.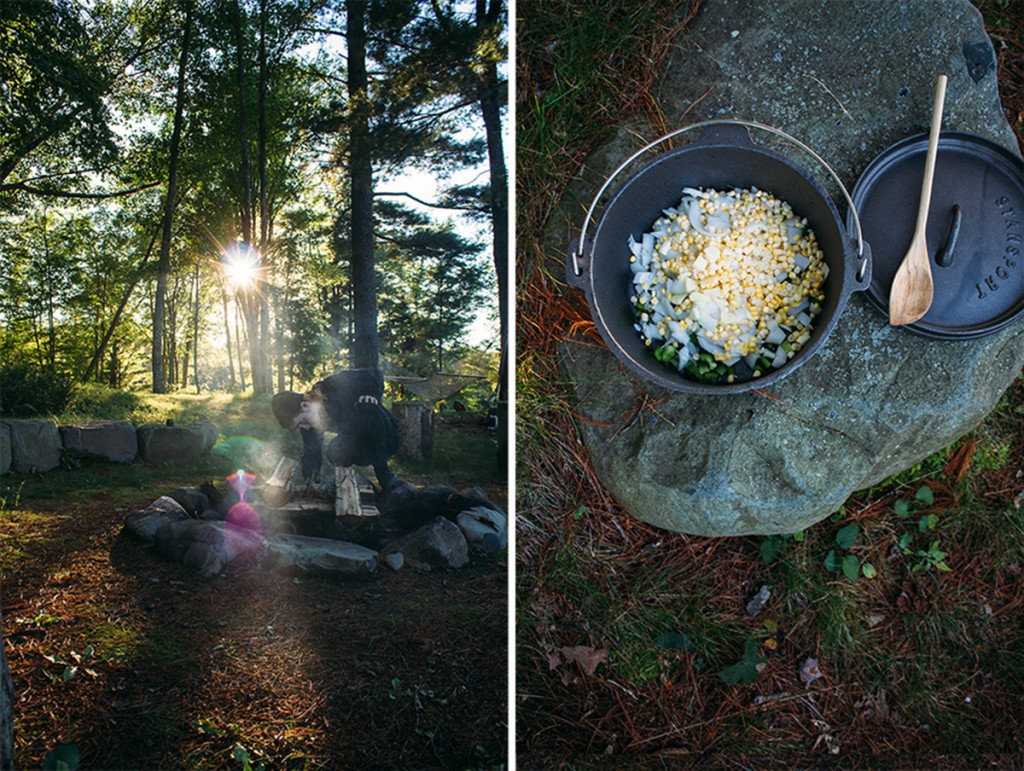 What's Needed for Campfire Three Bean Chili?
This camping chili recipe has two main components: the vegetarian black bean chili itself and the cornbread topping that gets cooked along with it. Here's what you'll need to make this three bean chili with cornbread topping:
Olive oil
Onion
Bell peppers
Garlic
Herbs and spices (chili powder, oregano, cumin, cayenne)
Black beans
Diced tomatoes
Vegetable broth
Salsa
Canned corn
Cornmeal
All-purpose flour
Baking soda
Salt
Butter
Maple syrup
Milk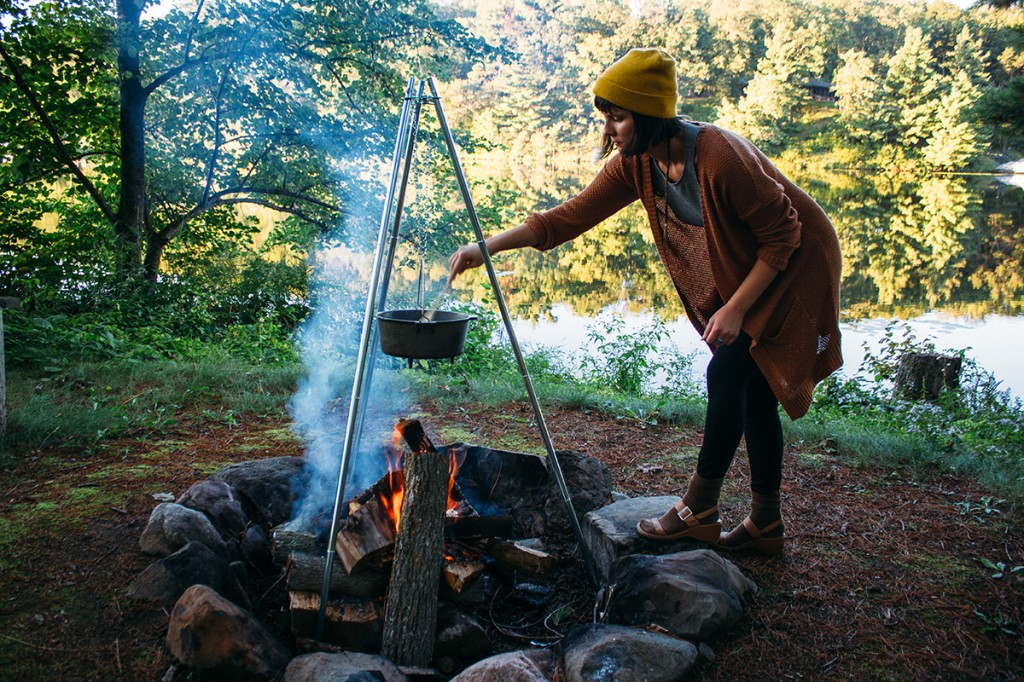 How to Make Chili Over a Campfire
This three bean chili and cornbread comes together easily and requires minimal babysitting. I've included detailed instructions on how to make campfire chili in the recipe card below, but here's an overview of the process:
Place a cast iron pot over your campfire.
Sauté onions, peppers, and garlic until softened.
Mix in the remaining chili ingredients.
In a separate bowl, mix together the cornbread ingredients.
Lightly spread the cornbread batter over the three bean chili.
Cover the pot with a lid and let cook for roughly 20 minutes, or until the cornbread is done.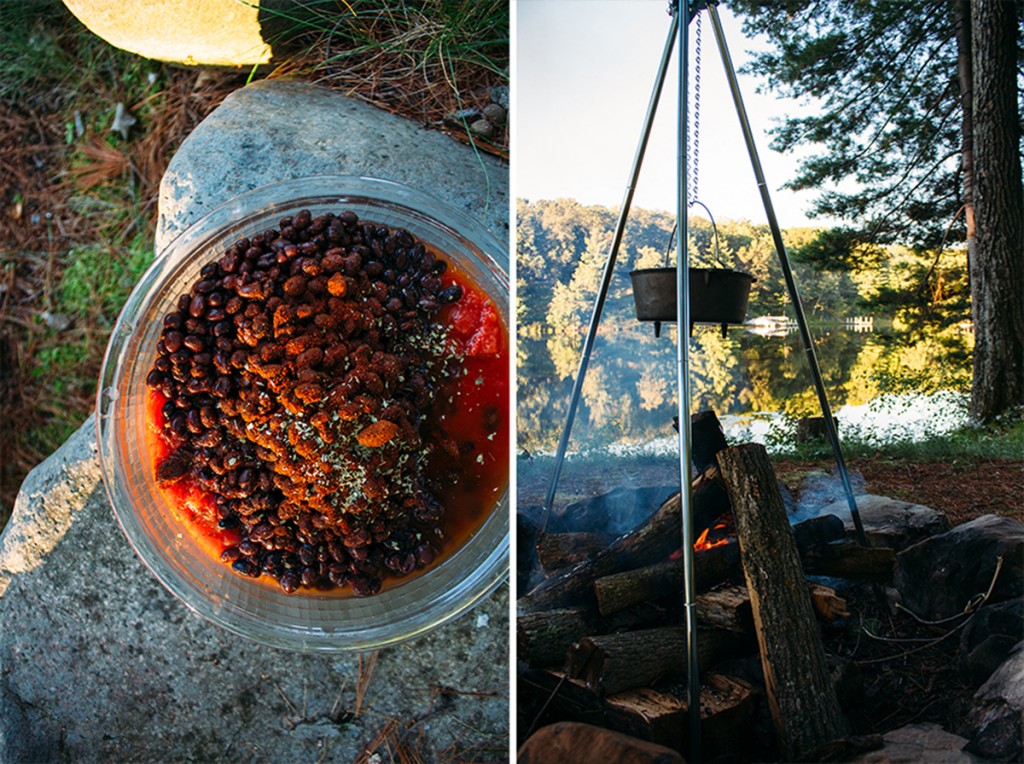 How Will I Know the Cornbread is Done?
You'll know the cornbread topping is finished cooking when it's no longer wet in the middle. It's the same logic you use when baking a cake — if the middle of the cornbread isn't set or looks raw, it's not ready to eat.
Can I Use Different Chili Beans?
Of course! I used three cans of black beans since that's what I had on hand, but you can use any mixture of beans you'd like. Think: kidney beans, black beans, pinto beans, and so on.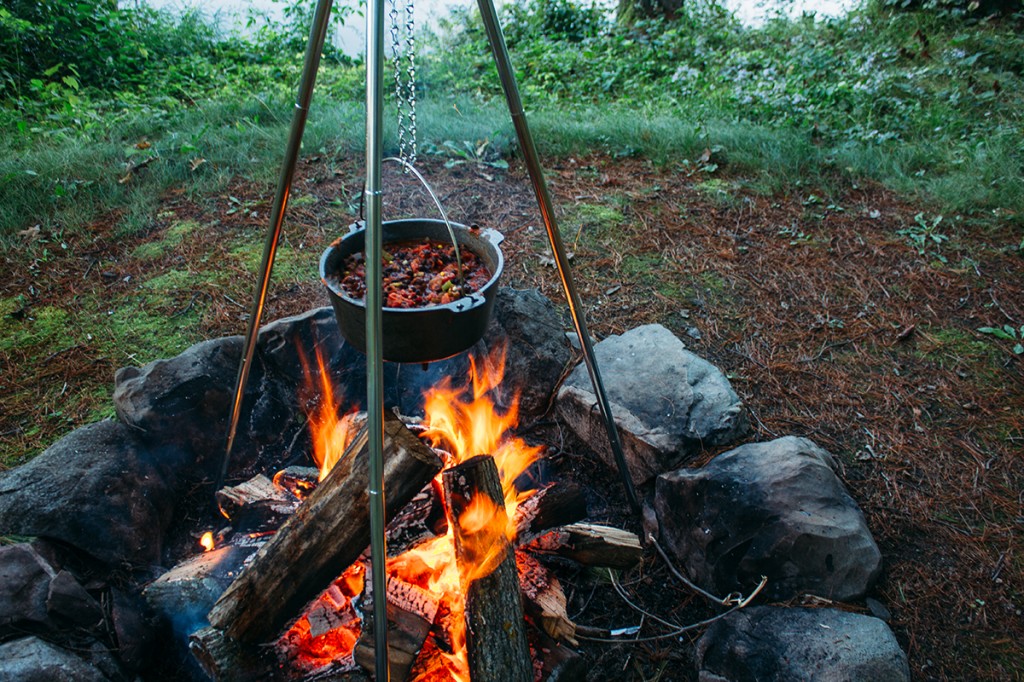 Tips for Making Campfire Chili
Be sure to use a heavy bottomed cast iron pot for this campfire three bean chili with cornbread topping. If you don't use a cast iron pot, your camping chili will likely scorch on the bottom.
If you don't feel like making the cornbread topping, that's totally fine! This recipe makes a delicious vegetarian black bean chili as is!
As I mentioned above, campfire recipes are made even easier when you prep the ingredients beforehand. Mix together all the spices, the cornbread ingredients, etc. so that all you have to do once you're at your campsite is dump everything into the pot.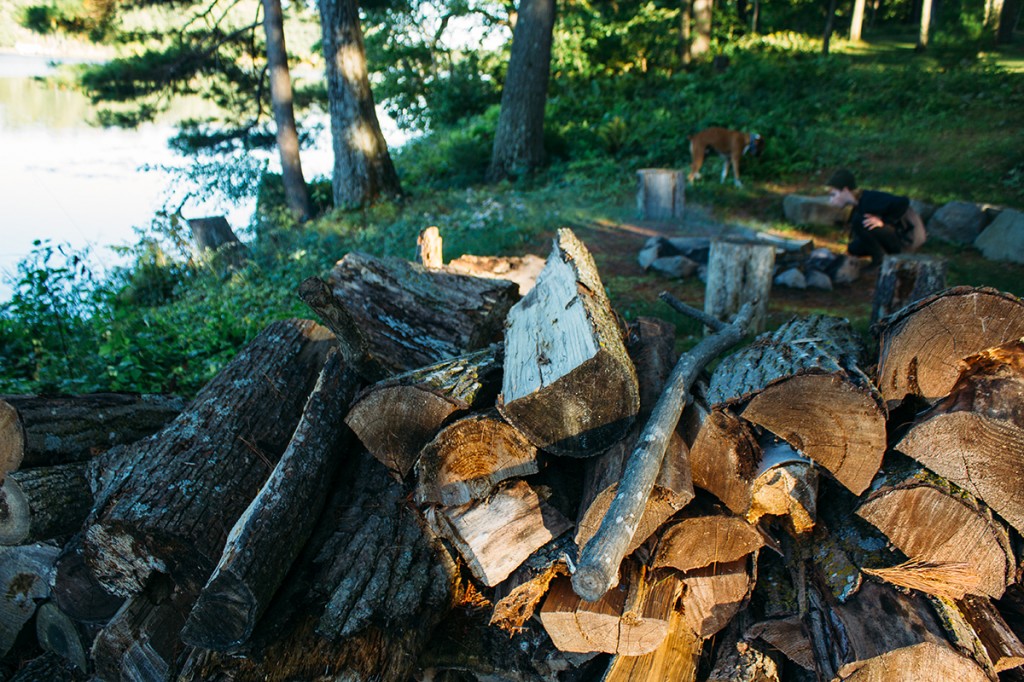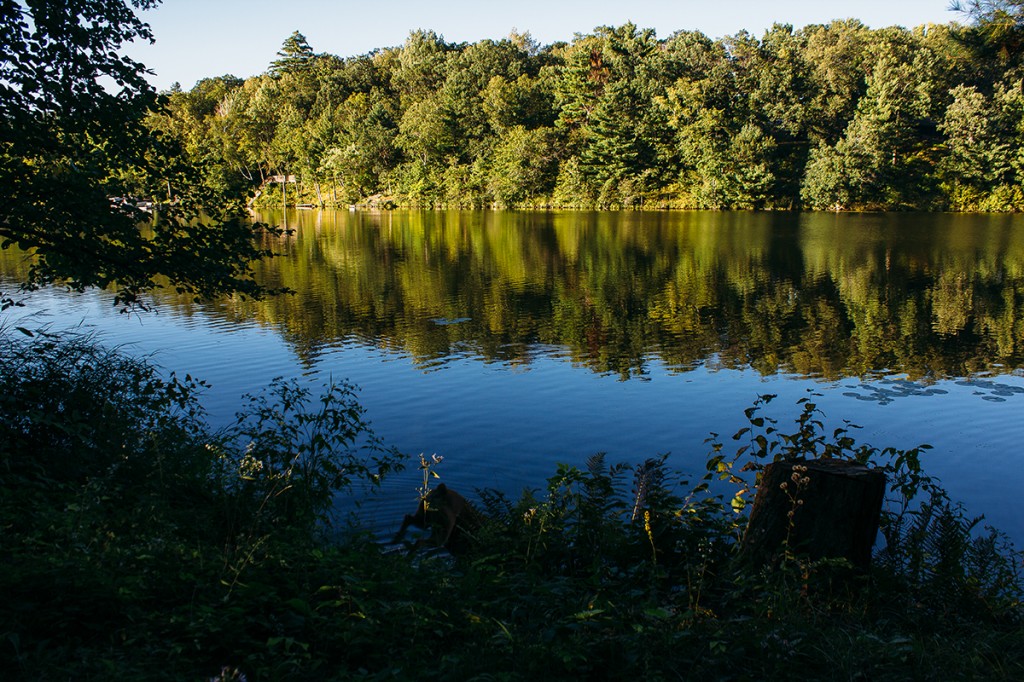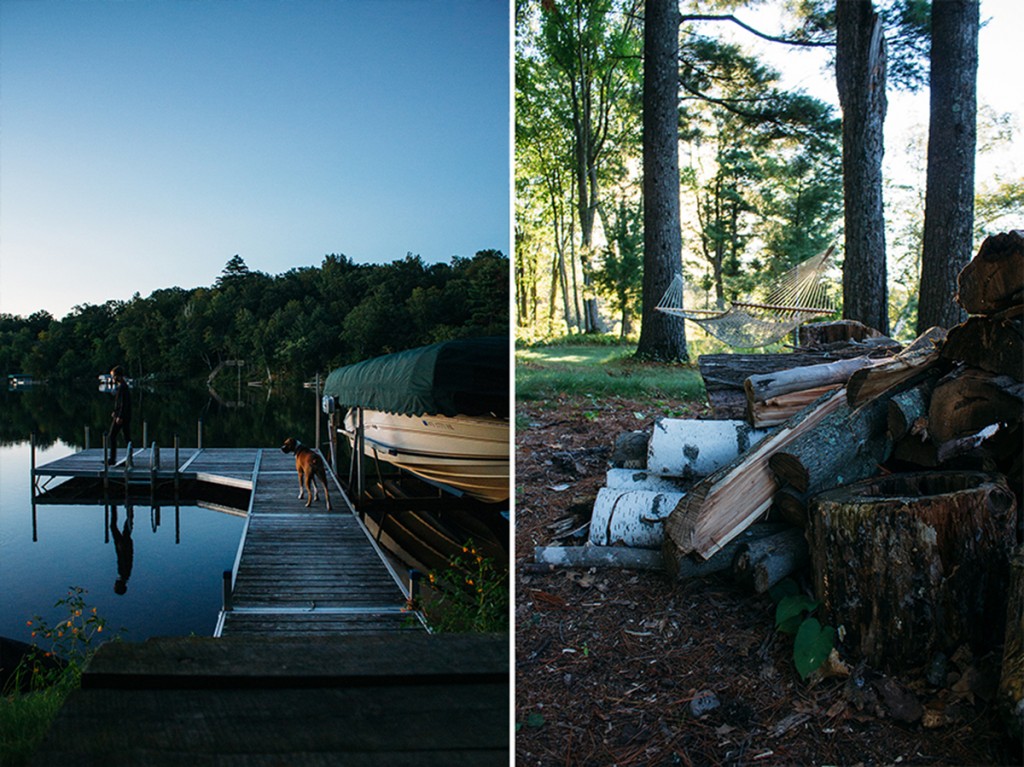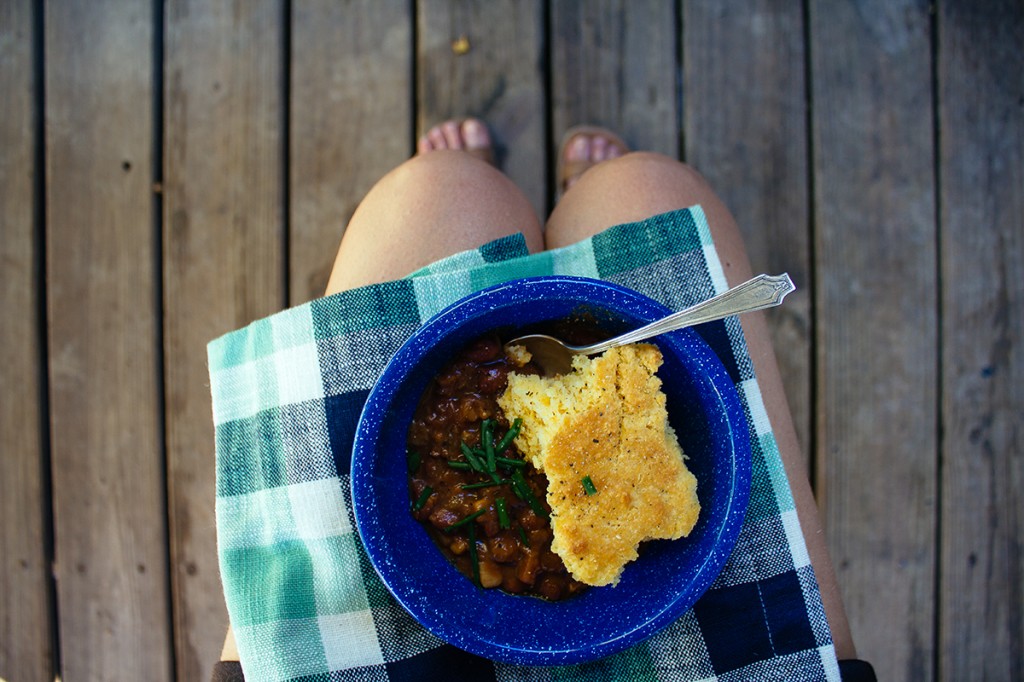 Want More Vegetarian Chili Recipes?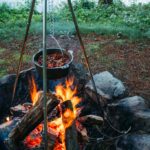 One-Pot Campfire Three Bean Chili with Cornbread Topping
A hearty three bean chili and cornbread recipe that can be made over an open fire in one pot.
Keyword:
chili, cornbread
Ingredients
For the chili:
1/4

cup

olive oil

1

large onion

, chopped

2

bell peppers

, chopped

3

large garlic cloves

, minced (feel free to substitute in 3 teaspoons garlic powder if camping)

2

Tablespoons

chili powder

2

teaspoons

dried oregano

1 1/2

teaspoon

cumin

1/2

teaspoon

cayenne pepper

3- 15

oz

cans black beans

, drained

1-14.5

ounce

can diced tomatoes

1/2

cup

vegetable broth

8

oz

jar salsa

1

can corn

, drained
For the cornbread:
2

cups

cornmeal

1

cup

all-purpose flour

2

teaspoons

baking powder

1

teaspoon

salt

1/3

butter

, melted (or vegetable oil if it's easier for camping since it won't need to be refrigerated)

2

Tablespoons

maple syrup

2

cups

milk

*
Instructions
Place a cast iron pot over your open fire (I used this but some campsites have a grill grate already at the site).

Sauté onions, peppers, and garlic until softened and fragrant (about 5 minutes but it'll all depend on how hot your fire is).

Next, mix in chili powder, cumin, oregano, cayenne, beans, vegetable broth, tomatoes, salsa, and corn. Bring to a boil.

Whisk together the cornmeal, flour, baking powder, and salt in a large bowl.

Make a well in the center of the dry ingredients and pour in the melted butter, maple syrup, and milk.

Slowly whisk together the wet ingredients and then start incorporating the dry ingredients as you whisk until a thick batter as formed.

Lightly spread evenly over the chili mixture to create a cornbread top and cover.

Let simmer for 20 minutes (but check often as fires are unpredictable and could cook faster or sooner).

Remove from heat once the cornbread is cooked all the way through and enjoy!
Recipe Notes
*I suggest getting a non-dairy travel size milk carton if camping since it doesn't have to be refrigerated.