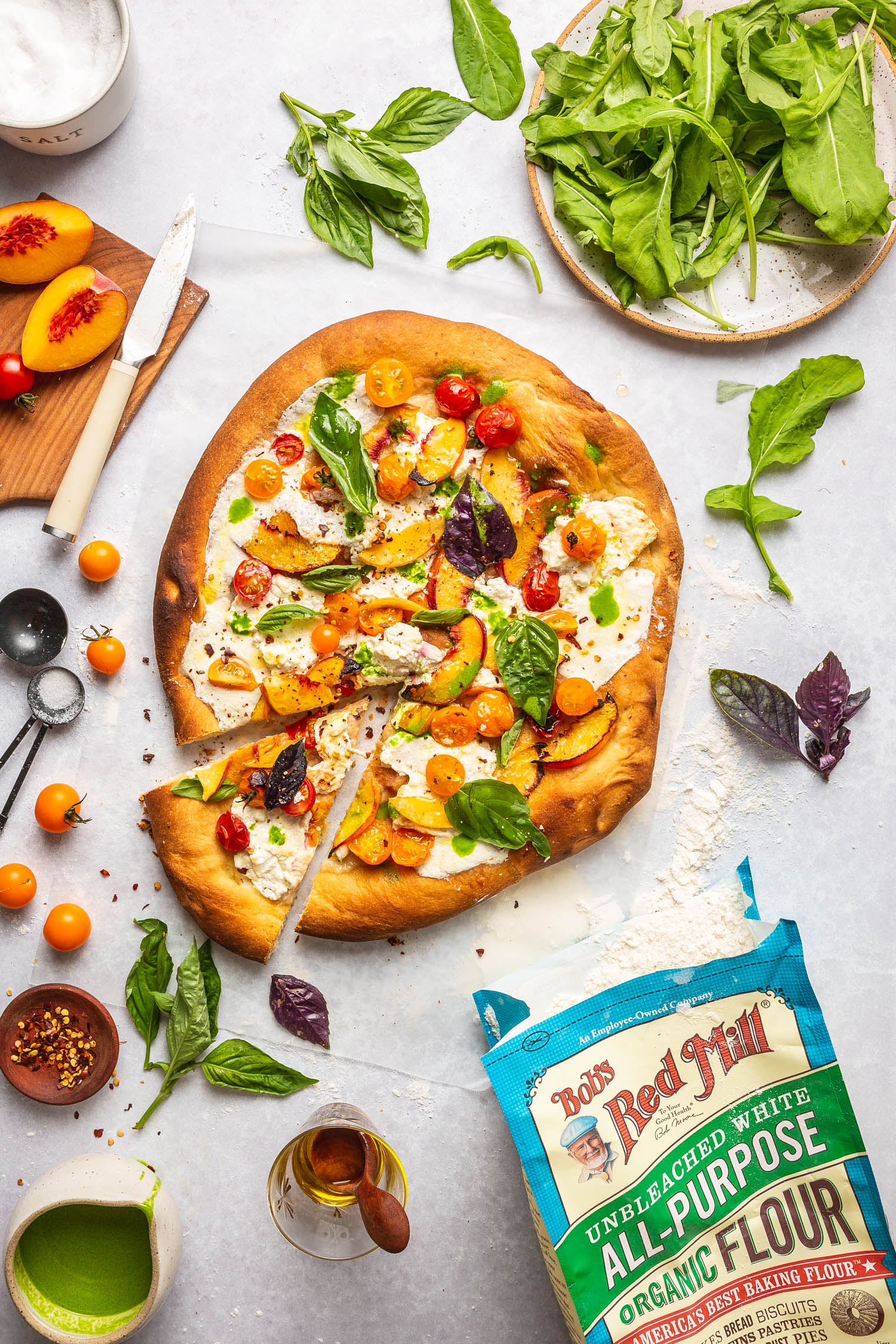 Peach Burrata & Tomato Pizza
This Peach Burrata & Tomato Pizza is the ideal summer pizza pie. The sweet peaches compliment acidic tomatoes and creamy burrata perfectly for an addictive flavor combo.
This is a sponsored conversation written by me on behalf of Bob's Red Mill. The opinions and text are all mine. Thank you for supporting the brands that make VV possible.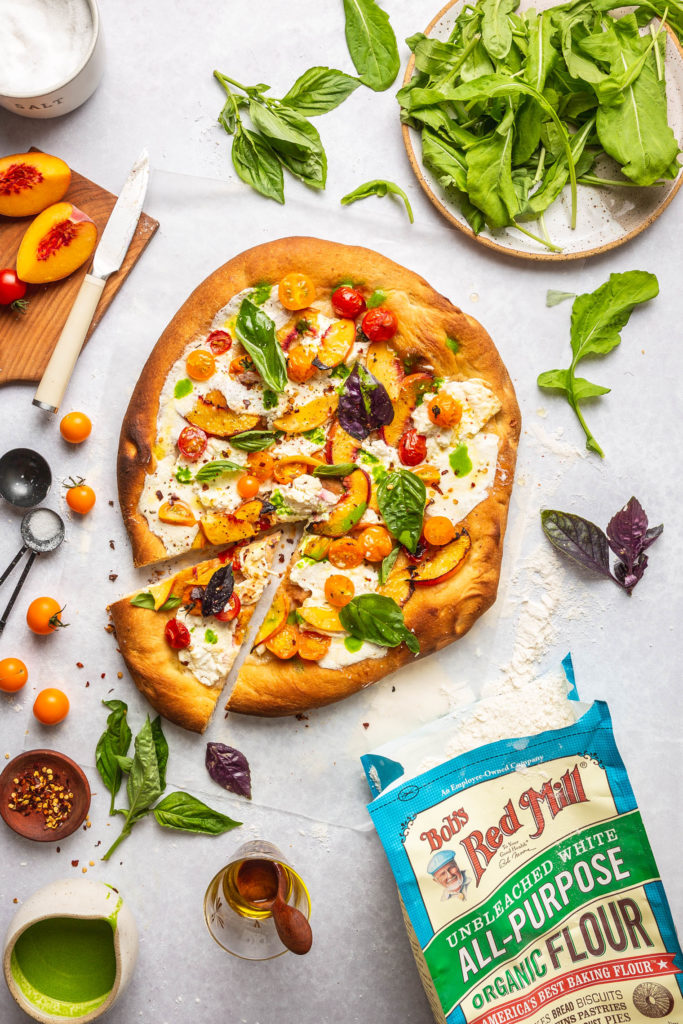 It feels like every year I become obsessed with a new fruit (last year was most certainly blueberries and I have the posts to prove it) and this year is hands down peaches. A few weeks back, I snagged a 25 pound box of them from the Peach truck and have been devouring them every since.
I decided to make this Peach Burrata & Tomato pizza because my love for peaches and tomatoes together runs deep – the sweetness from the peaches seem to bring out the fresh acidity of tomatoes and it's by far one of the best summer flavor combinations in existence. Add some creamy burrata and pungent fresh basil and we are well on our way to the best summer pizza ever.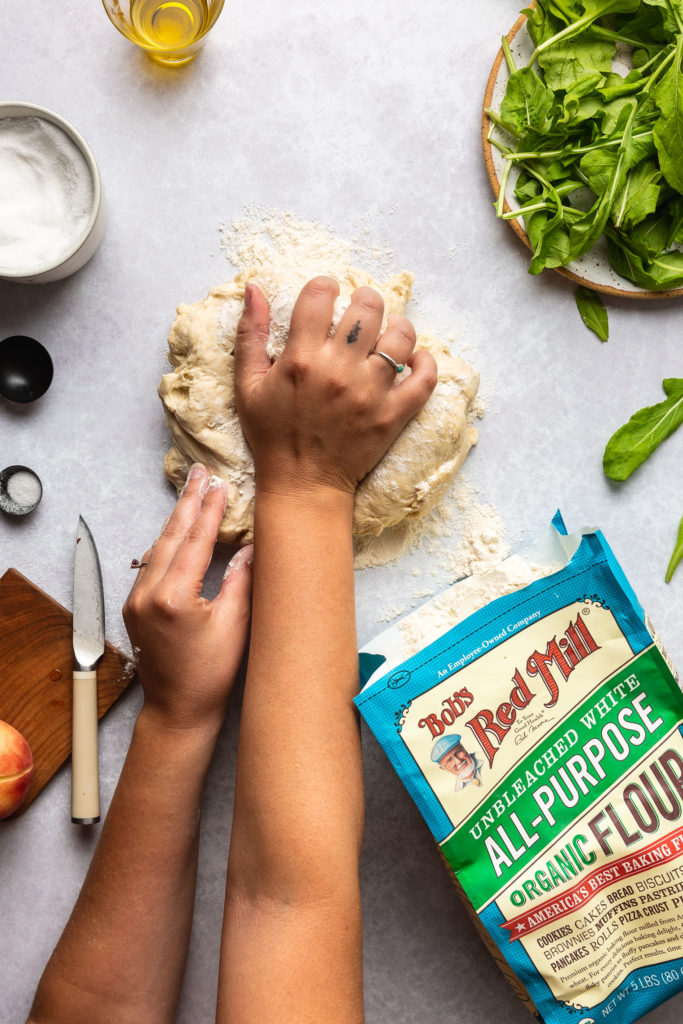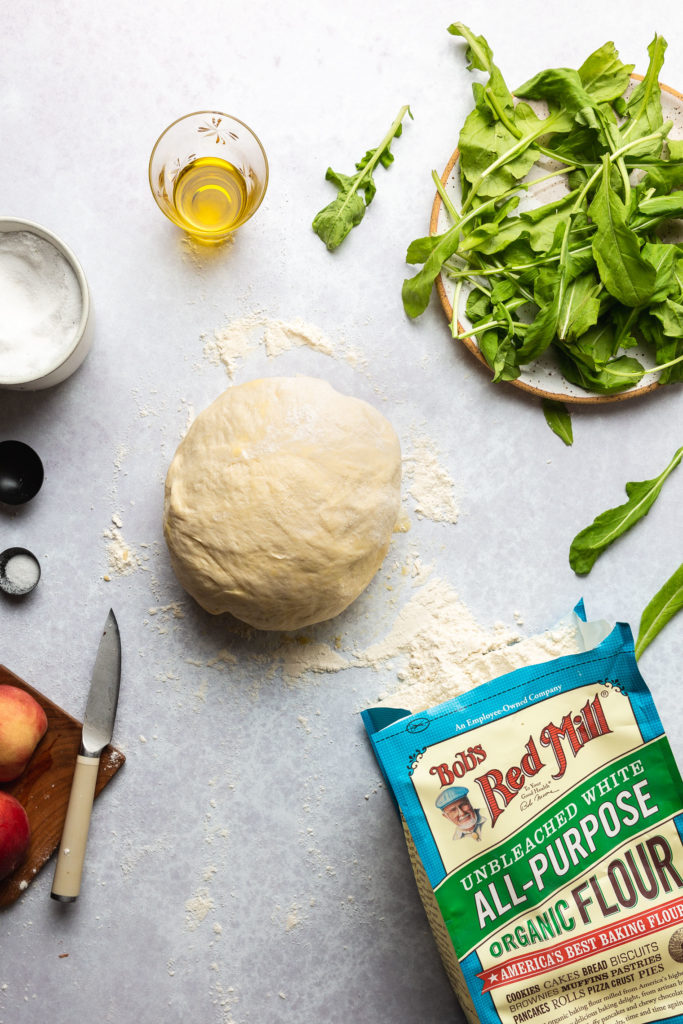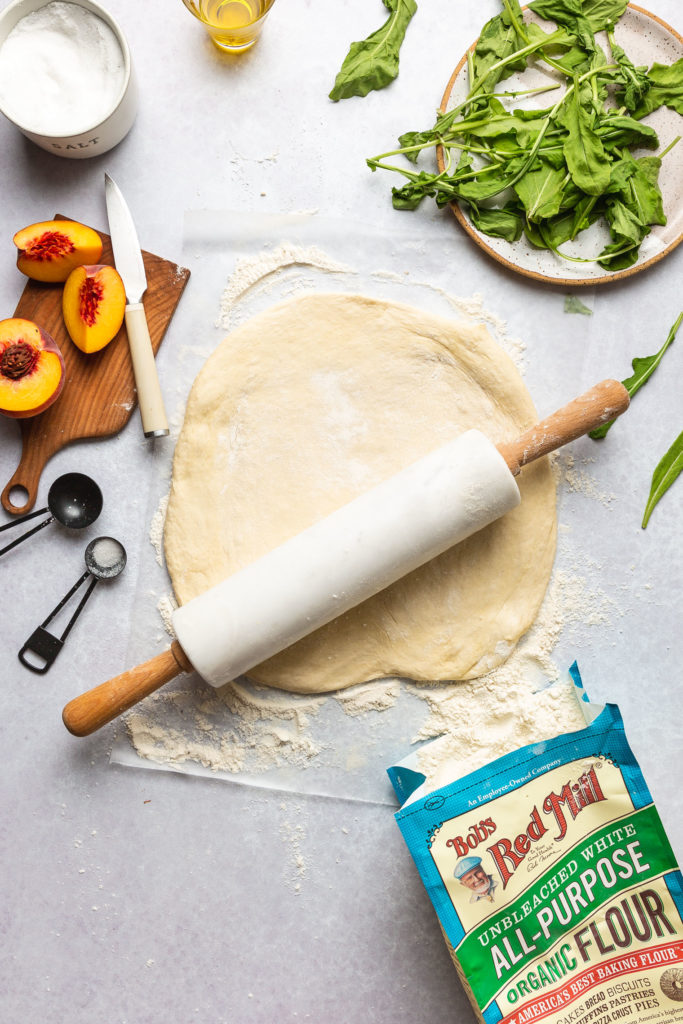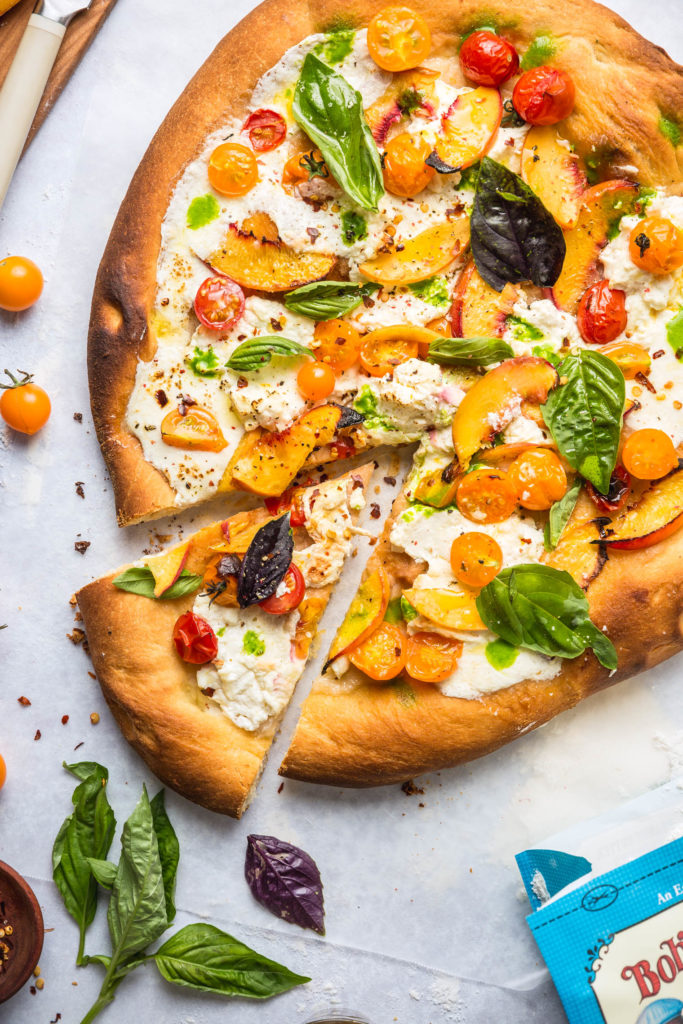 To make the pizza crust, I used Bob's Red Mill all-purpose flour because I wanted the crust to be on the chewier side and a little bit spongy. If you wanted a crispier crust, it may make sense to use bread flour instead. The pizza is cooked at a very high temperature (ideally on a pizza stone if you have it) so the edges get browned and the toppings crispy while the center stays soft (but not soggy! No one likes soggy pizza!).
A little extra touch for this pie is to finish it off with a drizzle of arugula oil. It sounds fancy but requires zero cooking and can be made while you wait for the dough to rise. But don't worry, if you don't feel like dirtying up a few extra dishes (I get it) then this pizza will be fine without it and I won't be too offended (hopefully).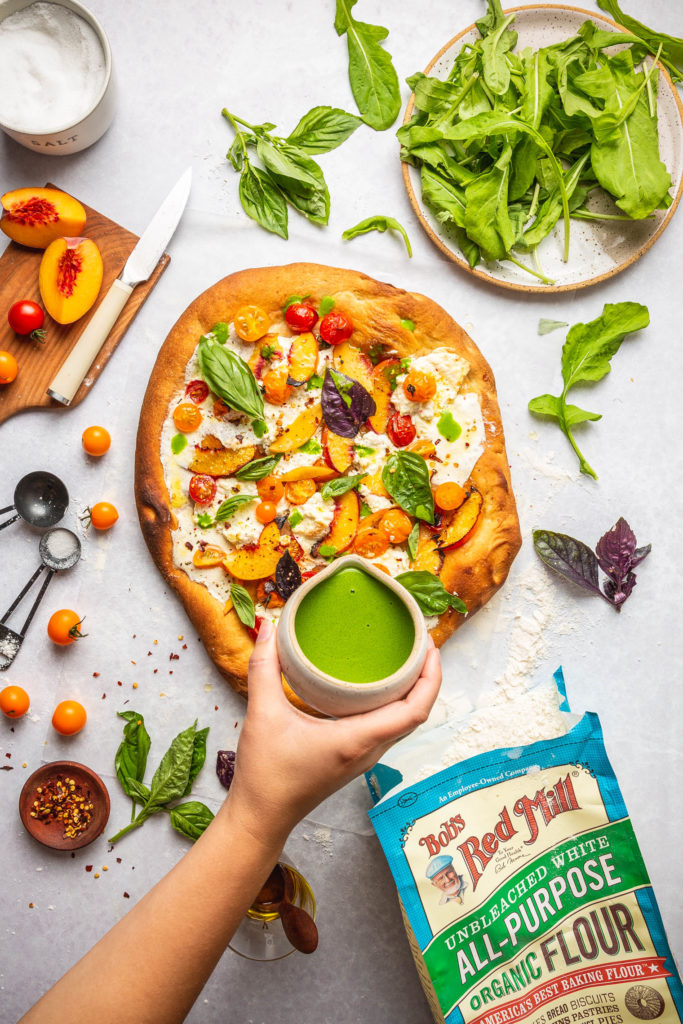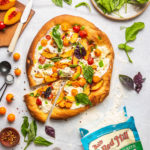 Peach Burrata & Tomato Pizza
This Peach Burrata & Tomato Pizza is the ideal summer pizza pie. The sweet peaches compliment acidic tomatoes and creamy burrata perfectly for an addictive flavor combo.
Ingredients
For the crust:
1

tsp

sugar

2 1/4

tsp

instant dry yeast

1 1/2

cups

warm water (110 degrees)

divided

3 1/2 – 4

cups

Bob's Red Mill All-Purpse Flour

2

tsp

kosher salt

3

Tbsp

olive oil

divided
For the toppings:
8

ounces

burrata

1

peach

thinly sliced

2

cups

cherry tomatoes

handful of basil

red pepper flakes

optional
For the arugula oil:
1

cup

fresh arugula

1/2

cup

olive oil
Instructions
For the dough: In a stand mixer bowl fitted with a dough attachment, add sugar, yeast, and 1/2 cup warm water. Let sit for five minute or until the yeast has bubbled.


Add Bob's Red Mill all-purpose flour (starting with 3 1/2 cups and adding more if the dough looks dry when kneading) and salt and mix on medium. With the stand mixer running, pour in remaining water and 2 Tbsp olive oil. Turn the mixer up to medium-high and let knead for 5 minutes or until a smooth dough ball has formed. Remove from bowl.


Coat the bowl with the remaining 1 Tbsp olive oil, add dough back to bowl, and cover with a clean towel or plastic wrap. Let rise in a warm place until doubled in size, about one hour.


Turn dough onto lightly floured surface and divide in two. Cover with clean kitchen towel and let rest while oven preheats.


Preheat oven to 500 degrees and place pizza stone in middle of oven.


For the arugula oil: Meanwhile, create a ice bath by placing ice cubes in a medium bowl with water. Bring water to a boil in a small saucepan. Add arugula and blanch for 1 minutes and then transfer to ice bath. Transfer to a blender and blend with 1/2 cup olive oil. Strain through a fine mesh strainer and set aside.

Transfer dough back to your lightly floured surface and roll out into a circular pizza slightly smaller than your pizza stone. Transfer to the hot pizza stone (being careful not to burn yourself!) and bake for 10 minutes.


Then top the pizza with half of the burrata, tomatoes, peach slices and a drizzle of olive oil and let it continue to bake for another 3-4 minutes or until the tomatoes have burst and the peaches are starting to get dark around the edges. Remove pizza from oven and top with basil, red pepper flakes (if using), and arugula oil.


Repeat with the remaining dough and toppings. Serve right away.