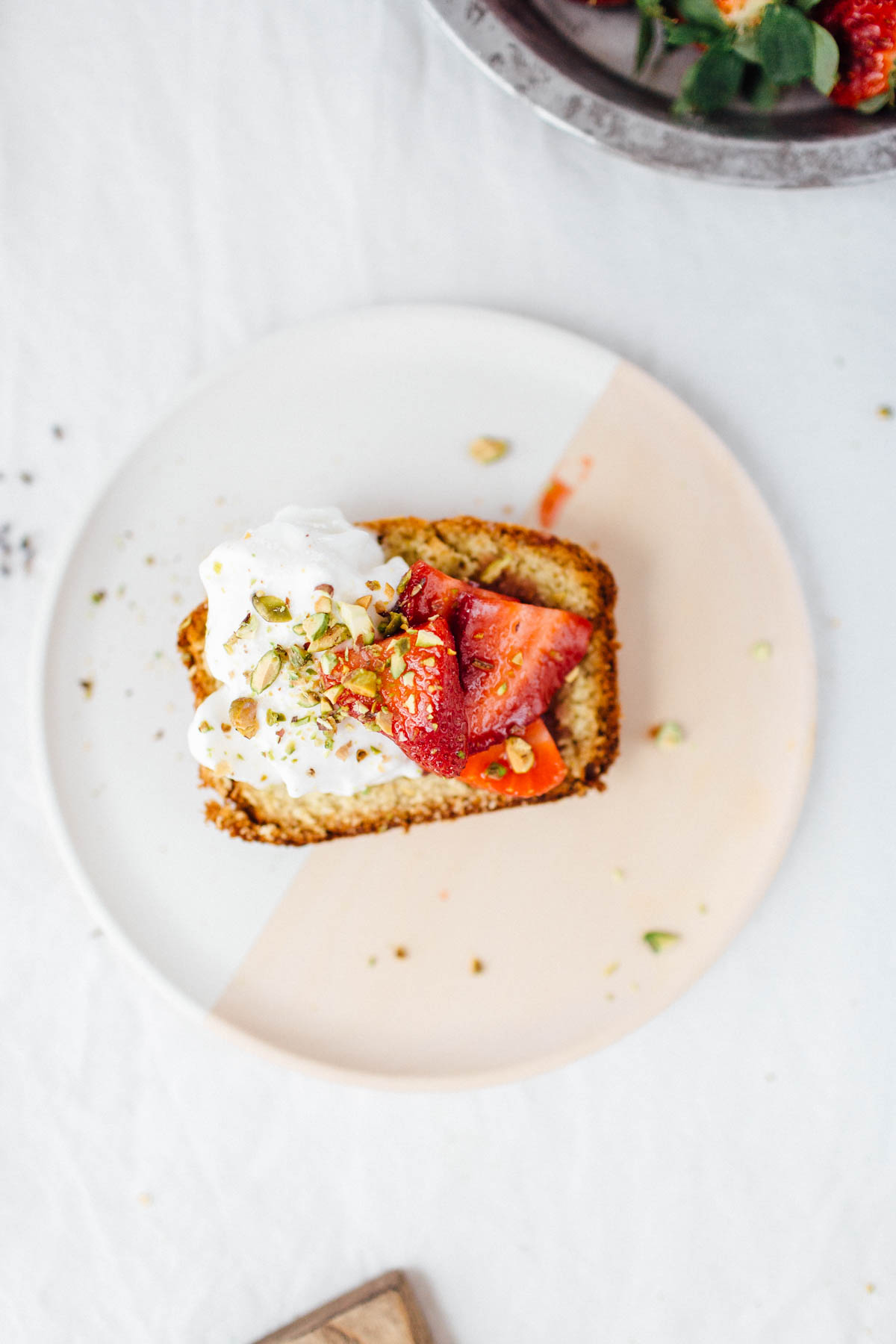 Pistachio Pound Cake with Strawberries in Lavender Sugar
In a hurry? Click here to JUMP TO RECIPE!
This Pistachio Pound Cake with Strawberries in Lavender Sugar is the perfect simple, floral dessert to whip up as soon as the first berries of the season hit.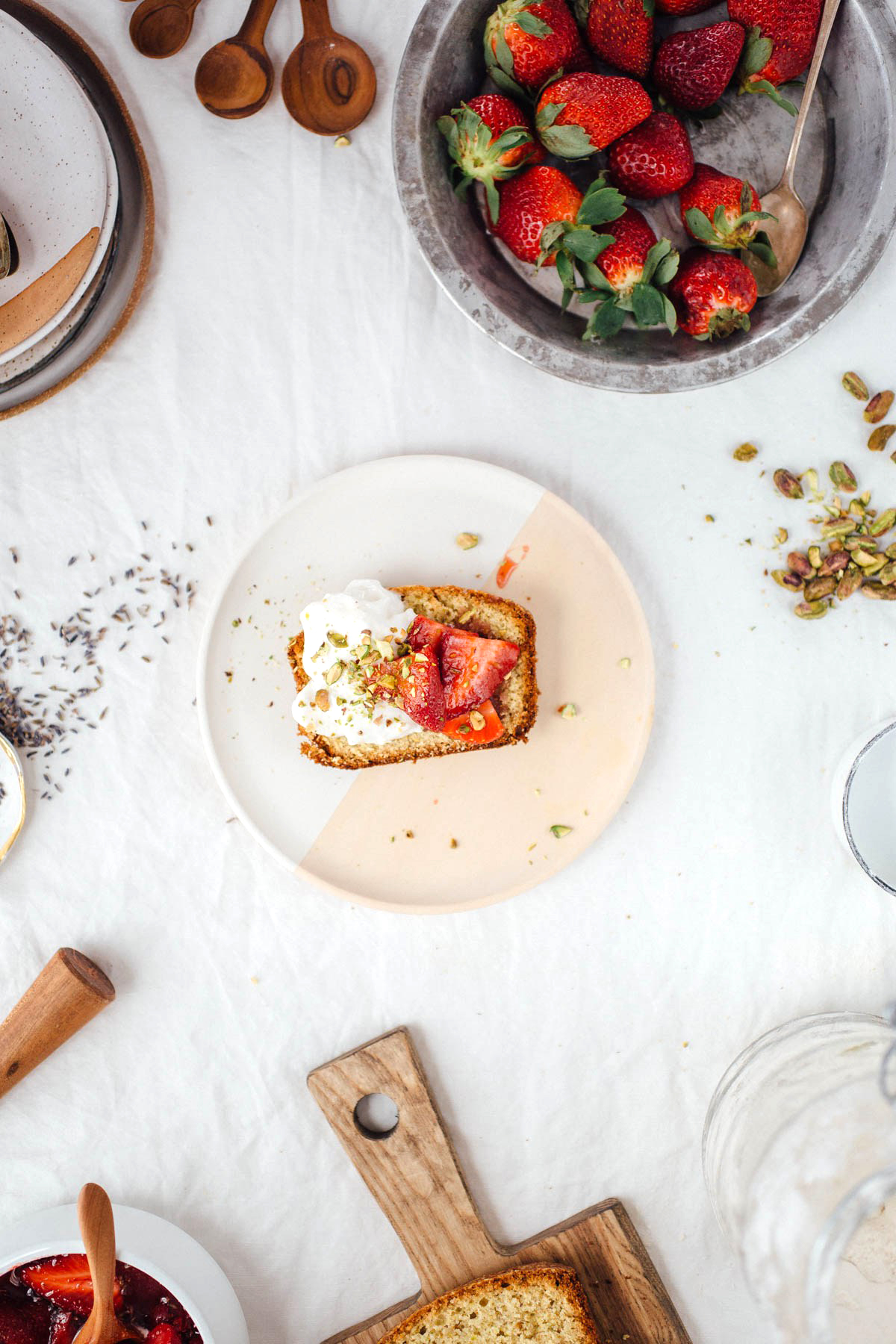 All I could think about when whipping up this cake was my favorite Beyoncé lyric I always jokingly yell at Wyatt when I'm feeling extra sassy, You wish I was your poundcake. To say I made this cake purely based off of getting a Beyoncé song stuck in my head after seeing the recipe might be 100% true. I'll even admit that the styling was inspired by Queen B herself with it's modern minimalist plate and punchy contrast. If this recipe was a Beyoncé song, it was most certainly be Flawless.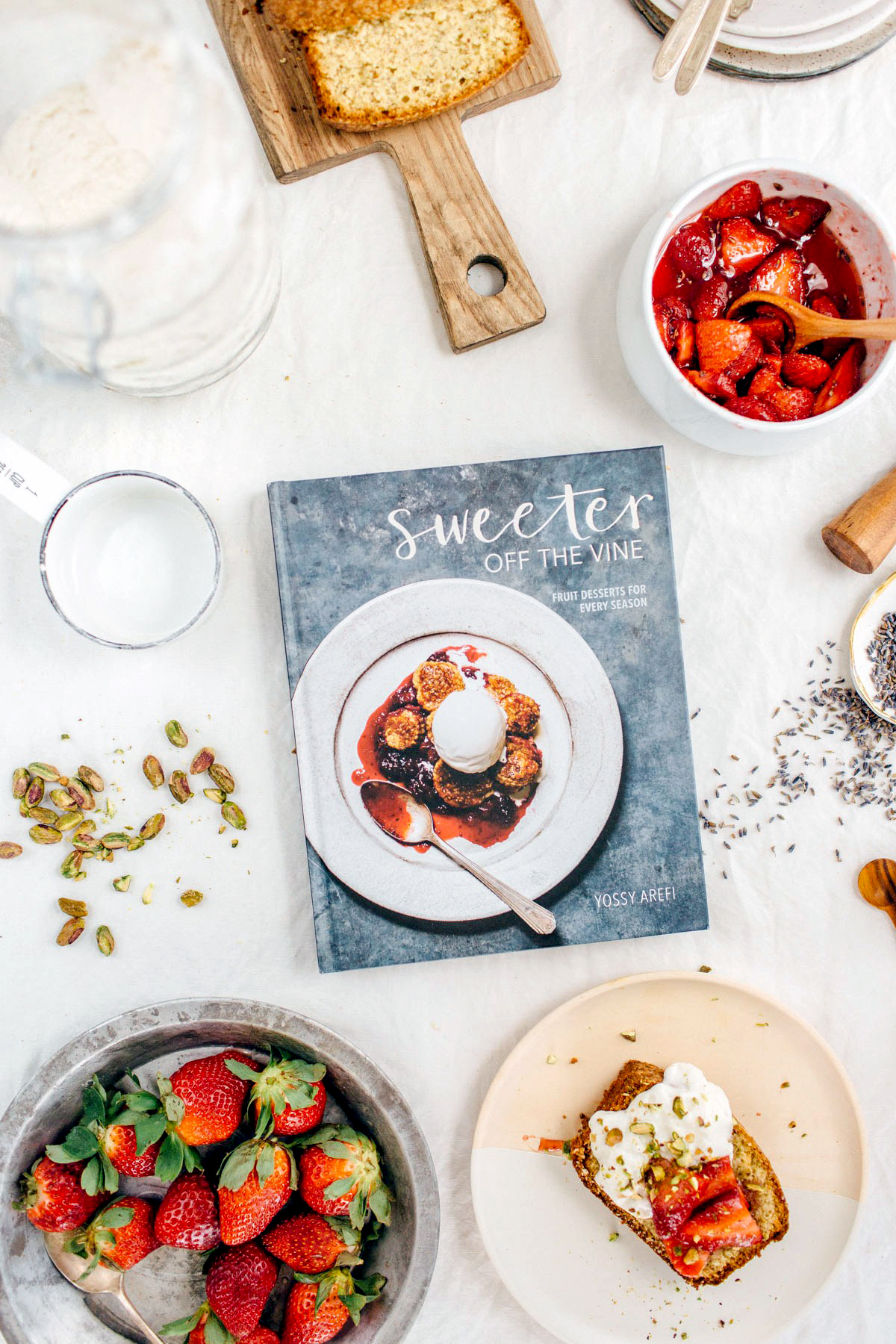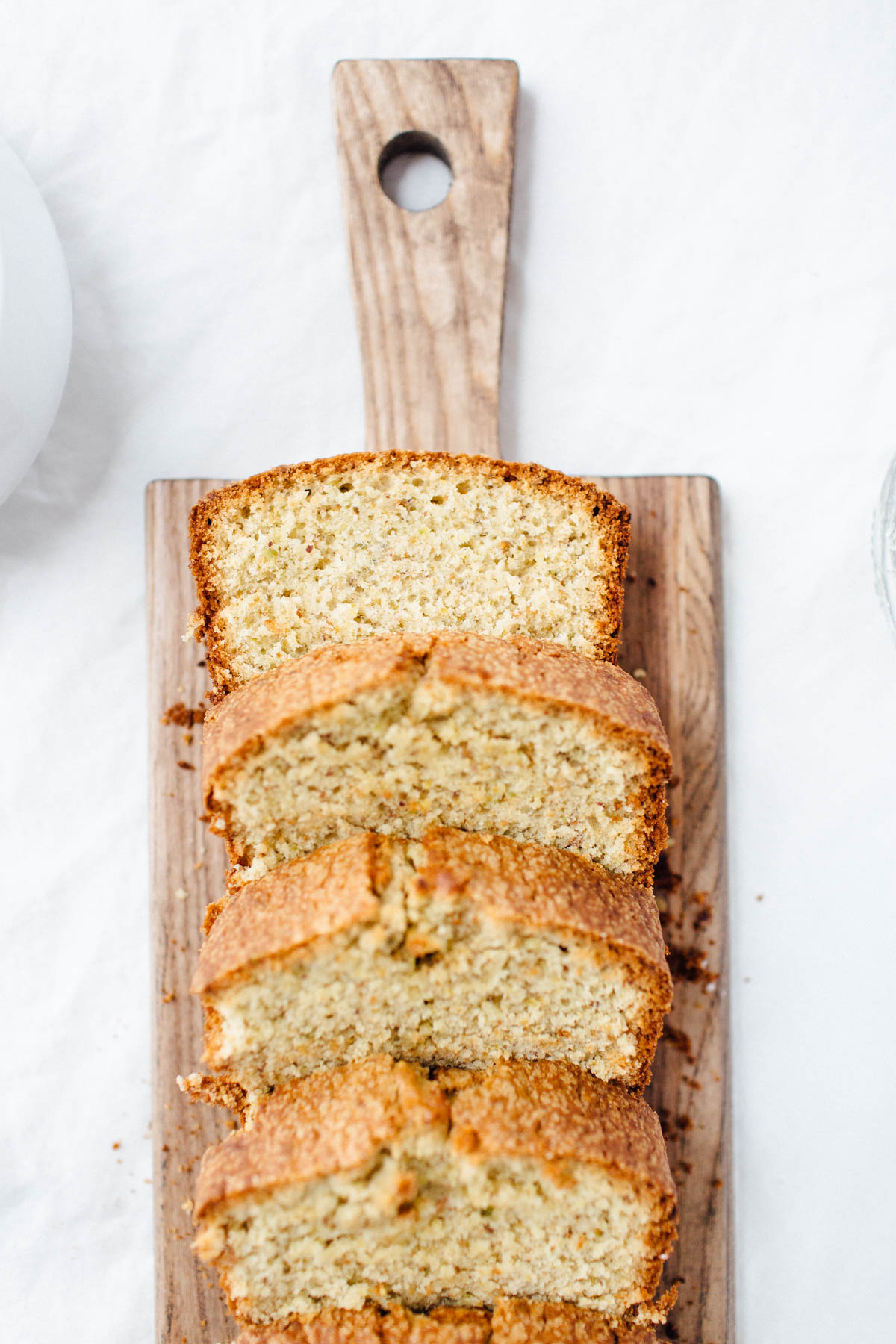 Pretty excited that cookbook season is finally back! Yossy's book, Sweeter Off The Vine, could not have come at a better time as all the trees are starting to bloom and the flowers are budding. My spring fever was officially kicked into full gear when flipping through this cookbook to find endless photos of fresh berries, fruit still ripening on the vine, and sweet treats to compliment each season (but particularly spring and summer with their fruit harvests a plenty). I can't remember the last time I picked up a cookbook with photos this gorgeous in it and the array of orchard, farm, and gardens has me wanting to pick my own fruit to bake these recipes with.
The book is broken up into seasons based on when each fruit is in it's peak. I picked this strawberry recipe out of the spring chapter but I can't wait to return to this book again come summer, fall, and winter. The pound cake was simple and not overly sweet so that the perfectly ripened strawberries could shine through with their flavor. The lavender added a slightly floral accent to the dish without making it taste too floral. I obviously loved the addition of pistachios in this cake but I'm a bit biased since I'm obsessed with the nut (see proof here and here and here).
Pistachio Pound Cake with Strawberries in Lavender Sugar below: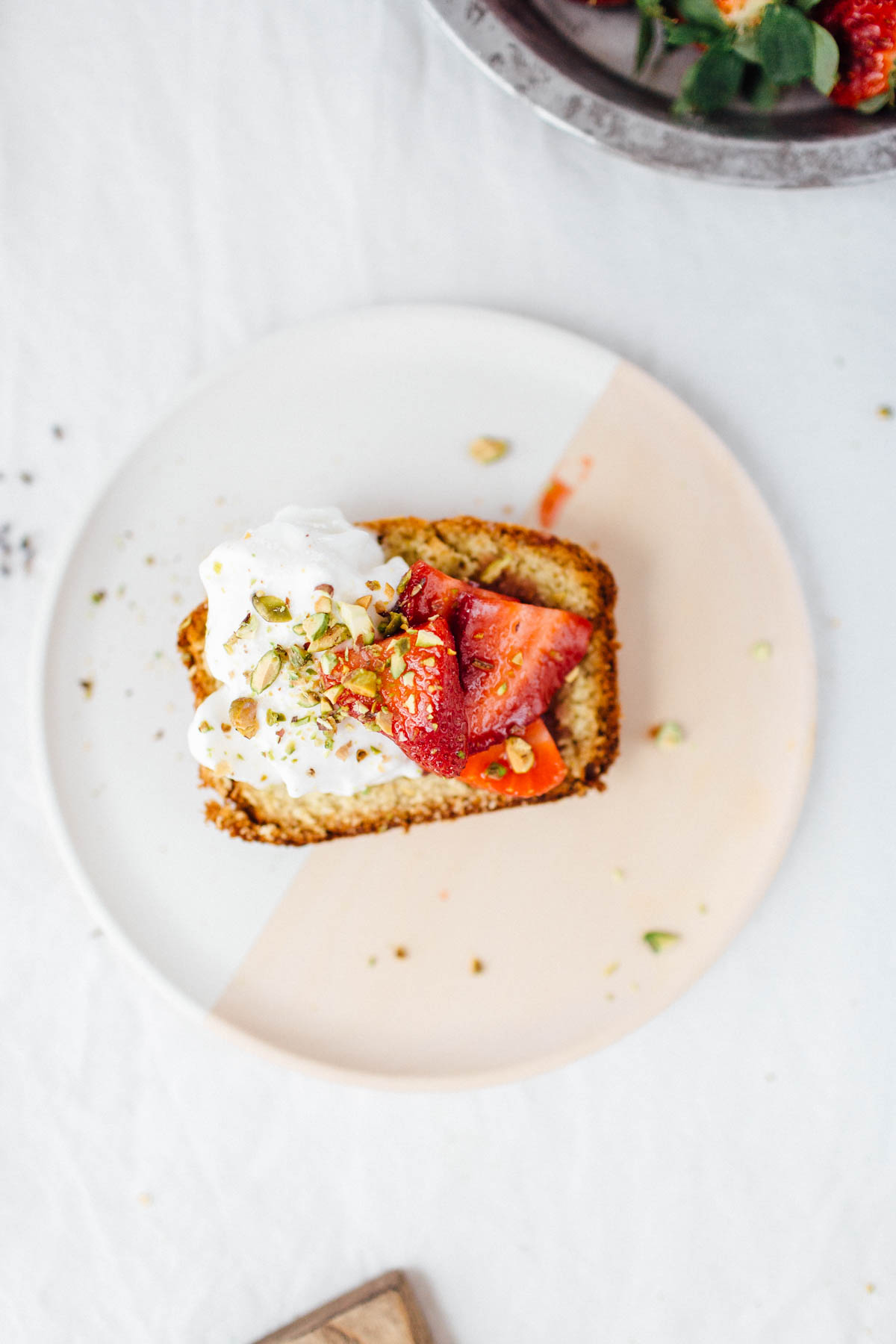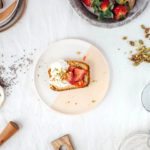 Pistachio Pound Cake with Strawberries in Lavender Sugar
Recipe from Yossy Aferi's Sweeter Off The Vine

This Pistachio Pound Cake with Strawberries in Lavender Sugar is the perfect simple, floral dessert to whip up as soon as the first berries of the season hit.
Servings
:
1
9x5 inch Cake
Ingredients
Pistachio Pound Cake:
1

cup

shelled pistachios

1 1/2

cups

all-purpose flour

1/2

teaspoon

baking powder

3/4

teaspoon

salt

3/4

cup

unsalted butter

, softened

1 1/4

cup

granulated sugar

3

large eggs

, room temperature

1/2

teaspoon

vanilla extract

1/4

teaspoon

almond extract

(I skipped because I didn't have it on hand and it was delicious without)

1/2

cup

whole milk

, at room temperature
Strawberries:
1 1/2

pounds

strawberries

1/4

cup

granulated sugar

1/2

teaspoon

organic lavender buds

1/2

vanilla bean

, split lengthwise and seeds scarped from the pod
To Serve:
Lightly sweetened whipped cream
Instructions
Preheat oven to 325 degrees and grease a 9x5 inch loaf pan.

For the cake: Grind the pistachios in a food processor just until they resemble flour (be careful not to over grind or else you'll need up with nut butter). Add the flour, baking powder, and salt to the food processor and pulse until combined.

In a bowl of a stand mixer fitted with a paddle attachment, beat the butter on medium high speed until smooth. With the mixer still running, slowly stream in the sugar. Cream the butter and sugar together until very light and fluffy, about five minutes. Add the eggs, one at a time, beating for thirty seconds after each addition. Occasionally stop and scrape down the sides of the bowl to ensure even mixing. Add the vanilla and almond extract (if using).

With the mixer on low, alternate adding the flour mixture and the milk to the batter in three additions, mixing until just combined, being careful not to overmix.

Pour batter into prepared pan and bake until golden brown and a toothpick comes out of the center clean, 45 to 55 minutes (mine actually took closer to an hour and 10 minutes). Remove cake from pan and transfer to a wire rack to cool.

For the strawberries: Combine the sugar, lavender, and vanilla beans in a mortar and grind with a pestle until the lavender is broken up into fit bits and sugar is fragnant. Hull and slice strawberries in half and combine in a small bowl with the sugar. Let berries sit in sugar for at least 15 minutes to release their juices.

To serve: slice the cooled cake into thick pieces and top each slice with a generous spoonful of berries and their juices. Top with whip cream and devour.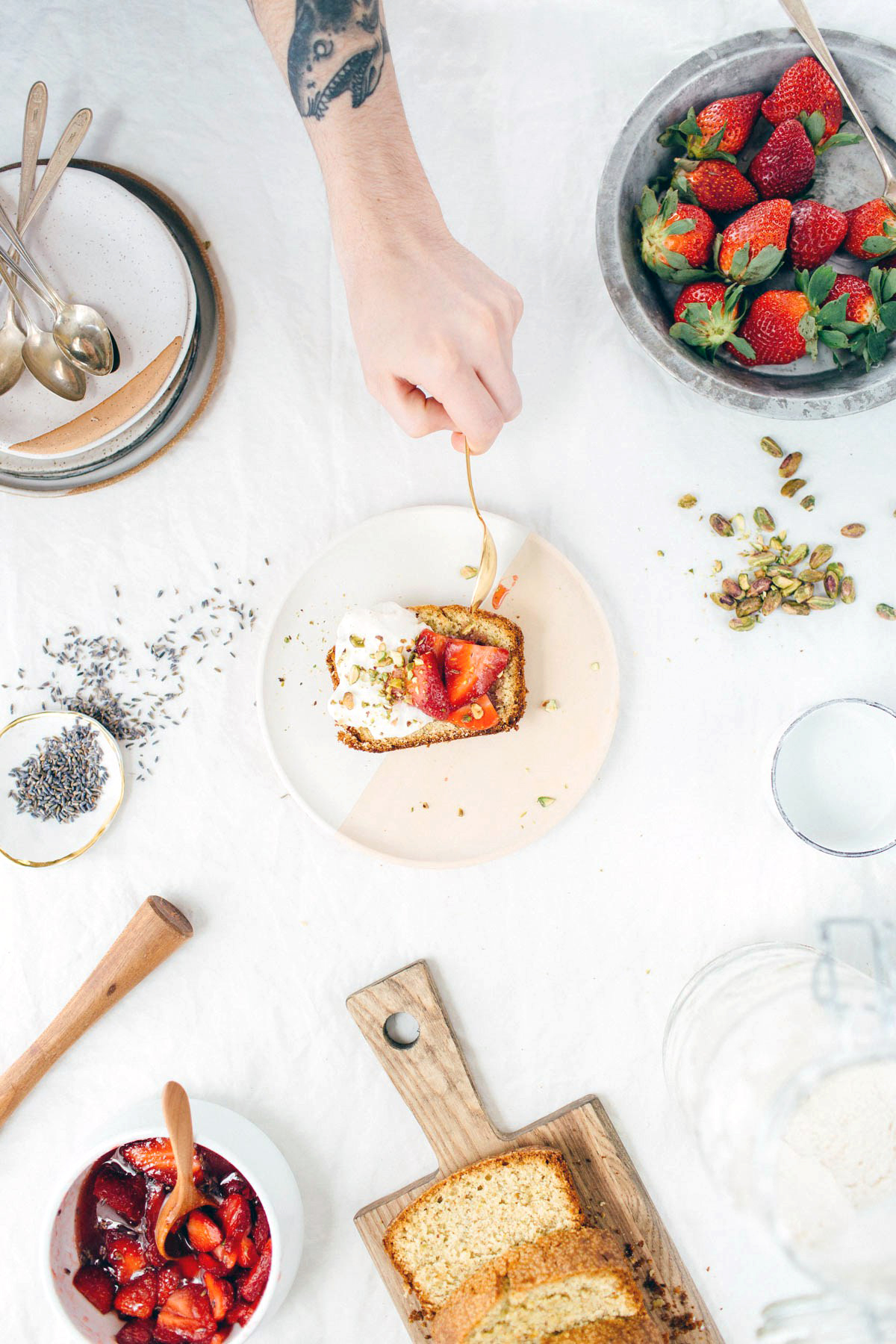 *DISCLAIMER: I received this book from Blogging for Books in exchange for an honest review.