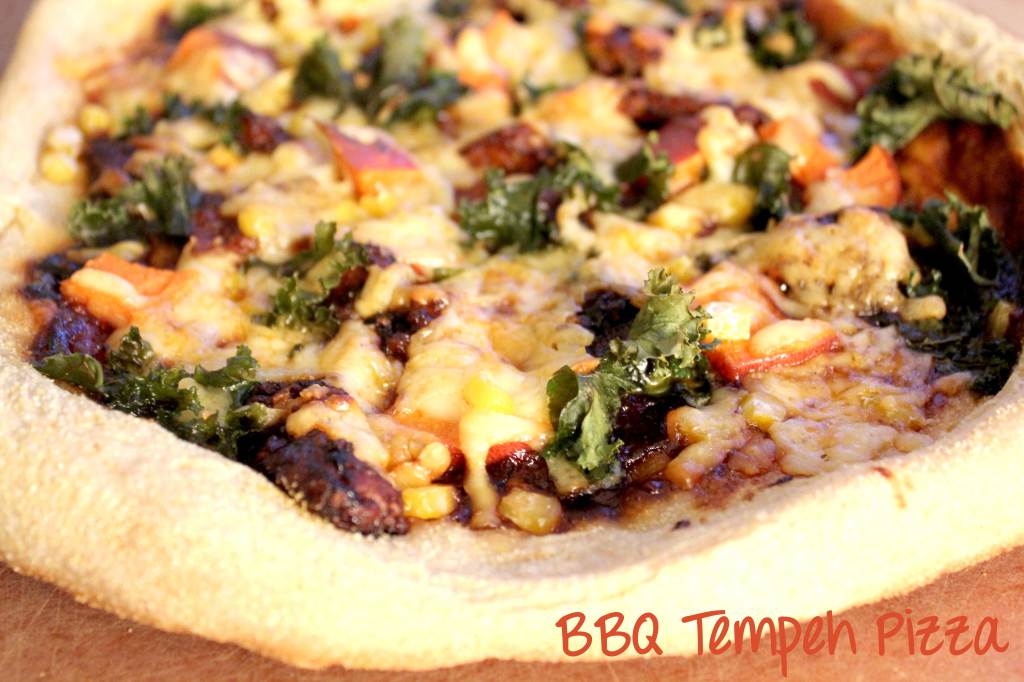 Pizza Party: BBQ Tempeh Pizza vs. Creamy Purple Potato Pizza
I live about two blocks from my favorite house in Bloomington. This house is actually a HUGE old historic home that was converted into 4 businesses. The business in the basement is a coffee shop that is just too quirky not to love; I probably owe my degree to this place since it gave me a place to actually enjoy going to when I had to write awful papers for classes. Soma is filled with old TV-turned-fish tanks, mannequin's dressed as 80's drag queens, and map murals all over the walls. I find all of it's charm to be very inspiring and often times write these blog posts there to get the juices flowing!
Anyways, in the "attic" is a very awesome consignment shop that has shelves and shelves of cute vintage clothes. And next to that is a stone shop that sells adorable jewelry and gems. Lastly, there is a burrito shop called 'Laughing Planet'. This place only serves local meat and everything is organic. On top of these healthy ingredients, they always come up with the most creative combination for burritos. For example, for Thanksgiving they have a burrito that is filled with mashed potatoes, corn, vegan gravy, turkey or tempeh, green beans, and served with a cranberry salsa. Sounds weird…which it is but also surprisingly delicious.
Oh yeah, the point of this story? I was eating lunch there last week with Kelsey and we decided to try their special of the week which was a 'grill out' themed burrito. It was filled with sweet potatoes, kale, corn, bbq tofu, and black beans. Absolutely delicious. And this burrito was the first thing I thought of when I realized how much homemade bbq we had leftover from Kristin and I's cooking adventure the other night.
I wanted to do something besides Mexican since we just made tacos the night before so I decided to try to turn it into a pizza! This, for some reason, led to Wyatt wanting to compete with my pizza idea and make it into a competition.  So off we went to Bloomingfoods and he managed to snatch up some beautiful purple potatoes and locally made Alfredo sauce for his pie.
Both the pizzas turned out delicious. I have to give Wyatt some credit for coming up with such a delicious recipe on a whim (and one that definitely photographed better). Neither of us would budge on which pizza was better so you guys will just have to whip these pizzas up and decide for yourselves!
Pizza Dough
2 teaspoons yeast
1/2 teaspoon brown sugar
1 1/2 cups warm water
1 teaspoon salt
2 Tablespoons olive oil
3 1/2 – 4 cups of flour
corn meal, for dusting
In a mixer with a dough hook (or a large mixing bowl if you don't have a mixer), combine the yeast, sugar, and water and let sit for 10 minutes (this gives the yeast time to start reacting).
Next, add in the salt and olive oil. Turn the mixer in low and start adding the flour a half a cup at a time (or use your hands to mix in the flour). Start with 3 and a half cups of flour but add more if the dough is still too sticky that it's not turning into a ball. Mix on high for five minutes.
Place in a oiled bowl and cover with a towel. Let rise in a warm place for about an hour or so.
Preheat oven to 425 degrees. Dust your surface with cornmeal and use a rolling pin to roll out two pizza crusts with this dough. Place on an oiled cooking sheet and set aside while you prepare the toppings

BBQ Tempeh Pizza
1/2 cup bbq sauce
4 oz tempeh, cut into small pieces
1 Tablespoon olive oil
1/4 cup kale, chopped
1/4 cup frozen corn, thawed
1/2 sweet potato, diced
1 cup Gouda, shredded
Heat the oil in a small skillet over medium. Add the tempeh and saute for about five minutes. Mix in 1/4 cup of bbq sauce and cook for about a minute. Remove from heat.
Bring a large pot to a boil. Boil the sweet potato chunks for about five minutes or until they become a little soft (cooking time will depend on how big or little you made the chunks – make sure you don't let them get mushy though!).
Lather the rest of the bbq sauce on the pizza. Top with the tempeh, kale, frozen corn, sweet potato, and gouda. Cook for about 15 minutes or until the cheese has browned.
Creamy Potato Pizza
1/2 cup Alfredo sauce
3 ounces of Gorgonzola cheese, crumbled
1 cup cheddar, shredded
1/2 Tablespoon dried Dill
3 garlic cloves, minced
Dash of fresh pepper
Lather Alfredo sauce on top of dough. Then top pizza with everything else and stick in the oven for 15 minutes or until cheese has browned.