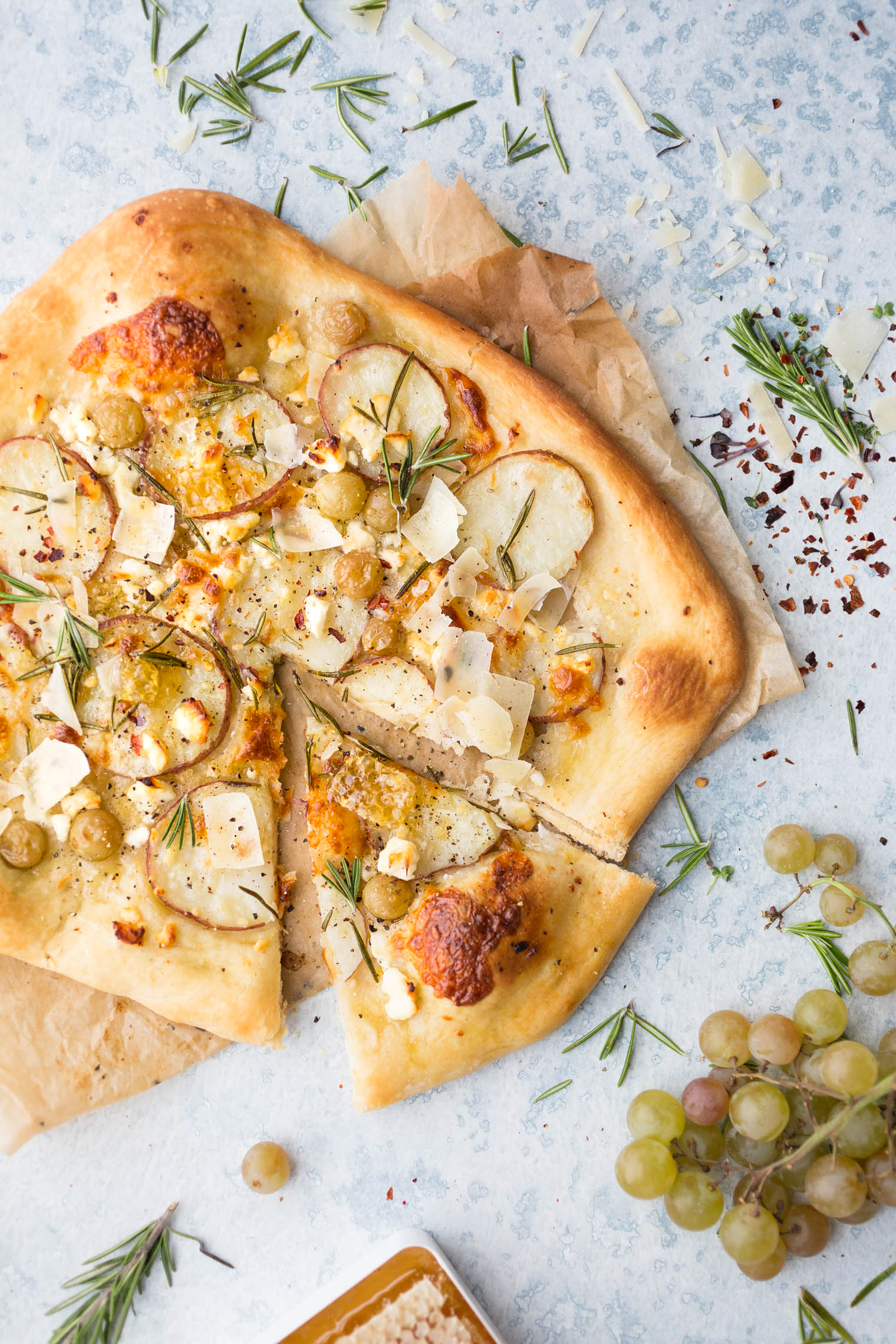 Potato Grape and Rosemary Pizza
In a hurry? Click here to JUMP TO RECIPE!
This homemade Sweet and Savory Vegetarian Potato Grape and Rosemary Pizza Recipe is the perfect meat-free weeknight dinner!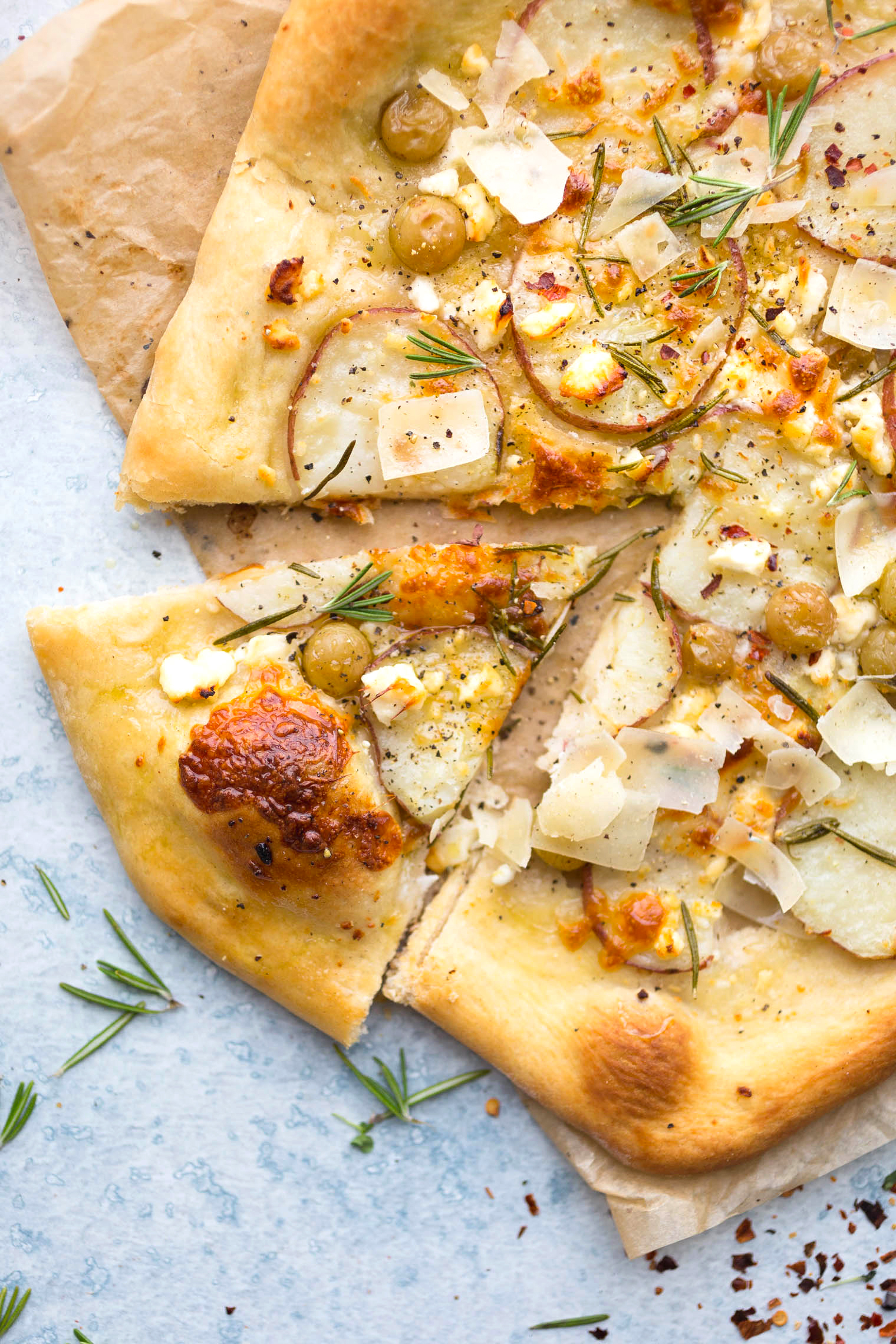 Anyone else beyond excited for spring produce? I feel like a little kid anxiously waiting for their birthday that is still weeks away. The weather feels like spring and my body is begging for a crisp spring salad but my garden is still all soil. I'm trying to give winter it's one last hurrah while I (not so) patiently wait by incorporating winter ingredients into things that my taste buds just cannot resist, no matter how much they are over winter: pizza, pasta, and well…more pizza. That brings me to this gem I'm sharing today; this Potato Grape and Rosemary pizza skips the heavy tomato sauce for a light rosemary-infused olive oil spread over a crispy crust that is then topped with thinly sliced boiled tomatoes, juicy tart grapes, savory provolone, and salty Parmesan. It's all garnished with more rosemary, a hint of heat from red pepper flakes, and the tiniest bit of sweet from a drizzle of honey. It has a lot going on all while perfectly balancing the irresistibly addicting sweet and savory flavor we've all come to crave (or maybe that's just me craving it?).
As a reminder for all you strict vegetarians (*raises hand*), not all cheese is vegetarian so you'll want to seek out specific cheese when making this Potato Grape and Rosemary Pizza. Not all cheese is vegetarian because some cheese is made with animal rennet (enzymes produced in the the stomach lining of certain animals). To find vegetarian cheese, read the label carefully and look for brands that specifically advertise it. You should be able to find vegetarian cheese at any large grocery store or organic focused market (such as Luckys, Wholefoods, Fresh Thyme, etc). For Parmesan, I prefer Organic Valley's Shredded Parmesan or BelGiosioso's Vegetarian Parmesan.
Potato Grape and Rosemary Pizza recipe below: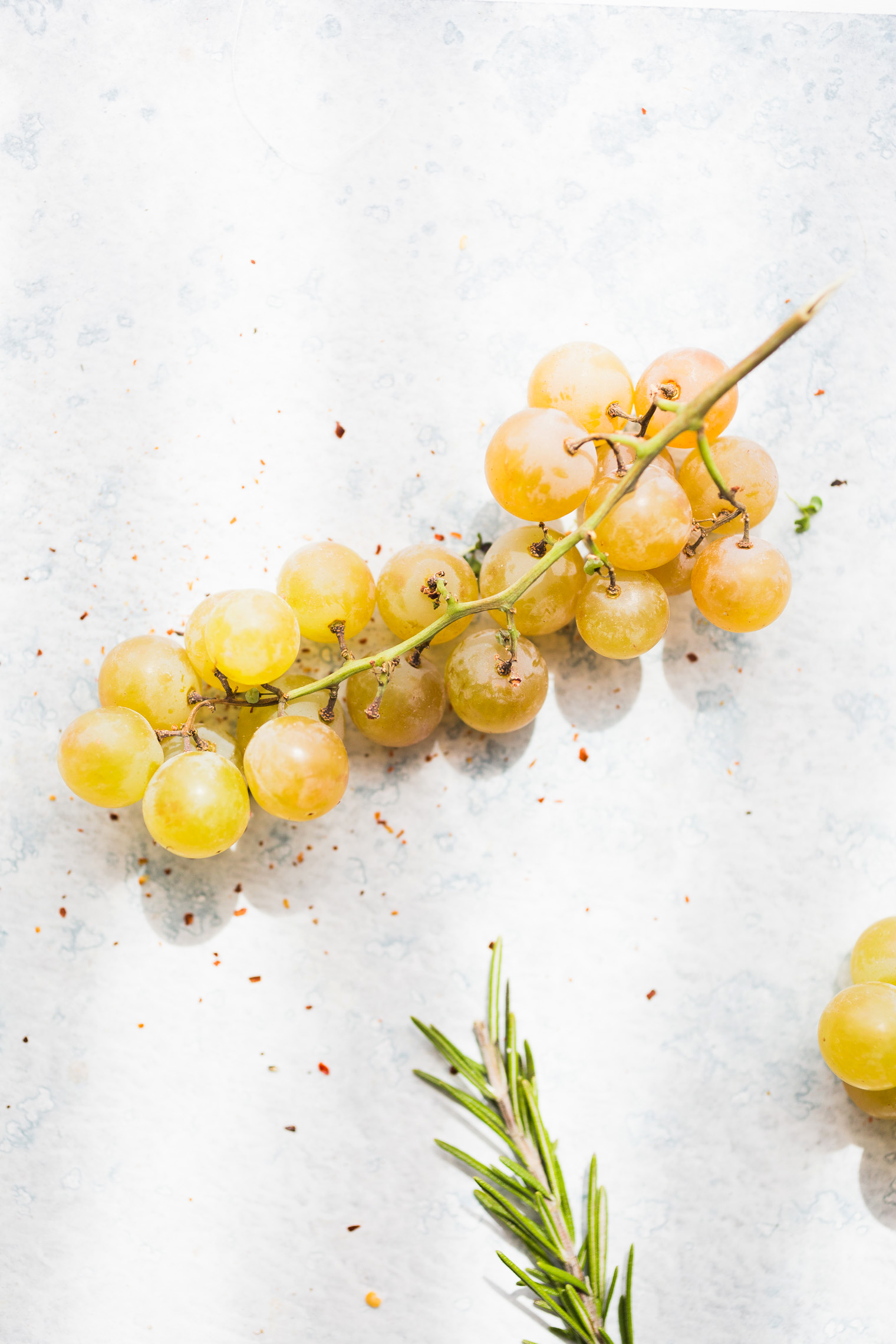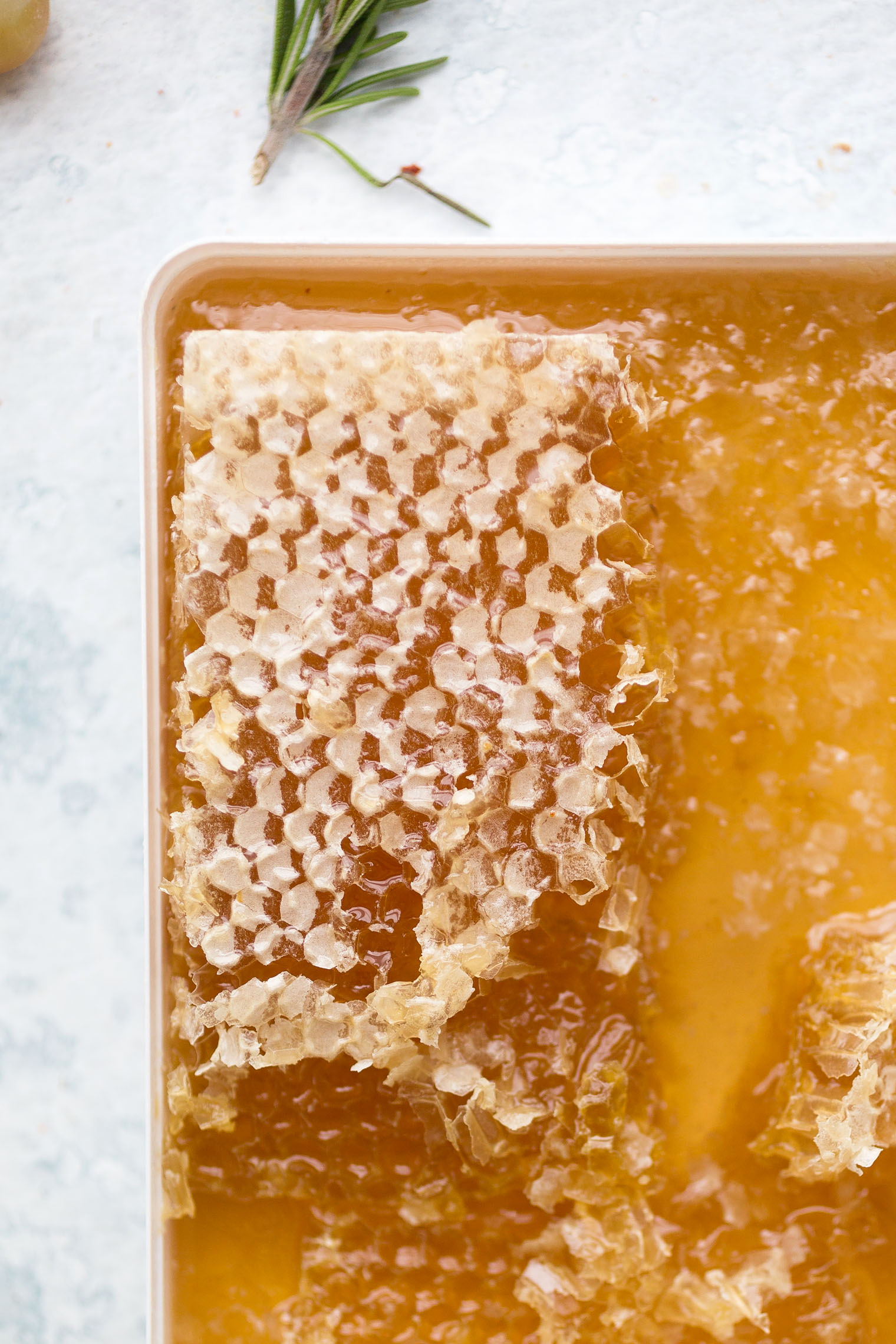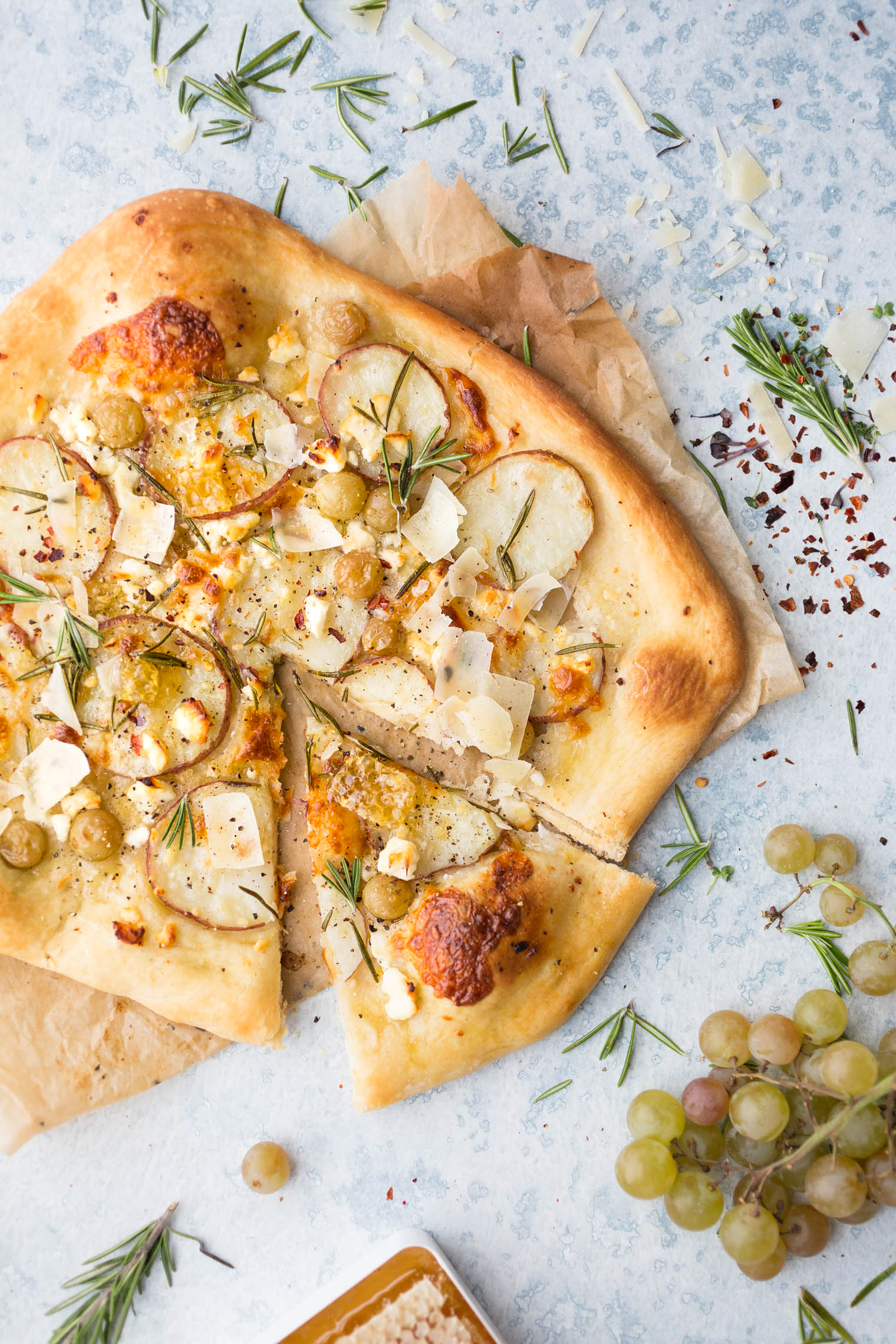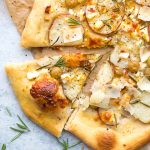 Potato Grape and Rosemary Pizza
This homemade Sweet and Savory Vegetarian Potato Grape and Rosemary Pizza Recipe is the perfect meat-free weeknight dinner!
Ingredients
16

oz

premade pizza dough

(store-bought or a favorite homemade recipe)

1

red potato

, thinly sliced

1

tsp

coarse cornmeal

2

Tbsp

olive oil

1

rosemary sprigs

1/2

cup

shredded provolone cheese

(mozzarella would work too)

1/4

cup

crumbled feta

1/4

cup

green seedless grapes

(about 10)

1/4

cup

shredded Parmesan

Red Pepper flakes

, to taste

Honey

, to taste
Instructions
Preheat oven to 500 degrees. Line a thin baking sheet with parchment paper and sprinkle with cornmeal.

In a small saucepan, heat the olive oil and rosemary over medium. As soon as the olive oil starts to bubble around the edges, remove from heat and let the rosemary steep in the oil for at least five minutes. Remove rosemary, separate the leaves from the stem, and chop the leaves small. Discard the stem and set leaves aside.

Heat a pot of boiling salted water over high and add potato slices. Boil until easily pierced with a fork, drain the water, and set aside.

Using a floured surface, roll out the pizza dough into a 10" circle and transfer to prepared baking sheet. Brush half of the olive oil on top of the pizza crust and sprinkle the provolone or mozzarella evenly on the pizza. Place potato slices in a single layer over the cheese and brush the remaining olive oil over the potatoes. Next, evenly sprinkle grapes, feta, and rosemary leaves over the whole pizza.

Bake for 12 to 15 minutes or until the potatoes and crust have browned. Remove from oven and let cool slightly before drizzling with honey and seasoning with red pepper flakes. Eat warm.
Nutrition Facts
Potato Grape and Rosemary Pizza
Amount Per Serving
Calories 493
Calories from Fat 162
% Daily Value*
Fat 18g28%
Cholesterol 23mg8%
Sodium 1179mg51%
Potassium 283mg8%
Carbohydrates 65g22%
Protein 17g34%
Vitamin A 235IU5%
Vitamin C 4.9mg6%
Calcium 250mg25%
Iron 3.7mg21%
* Percent Daily Values are based on a 2000 calorie diet.