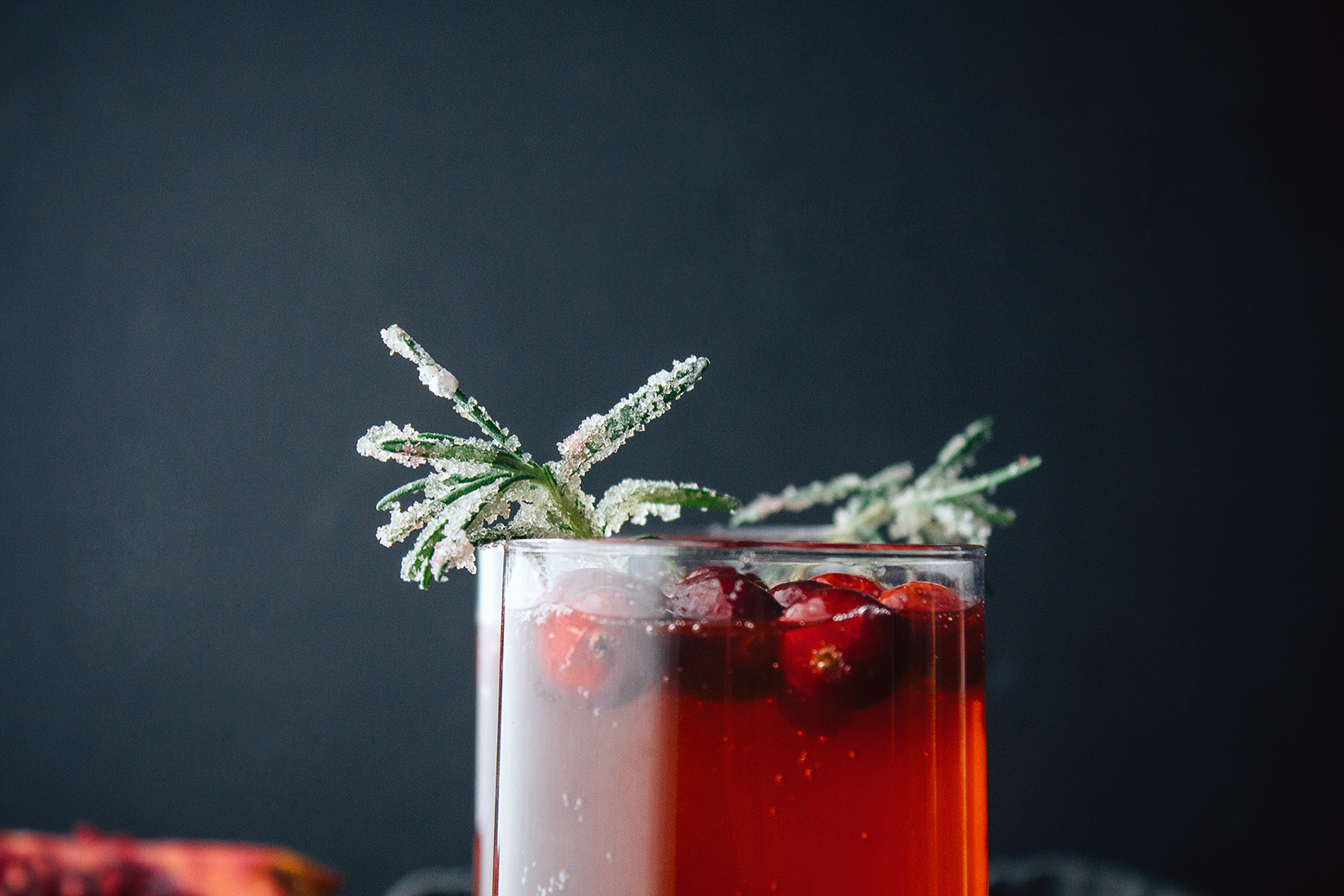 Pomegranate Cranberry Rum Punch With Candied Rosemary
In a hurry? Click here to JUMP TO RECIPE!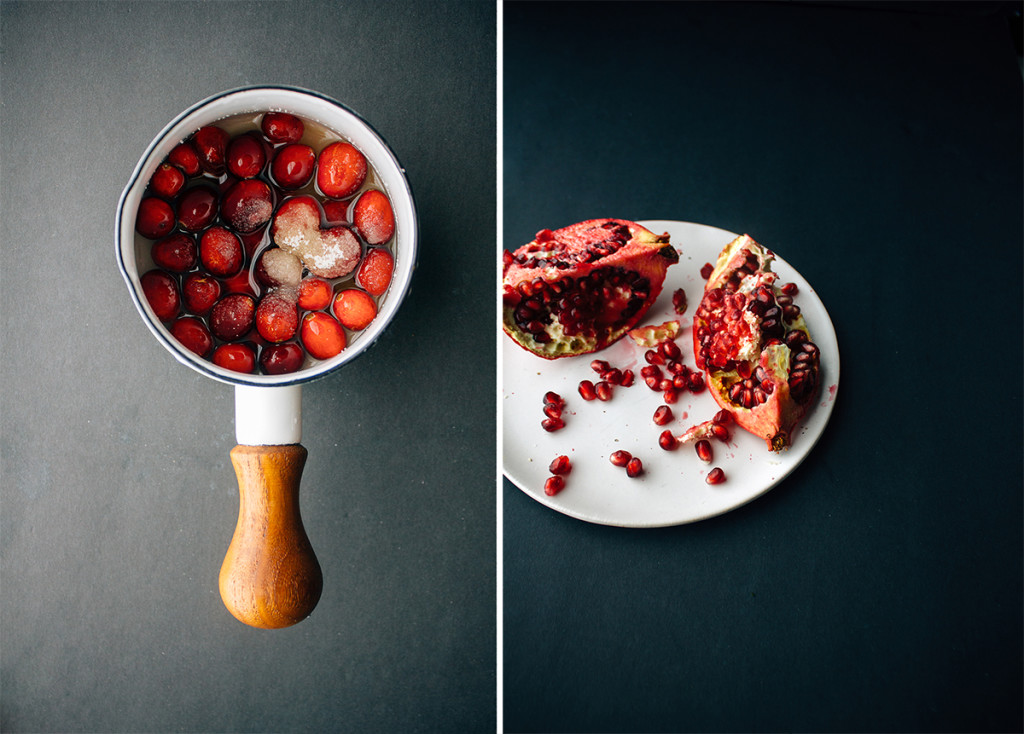 I know I know – I disappear for a whole month and when I come back, I only have a simple drink recipe to give you? I can explain. Our oven was broken – for six weeks. We rent our home so it wasn't as simple as dipping into our saving to invest in a new one; instead, it was a constant battle of calling and emailing our rental company, them ordering parts, installing those parts (3 different times), and it still coming out broken. It was frustrating and I may have had a few meltdowns that made me disgusted with even bothering with the kitchen for a few weeks. Yes, I could have used the stove-top to whip you something delicious but it was the frustration of the whole thing that really unnerved me every time I walked into the kitchen and the annoyance took all my creative drive right out of me. So yeah – I was feeling negative the last few weeks and really didn't want to bring you into it..I am hoping you understand. After a particularly nasty call I made when we were told it was fixed (for the second time) and I whipped up a big batch of cake batter only to find that the oven stopped halfway through the baking process, Wyatt snuck out of the house and returned with a toaster oven the size of our real oven. I am now able to bake you cakes, pizzas, breads, and so much more in this giant toaster oven so watch out – there will be lots more recipes very soon!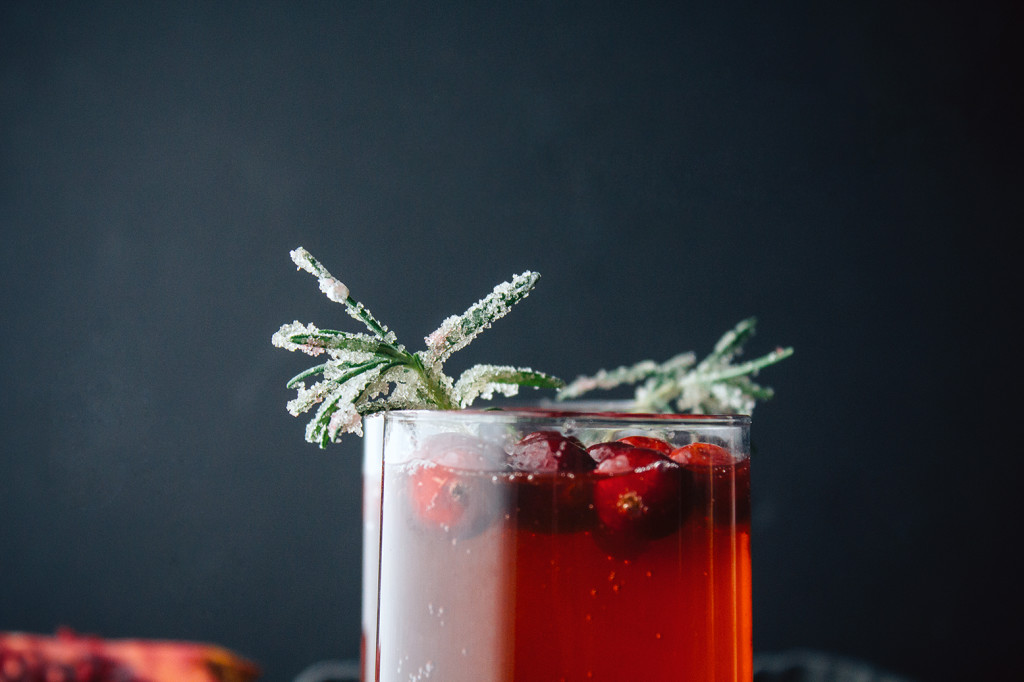 Until then, I bring you a cocktail recipe! Thanksgiving is approaching fast and we are switching up the tradition this year. In years past, Thanksgiving prep was actually great practice for the freelance world; I would spend weeks researching recipes by scanning through magazines, Pinterest boards, and the indexes of my favorite blogs. I'd make lists of 30 to 40 recipes that would then be dwindled down to 10 or so by my stepdad and ma. We would then spend two solid days cooking (these are now shoot days in my freelance life) and prepping the food. It would all end up with a huge feast that we'd present to the whole family. Unfortunately, that won't be the case this year due to my stepfather's passing two months ago and my mother not ready to carry out that tradition just yet.
Instead, I will be heading up the the northern part of Wisconsin (brrrrrrrr) to celebrate with Wyatt's family in their cabin. I am excited to start this new tradition with Wyatt's family but am also bummed I won't be taking control of the food this year. Wisconsin may only be 2 states away but the drive is 13 hours and I can't imagine that a cake or pie will fair well in the back seat with Tuko.
So alas, I am throwing in the towel and only bringing ingredients for a cocktail recipe instead. Besides the obvious point that these ingredients will travel well and it'll be easy to prepare, I am hoping to bring a bit of my family's tradition with me to Wyatt's event. It is not that this particular cocktail is an old family recipe but that my family has always celebrated with alcohol. Both sides of my family are German and we all tend to be heavy and joyful drinkers; I realize some families have negative views of drinking as it leads to dramatic arguments and un-controllable negative habits but not with my family. My family works hard and we also play hard; my mother and I have at least one 'mother-daughter pool day' a year in the summer months that consist of drinking sangria and lounging by the family pool, my grandparent's drank a Manhatten together every evening as they talked about their days for over 50 years, my father pulls out the bottle of Jack whenever his old college buddies come into town and they drink rum and cokes while reminiscing about their old prank days, and my mother and I always get a boot full of glühwein during the holiday season when we go up to Chicago for Christmas shopping.  Similar to food, it's nice to be able to take a sip of a certain cocktail and have my mind transported to a moment in time that I had shared with loved ones.
Pomegranate Cranberry Rum Punch With Candied Rosemary recipe below: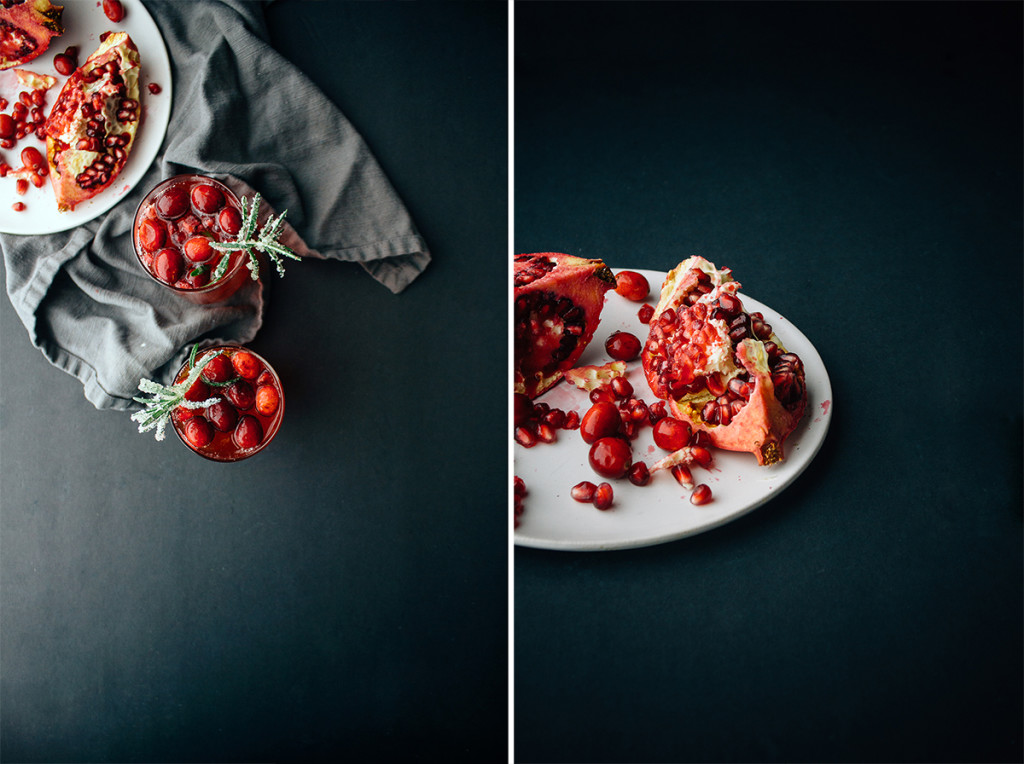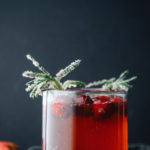 Pomegranate Cranberry Rum Punch With Candied Rosemary
A winter cocktail filled with winter produce and ideal for holidays and winter parties!
Ingredients
For the simple syrup:
1

cup

fresh cranberries + more for garnish

1

cup

sugar

1

cup

water
For the candied rosemary:
8

Rosemary sprigs

1/4

cup

sugar
Everything Else:
4

cups

Pomegranate Juice

1

cup

Cranberry Juice

1

cup

white rum
Instructions
Combine the cranberries with 1 cup sugar and 1 cup water in a saucepan and bring to a simmer over medium-high heat.

Stir to make sure the sugar is dissolved and then remove from heat. Set aside and let cool.

Place the sugar for the candied rosemary in a shallow dish. Dip the rosemary sprigs in the simple syrup and then immediately roll in the sugar.

Place on parchment paper to try and repeat with the rest of the sprigs.

Combine the juices, rum, and simply syrup in a pitcher. Chill.

Divide between 8 glasses and garnish with the rosemary. Cheers!