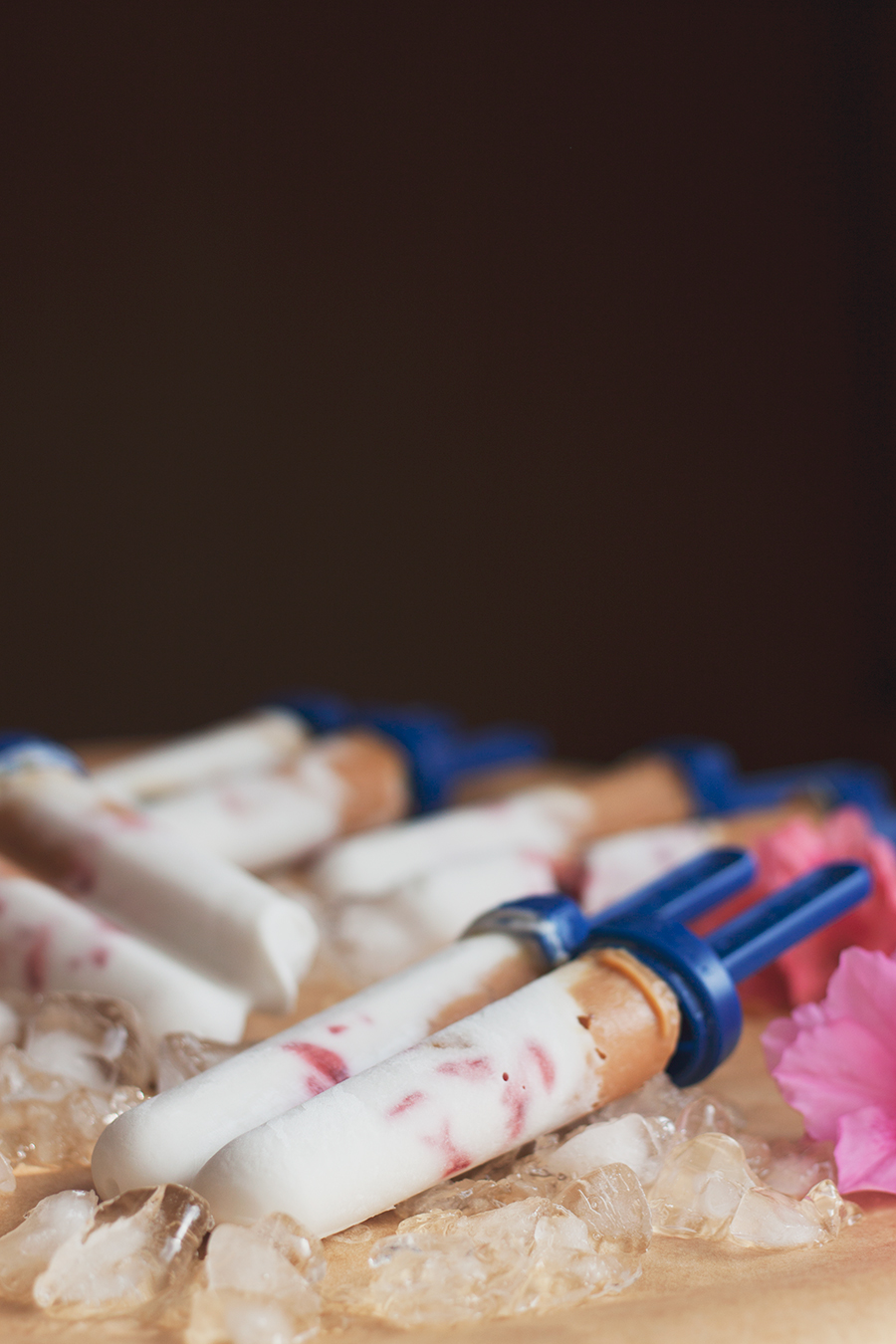 Rhubarb Popsicles /// Guest Post from Will Frolic For Food
In a hurry? Click here to JUMP TO RECIPE!
We are mixing it up on VV today with a wonderful guest post from Will Frolic For Food's creator Renee. I am very excited to introduce Renee to all of you Vegetarian 'Ventures follows because she is a mastermind in the kitchen! We met over Coconut Dulce De Leche (if you haven't checked out her recipe for that yet then DO IT. DO IT NOW!) and have been foodie pals every since. This particular guest post is on popsicles and I'm excited to announce that there will be a VV one on Will Frolic For Food later this week so stay tuned!
__________________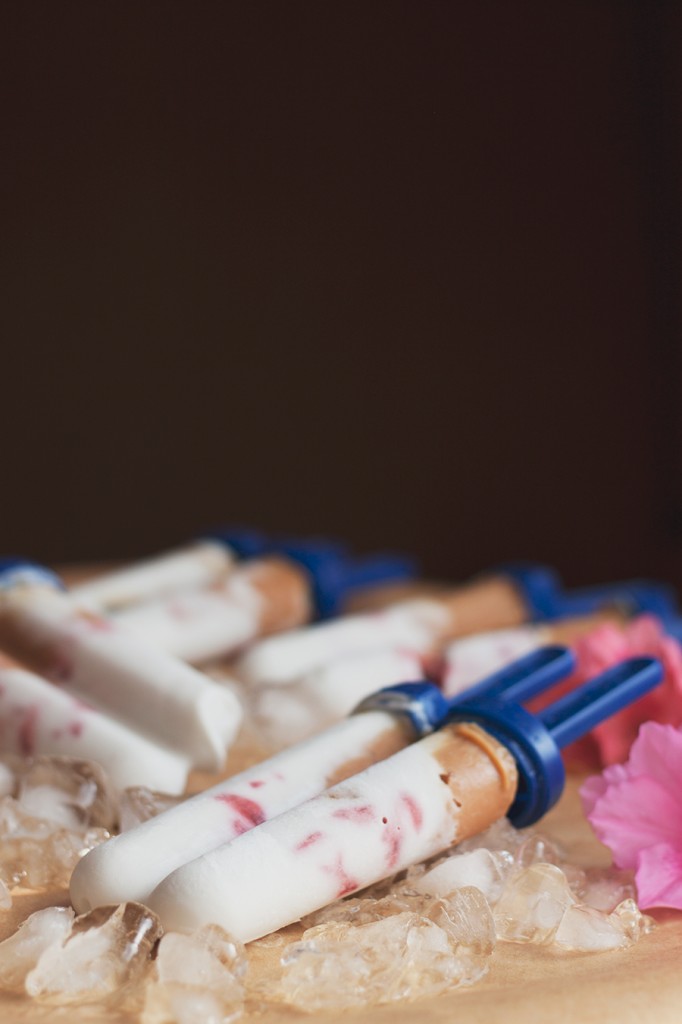 Hey there! Renee here from Will Frolic for Food. Shelly and I have been stoked about doing this popsicle collab for months, but are just now getting around to it! Between working, planning a wedding, chocolate-making, and my many other projects time passes so quickly. I can hardly keep up!
Rhubarb for some reason always reminds me of celery. Probably because they look like sisters with the same nose but totally different personalities. Thus totally avoiding using it until this season. The stalks are these long legged pink-green beauties, ragged at the end from where the poisonous leaves and inedible roots we're split off. It has the same stringy, crunchy consistency as celery when I bite into it with my knife. But it practically melts in heat, especially with a pinch of sugar and a dash of water to help it along.
So why rhubarb? Well, I like to make my kitchen times an adventure. I found a dairy free version of rhubarb curd over at Dolly & Oatmeal (check out how freakin' gorgeous her rhubarb curd meringue tarts are! ). I did a blood orange curd this past Winter that went into my "keep forever lest be sad always" recipe box. I'm now a new-old hand at curd — why not try out a rhubarb one? I mean, when you curdify fruit it's pretty hard to go wrong, right?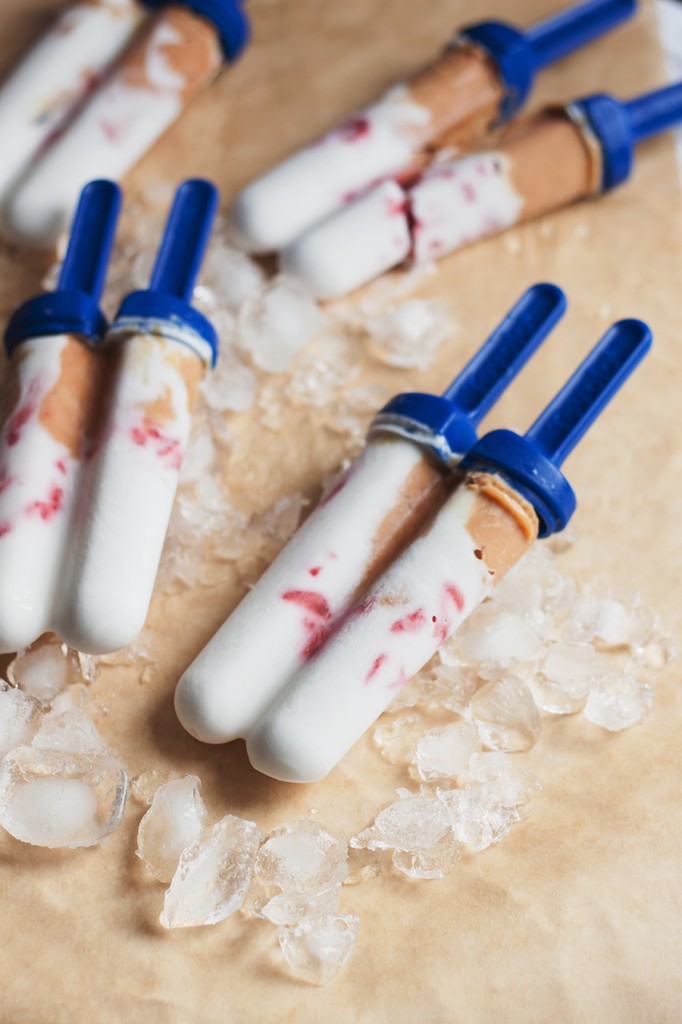 This popsicle dream came to me whilst biking around town, crushing blush pink flower petals under my tread. Coconut milk = always delicious. Rhubarb curd = practically the same thing as an ice cream custard base except MORE delicious (because there are more yolks involved duh). Creamy + tangy = always good.
And then this happened. I would serve this to grown ups alongside some ice cold champagne cocktail — or whatever, the point is be FANCY and eat this fancy ass popsicle at the same time. But hey it's pretty kid friendly overall if your little ones can tolerate sour-sweet (I would force it upon my own children if I had any… not that it would take much!).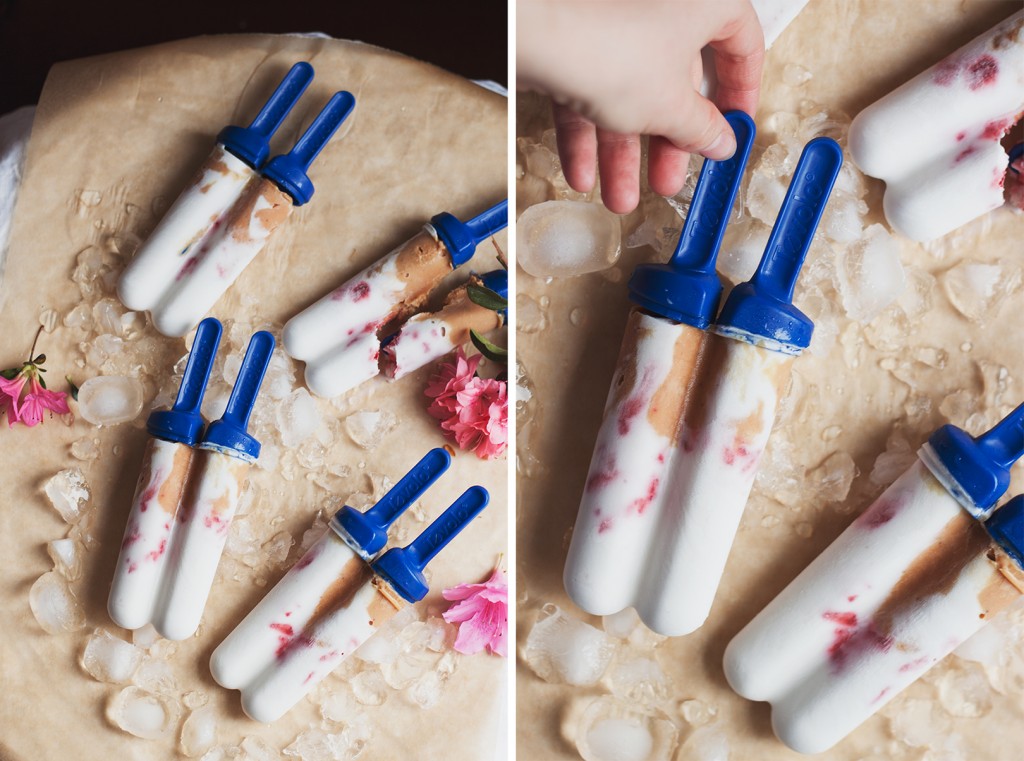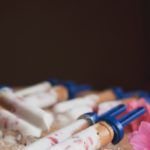 Rhubarb Popsicles /// Guest Post from Will Frolic For Food
Ingredients
Rhubarb Curd
10

ounces

(about 2 cups) Rhubarb, trimmed and cut into 1 inch chunks

5

ounces

(about 1/2 cup) fresh or frozen strawberries, halved

3

tbsp

organic cane sugar

1/4

cup

water

4

farm fresh egg yolks

(save the whites for omelets or meringue!)

1/2

cup

organic cane sugar

2

tbsp

ghee

, coconut oil, or butter
Popsicles
1

can full-fat coconut milk

2

tbsp

honey

1/2

cup

frozen or fresh strawberries

, halved and sliced thinly
Instructions
For the rhubarb: Add rhubarb, strawberries, 3 tbsp sugar, and water to medium saucepan. Place over medium-high heat and cook covered 10-15 minutes, until totally soft and melty. Let cool 5 minutes, then add to food processor and blend until you have a smooth consistency.

Place puree, egg yolks, and sugar over a bain marie or double boiler (you can use a glass bowl over a pot of boiling water as well). Heat on medium high, stirring constantly for about 10 minutes. Your curd is done when the mixture thickly coats the back of a spoon. Stir in ghee and incorporate completely while hot.

Transfer to a heat proof jar, let cool for another 10 to 15 minutes at room temperature before placing in the refrigerator to completely cool overnight (you can cool it for as little as 3 hours and it should be fine for your popsicles).

For the popsicles: Combine coconut milk & honey together in a small bowl. Fill popsicle molds half way with coconut milk. Add strawberries (to your liking). Top with coconut milk until you've filled your mold s3/4 full. Top off the molds with rhubarb curd (I ended up using about 2 tbsp each). Insert popsicle stick and freeze 4-6 hours or overnight.

To serve, run popsicle mold under warm water for 30-60 seconds. Firmly pull on the popsicle sticks to remove. Place over ice (if serving a crowd) or simply eat immediately.
Enjoy! xo Renee