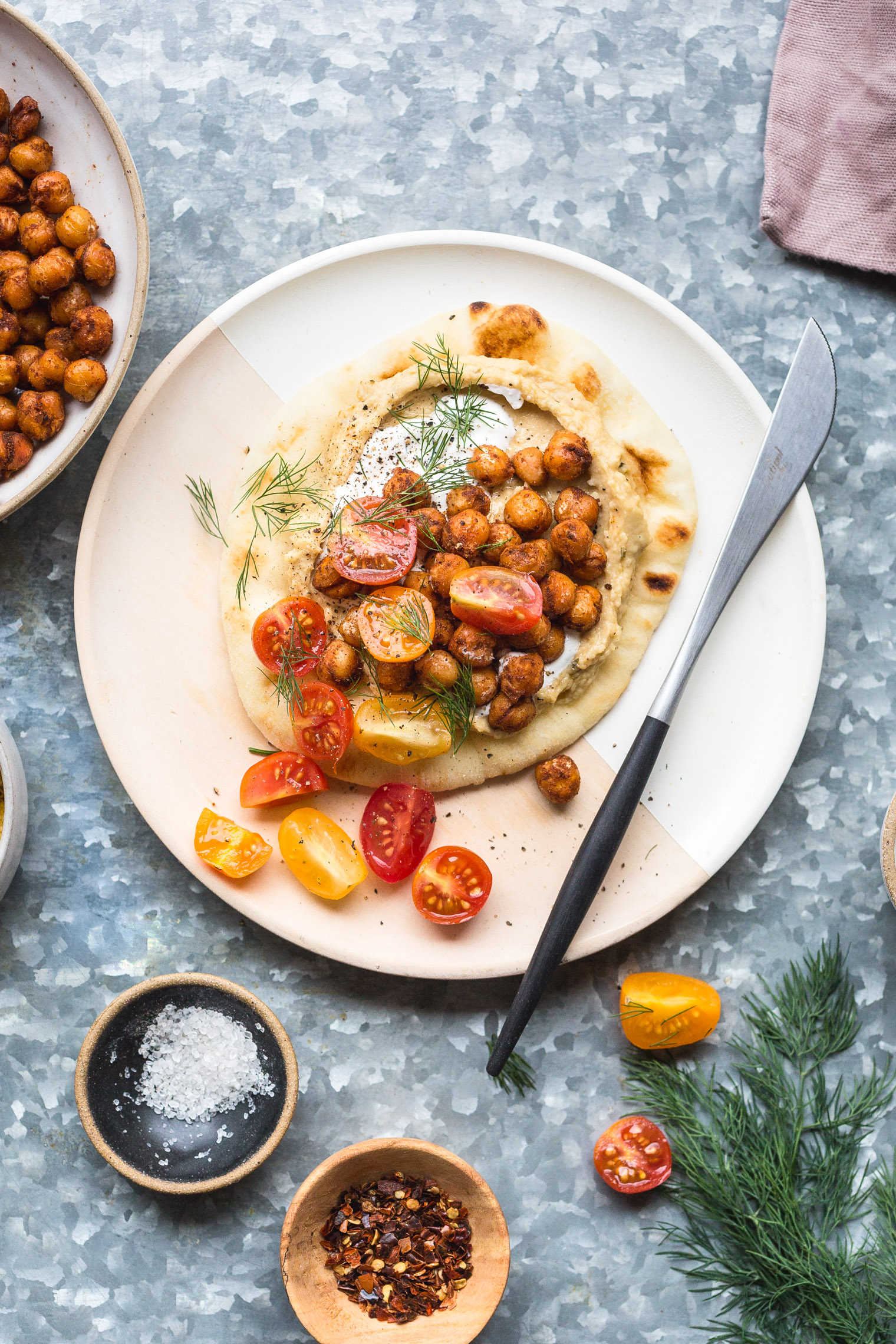 Vegetarian Lunch Ideas + 2019 Goals
Need less microwave meals and more vegetables in your life? I've got you covered with a round up of easy and delicious vegetarian lunch ideas.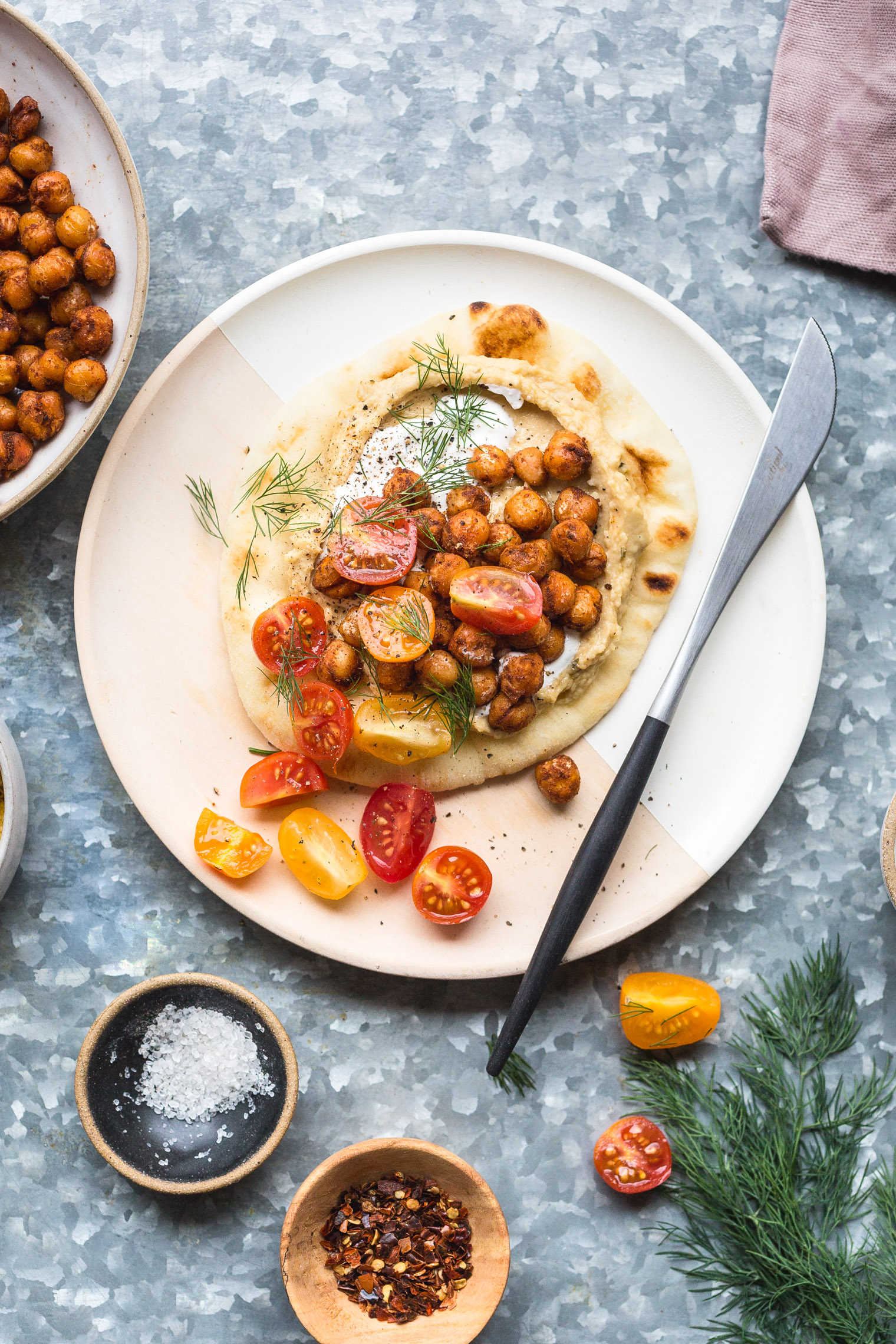 Woooweee! We are really at the finish line now for 2018. Hope you all had a wonderful holiday season and are ready for 2019! Before I jump into sharing a few vegetarian lunch ideas, I wanted to quickly jot down some goals for the new year. I've always been that obnoxious overachiever that insists on writing down my goals every year and this year will be no different. Although I don't always succeed with all of them (I see you goal of mastering video), it's always so rewarding to go over my goals at the end of the year and see how much I did manage to accomplish.
A few 2019 goals:
Perfect artificial lighting for food photography. I used to have three large south facing bay windows that I would photograph at our old rental and the light was pure magic. However, we moved into our own house last year and I've struggled with finding the right light ever sense. I've decided it's time to take matters into my own hands and learn how to shoot with artificial light which has a huge learning curve. I've sent the last few days playing around with it so fingers crossed I can master it before getting annoyed and giving up.
Find a new big project to focus on. I love the blog (and sharing posts like this vegetarian lunch ideas one) but I felt a little directionless this year without a book to work (after working on books for almost 4 years straight). I haven't totally figured out what that big new project will be but I do hope to find something like a book or show to channel my creative energy into this year.
This is a really lofty goal but I'm looking to push my business into six figures in 2019. It means A LOT of work is going to go down but I'm ready for it. Eeep – wish me luck!
More photos outside of the house. I've really enjoyed traveling lately and I'd love to be able to make a few travel guides for you all from my adventures. I'm terribly picky about the photos I post on the blog so I need to be better about intentionally taking photos of my adventures that are more than just Instagram stories style.
A few big highs for 2018:
I did so much delicious traveling that revolved around amazing food! I went to New York, Nashville, Palm Springs, Joshua Tree, Lake Michigan (several times), Chicago, Calgary, Banff, and Jasper (to name a few). Here's to that hopefully continuing in 2019!
I released my second cookbook, Platters and Boards, and you all LOVED IT! Seriously, the first pressing sold out in A WEEK and the sales have been beyond anything I could have imagined (the last time I checked it was on it's 5th pressing). It's currently stocked around the world (I have photos of it in Australia, Europe, Caribbean Islands – to name a few) and at big box shops like Anthropologie and Paper Source. Dang! I could have never imagined that it would do as well as it's been doing. Thank YOU so much for all the support with it!
And now let's talk about lunch because we could all use less microwave burritos and more vegetables in our lives, here are a few vegetarian lunch ideas that will be perfect to start the new year with.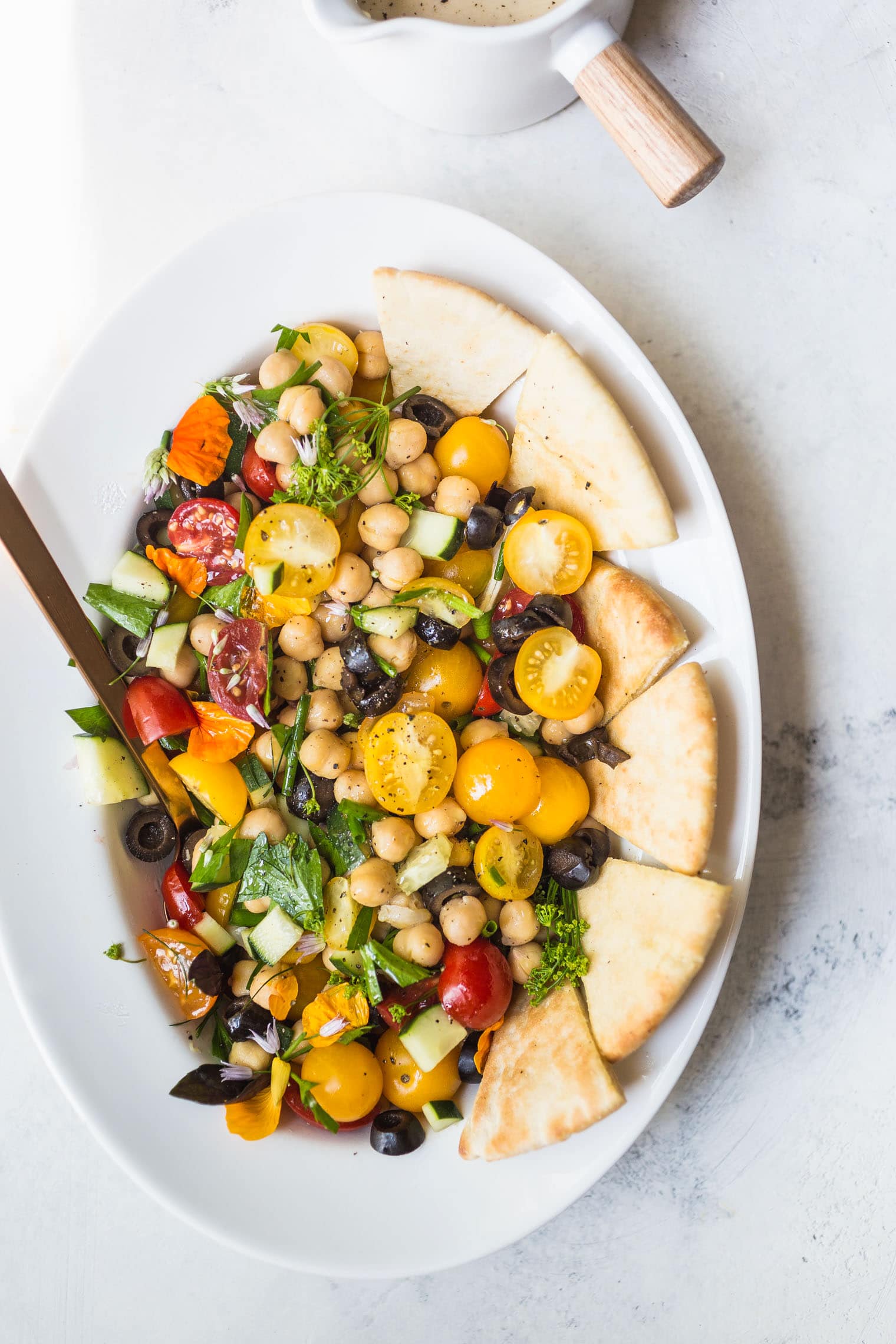 It's time to make this quick and easy Fresh Greek Nachos with Herbed Tahini Sauce recipe! I eat it for lunch all the time but it would also be great to serve to a crowd.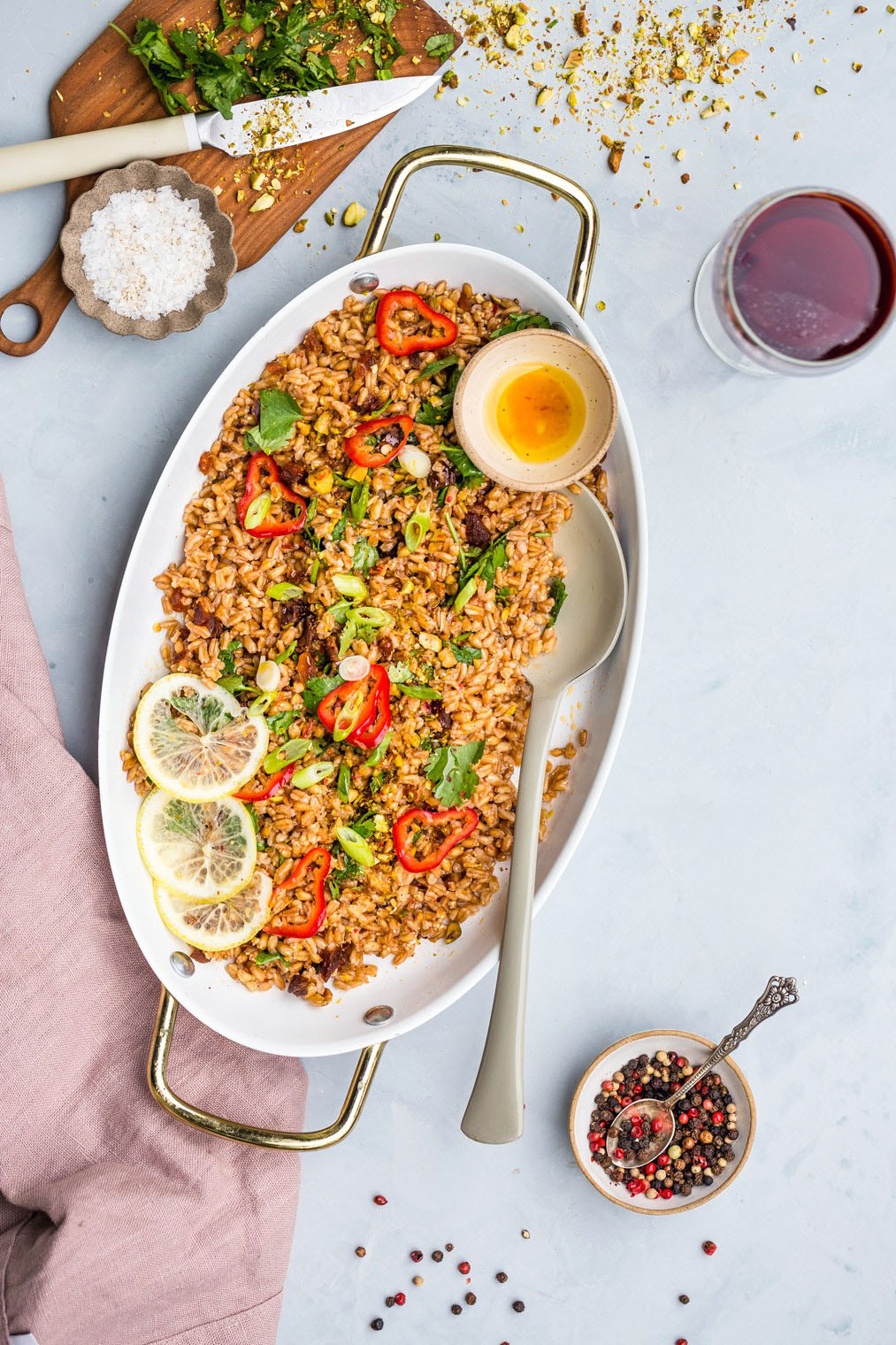 This Farro Salad with Pistachios Apricots and Herbs is my go-to meal prep lunch. It can be made in under 30 minutes and lasts several days in the fridge when tightly sealed. The chewy farro balances perfectly with salty pistachios, a bright citrus dressing, and sweet apricots pieces.
This Egg Salad recipe with Pink Mayo and Pickled Beets recipe is the ideal lunch for one. It's quick to whip up (we are talking under 15 minutes) and full of protein to keep you going all afternoon long.
Serving this Sweet Potato Open-faced from The Minimalist Kitchen cookbook allows you to see the array of colorful veggies piled high on the crusty bread. This is a perfect vegetarian lunch or dinner option.
This Roasted Cauliflower & Dates Couscous Salad with Creamy Tahini is a great vegetarian side dish or easy lunch for any season.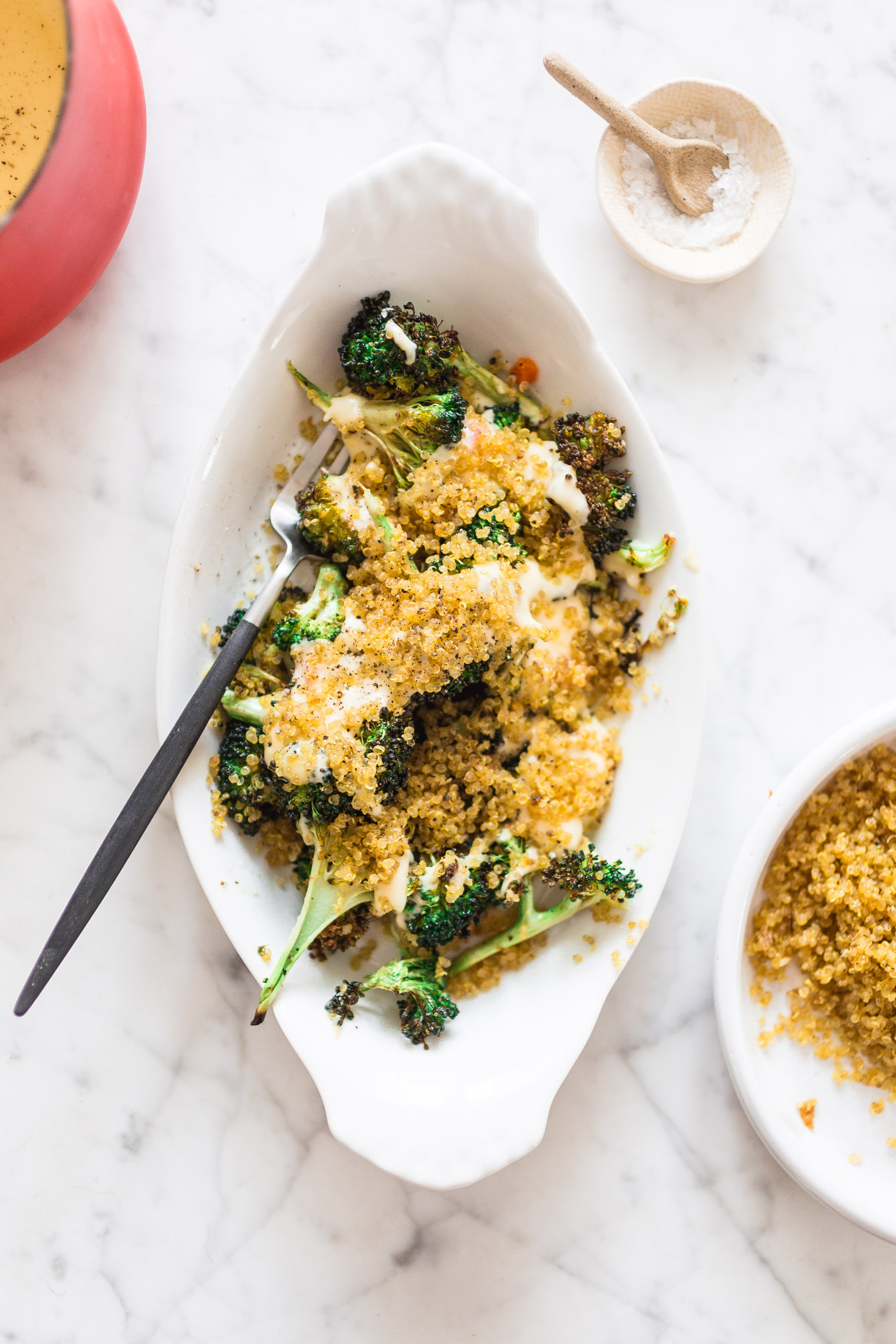 This Roasted Broccoli and Cheddar with Crispy Quinoa recipe is a vegetarian twist a classic with homemade cheese sauce and protein rich crispy quinoa.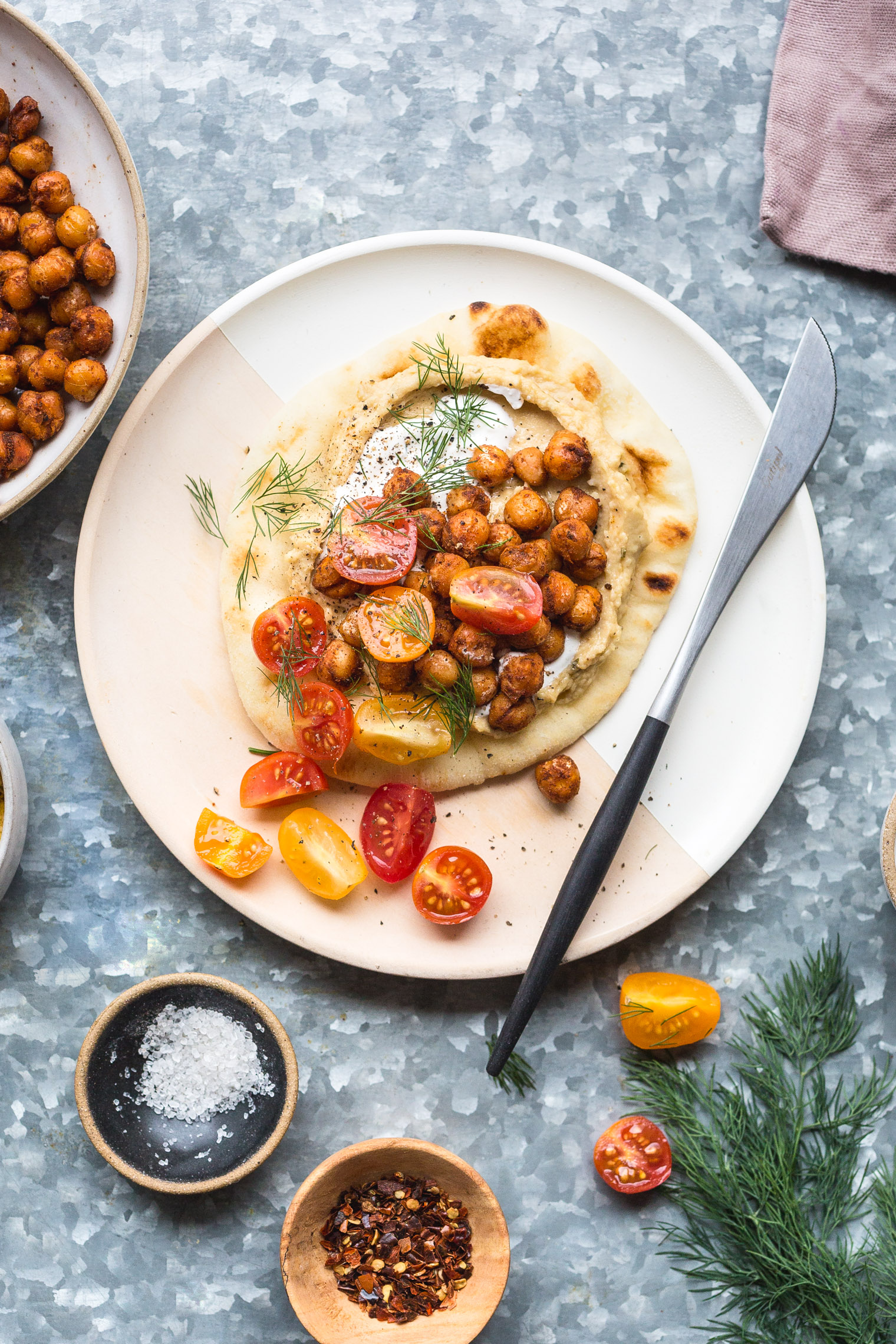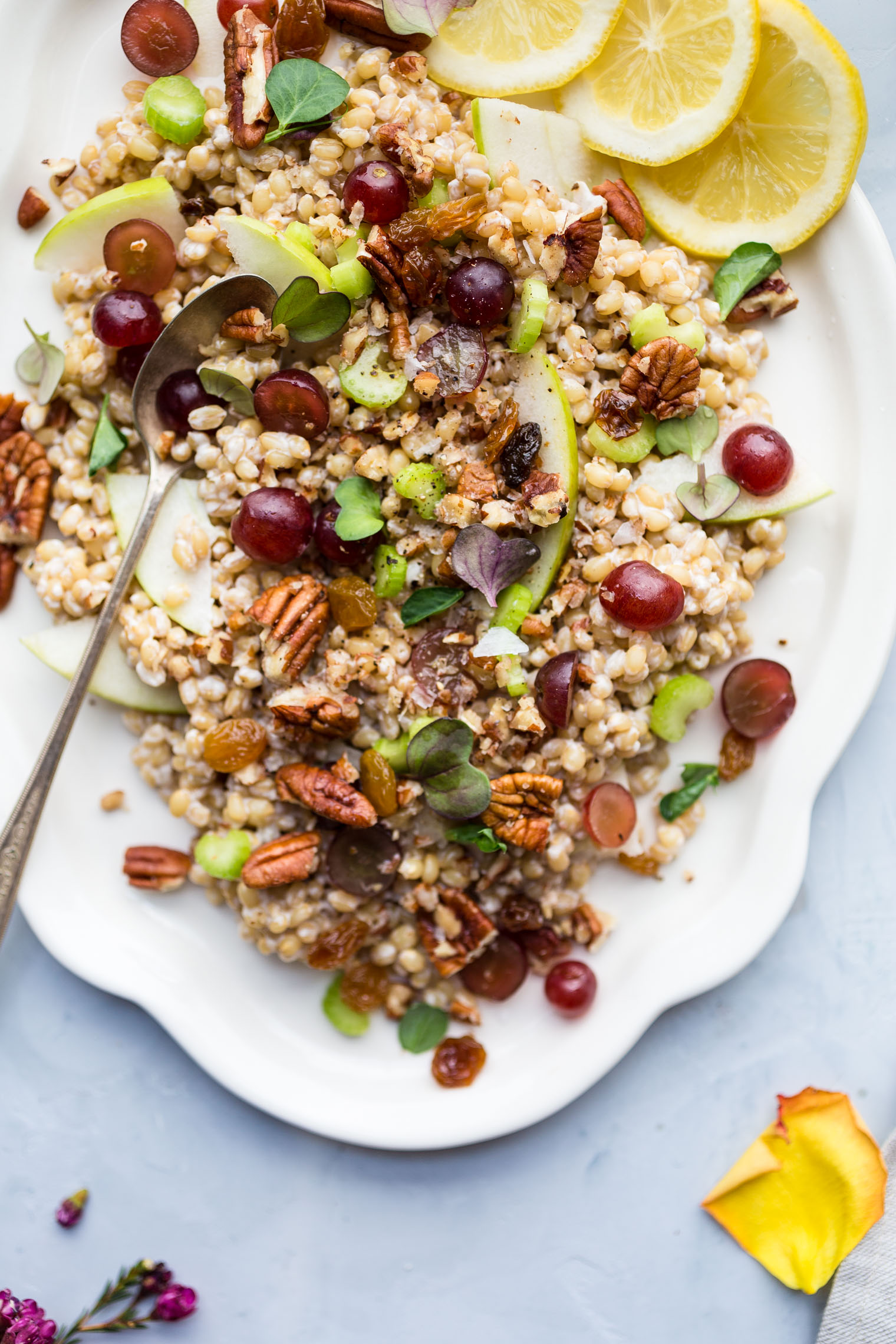 This Vegan Waldorf Wheatberry Salad is the perfect simple recipe for a filling lunch or side at dinner.