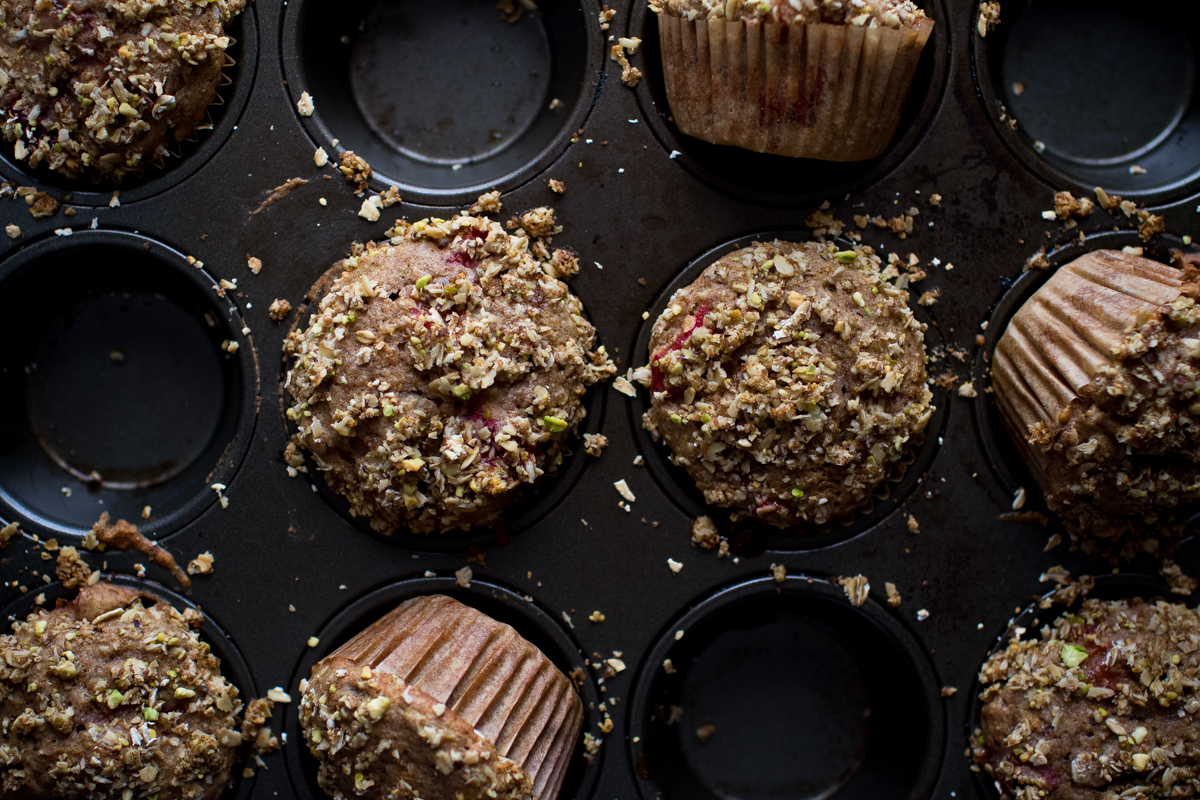 Roasted Strawberry Rhubarb Breakfast Muffins With Pistachio Crumb Topping
These strawberry rhubarb muffins are the perfect spring treat, made with roasted strawberries and rhubarb and topped with a crunchy pistachio crumble.
In a hurry? Click here to JUMP TO RECIPE!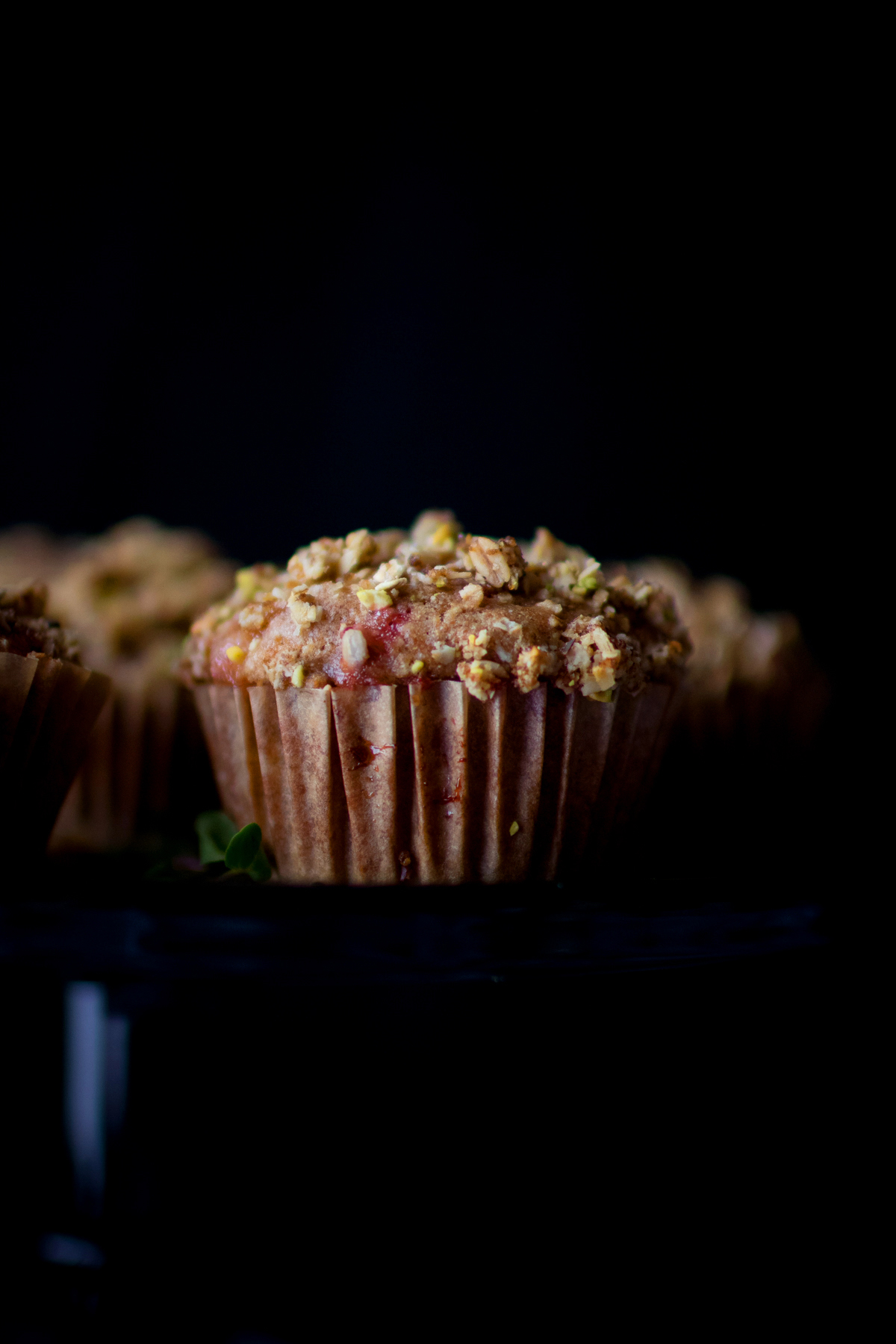 This weekend felt like the first real spring weekend here in Midwest America. Heavy rain and thunderstorms carried on all week to give way to a beautiful and sunny Saturday that was filled with blooming flowers and budding trees. We wandered over to our first farmer's market of the season (!!!!) yesterday and I snatched up all the seasonal goodies I could get my hands on (ramps! fresh flowers! rhubarb! microgreens!).
Our town is relatively small so the farmer's market only occurs one day a week, which gives it the feel of a community gathering since half the town is there. The vendors are filled with local farmers while the ends are taken up by street musicians and the outskirts riddled with food trucks. This is the time of the year where everyone is still happy to be sharing this space with you; it's cool but sunny and the idea of wandering through rows of fresh and local produce is still a novelty.
As the summer goes on, the market will get more and more crowded and people will become more and more distressed as they fight against the heat and cramped crowds to try and get their weekly spinach bundle. But for now, it's all waves and slow walking and 'ohh look at those ramps!' and 'check out these flowers' which I am perfectly fine with.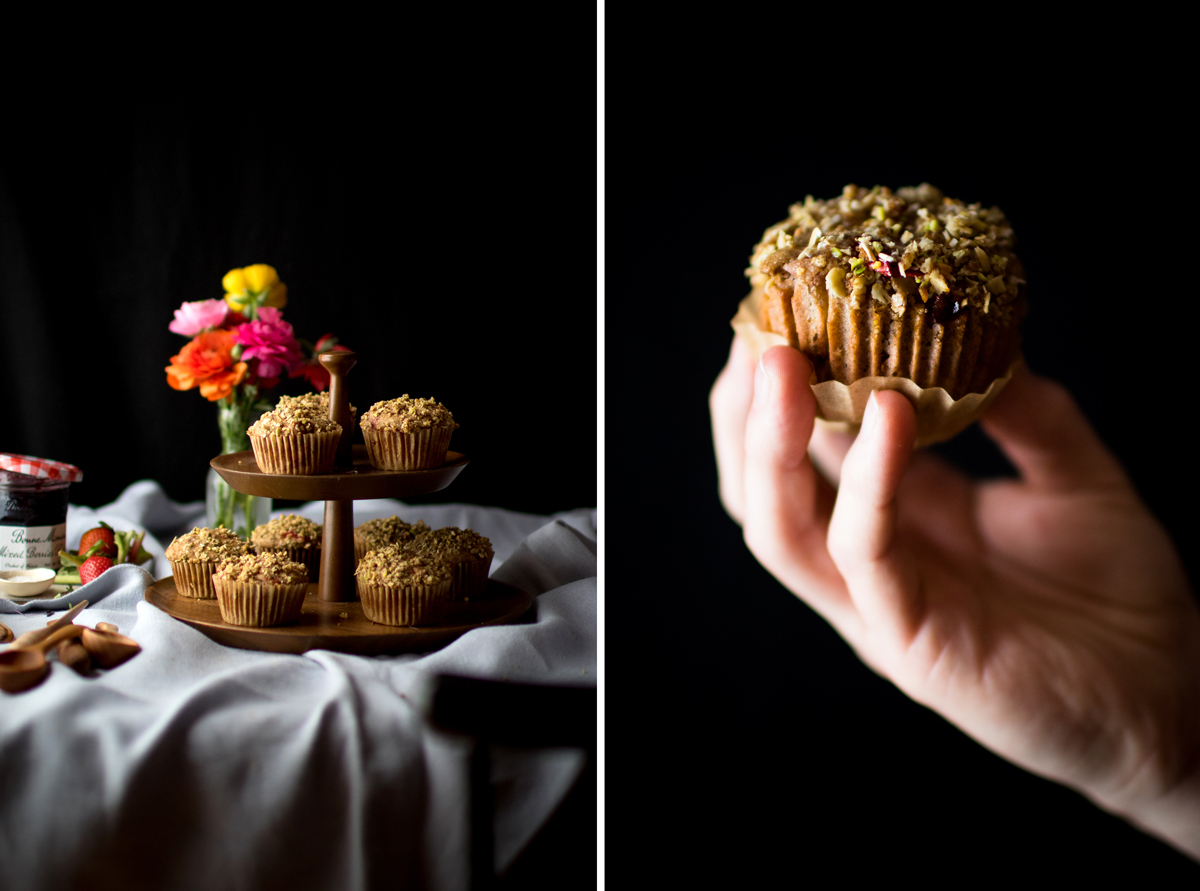 It felt so good to play with colors other than green, green, and green! I was photographing these strawberries and rhubarb and was just amazed at the vibrancy of it all. The strawberries aren't at peak around here yet, but who can resist when it's rhubarb season so I snatched up a few pints anyways. To avoid the disappointment of bland berries, I roasted the fruit before incorporating them into these strawberry rhubarb muffins to bring out their natural sweetness, which pops in every bite of the muffin.
The crumb has a pistachios base because…well I've become pretty obsessed with pistachios. I love how they are the only nuts that can give you a pop of color while still giving that filling and crunchy texture to your baked goods. Heck, I'd even go as far to say that pistachios have become the staple to my baking as much as matcha has to Molly Yeh or dates as sweeteners to Oh Ladycakes.
These strawberry rhubarb muffins are light, bright in flavor, and, dare I say, healthy! They are the perfect breakfast treat or afternoon snack.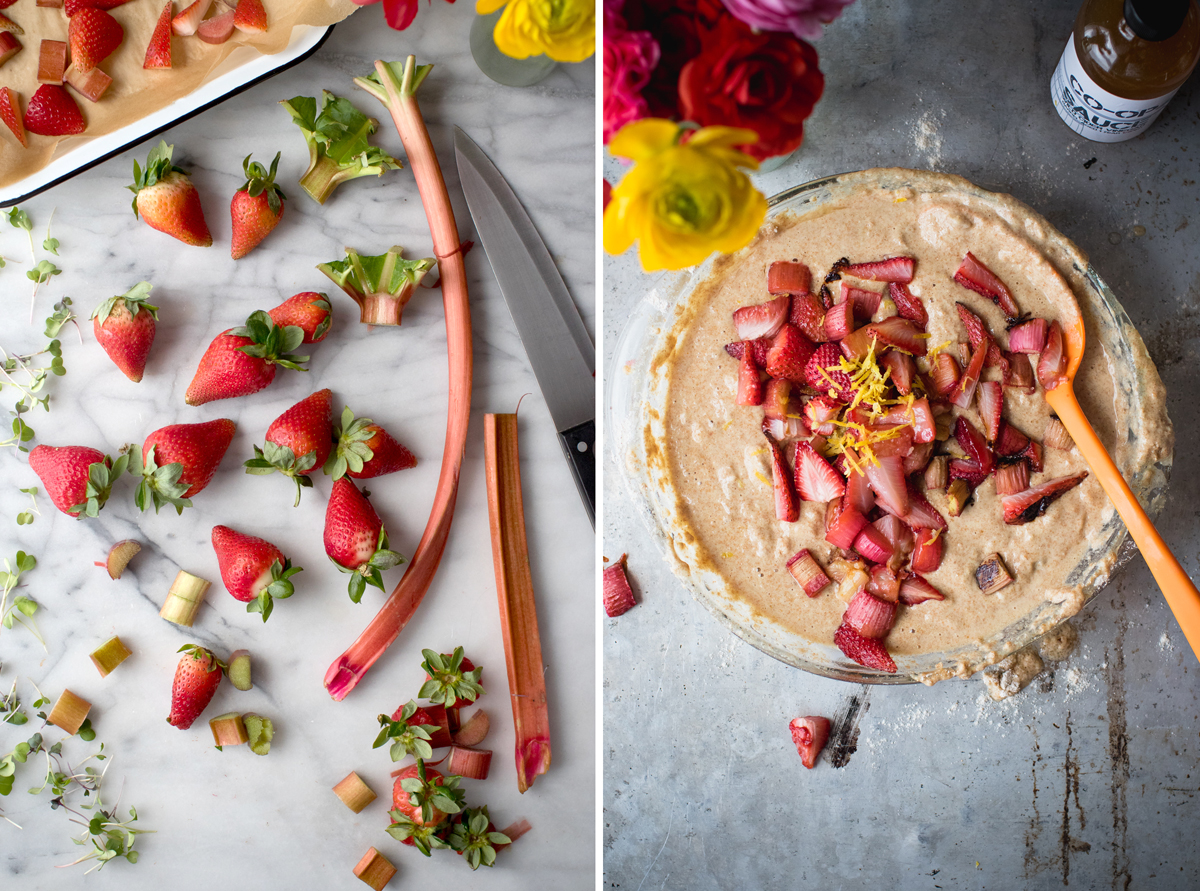 What's Needed for Strawberry Rhubarb Muffins?
These healthy strawberry muffins are so easy to make! Here's what you'll need to make these breakfast muffins:
Strawberries
Rhubarb
Sugar
Milk
Apple cider vinegar
Spelt flour
Baking soda
Salt
Lemon zest
Sunflower oil
Maple syrup
Banana
Egg
Vanilla extract
Rolled oats
Pistachios
Brown sugar
Butter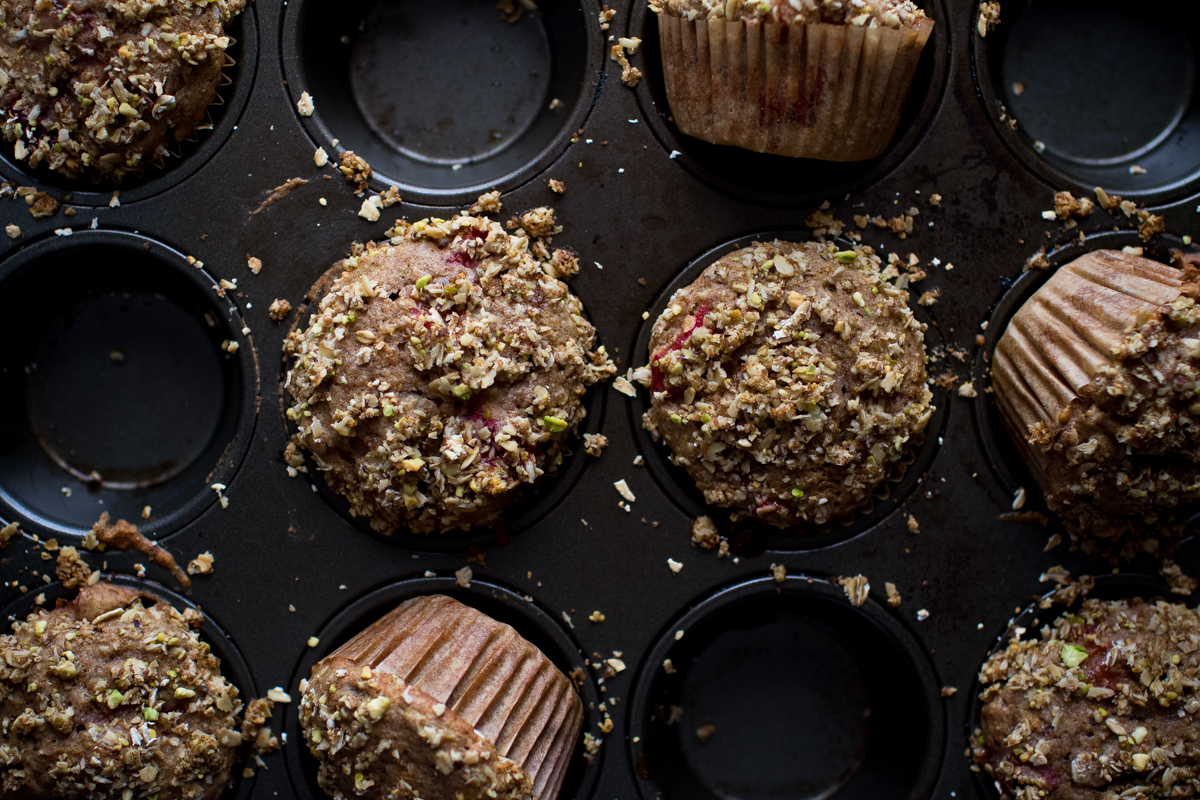 How to Make Strawberry Rhubarb Muffins
I've given detailed instructions in the recipe card below on how to make strawberry rhubarb muffins. Here are the basics:
Roast the strawberries and rhubarb.
Whisk together the dry ingredients, then stir in the wet.
Gently fold in the roasted fruit.
Divide the muffin batter between 12 muffin cups.
Sprinkle pistachio crumb topping evenly over muffins.
Bake until done.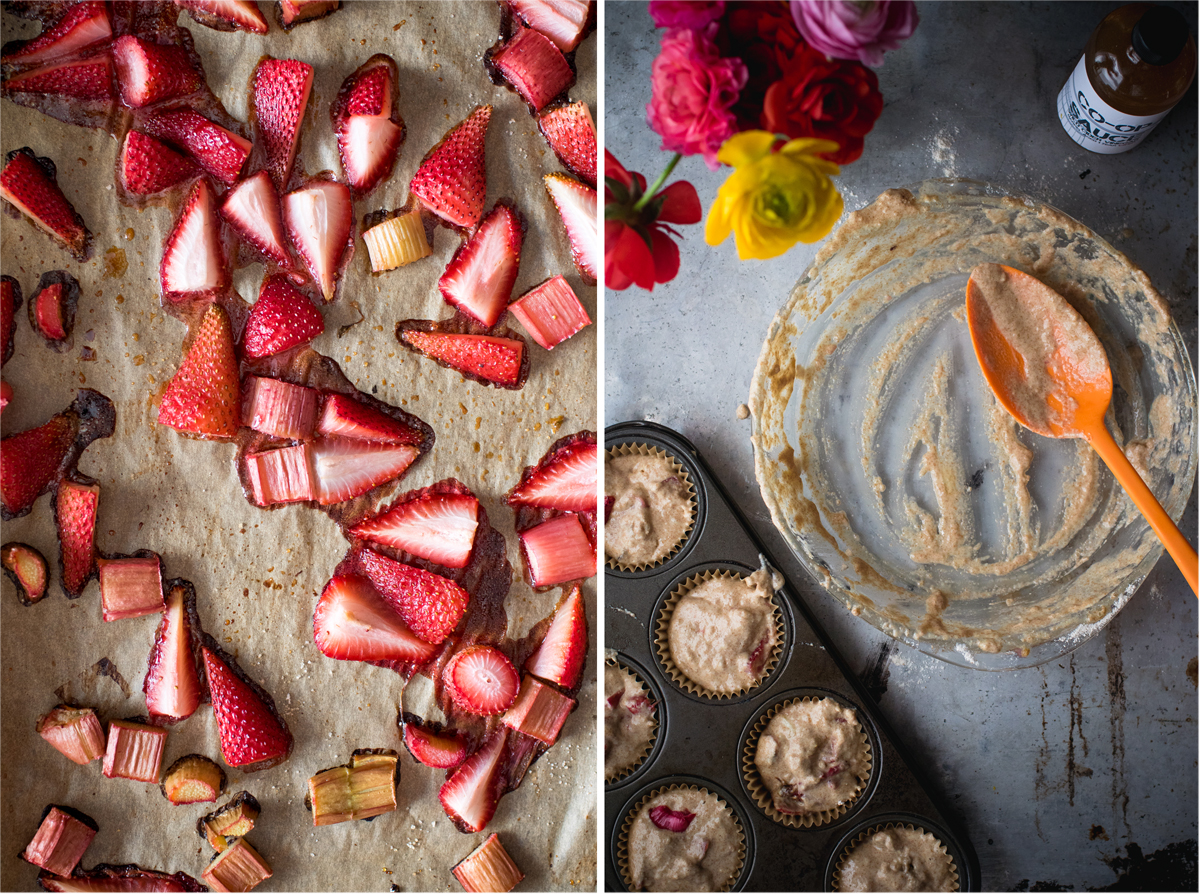 Do I Have to Use Spelt Flour?
Nope! I used spelt flour in this recipe, but you can substitute for all-purpose flour if that is what you have on hand.
Can I Use Frozen Strawberries?
To my knowledge, no. This breakfast muffin recipe is best with fresh berries.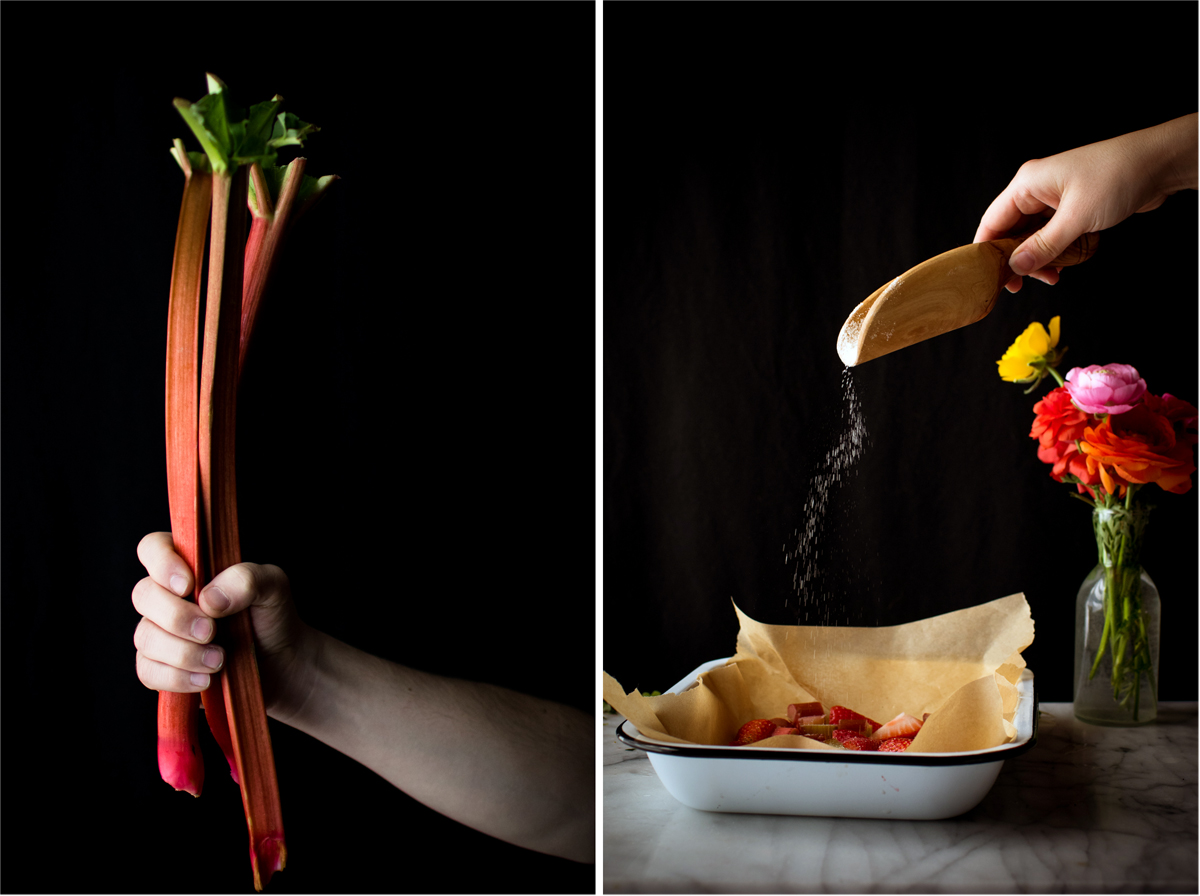 Tips for Making Strawberry Rhubarb Muffins
If using spelt flour, be sure to not over-mix as I've been told it's a delicate flour.
I also swapped out the spices for lemon zest to give it an extra bright flavor but you can sub in cinnamon, cardamon, nutmeg etc if you'd like a spicier treat!
These muffins will keep on your counter for a few days, but you can also freeze them to enjoy later. To thaw, simply set on your counter.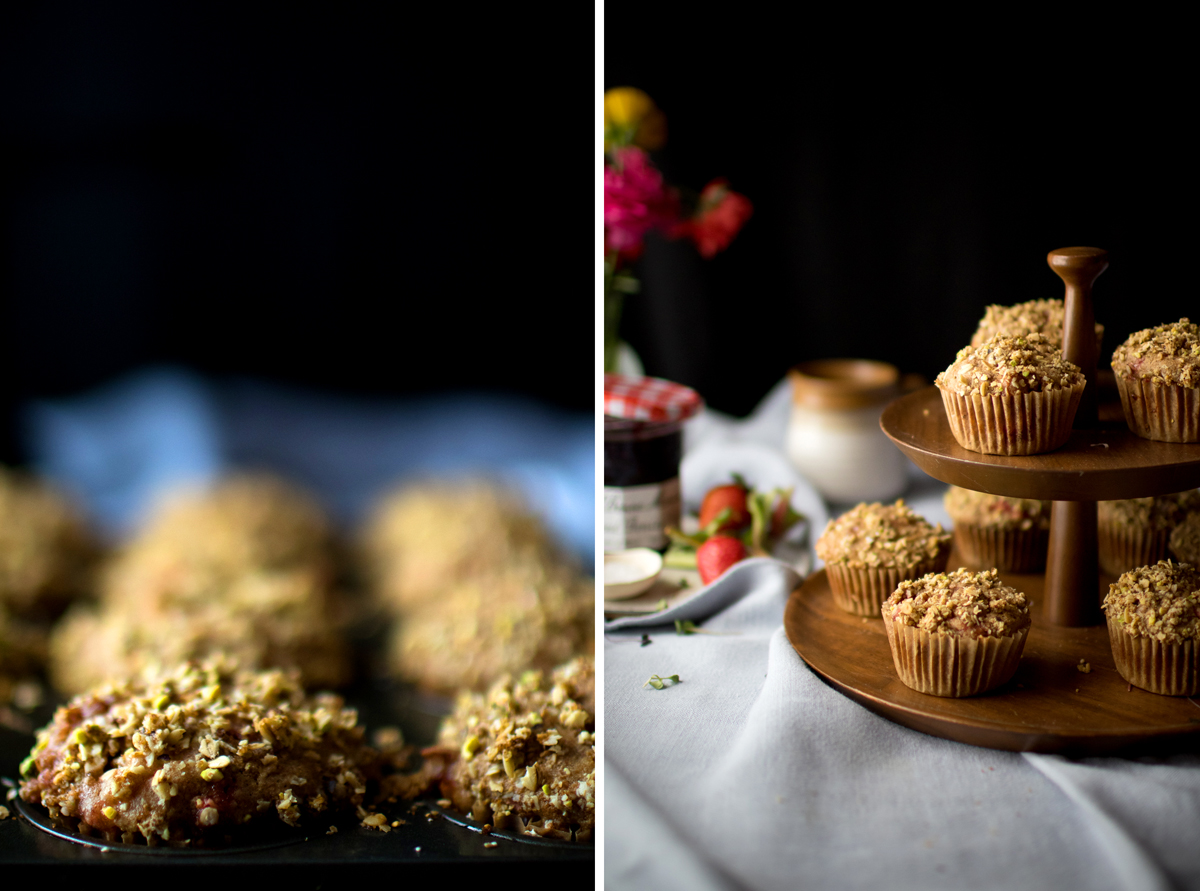 Want More Rhubarb Recipes?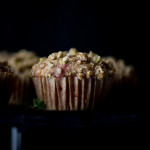 Roasted Strawberry Rhubarb Breakfast Muffins With Pistachio Crumb Topping
These Roasted Strawberry Rhubarb Muffins with Pistachio Crumb Topping are the perfect spring muffin to start any day with!
Keyword:
muffins, rhubarb, strawberry
Ingredients
Strawberry rhubarb muffins:
1

pint

strawberries

, stems removed and quartered

2

large stalks rhubarb

(about 1/2 cup once chopped), chopped into 1/2-inch pieces

2

Tablespoons

sugar

(I used organic natural cane sugar here)

1

cup

coconut milk

(or any milk will do here)

1

teaspoon

apple cider vinegar

2

cups

spelt flour

1/2

teaspoon

baking soda

1/4

teaspoon

salt

1

teaspoon

lemon zest

1/4

cup

sunflower oil

1/4

cup

maple syrup

1

very ripe banana

, smashed

1

egg

, lightly beaten (should be able to sub in another cup of bananas for vegan version)

1

teaspoon

vanilla extract
Crumb topping:
1/4

cup

rolled oats

1/4

cup

pistachios

2

Tablespoons

brown sugar

1

teaspoon

salt

1

Tablespoon

cold butter

(use coconut oil to make vegan)
Instructions
Roast the strawberries and rhubarb:
Preheat oven to 375 degrees F and line a baking sheet with parchment paper.

Transfer the strawberries and rhubarb to the baking sheet in a single layer and sprinkle with sugar.

Bake for 20 to 25 minutes or until the strawberries start to ooze. Remove from oven and let cool completely.

Lower your oven to 350 degrees F.
Make the muffins:
Measure out the coconut milk in a large liquid measuring cup and add the apple cider vinegar. Let sit for about 10 minutes so that the vinegar has time to curdle with the milk.

Line a muffin pan with 12 muffin liners and set aside.

In a mixing bowl, whisk together the flour, baking soda, salt, and lemon zest.

Make a well in the center of the dry ingredients and add the mashed bananas, egg, oil, maple syrup, vanilla extract, and coconut milk. Whisk the wet ingredients together until combined and then fold the dry ingredients into the wet until just incorporated.

Next, fold in the roasted fruit. Evenly divide the batter between your 12 muffin pan and set aside.

In a food processor or high speed blender, pulse the oats, pistachios, brown sugar, salt, and butter until combined and a chunky crumble has formed.

Top each muffin with a tablespoon of crumb (or divide it evenly between all the muffins) and transfer to your warmed oven.

Bake muffins for 18 to 22 minutes, or until the top has browned and a toothpick comes out of the center muffin clean.

Remove from oven and let cool before serving.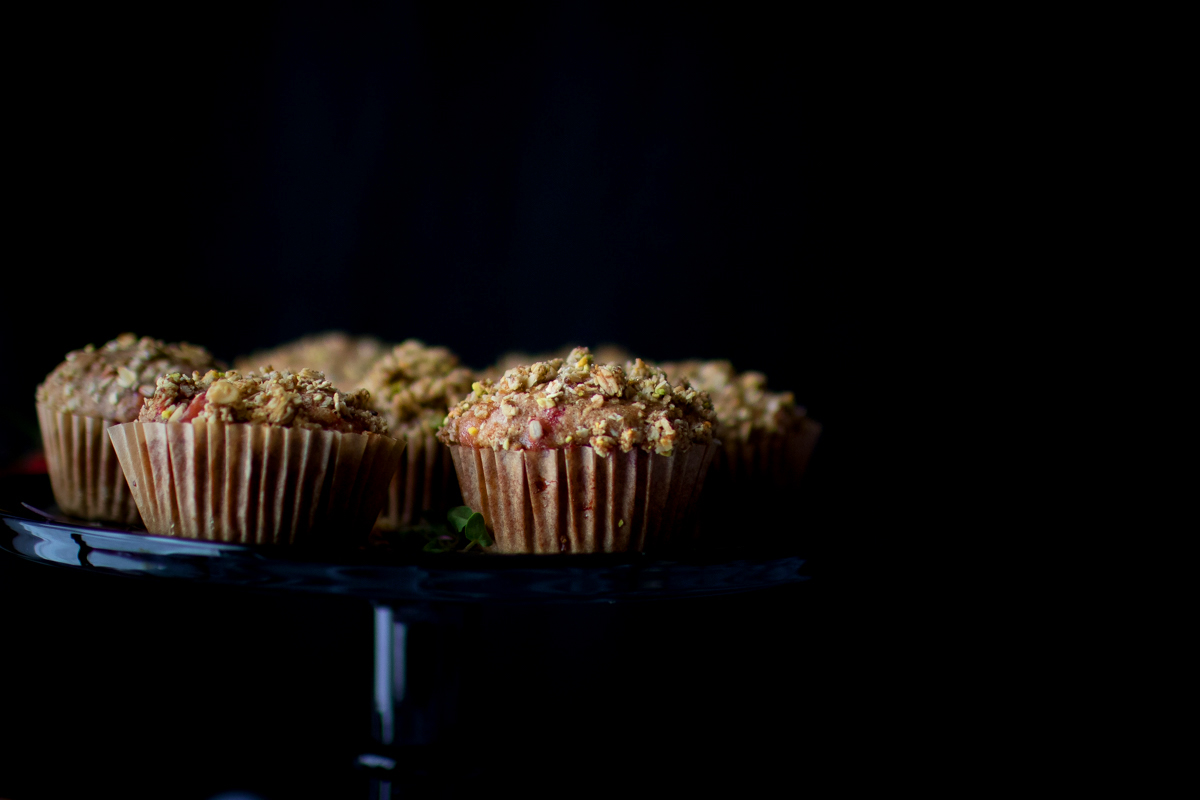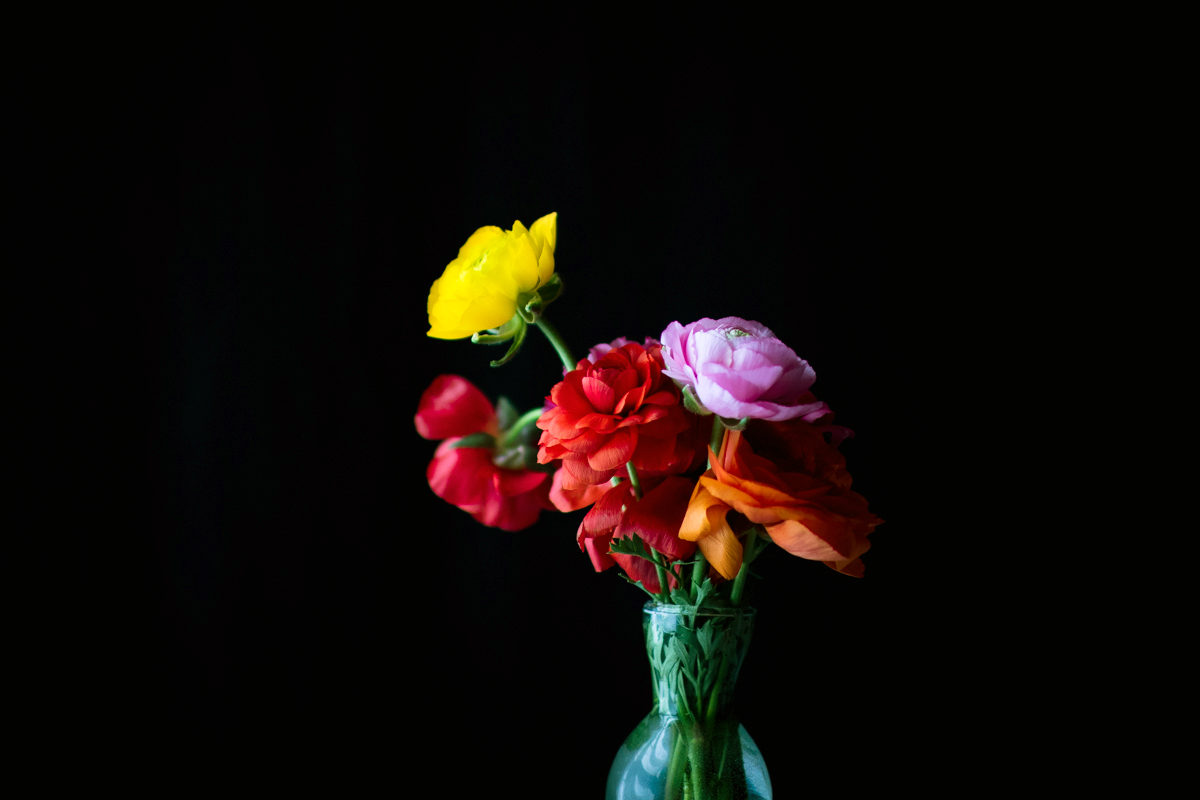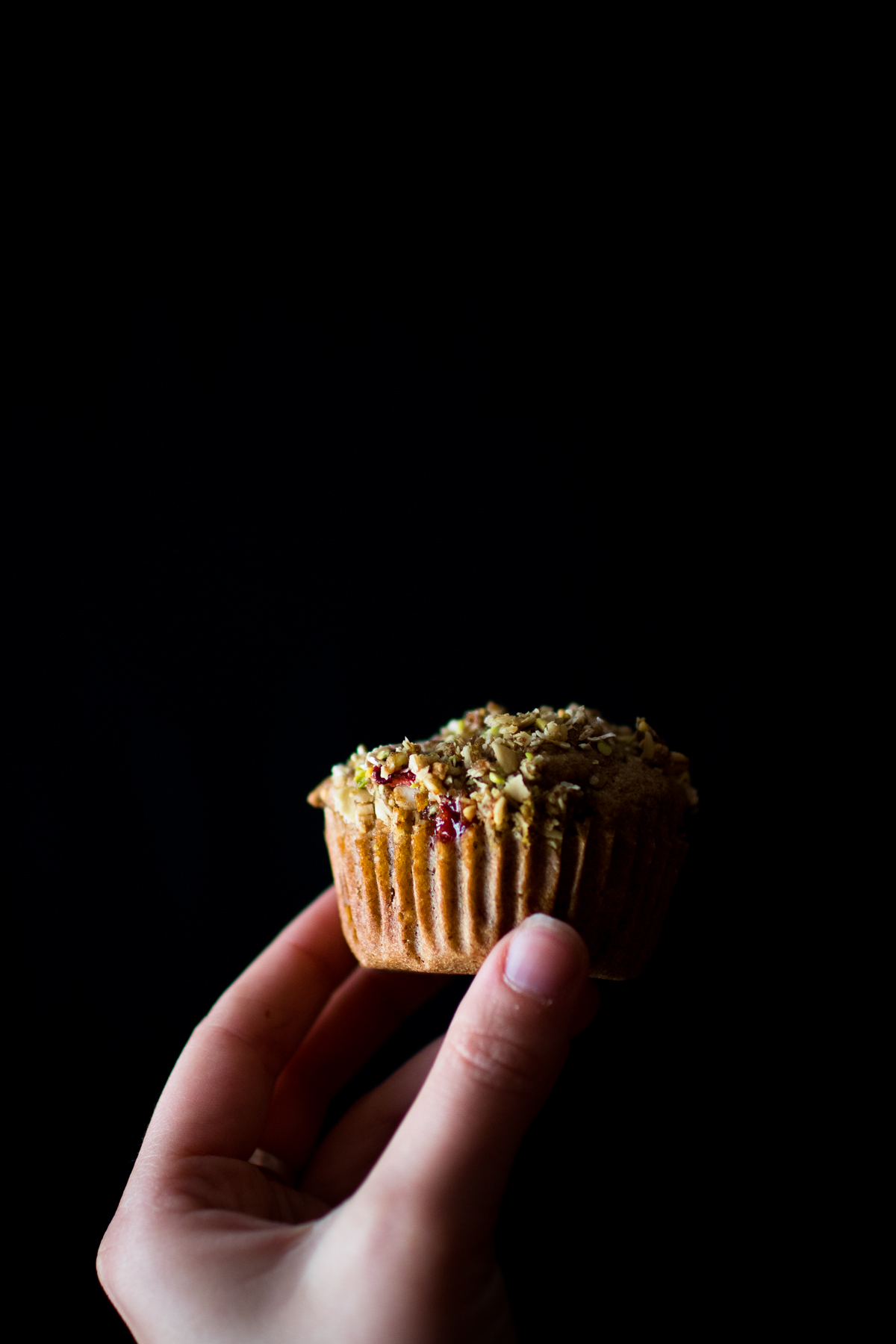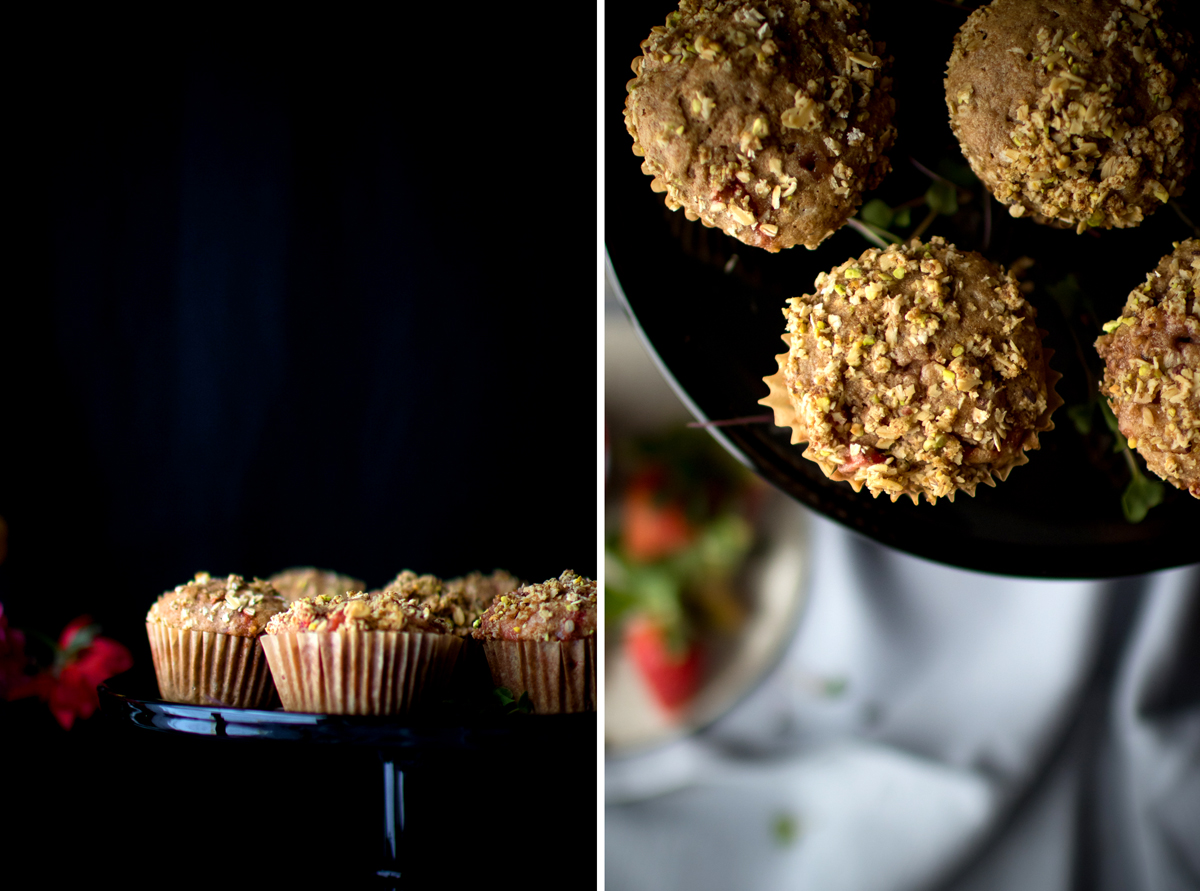 Styling: Tablecloth: thrifted / Cake stand and Enamel baking sheet: West Elm / Wooden knives: mostly thrifted (+ one gifted from Carey) / Wooden Tier-Plate: thrifted