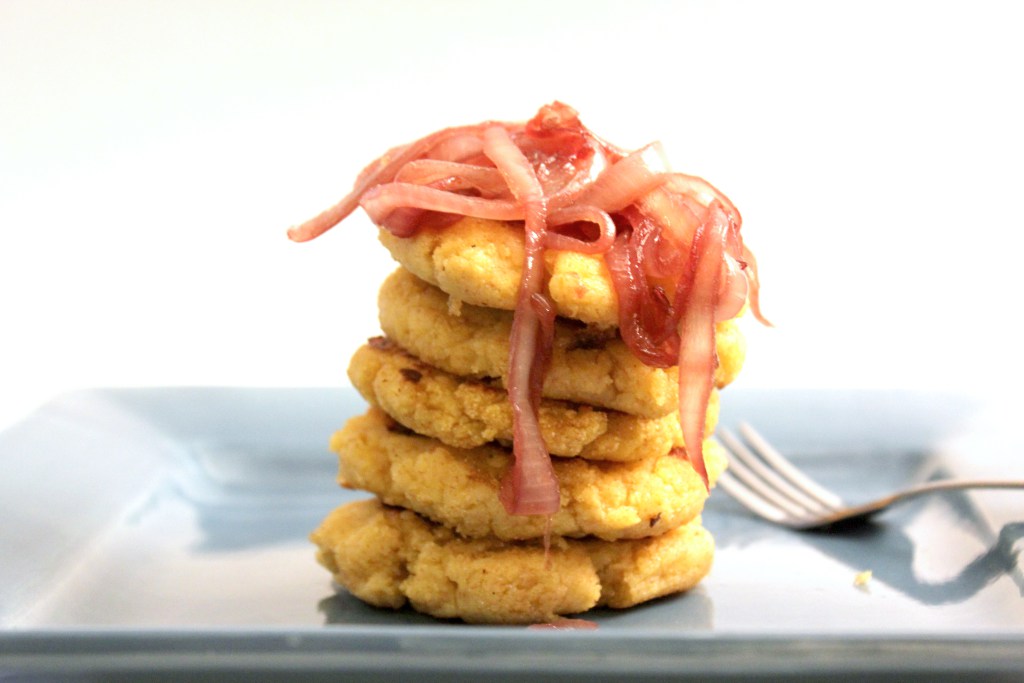 I pulled out this recipe book the other day because I had stumbled upon this Vegan cookbook when I was at Powell's in Portland a few months back. The pictures are gorgeous and I am just in love with the fact that he adds a little play list to go with every recipe. Anyways, this is the only recipe I've tried out of the book so far and I was blown away. These little cakes are soooo delicious. I lathered them with this caramelized onion relish for dinner and then ate the leftover with maple syrup the next morning (honestly, I can not tell you which version was better- they were fantastic both savory and sweet!).
I'll admit- I'm biased when it comes to breakfast food (and particularly when it comes to being able to serve it for dinner without any regrets). But to be completely honest, I think that the onion relish may have been my favorite part about the whole thing. Although the cakes are super delicious by themselves, the onions practically melt in your mouth and have the most beautiful color from being soaked in the red wine. I'd recommend putting this relish on everything- crackers, sandwiches, rustic cakes, imitation meat, etc.
Also, I upped the corn meal a lot so that the batter was easier to work with. This made the cakes denser so if you like yours thin then feel free to use a little less cornmeal when making your cakes.
Rustic Cakes with Red Wine Onion Relish
For the cakes:
2 cups cornmeal
1/2 cup whole wheat flour
1 teaspoon baking powder
1 teaspoon salt
2 1/4 cup almond milk
Coconut oil (for frying)
For the onion relish:
1 Tablespoon olive oil
1 onions, thinly sliced 1 tablespoon sugar
3 Tablespoons red wine
1 tablespoon water
Combine, all (except the coconut oil) in a bowl and mix until a thick dough forms. Stick in the fridge for ten minutes or until it's chilled.
Warm the olive oil over low to medium low in a small skillet. Saute the onions for 10 to 15 minutes or until they are browning and starting to caramelize. Add the sugar, wine, and water and bring to a bowl. Let it simmer over low until the wine has evaporated.
In a large skillet, warm a thin layer of coconut oil. Make golf ball size dough balls and small down. Place 3 to 4 cakes in a skillet and cook for about 3 to 5 minutes on each side (depending on how hot the oil is).
Serve warm with the onions piled on top and maybe some asparagus on the side.
Oh! And don't forget to eat your leftovers the morning after with maple syrup!