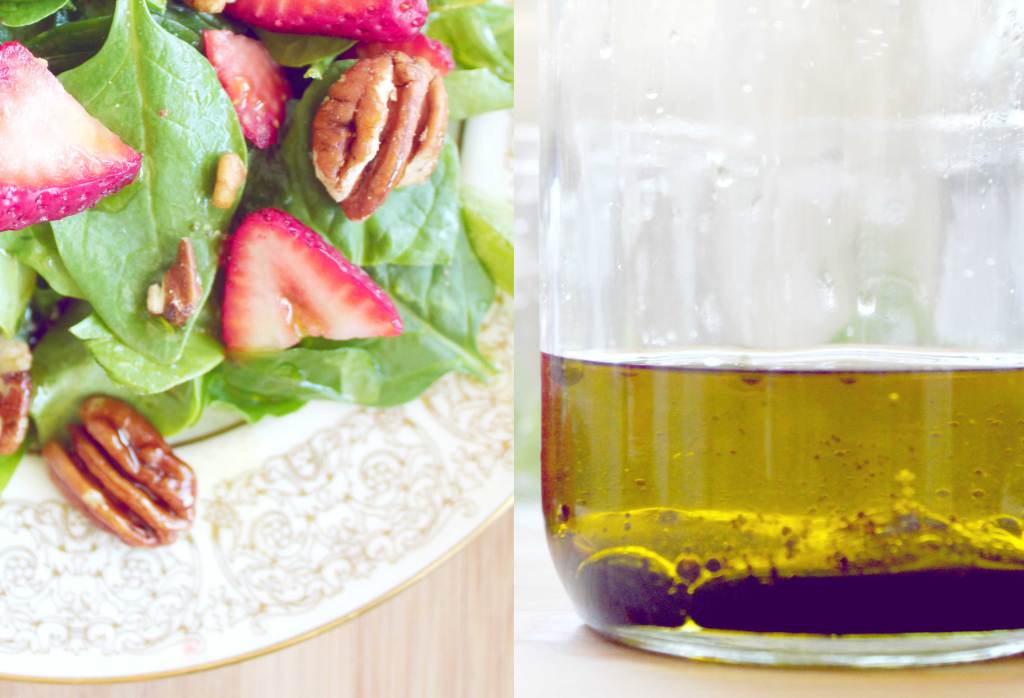 And Saucy Saturdays is back! After a three-week hiatus because of our little road trip to Arizona (and our lake trip last weekend), I refused to let another busy weekend get in my way! To be honest, I am actually probably on my way to Northwest Indiana as you read this post but knew I should write it ahead of time or else it would never happen.
I don't know about where you live but it's managed to get hot and muggy (suppose to hit the 100's here – helloooo….May?) so I thought something light would hit the spot!

Strawberries are also popping up everywhere! Wyatt has a bunch of wild strawberries (they are so little and adorable!) growing in his backyard (AKA Tuko's playground). Nothing like fresh strawberries (particularly when they are in season) and one of my all time favorite salads is a simple spinach salad with pecans, strawberries, and balsamic.
This sauce is super simple and great to drizzle on top of a spinach salad or just enjoy on top of some fresh fruit!
Strawberry Balsamic Dressing
1/2 cup olive oil
1/4 cup strawberry jam
1/8 cup balsamic vinegar
Dash of Salt/Pepper
Whisk together in a sealable jar and VIOLA! Fresh and homemade dressing for all your fruit and green eating needs!
Have a fantastic Memorial Day weekend!