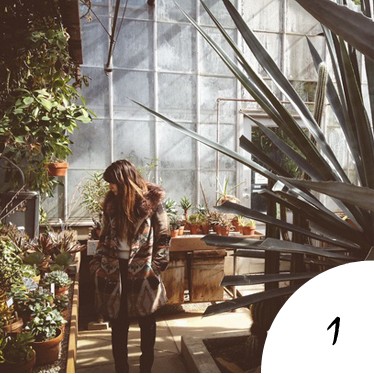 Searchable Saturdays
1. ADVENTURING /// I've had a bit of the winter blues this week so Wyatt demanded that we take a lunch break at the greenhouse on Thursday. I was totally against the idea because it felt more stressful to find parking, pick up a sandwich, walk to the place, AND get back to work in an hour than it was worth. But that all changed when we got there. We ate our sandwiches in the 'tropical' section (we are talking 85 and humid – heaven!) and I forgot all about my annoyances from work (or the fact that I had to be back in a timely fashion). Sometimes I forget how happy greenery makes me and breathing in the fresh, humid air was the biggest stress- reliever I felt all winter.
2. WANDERING /// We are headed to Florida in a little over 2 weeks and I cannot think about anything else. Biking to the beach. Grilling out for every meal. Swimming. Sun bathing. Swimming holes. Smelling the ocean. Swimming. Exploring the marshes. Digging through vintage stores. Roadside diners. GAH – SO EXCITED!
3. CREATING /// This is it. This is going to be the weekend that I finally try to make macaroons. It's such an intimidating dessert but that is still not an excuse to keep putting it off. To be honest, I've never even ATE one before…let alone made them. This is an experience that needs to happen.
4. LUSTING /// Been OBSESSED with the idea of chopping all my hair off and dying it black or red. We are talking 90's bob here. I have mega long brown hair (picture in the top left) and just want to do a drastic change. Must have stood in front of my mirror at least 4 times this week with the intention of chopping it all off but backed out each time. I don't mean to sound shallow but cutting your hair is scary. True Story.
I hope you have a fantastic weekend ahead of you. I'm off to do some major thrifting / check out the new LUSH cosmetics store that opened this week. Hopefully my love for consumerism will boost my bitterness towards this snow / slush weather.